This document gives a general overview of the EDD Custom Prices extension for Easy Digital Downloads.
Installing the plugin and Activating your License key:
EDD Custom Prices uses licenses to provide automatic updates for the extension. Once
installed and activated you should first activate your license key in order to receive automatic updates. You will have received a license key in your purchase receipt; copy the key to your clipboard, then go to  Downloads → Settings → Licenses and enter the key into the "License Key" field under "Custom Prices". Click "Save Changes" to activate your license.
Anytime a new version of the extension is available, you will be notified of the update just like any other WordPress plugin.
Enabling Custom Prices for a product
To enable custom prices for a product, find the product which you want to enable them for under
Dashboard → Downloads → All Downloads. Then, in the "Download Prices" metabox, click to enable custom pricing. You'll have a few additional options there:
Default: This option allows you to set what the price is set to by default when the customer first loads the page.
Min: This option allows you to set a minimum price. If the customer tries to enter a lower price than the minimum you set here, they will see a message which says "Please enter a custom price higher than the minimum amount".
Button Text: This option allows you to write a custom message on the purchase button for this product. For example, you can instruct the customer to "Pay whatever you want", or to "Enter your custom price". It defaults to "Name your price".
Bonus Item: This option allows you to give away a single bonus product if the customer enters a high enough (or low enough) custom price. First, enter the "Condition" required to get the custom product. Then, set the price required to receive the bonus product. Lastly, choose which product the customer will receive upon purchase.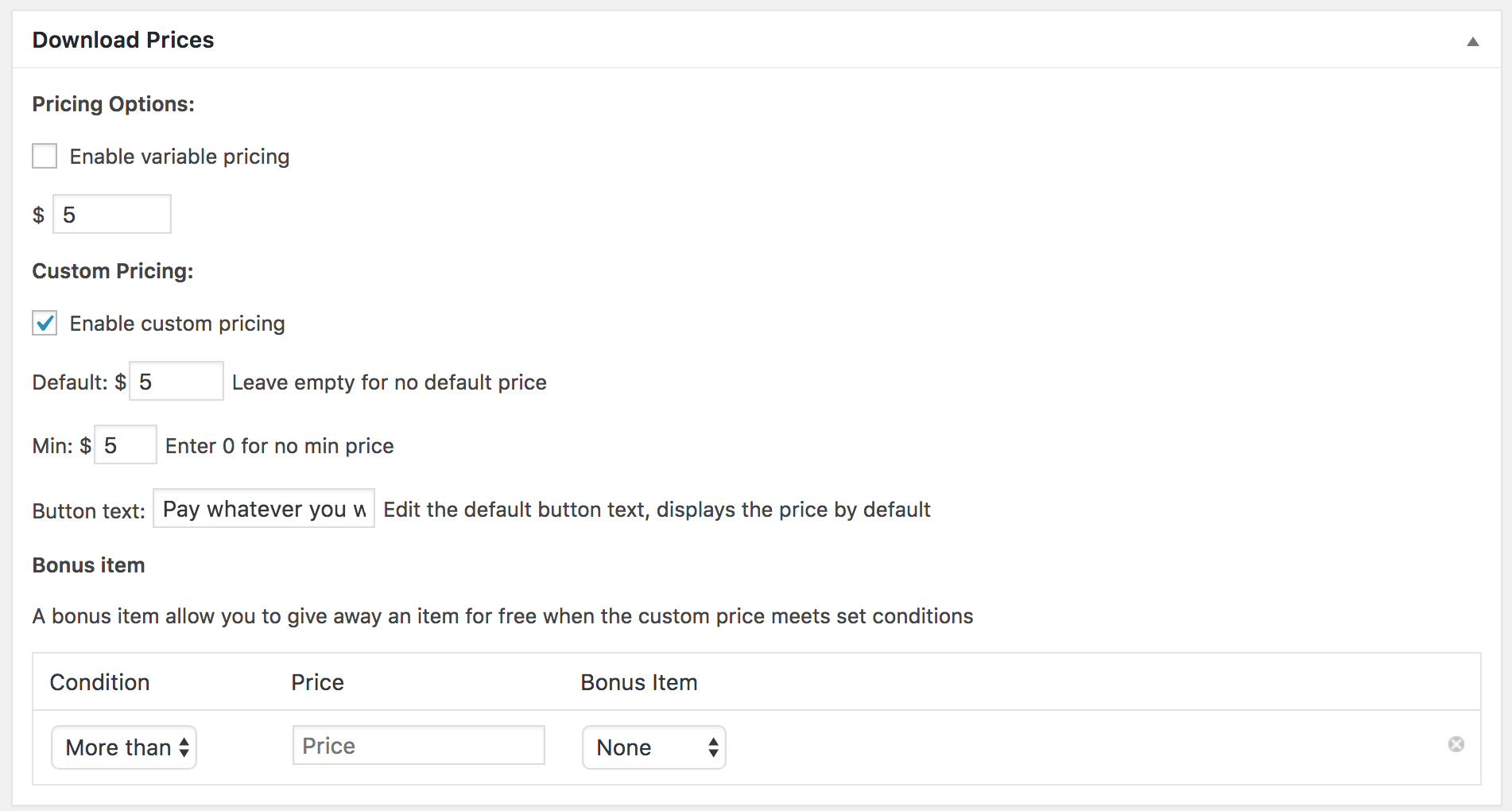 Integrations with other extensions
EDD Recurring Payments
If you use the Recurring Payments extension for Easy Digital Downloads and you have both Custom Prices and Recurring Payments enabled for a product, when a customer enters a custom price, their subscription will automatically be set up for that custom amount. Therefore, when their subscription automatically recurs, the amount they will be charged will be the custom price they entered.
If you enable free trial, the initial payment will be free and all subsequent payments will be for the custom amount entered by the customer.
EDD Frontend Submissions
If you use the Frontend Submissions extension for Easy Digital Downloads and you want your Vendors to be able to create product that are custom-pricing enabled, there isn't a way for Vendors to enable that themselves at this time. Instead, once the Vendor has submitted their product, an admin level user will have to log in and enable custom pricing for the product by following the steps above under "Enabling Custom Prices for a product".