The Hide Download extension allows you to hide a download so it does not appear on the Downloads archive page or anywhere where the [downloads] shortcode is being used.
Once installed and activated, you will see the Hide Download options area when creating or editing a download. The options are located in the Download Settings area in the right column of the create/edit screen of a Download.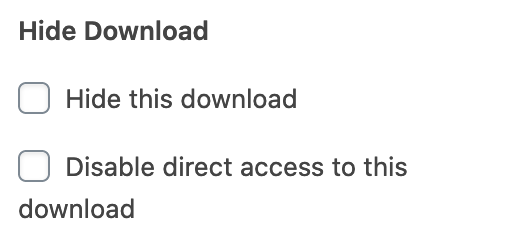 The two options available are:
Hide this download – This hides the download from the Downloads archive page which is typically located at http://your-site.com/downloads
Disable direct access to this download – This removes access to the download. In the event a user was to enter the direct URL of the download, it will not be available.
This extension can be useful if you want to remove a download from the archive page and specifically highlight it elsewhere on your site using the [purchase_link] shortcode or a custom link.