Easy Digital Downloads holds a detailed record of all purchases made on your site. Each purchase, even if failed or incomplete, creates a new order which you can view inside your dashboard. Orders can also be manually created by store administrators.
Order records allow store owners to view a record of all purchases including detailed information such as who made the purchase, what they bought, whether discounts applied, and so on. Additionally, storing permanent order records allows customers to view their own purchase history when logged into your site.
To view a complete list of all your order records, navigate to Downloads > Orders in your site's dashboard. There you should see a page that looks like this:

Finding order records
When your store has many order records, it can be tedious to search through all entries to find something specific. The orders list view includes the following features which allow you to sort and narrow your results to reveal the entries you are concerned with:
Search: In the upper right corner of the screen, a search field is available which will return a list of orders matching your query. This search accepts:

The purchase ID
The 32-character purchase key
The customer's email address
The customer's name or ID prefixed by user:
The Download ID prefixed by #
The Discount Code prefixed by discount:
A transaction ID prefixed by txn:

Order statuses: At the top of the screen there will be a list of the existing order statuses. Some extensions to EDD add new order statuses so the actual statuses you see may vary. Clicking on the name of a status, for example, "Completed", will modify the list of records below to show only orders which were successfully completed.
Order Mode: Order mode is Live and Test orders. This allows you to filter orders made in only Live or Test mode.
Date range: Using the date selection fields immediately above the list of results will limit the entries to only those which were created during the chosen range.
Column sorting: Any list of results can also be sorted in descending or ascending order based on the ID, Amount, or Date columns.
Managing individual order records
Clicking on the "Order Number" link for any record will navigate you to the order edit screen: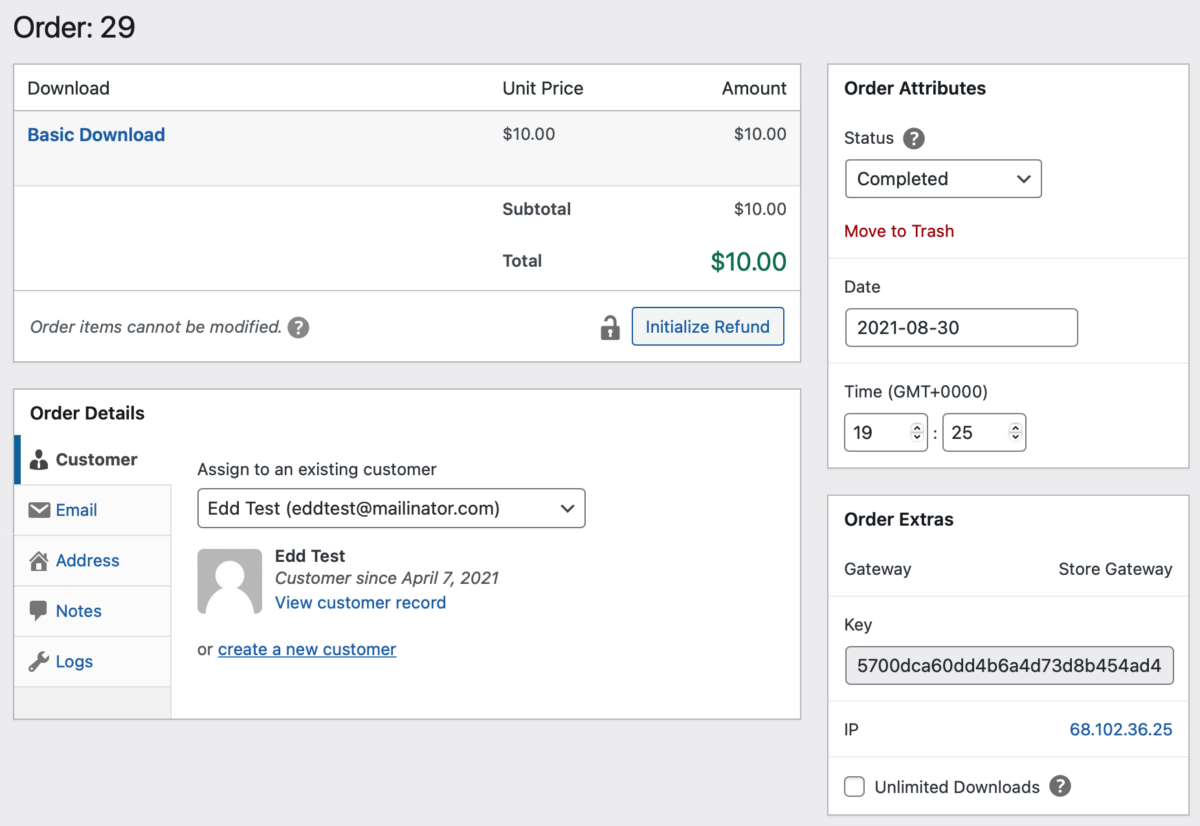 Order records can be manually updated after they have been created. This includes adding new products, changing transaction amounts, changing the attached customer, changing the payment status, and more.
Note: Easy Digital Downloads does not store any customer credit card data. All credit card data is stored with the payment processor. If a customer wishes to delete their credit card it needs to be done from within the payment processor.