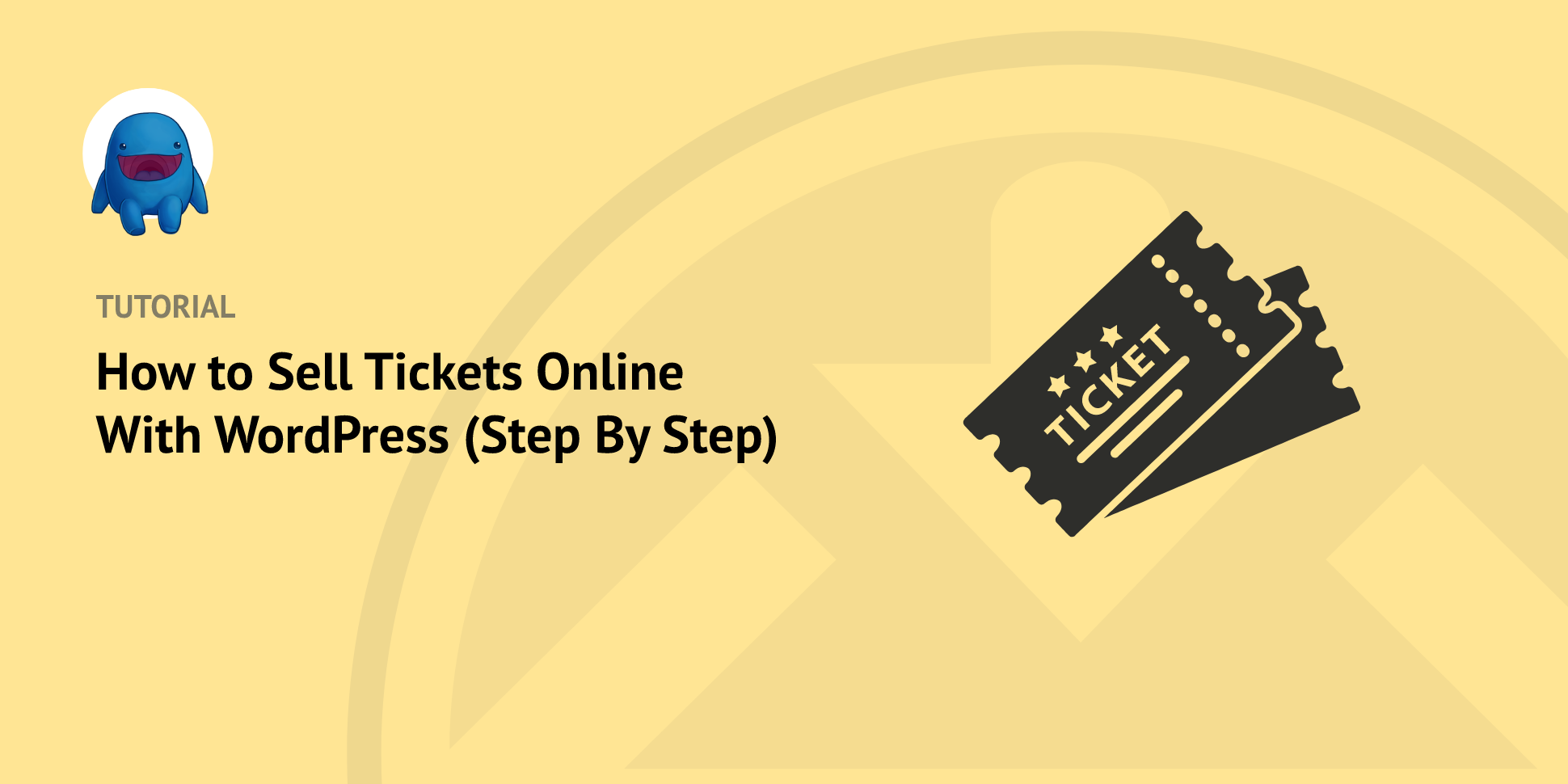 Do you want to learn how to sell tickets online with WordPress? This step-by-step tutorial has you covered.
At Easy Digital Downloads (EDD), we specialize in helping business owners sell their digital products via WordPress. This includes tickets. You only need an eCommerce site and a few plugins to start selling tickets to concerts or other time/location-based events!
🔎 In this article, we'll cover:
Why Use WordPress to Sell Tickets Online?
There are a few ways/places you can sell tickets online. For instance, some concert halls and other venues have affiliate programs that let companies/artists/marketers resell tickets at discount prices. This can be helpful if you're a tour guide or social media influencer.
There are also third-party marketplaces you can use. While this can help you promote your tickets to potential customers with ease, there are a lot of downsides. Marketplaces are fairly limiting in terms of customization. They also tend to charge transaction fees and other charges.
But when you're running your own eCommerce site to sell tickets online, you don't have to worry about that. Whether selling tickets to a concert, webinar, or online conference, your own WordPress website gives you control over everything, including customization., customer communication, and pricing.
WordPress is an excellent platform for selling tickets online. It's easy to set up and use, it's highly customizable. It provides powerful tools to help you manage your ticket sales. WordPress also makes it simple to integrate with payment gateways, allowing customers to pay quickly and securely.
Finally, there are many plugins available that can help you streamline your ticketing process, make sure customers have a great experience when they purchase tickets, and keep track of your ticket sales data. I'll cover all of that in the next section.
How to Sell Tickets Online With WordPress
Ready to get started? Below, I'll walk you through how to sell tickets online with WordPress:
Step 1: Get Your WordPress Site
If you haven't already, the first step before you sell tickets online with WordPress is to create your website. If you already have a WordPress site, feel free to skip to the next step.
WordPress is incredibly easy to use, even if you're a beginner. If you don't already have a website, you can get one started in minutes using SiteGround's Managed EDD Hosting:
This gives you everything you need to start your online store and sell digital products. Each plan includes a WordPress installation, secure web hosting, a free SSL certificate, and a handful of key plugins. That includes Easy Digital Downloads, as well as other popular extensions like WPForms and OptinMonster.
Once you choose your plan, you can follow the WP Setup Wizard to get started. It will automatically bring you to the WordPress dashboard where you can begin building your online store: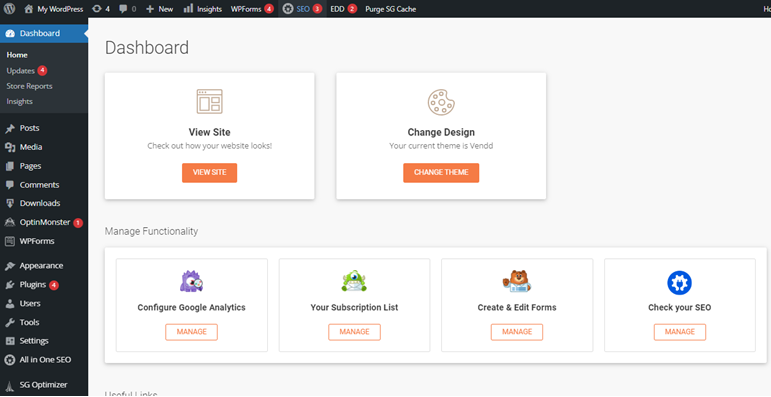 Step 2: Install Sugar Calendar
As I mentioned, one of the best ways to sell tickets online with WordPress is to use a quality calendar plugin that lets you accept payments. WordPress calendar plugins are ideal for creating and managing events using your website.
Therefore, I recommend installing Sugar Calendar: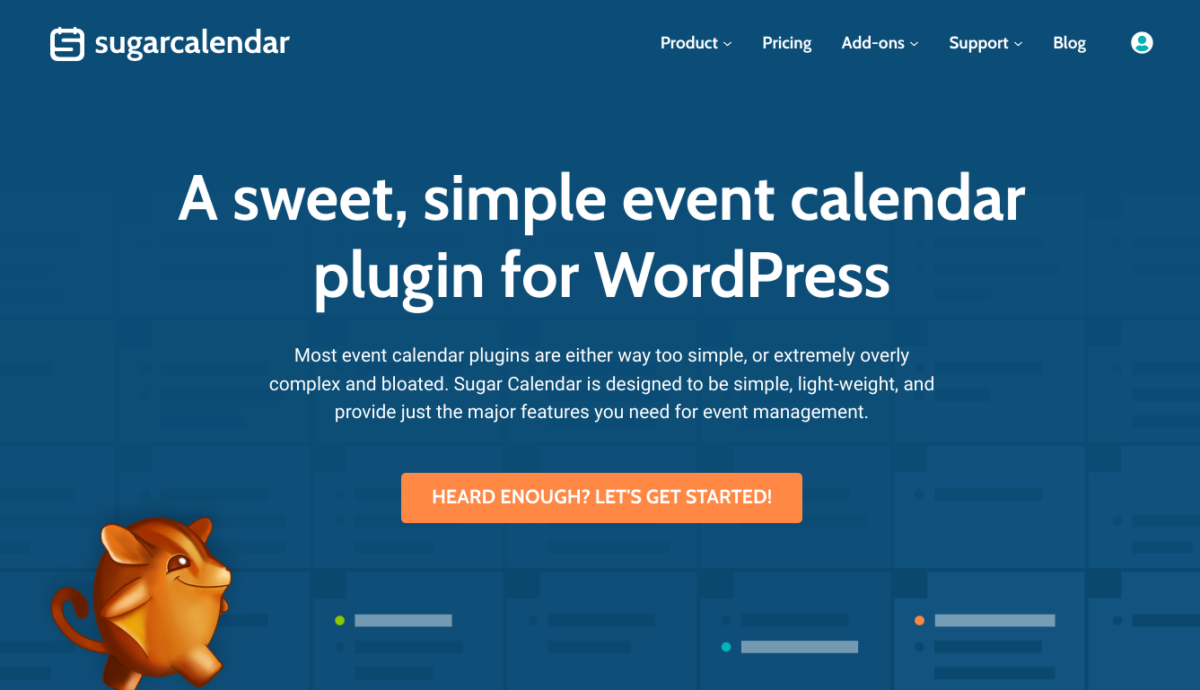 This high-quality plugin is lightweight and can sync your Google Calendar feeds to those on your website. and won't slow down your site. The WordPress plugin also lets you display calendars across your site and customize them.
When you get the Sugar Calendar plugin, we recommend grabbing either a Professional or Ultimate license: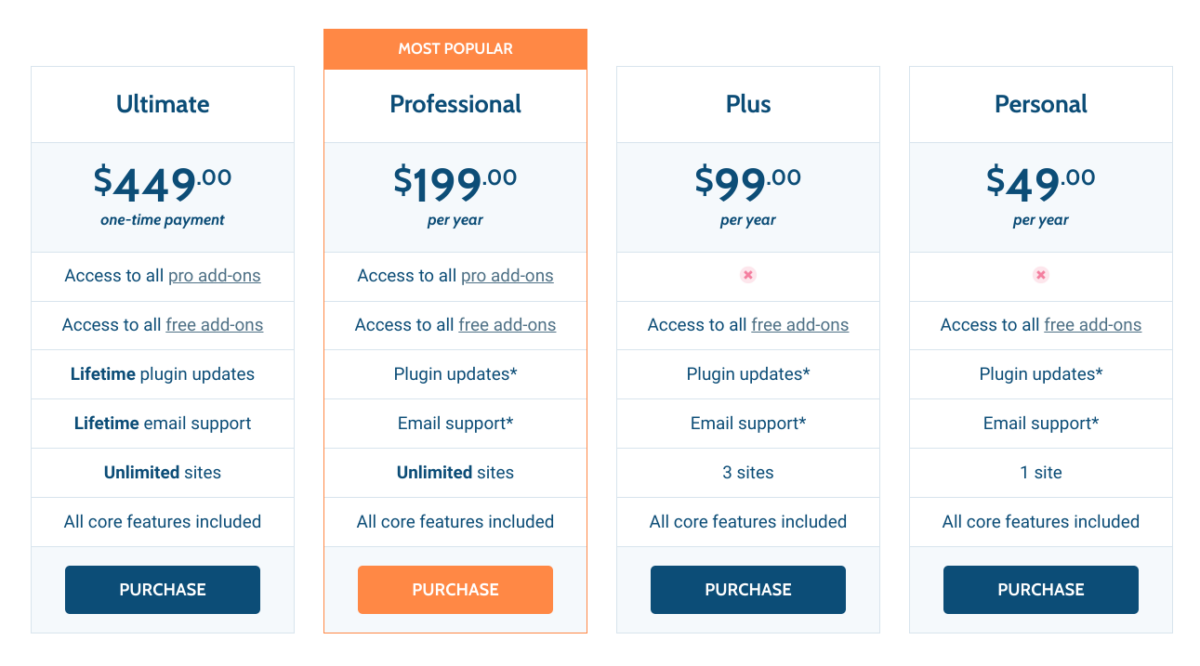 This way, you'll have access to the Event Ticketing add-on that will make it easy to sell tickets online with WordPress.

Once you download the Sugar Calendar plugin and grab the Event Ticketing extension, you can upload both to your website. Go to Plugins » Add New » Upload Plugin:

Select the Install Now then Activate Plugin buttons.
Step 3: Configure the Settings & Payment Gateway
Next, you can configure the plugin/add-on settings and connect a payment gateway. Sugar Calendar lets you easily integrate with Stripe.
To get started, go to Calendar » Settings » Tickets » Payments. Then click on Connect with Stripe:
You'll be redirected to Stripe.com where you can connect your existing Stripe account or register a brand new account.
To test the purchasing process, you can also enable Test Mode and use a test card to complete ticket purchases:
Under the Emails tab, you can configure the purchase receipt emails sent to customers when they buy tickets.
Next you will need to configure the Order Receipt Email. You can set the subject line and message body of the email. A default email has been pre-configured but you may customize it however you wish.
Step 4: Create Your Event
The next step is to create the event you want to sell tickets online with WordPress to. Go to Calendar » Add New. You can name the event, add a description, and configure the dates: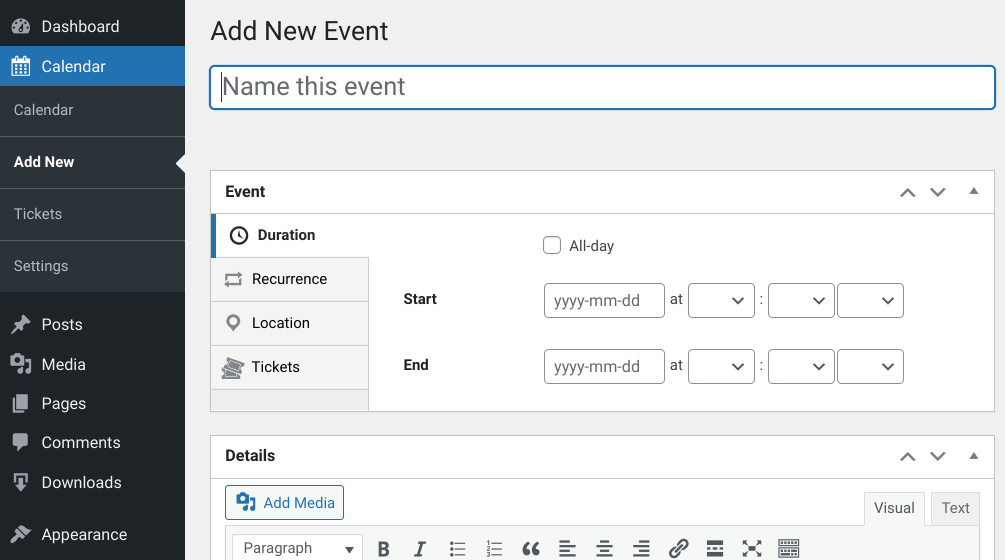 Next, navigate to the Tickets tab. Then click on Enable Ticket Sales:

Then you can enter a ticket price and set the capacity, meaning the quantity of tickets available. If you want to sell unlimited tickets, you can leave this value at 0.
Step 5: Start to Sell Tickets Online with WordPress
When you're done configuring the event and enabling tickets, the only thing left to do is to start selling. In the right-hand settings panel under Calendar, select your calendar or click on Add New Calendar. Then select Publish: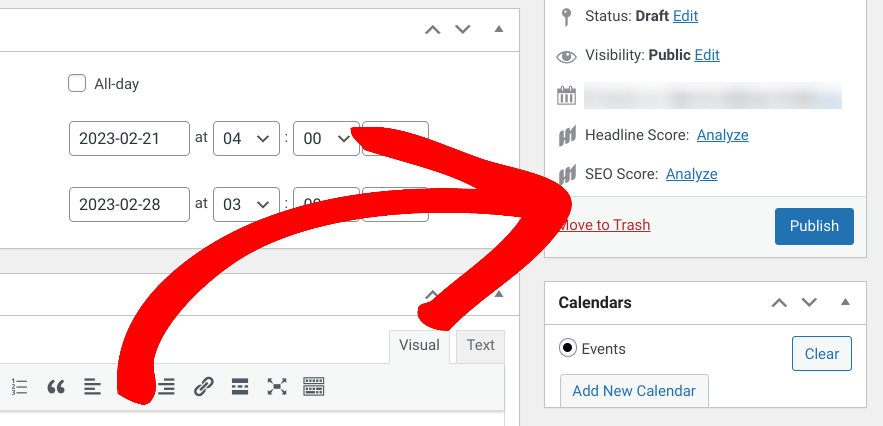 Then you can preview the event to see how it looks on the front end of your WordPress site:

For more guidance and details on setting up this plugin, you can use the Sugar Calendar documentation.
Get EDD to Sell Tickets Online With WordPress
Ultimately, using WordPress to sell tickets online allows you the flexibility and control to create a tailored solution that meets the needs of your business. There are so many plugins you can use. However, we recommend using our sister plugin SugarCalendar.
Ready to sell even more digital products? Download Easy Digital Downloads today to get started!
eCommerce without limits!
That is our promise. Most eCommerce solutions limit your creativity
…not Easy Digital Downloads!
📣 P.S. Be sure to subscribe to our newsletter and follow us on Facebook or Twitter for more WordPress resources!