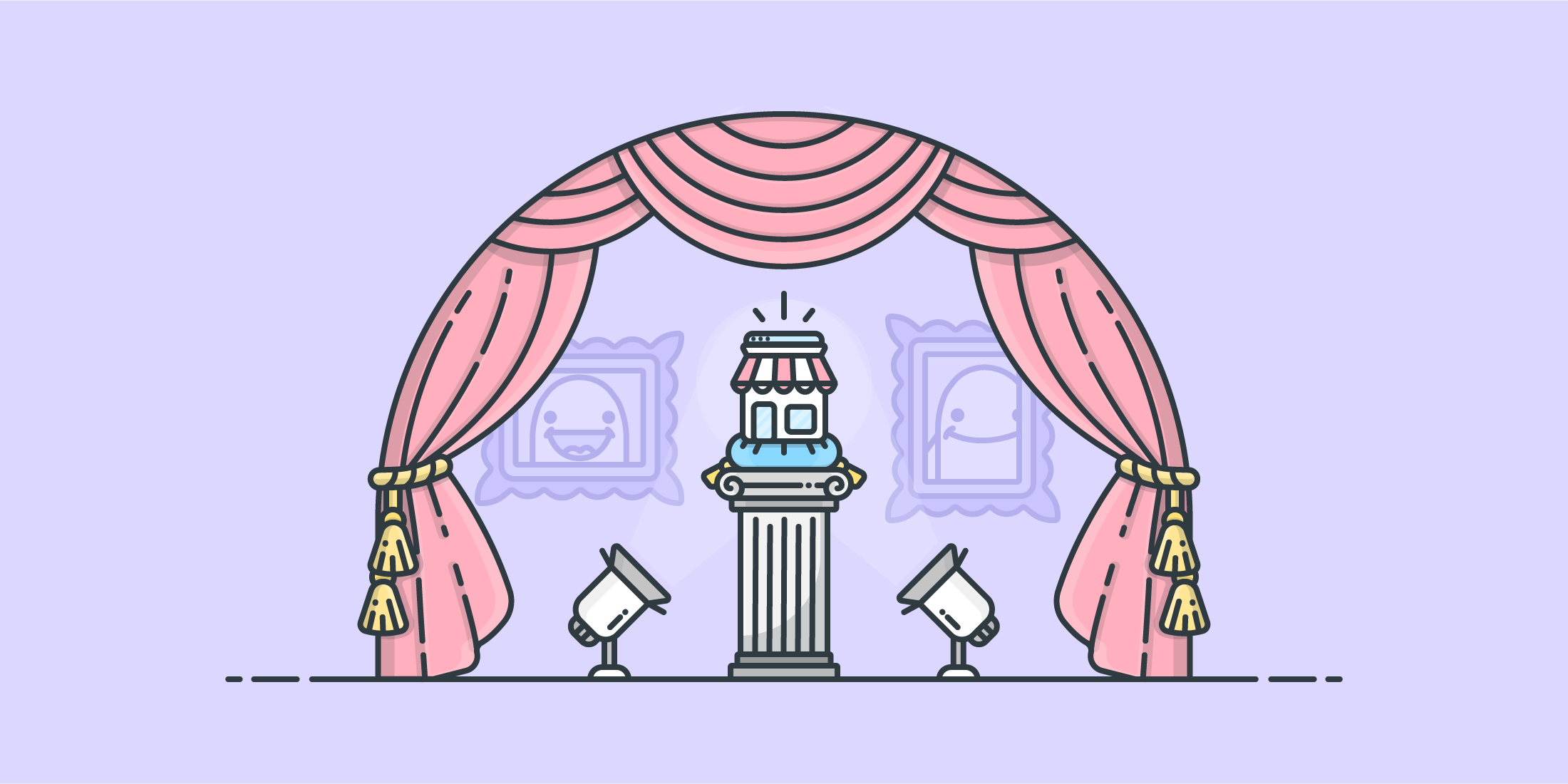 Often, quality products are born from situations where creative people need to find solutions to their own problems.
After all, if you need it, someone else might, too!
Well, WP Tasty is no different.
In this edition of our customer showcase series The EDDge, we talk about the story behind Minnesota-based power couple Bjork and Lindsay Ostrom's three businesses: Pinch of Yum, Food Blogger Pro, and WP Tasty.
In particular, we discuss WP Tasty, which has been used by a number of high-profile food blogs, including Fit Foodie Finds, Cookies & Cups, Spaceships & Laser Beams, and Host the Toast, among others.
To learn more, we spoke with the team about how one experiment with monetizing a food blog led to a fully-fledged software business.
It all started with one basic thing.
Mmm…food!
Lindsay Ostrom is a former elementary school teacher turned full-time food blogger that was looking for a way to share her recipes online without inundating her Facebook friends with food photos. She started Pinch of Yum as a side venture while working as an elementary school teacher.
On the Pinch of Yum website, Lindsay says:
"In this space, I am always sharing fresh, flavorful, (mostly) healthy recipes that I love to make and eat in my real, actual, every day life. If I wouldn't eat it in real life, I won't put in on the blog. My goal is to inspire you with food that is both approachable AND exciting, whether you're cooking for yourself, your family, your roommates, or your friends. I want you to be so excited about these recipes that you eagerly await 5pm when you can go home from work and start cooking."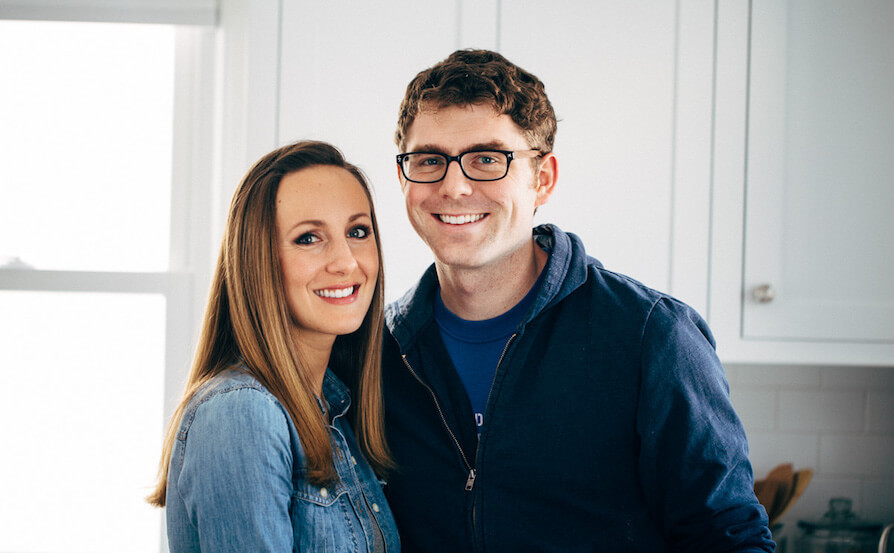 "What started as a casual hobby for nights and weekends while I was working as a fourth grade teacher has now grown into a full-blown business (!!) that reaches millions of people with fun recipes each month," she says.
Millions…wow! How did that happen?
The experiment
In 2011, Lindsay and her husband Bjork Ostrom decided to try and take Pinch of Yum from a hobby to an income-generating business. With Lindsay's passion for food and Bjork's digital business and technology savvy, they began monetizing the blog and publishing monthly income reports to document the process and share their insights with others.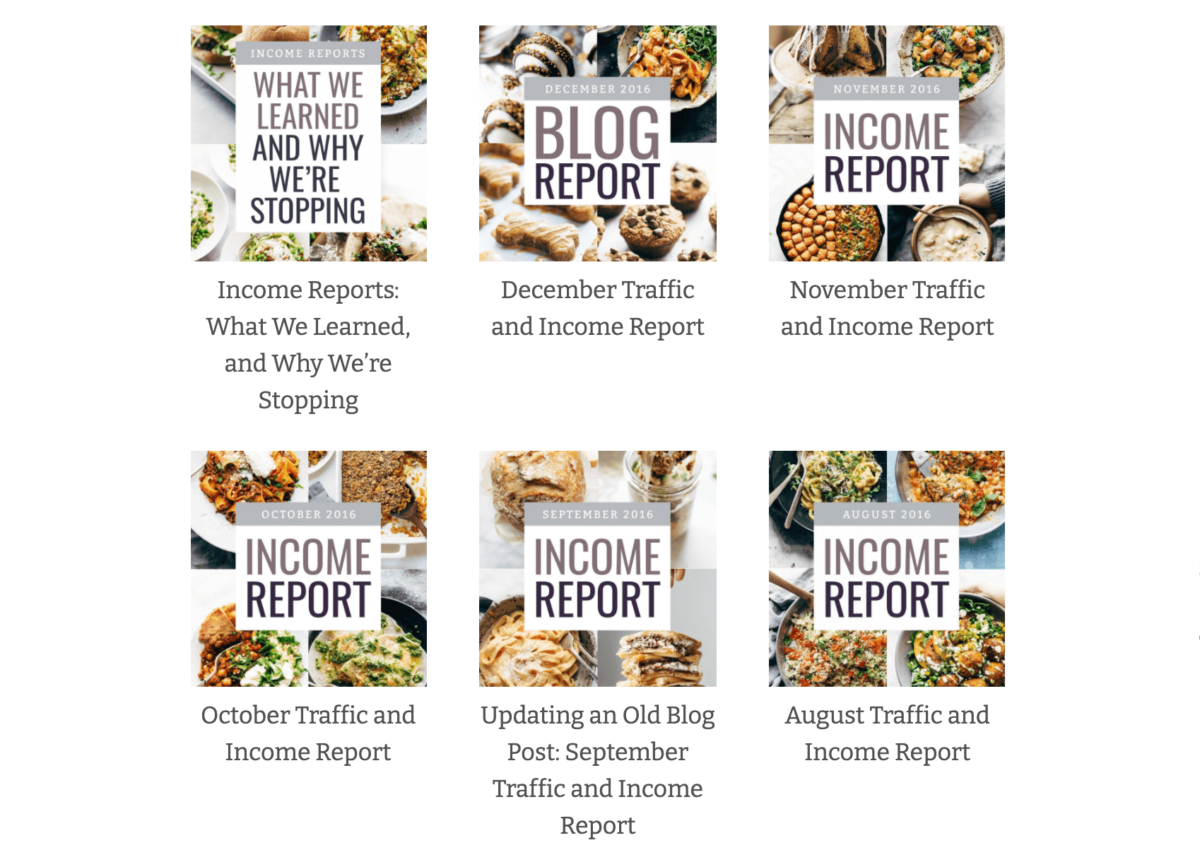 Soon enough, their readers were hooked, and they started getting a lot of questions from other food bloggers. With all of the experience and insights they were gaining, the couple decided to create a membership site to help people learn how to start and run a food blog.
With this, Food Blogger Pro was born!
"There's enough room for everyone in the food blog world, so let's do this thing together."

Food Blogger Pro
With many videos, an active community forum, a panel of industry experts, live monthly events, and discounts on tools and services made specifically for food bloggers, Food Blogger Pro became a go-to resource for many people in the food blogging space.
Over time, the team grew, and eventually, they started seeing some areas where food bloggers were being underserved by the software available to them. In fact, the WP Tasty team even had problems with plugins themselves.
So, they decided to do something about it!
WP Tasty
Modest beginnings
In November of 2016 the team released their very first plugin Tasty Recipes, a recipe plugin designed specifically for food bloggers.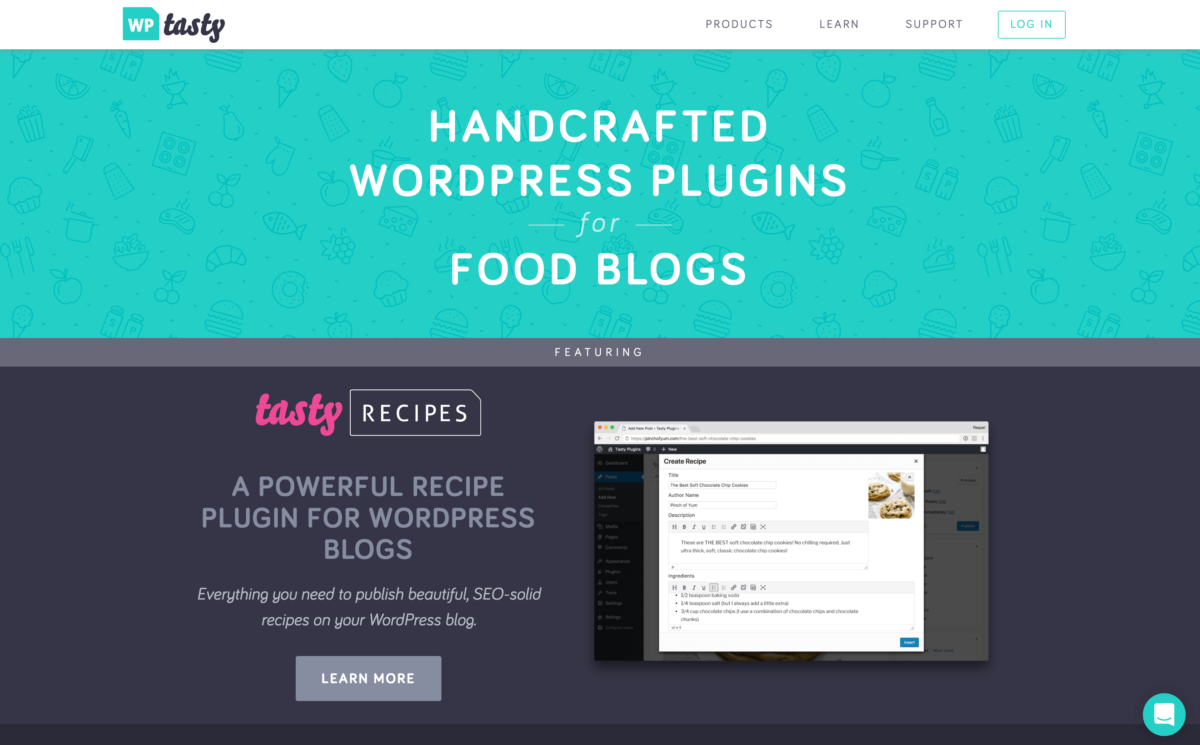 They started small, with a waitlist that offered a modest 15 people per week the opportunity to purchase. Soon enough, it was clear that there was a substantial audience to support the plugin.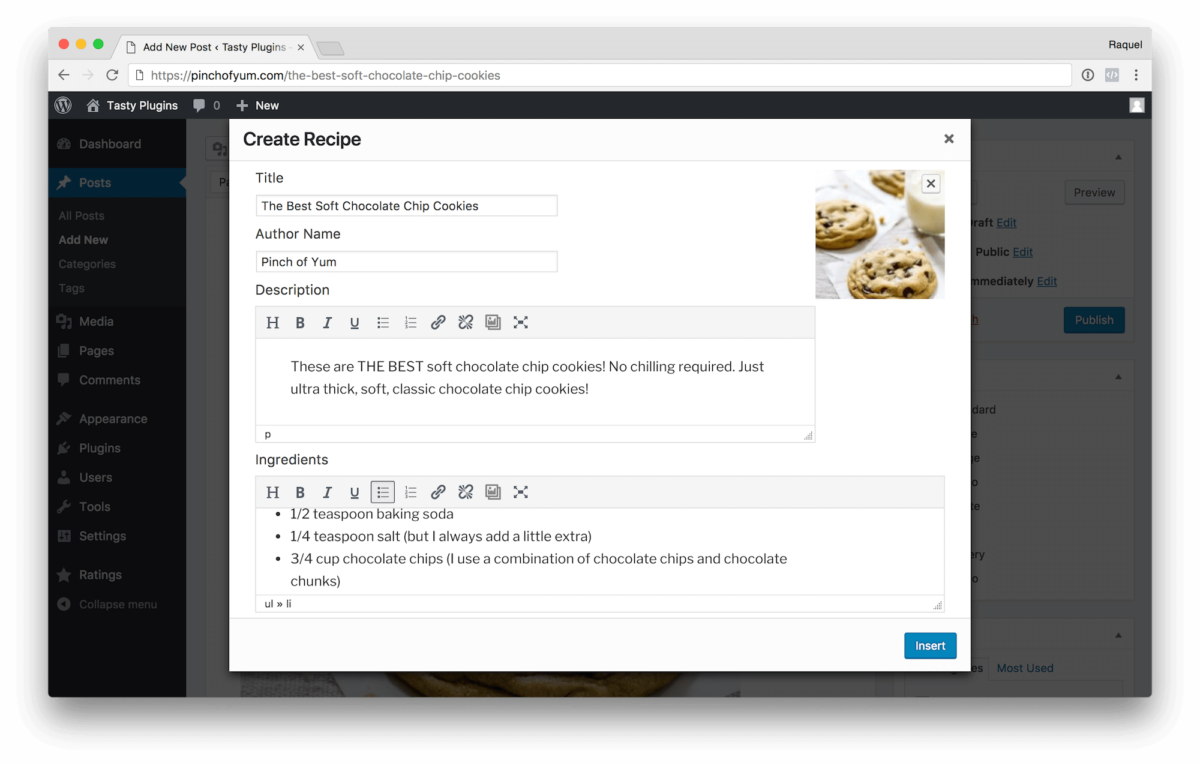 In April of 2017 they went public, and by the next year, their monthly recurring revenue (MRR) had grown by over 700%!
They were on to something.
Expanding the product catalog
With all signs pointing toward success, Bjork, Lindsay, and their team decided to create momentum by developing a second plugin – Tasty Pins – that would enable bloggers to add Pinterest pin descriptions for their images.
The growth continued. By early 2020, WP Tasty had generated close to 1,000 active subscriptions for these two products alone. And recently, they released yet another product: Tasty Links.
But with all of this momentum, it wasn't just about releasing products to make money; WP Tasty's primary goal was to make their customers' lives easier, with rock-solid plugins that solve real problems and top-notch support for those plugins.
This focus on enabling others seems to be magic when it comes to selling digital products, and for good reason! Everyone loves a win-win situation. Plus, when you provide something really helpful to customers, you become more than just a product maker; You become a true authority.
Using Easy Digital Downloads
So, how did the WP Tasty team go about selling their plugins anyway? Well, most importantly, they needed a solution that would be both simple to manage and easy for customers to use.
They had built businesses before where the sales process was fragmented – one service to process payments, one service to create the product, and one service to handle the renewals. This fragmented process was a pain, and the team wanted something more cohesive.
Easy Digital Downloads turned out to be the right solution – especially when it came to selling software in particular.
"EDD not only brought the sales process together; It enabled us to easily license our products for our customers, which is critical for a premium plugin business," former WP Tasty product manager Raquel Smith says.
Additionally, if you sell software, you probably understand the importance of customer support; From helping customers successfully use the software to providing software updates, software is just one of those digital product types that requires a bit more on the support side.
For the WP Tasty team, integrating well with their chosen support software Intercom was essential.
EDD's extensive documentation of available classes and methods allowed them to easily create functions to populate the data they needed. Now, Intercom is kept up-to-date with all WP Tasty customer information so that they can provide timely, informative support.
EDD extensions
WP Tasty plugins are licensed for use on one site only and are billed on a yearly basis. Bjorn, Lindsay and the team needed a solution that could keep track of when a license expired, whether or not it was cancelled, and bill the customer based on those (and other) properties.
They achieved this seamlessly with EDD, as well as the Software Licensing and Recurring Payments extensions.
The WP Tasty extension stack also includes:
Stripe Payment Gateway
Invoices
Zapier
ShareASale
Advanced Reports
Indeed, EDD has a wealth of available extensions that work together to form an all-in-one solution.
To create a diverse and multi-faceted business, it certainly helps to have a flexible system with plenty of options for customization and added functionality! Of course, we're not biased or anything… 🙂
Company details
In order to fully comprehend the WP Tasty journey, we wanted to know a bit more about the company structure. We learned that WP Tasty was started under Food Blogger Pro, but to keep the product side of things separate from the educational and community side, the team decided to make WP Tasty its very own company.
Now, WP Tasty, Food Blogger Pro, and Pinch of Yum are all technically separate LLCs owned by Bjork and Lindsay – with each company having its own independent goal to make sure that it's successful in and of itself.
On a day-to-day basis, Lindsay runs Pinch of Yum, while Bjork runs Food Blogger Pro and WP Tasty.
Other notable team members include former product manager and web developer Raquel Smith, and well-respected WordPress plugin developer Daniel Bachhuber (WP-CLI, WordPress REST API).
A remote team
"Team Tasty is a tight-knit remote team on a mission to help content creators optimize their content with minimal effort."

WP Tasty
Like many digital businesses, the WP tasty team has fully embraced remote working. They not only found that hiring remotely gave them better access to the right people for the job; It also allowed everyone on the team to live in the best environment for them while also working for a company they love.
We agree that the flexibility for individuals to live and work according to their own needs and preferences is one of the major benefits of remote working! At EDD, our team is entirely remote, too, and it's increasingly common among the digital product and WordPress communities.
What can we say? Happier employees mean better quality work, better products, a better user experience, and ultimately, happier customers!
The philosophy behind everything
What does success mean to the team at WP Tasty? In short: Making their customers' lives easier in a way that allows them to have a profitable business.
Well, they certainly has a history of helping others achieve their goals – and it all stems from their own personal experience.
WP Tasty has a very niche audience, which helps when it comes to capturing their attention. Everyone on the team either currently maintains or has previously maintained their own food blogs, and this personal experience has been integral to serving their customers well.
This approach works well for all types of digital products; The more you understand about the niche you're in, the better you can create and support products that meet the needs of your customers.
But it's more than just making cool stuff that people like and find useful. We've often talked about the importance of providing stellar customer support. In fact, we wrote a post about it!
Your support team is the public face of your company, and your customers' support experience can either send them running, or inspire lifelong customers. WP Tasty aims for the latter.
Food for thought
The WP Tasty team says they are constantly looking for ways to support food bloggers by providing awesome functionality as well as a superior support experience.
The rich ecosystem that Bjork, Lindsay, and the rest of the team responsible for WP Tasty, Food Blogger Pro, and Pinch of Yum have created gives food enthusiasts and food bloggers plenty of inspiration and guidance when it comes to turning their passions into actual businesses.
At EDD, we are always excited to hear about (and share) stories like these – and we are glad to help to facilitate their success.
Hopefully this post has given you some food for thought!
Do you have your own EDD success story to share? Email us at support@easydigitaldownloads.com and tell us how Easy Digital Downloads gives you The EDDge!