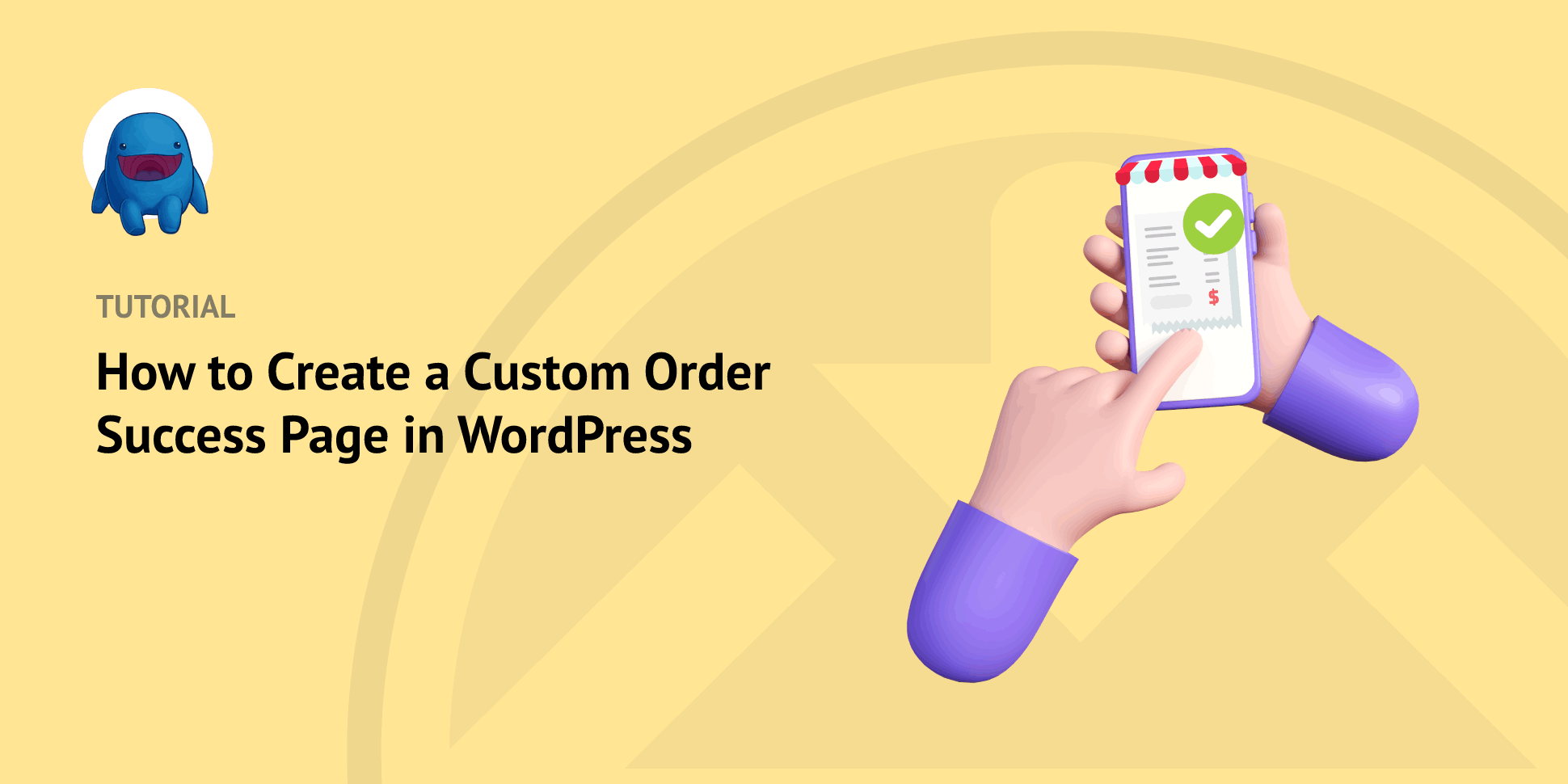 Creating a custom order success page in WordPress is essential for any eCommerce website.
It lets you inform customers that their purchase(s) was successful. You can also display important order details and relevant download links /instructions.
With Easy Digital Downloads, creating a custom order success page couldn't be easier.
🔎In this post, we'll cover:
Why Create an Order Success Page in WordPress?
Creating an order success page in WordPress is a great way for store owners to provide customers with a clear understanding of their purchase and related details. It can be especially beneficial for online stores, as it helps build trust with shoppers. Plus, it adds an extra layer of security to the checkout process.
An order success page helps you easily track order histories and provide customers with helpful resources such as FAQs, contact info, download links, etc.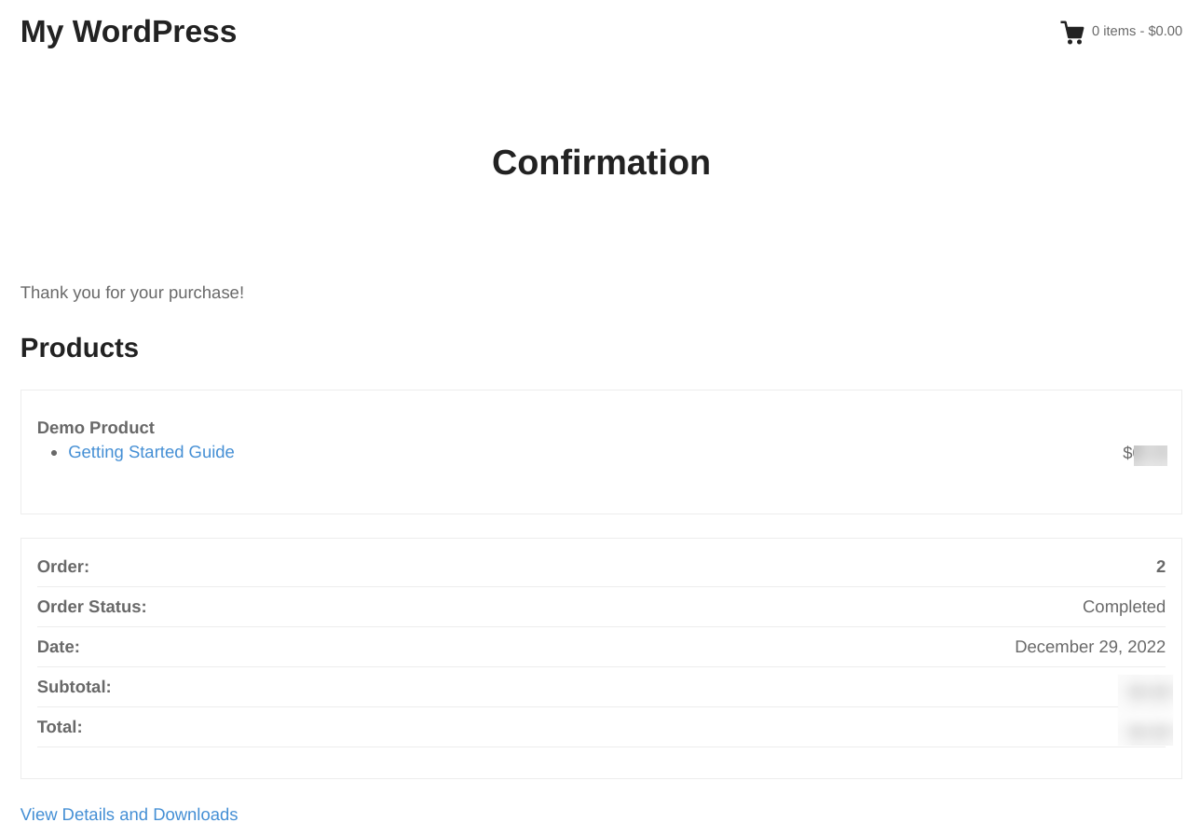 Think of it as both an order confirmation and a custom thank you page. On top of outlining information like the customer's name, order number, payment method, etc., you can also add content for upsells and encourage customers to continue shopping.
You could include a coupon code, display related products, or add social sharing icons.
Additionally, you can use this WordPress page to show personalized media such as logos, videos, and images that help promote your brand.
How to Create a Custom Order Success Page
Now that we understand the importance of an order received page for WordPress sites, let's look at how to set one up. Below is a step-by-step tutorial for beginners on how to create an order success page in WordPress:
Step 1: Install Easy Digital Downloads (EDD)
If you sell digital products, Easy Digital Downloads (EDD) offers a complete eCommerce solution for WordPress websites:

It comes with everything you need to create and manage your online store. This includes a built-in order success and confirmation page. It's ideal for selling digital products, software, files, etc. There is a free version available. But I recommend a premium plan to access all the extensions and tools.
To start, select your plan from the site and create your account. From your EDD account dashboard, go to File Downloads and click on Get Easy Digital Downloads:

Once the plugin downloads, navigate to your WordPress dashboard. Next, go to Plugins » Add New » Upload Plugin » Choose File:

Select and upload the EDD zip file. Then click on the Install Now and Active Plugin buttons. Once activated, you can begin setting up your online store under Downloads » Settings: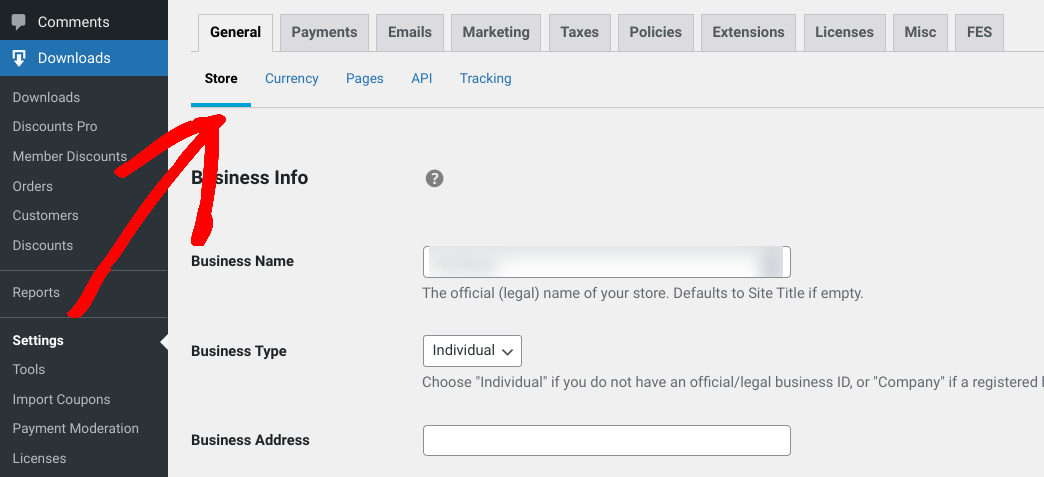 You can add business information, select a currency, and set up a payment gateway.
⚙️ For detailed guidance on setting up your store, check out:
Step 2: Create the Order Success Page
Easy Digital Downloads automatically creates several pages that are important for the purchasing and checkout process. You can find these pages under Downloads » Settings » General » Pages:
The Checkout page is where shoppers go to complete their purchases. The Confirmation page (also known as the Success page) is where your customers are sent once they complete their purchase.
If their transaction doesn't go through, they're sent to the Failed Transaction page.
EDD creates and assigns these pages by default. To view/modify it, you can go to Pages » All Pages and select Edit under Confirmation: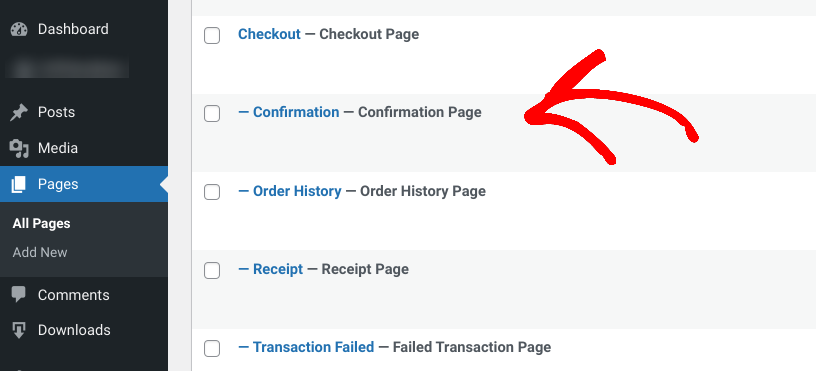 On this screen, you can see a preview of the order success page in WordPress: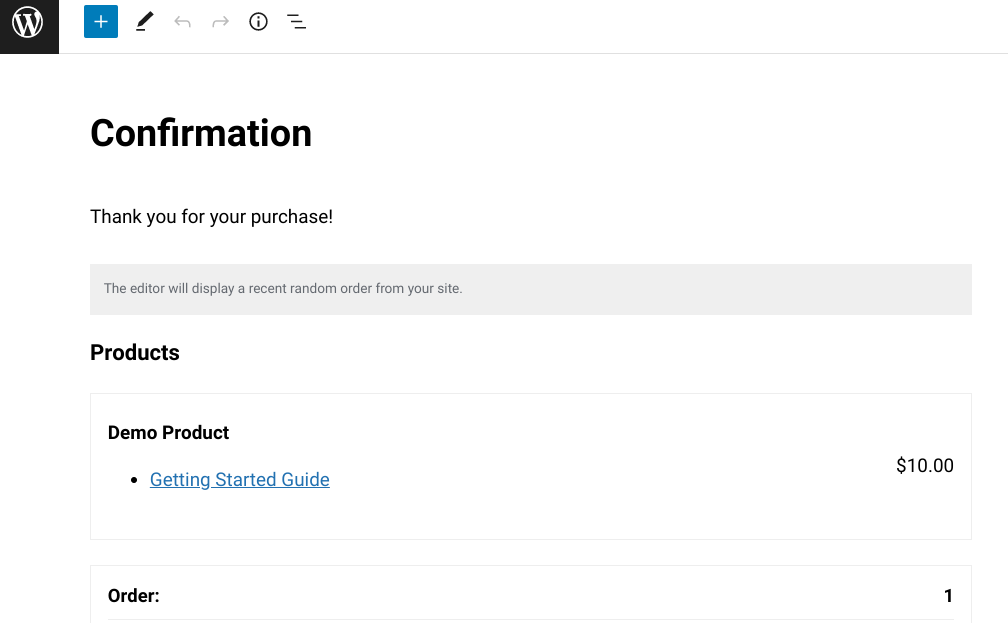 As you can see, there's a message thanking the user for the purchase. There is also a summary of the order with details.
You can also create a custom order success page. Go to Pages » Add New and give it a name. Next, click on the + (Add Block) button. Then search for and insert the EDD Confirmation block: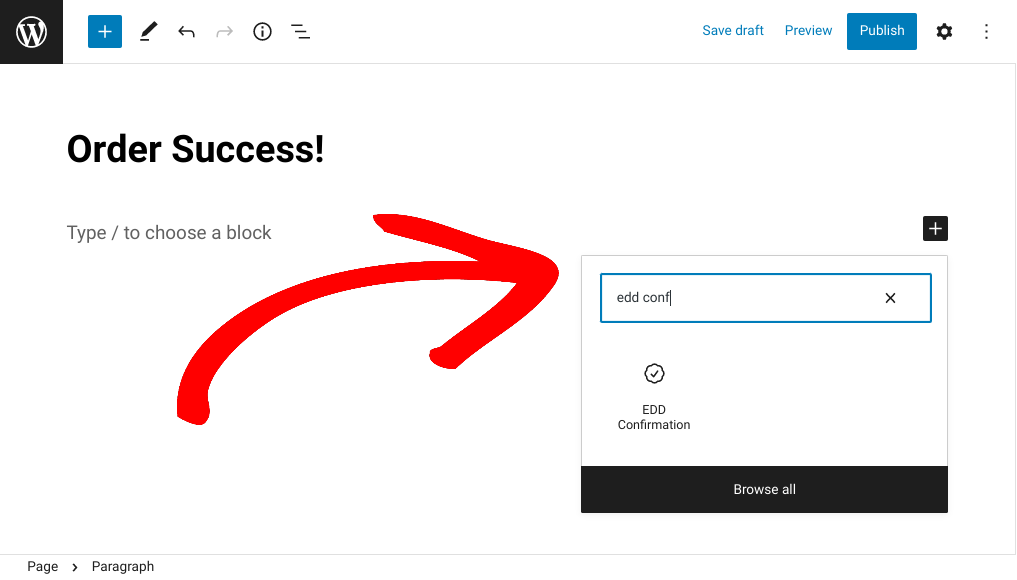 After you place the block, you can configure and customize the settings.
Step 3: Customize the Order Success Page
Whether you use the Confirmation page or create a new one, there are a few ways to customize it. Within the WordPress editor, you can add or delete any text.
You can also insert images, videos, etc.
When you click on the EDD Confirmation block, there are a few settings located to the right: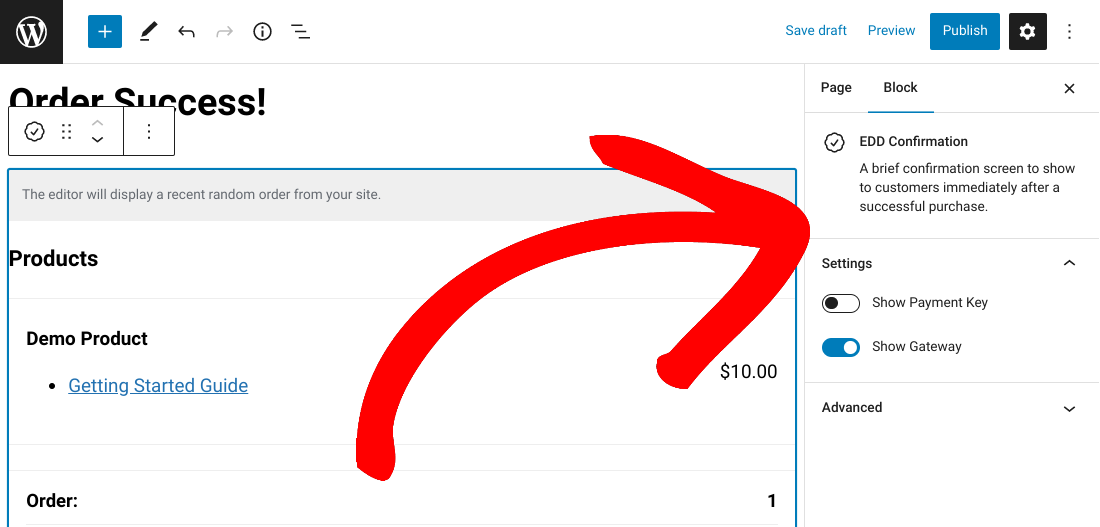 You can choose to show or hide the Payment Key and Payment gateway. When you're done, select Publish.
By default, Easy Digital Downloads also sends purchase receipt emails to customers: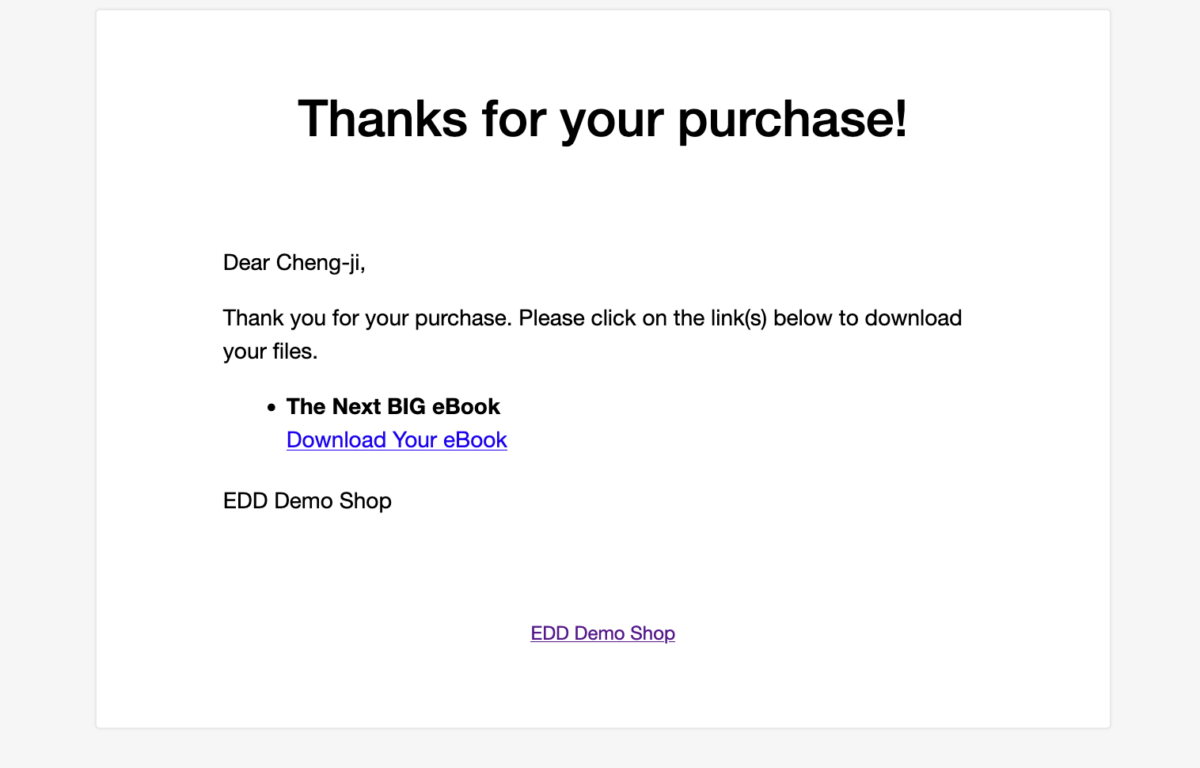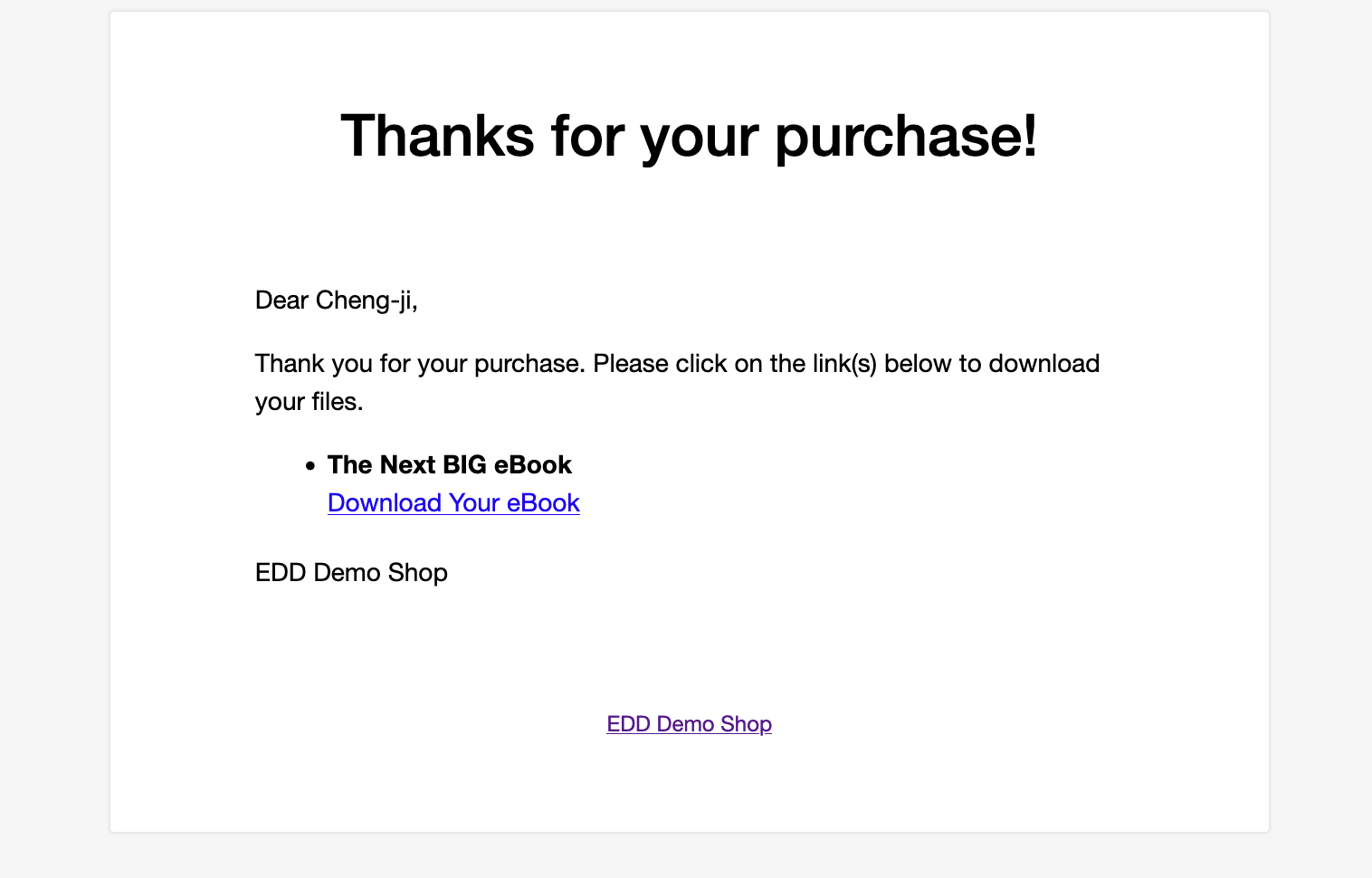 To customize these emails, go to Downloads » Settings » Emails » Purchase Receipts.
Finally, if you want an easy way to build and modify the appearance of your site, including product pages, landing pages, and order/receipt pages, you could download a drag-and-drop page builder like SeedProd.
This plugin lets you choose from a library of page templates and widgets to customize your site. You won't have to edit any template files using HTML or CSS. It's an excellent choice for beginners or those unfamiliar with coding.
Create an Order Success Page in WordPress
Creating an order success page in WordPress can increase customer satisfaction and streamline the checkout process. Easy Digital Downloads makes it easy to create a custom order success page tailored to your specific business needs.
Ready to get started? Download Easy Digital Downloads to create an online store and custom order success page in WordPress within minutes!
📣 P.S. Be sure to subscribe to our newsletter and follow us on Facebook or Twitter for more WordPress and eCommerce resources!