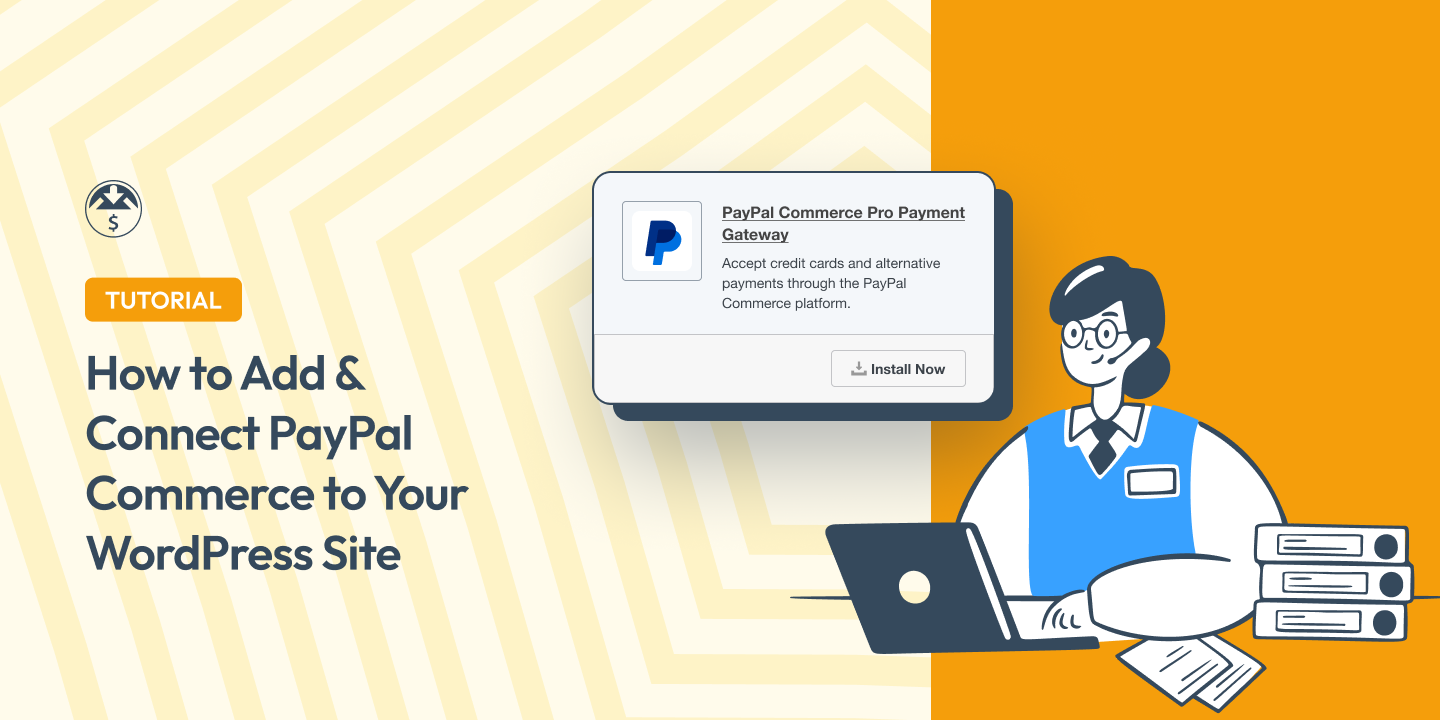 Looking to integrate your WordPress site with the PayPal Commerce platform?
When you're running an e-commerce store, it's important to use secure and efficient payment gateways. PayPal Commerce, combined with the Easy Digital Downloads (EDD) WordPress plugin, offers a powerful solution for accepting online payments.
PayPal Commerce can enhance your WordPress site's checkout process and provide a seamless experience for your customers.
🔎 In this article, we'll cover:
What Is the PayPal Commerce Platform?
PayPal Commerce is a robust and reliable payment platform that allows businesses to accept payments from customers worldwide. It offers a wide range of features and integrations, making it a popular choice for online sellers and merchants.
With PayPal Commerce, you can securely accept payments, manage transactions, and provide a smooth checkout experience to your customers. It's ideal for marketplaces, crowdfunding platforms, and e-commerce business owners.
PayPal Commerce is highly suitable if you run an online store and want a versatile, all-in-one payment processing solution. More, it offers a handful of advanced functionality and features compared to PayPal Standard.
PayPal Commerce vs. PayPal Standard
Feature
PayPal Commerce Pro
PayPal Standard
Accept credit cards & debit cards
✅
✖️
PayPal Wallet/On-site Checkout
✅
✖️
Alternative payment methods (i.e. Sofort, iDEAL, giropay, etc.)
✅
✖️
Pay Later
✅
✖️
Full Recurring Payments/Subscription Sales support
✅
✖️
Initialize refund transactions in PayPal directly from WordPress
✅
✖️
Test payment mode
✅
✅
Simple connection + setup
✅
✅
No additional fees beyond license purchase
✅
✖️
2.9 percent + 30¢ per transaction
Why Use PayPal Commerce for WordPress?
It's essential to choose payment gateways that are convenient and preferable among consumers. PayPal is one of the most popular payment processors on the market.
In 2022, PayPal had 435 million users, and the majority of online buyers (87.5%) have used it.
There are several types of PayPal solutions available. If you're an e-commerce owner/merchant, the PayPal Commerce Platform offers features and tools to help expand your global reach and attract new customers.
There are several compelling reasons to use PayPal Commerce for your WordPress site. For instance, it:
Enables you to accept payments from customers across the globe, supporting multiple currencies & languages
Offers robust security measures, ensuring that both you & your customers' financial information are protected
Integrates seamlessly with WordPress & various plugins, such as Easy Digital Downloads, which simplifies the setup process and allows you to start accepting payments quickly
Provides multiple payment options, including credit cards, debit cards, PayPal balance, & more
Includes detailed transaction reports & analytics into your sales, revenue, & customer behavior to optimize your sales strategy
Now that we understand the benefits of using PayPal Commerce, let's explore how to add and connect it to your WordPress site.
How to Add PayPal Commerce to WordPress
In the following tutorial, I'll walk you through how to set up PayPal Commerce on your WordPress site using Easy Digital Downloads.
🌐 Don't have a WordPress website yet? No worries. You can get WordPress and EDD preinstalled on a server set up and managed just for you with SiteGround Managed EDD Hosting.
Step 1: Get Easy Digital Downloads
Easy Digital Downloads (EDD) is a powerful e-commerce plugin designed specifically for selling digital products in WordPress:

It offers seamless integration with payment gateways, including PayPal, Stripe, PayPal Commerce, Authorize.Net, etc. You can use it to add a full shopping cart to your website, customize payment buttons and payment forms, and more. It makes optimizing PayPal checkout processes on your site quick and easy.
By default, the free version of EDD lets you accept payments with PayPal Standard. However, serious online sellers will want to focus on the more advanced version: PayPal Commerce.
To access the PayPal Commerce Pro payment gateway extension, you'll need an EDD Extended Pass (or higher):
Once you have your pass, you can download and install the EDD Pro plugin from your account dashboard:
Upload and activate it on your WordPress website (Plugins » Add New » Choose File » Upload Plugin):

After uploading it, click on the Install Now and Activate Plugin buttons. When you activate the plugin, a Downloads menu item appears on your WordPress dashboard: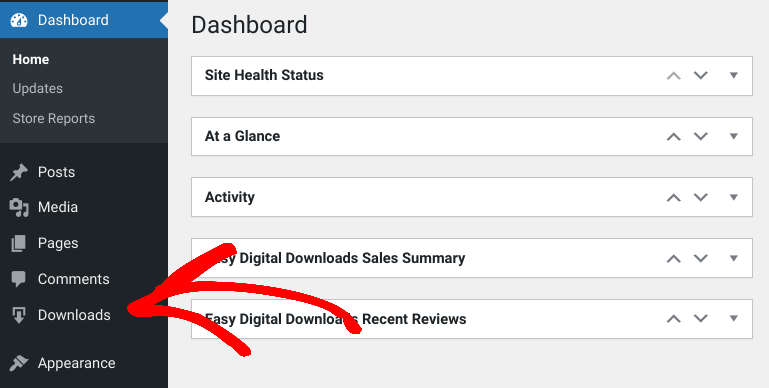 ⚙️For help getting your store started, you can use these guides:
Step 2: Install PayPal Commerce Pro Extension
Next, you can install the PayPal Commerce Pro extension. This extension enables you to easily connect WordPress to the PayPl Commerce platform.
First, go to Downloads » Extensions. Search for PayPal Commerce, then select the Install button: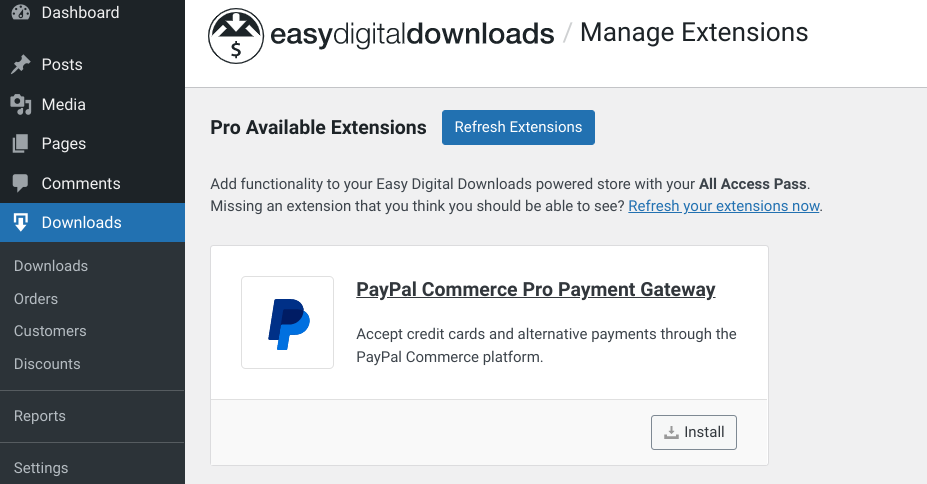 The plugin automatically activates upon installation.
Step 3: Configure PayPal Settings
After successfully installing the PayPal Commerce Pro extension, you need to configure the settings to connect it to your PayPal account. If you haven't created a PayPal Commerce account yet, you can create one by visiting PayPal.com and/or setting up a PayPal sandbox account.
Select the gear icon on the PayPal Commerce extension you just installed. Alternatively, you can go to Downloads » Settings. Under the Payments tab, click on PayPal: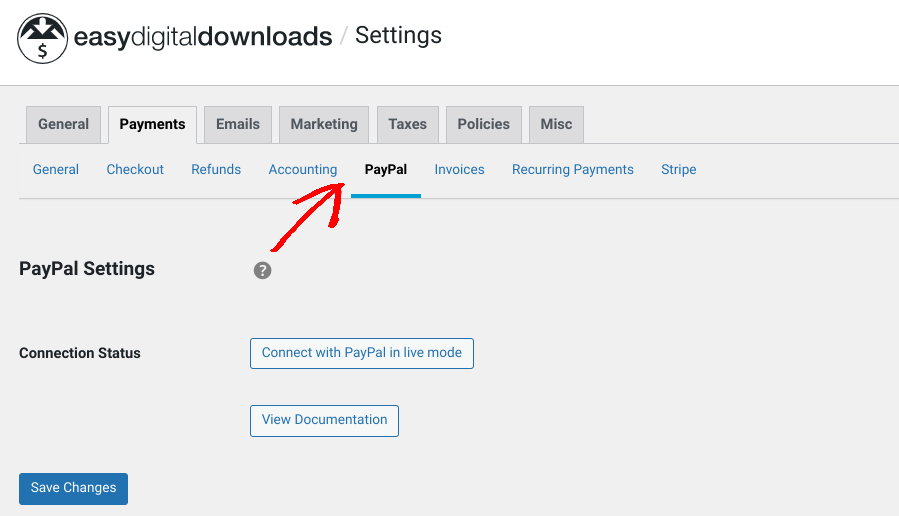 Here, you can select the option to Connect with PayPal. You can do this when your store is either live or in Test Mode (sandbox). You'll find the option to put your site in Test Mode under Downloads » Settings » General.
Follow the prompts to sign in to your PayPal business account. You'll need to enter your PayPal email address and password. When you're done, you should see a successful connection status message: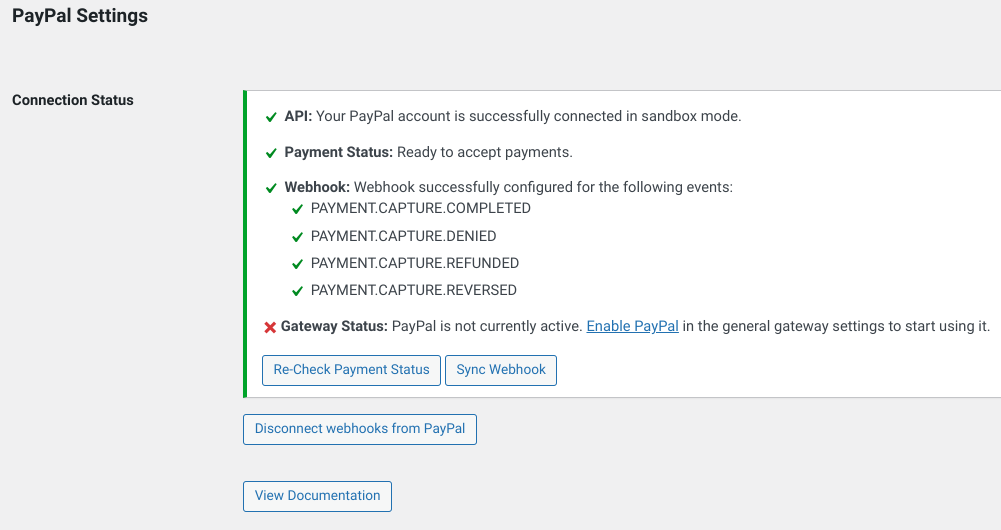 As you can see, the API, Payment Status, and Webhook settings are all set. But we still need to enable PayPal payment gateway to complete the PayPal integration process.
Activating PayPal Gateway
Go to Downloads » Settings » General, then select PayPal from the Active Gateways section: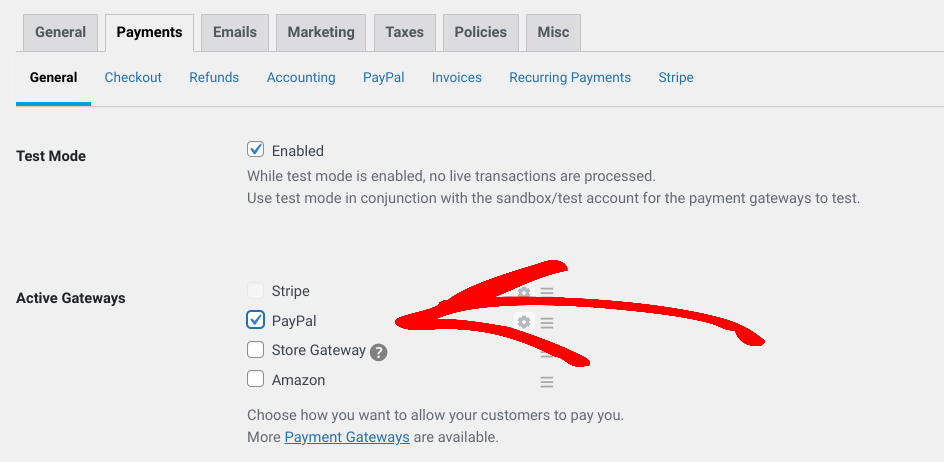 Save your changes and return to the PayPal settings page. If you want, you can select the option for Enabled Advanced Credit and Debit Card Payments:

If enabled (and supported by your PayPal account), Debit or Credit Card and Pay Later buttons will appear on your checkout page, along with the regular PayPal button: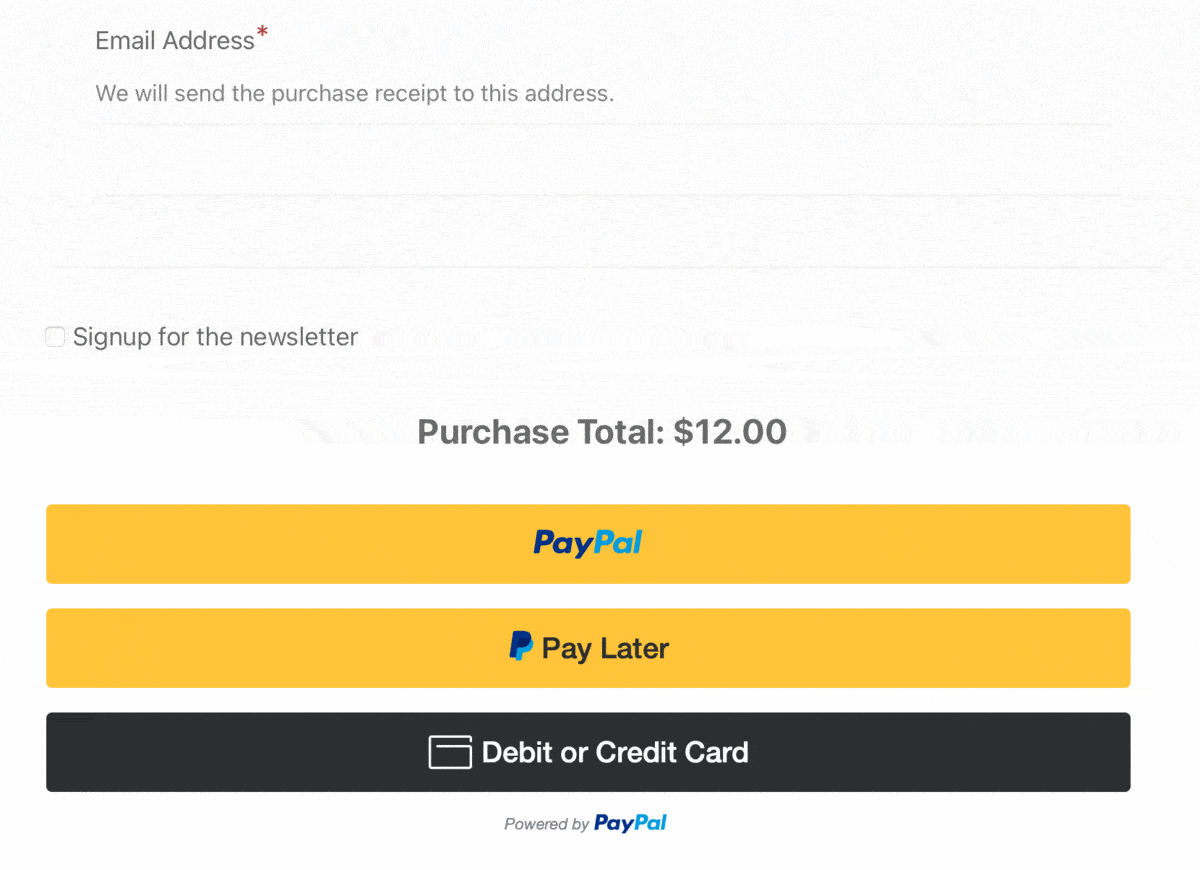 Below that, you can select any funding sources you don't want to present as an option.
⚙️ If you need help, feel free to refer to our PayPal setup documentation.
When you're done, remember to select Save Changes.
That's it! You've successfully connected PayPal Commerce to your WordPress site.
FAQs About PayPal Commerce
Let's wrap up with some frequently asked questions about PayPal Commerce and WordPress.
Is PayPal Commerce secure for online transactions?
Yes, PayPal Commerce is known for its robust security measures. It uses encryption technology to protect financial data and offers buyer and seller protection programs. Additionally, PayPal Commerce complies with industry standards and regulations to ensure secure online transactions.
What currencies does PayPal Commerce support?
PayPal Commerce supports a wide range of currencies, including major international currencies such as USD, EUR, GBP, CAD, AUD, and more. This enables you to sell your products or services globally and receive payments in your preferred currency.
How do I set up recurring payments with PayPal?
Another benefit of using Easy Digital Downloads is that it offers a Recurring Payments extension. This addon allows you to offer subscription-based services or products with automated recurring billing. Refer to the Recurring Payments PayPal setup documentation for configuration instructions.
Use EDD to Connect PayPal to WordPress
By leveraging the power of PayPal Commerce, you can offer your customers a secure and convenient payment experience, expand your global reach, and enhance the overall success of your online business.
Adding and connecting PayPal Commerce to your WordPress site is easy. All you need is Easy Digital Downloads and the EDD PayPal Commerce Pro extension.
Ready to get started?
📣 P.S. Be sure to subscribe to our newsletter and follow us on Facebook or Twitter for more WordPress resources!