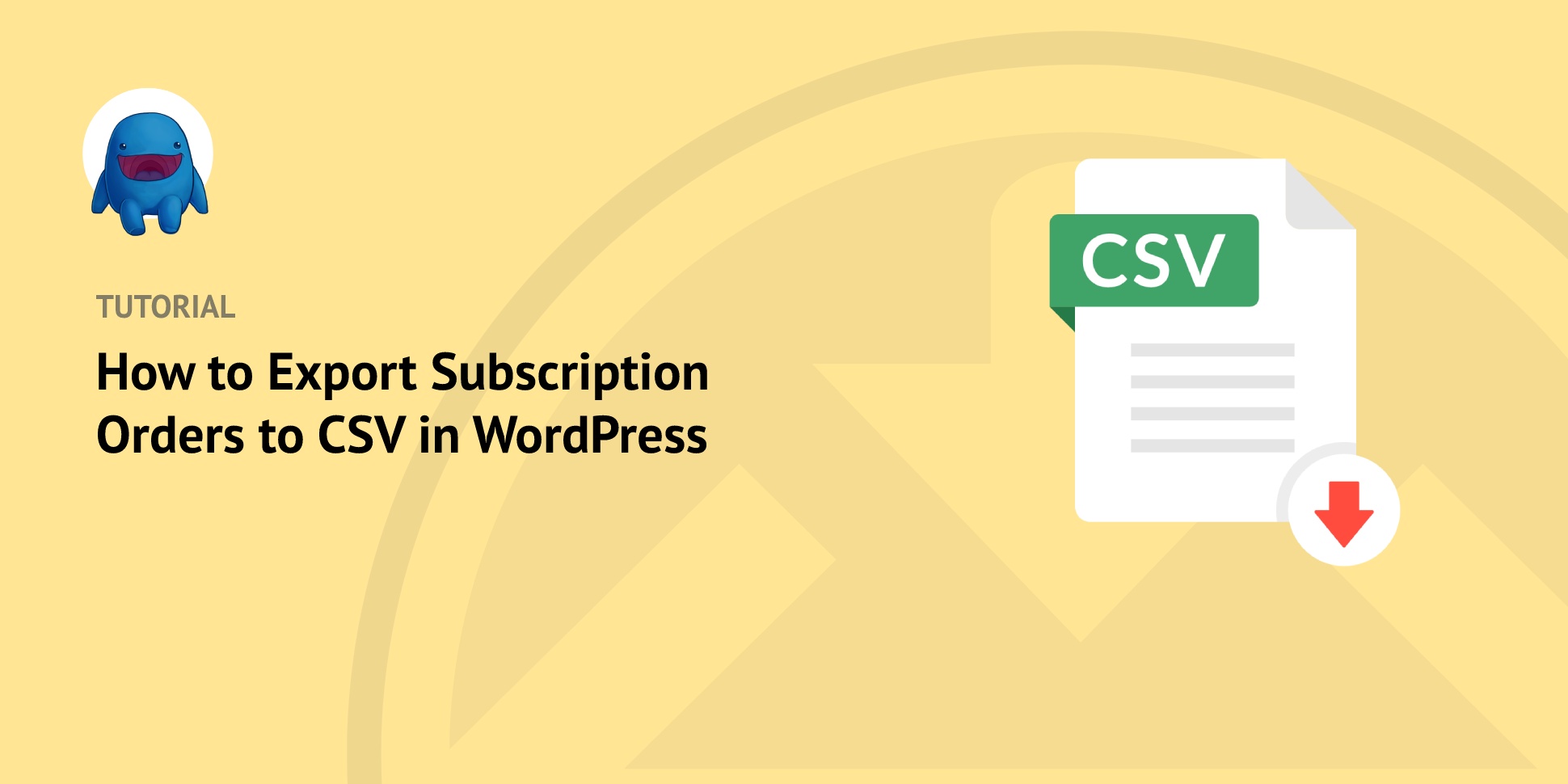 Are you trying to figure out how to export subscription orders to CSV in WordPress?
Comma Separated Values (CSV) is a popular file format for organizing and managing data. If you sell subscriptions on your eCommerce site, exporting your orders into CSV files can help streamline your reporting.
Fortunately, Easy Digital Downloads makes it easy.
In this tutorial, we'll cover:
Why Export Subscription Orders to CSV?
CSV files are text-based files that store tabular data in plain-text form. Each line of a CSV file is a data record separated by one or more commas. Each record consists of fields separated by commas.
The ability to export subscription orders to CSV files can help with reporting. These export files are commonly used for exchanging data between spreadsheet programs and systems.
You can open, view, edit, and share CSV files with any text editor or spreadsheet program, like Microsoft Excel or Google Sheets. This presents plenty of filtering options and opportunities to manipulate metadata in meaningful ways.
By default, WordPress lets you export various content into an XML file. For example, you can use the free plugin's built-in import/export tool for various post types, pages, and custom fields.
You could also export data using a File Transfer Protocol (FTP) client. But neither of these options covers solutions for automatically generating subscription order CSV files.
Fortunately, with the right WordPress tool, you can export subscription orders to CSV and other formats directly from your dashboard. You can manage all of your eCommerce orders and custom reports in one place, then export the data to combine, analyze, and use on other platforms.
How to Export Subscriptions to CSV in WordPress
If you have a WooCommerce store you use to sell physical products, there are plugins you could use to export WooCommerce orders. But if you sell digital products or subscriptions, Easy Digital Downloads is the ideal solution for your eCommerce platform.
You can use it to streamline your checkout, enhance customer/order management, and manage all aspects of your digital eCommerce store.
Ready to get started? Below, we'll walk you through how to export subscription orders to CSV in WordPress in three steps:
Step 1: Install Easy Digital Downloads
If you're already an EDD user, you can jump ahead to the next step. Otherwise, the first step is to install the Easy Digital Downloads plugin:

This is a complete eCommerce solution for selling digital products and downloads. WordPress users can use it to sell software, eBooks, templates, and much more. It also offers the Recurring Payments extension that provides the functionality that makes selling subscriptions a breeze. (More on that in a moment.)
There are a handful of pricing options to choose from. But we recommend grabbing an All Access Pass. This unlocks access to all premium tools and extensions, including Recurring Payments.
Once you purchase your plan, you can download the EDD WordPress plugin by going to File Downloads from your account dashboard. Then select Get Easy Digital Downloads:

Next, go to your WordPress dashboard, then Plugins » Add New » Upload Plugin:

After you select the EDD zip file, click on the Install Now button. Then activate the plugin.
Once activated, a Downloads menu item will appear.
📌 For more guidance on getting started w, you can refer to our EDD Quickstart Guide.
Step 2: Add (or Update) the Recurring Payments Extension
If you already have Recurring Payments installed, make sure that you're using the latest version. The Recurring Payments 2.1.1.8 update includes a new Export Subscriptions feature that we'll use in the next step. This eliminates the need to install another third-party export plugin.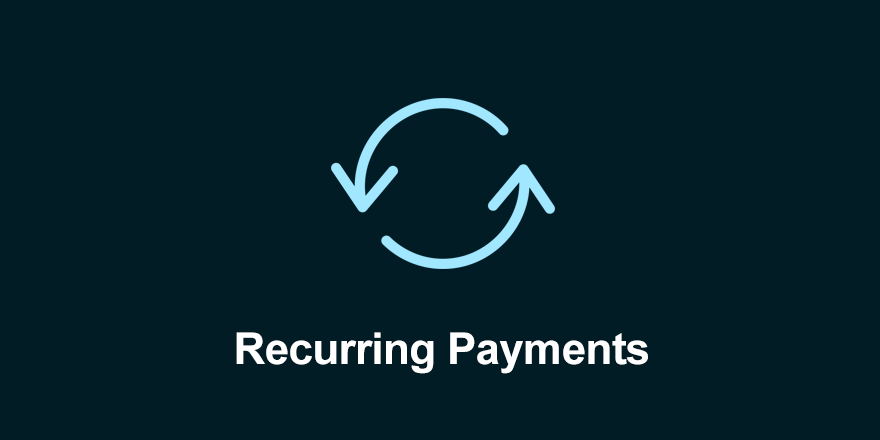 To get the Recurring Payments addon, you can go to Downloads » Extensions » All from your WordPress dashboard. Locate the Recurring Payments extension, then click on Download Now: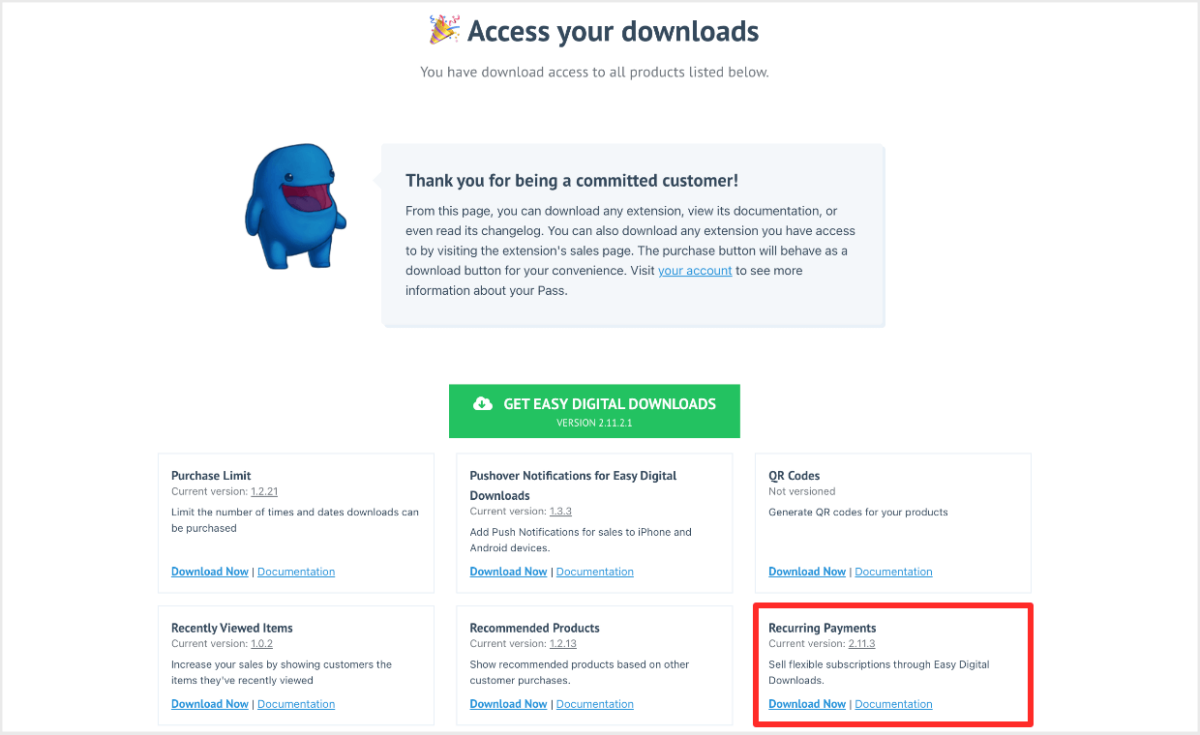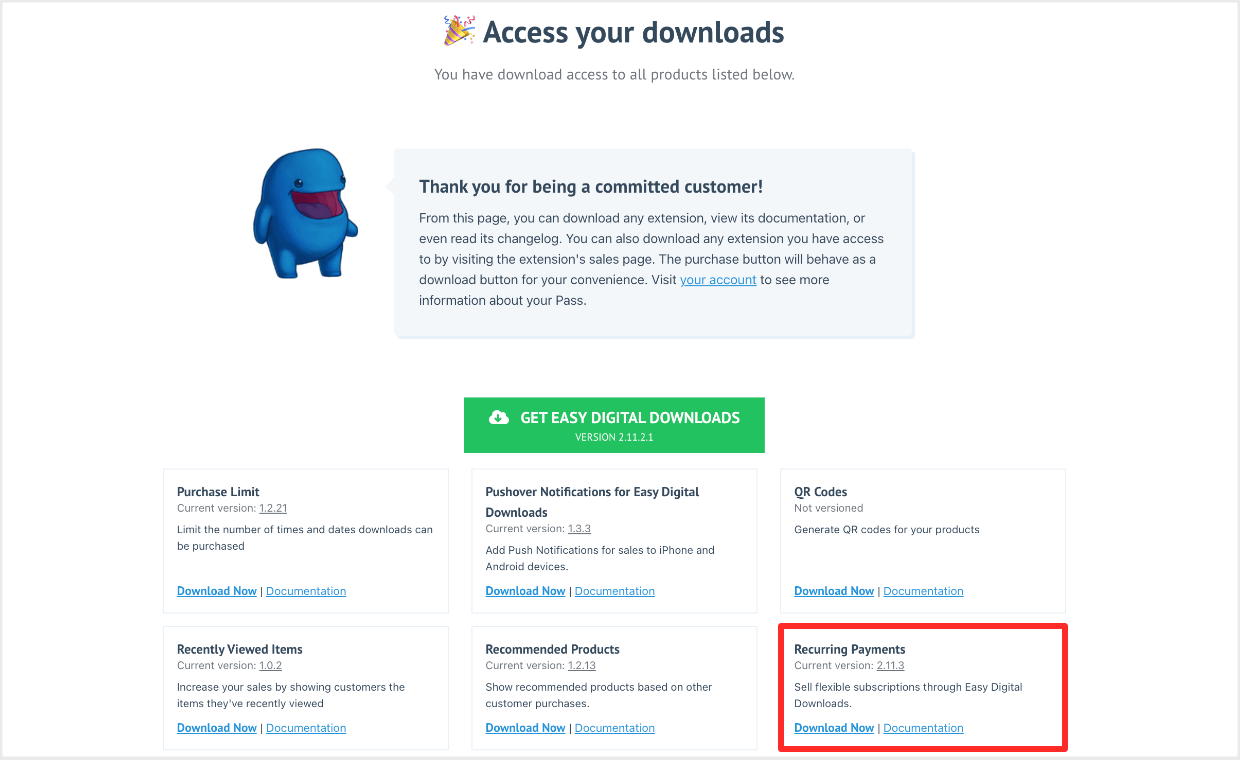 Upload it to your WordPress site. Then activate the plugin.
This addon lets you create and manage subscriptions in WordPress. You can configure the settings by going to Downloads » Settings » Payments » Recurring Payments: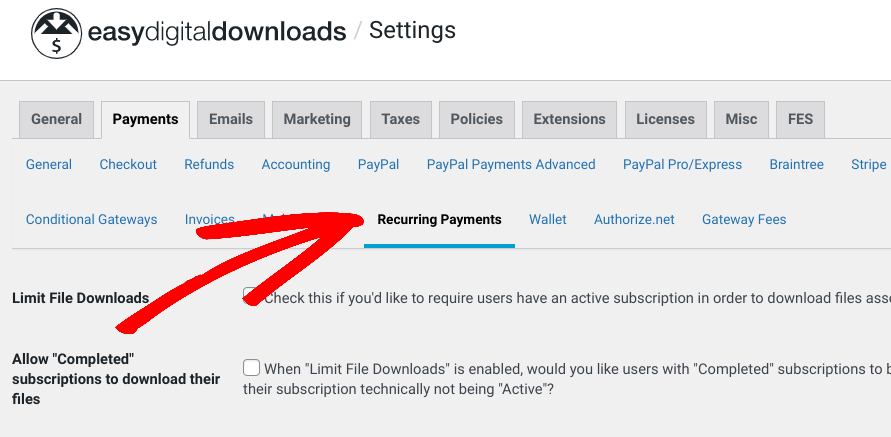 If you want to add or edit subscriptions, you can go to Downloads » Subscriptions.
We won't get into all the options and setup for creating subscriptions in this post. But for a full walkthrough, you can refer to:
Step 3: Export Subscriptions to CSV in WordPress
EDD lets you export reports for earnings, customers, products, refunds, etc. into a CSV format. You can do this under Downloads » Reports » Exports: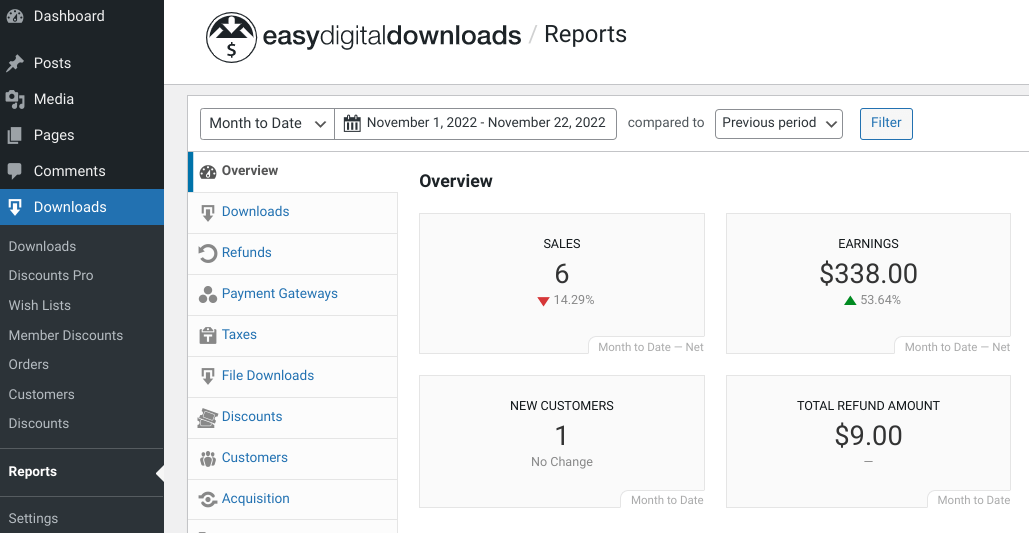 With the latest version of Recurring Payments, you'll find an Export Subscriptions section at the bottom of the export options: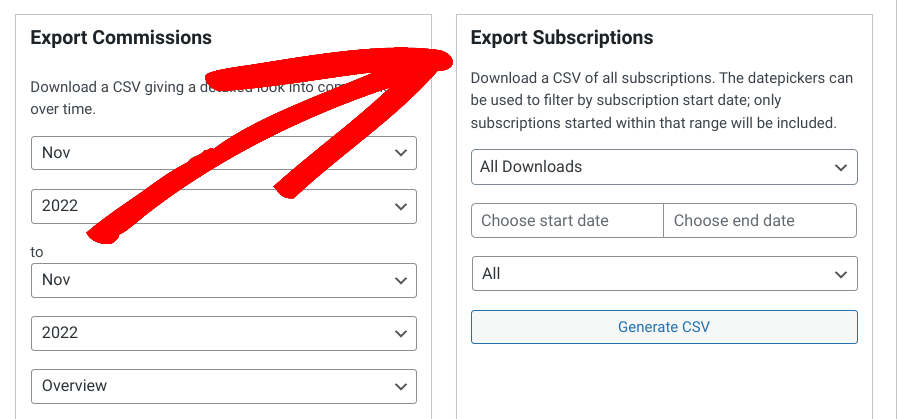 First, you can click on the All Downloads dropdown menu and select the product or downloads you want to include in the CSV export. You can leave it as the default to export all subscription orders to CSV.
Next, you can choose a start and end date range for the subscription order export data. You can also filter the subscriptions based on order status: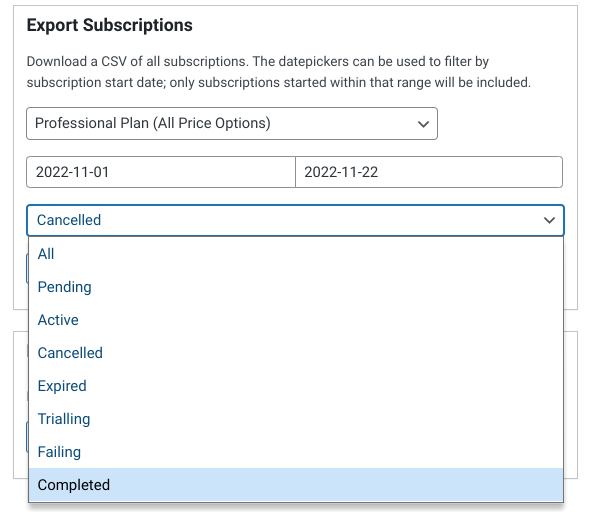 For instance, you can export all of them, or only include those that are completed, pending, etc.
When you're done, click on the Generate CSV button. That's it!
Export Subscription Orders to CSV in WordPress
Data and analytics are an important part of running an eCommerce business. If you want an easy way to visualize, organize, and manage order data, you can export it into a spreadsheet. With Easy Digital Downloads, you can export subscription orders to CSV in WordPress in three simple steps.
Download EDD to get started. With the Recurring Payments extension, you can sell subscriptions, manage orders, and track reports with ease. You can use it to export WordPress files, subscription data, and much more.
👋 Be sure to subscribe to our newsletter and follow us on Facebook or Twitter for more WordPress and eCommerce resources!