Do you want to make money selling products online? You can do this for free with Easy Digital Downloads (EDD). In this article we'll show you how to get an unlimited free trial of EDD and walk you through setup.
What is Easy Digital Downloads?

Easy Digital Downloads is the best WordPress plugin for selling digital products. It lets you set up a complete free digital product store without writing any code.
You'll see it called EDD around the web by its legions of fans and users.
EDD is trusted by more than 50,000 online businesses. It's the backbone of large multi-million dollar businesses down to profitable side hustles.
You can use the free version of EDD forever. And you can sell an unlimited number of products on your site.
What Features Does the Easy Digital Downloads Trial Offer?
The free version of EDD gives you everything you need to set up a fully functional digital products store. It's a complete eCommerce platform. EDD's unlimited free trial includes:
Sell downloads for free
Upload and sell an unlimited number of products
Preventing visitors from accessing your product files without paying first
Accepting online payments using Stripe, PayPal, Apple Pay, or Google Pay
Managing customers with detailed records, contact information, and purchase histories
Viewing eCommerce reports complete with earnings, refunds, sales, and more
Offering potential customers discount codes that can be applied at checkout
Sending automated purchase confirmation emails with your logo
In short, you can provide your site visitors with a complete professional shopping experience. What are you waiting for? Let's get started.
How Do I Get Easy Digital Downloads Free Trial?
You need to have a WordPress.org website or WordPress.com Business or eCommerce website. Learn more in the frequently asked questions below if you do not have a WordPress website set up yet.
These are the steps we'll do today to get your store set up:
Step 1: Install and Activate Easy Digital Downloads
Enter your WordPress website domain/URL below. You'll be taken to your WordPress dashboard to install EDD with one click. It's free!
Using WordPress and want to get Easy Digital Downloads for free?
Enter the URL to your WordPress website to install.
🎉 Just like that, you've installed an EDD store on your WordPress site!
That was easy. You'll notice a new side-bar section called Downloads this is where you'll manage all things EDD.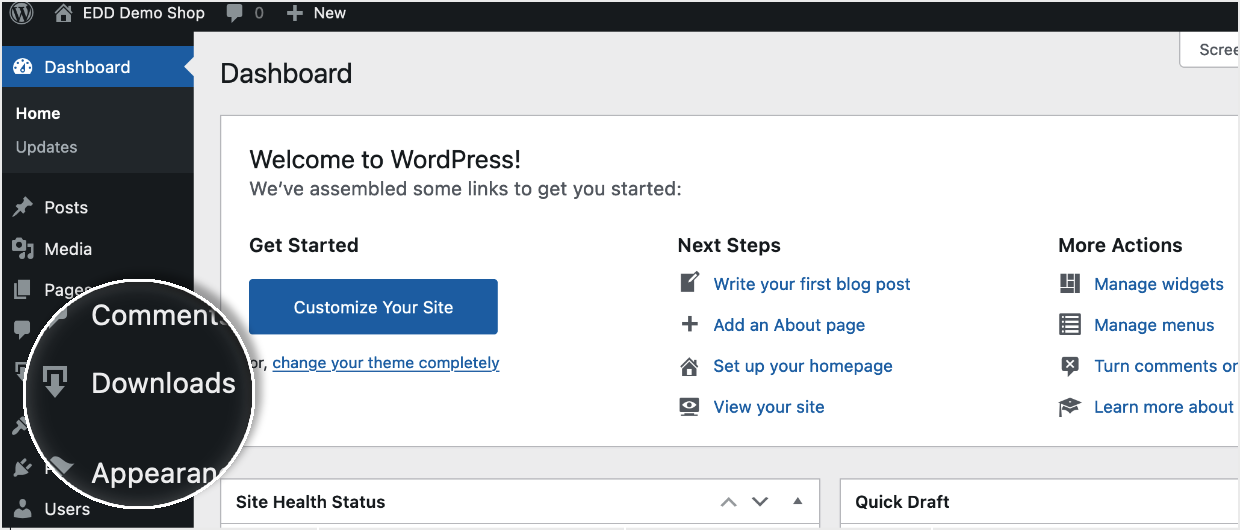 Step 2: Add a Product (Download)
Now, let's add a product to your store. If you don't have a real product ready yet, just find a JPEG or GIF. Or download our sample file.
On your WordPress dashboard, you need to hover over Downloads and click Add New. We'll call your product a 'Download' from now on. That's what they are called in EDD.
First you need to give the Download a name. Then add a description.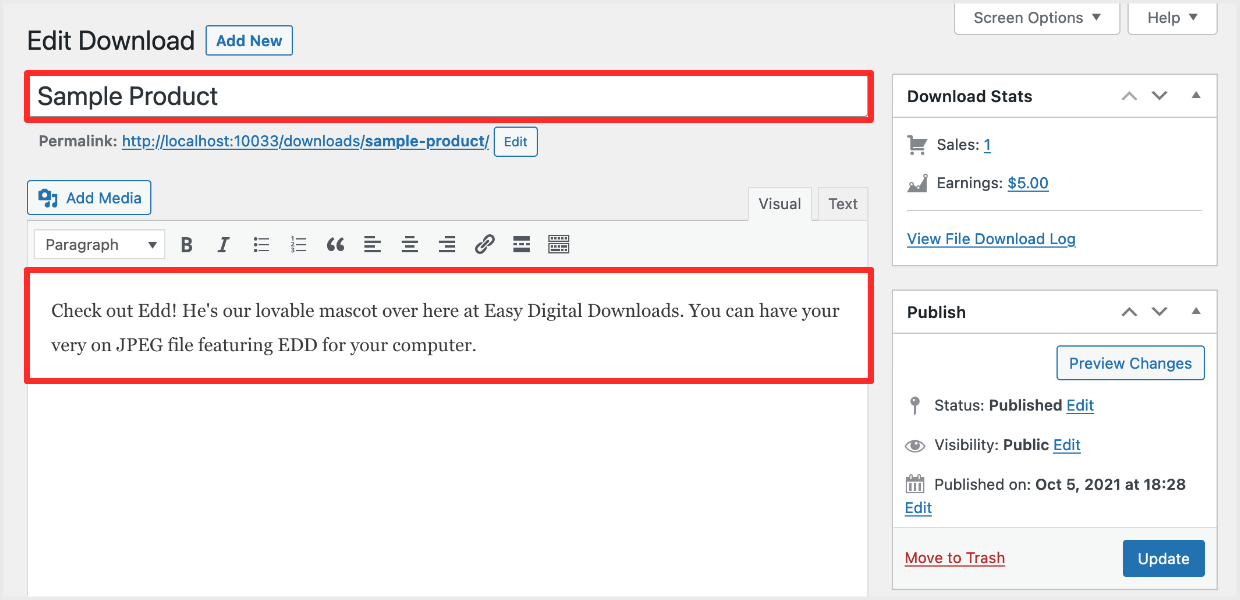 Next, you need to set a price. After that you can look under Download Files to upload your sample file. This is what the customer gets when they purchase.
Last, you need to look under Download Image and upload a preview file of the image. In our example, it could be a copy of the sample JPEG file.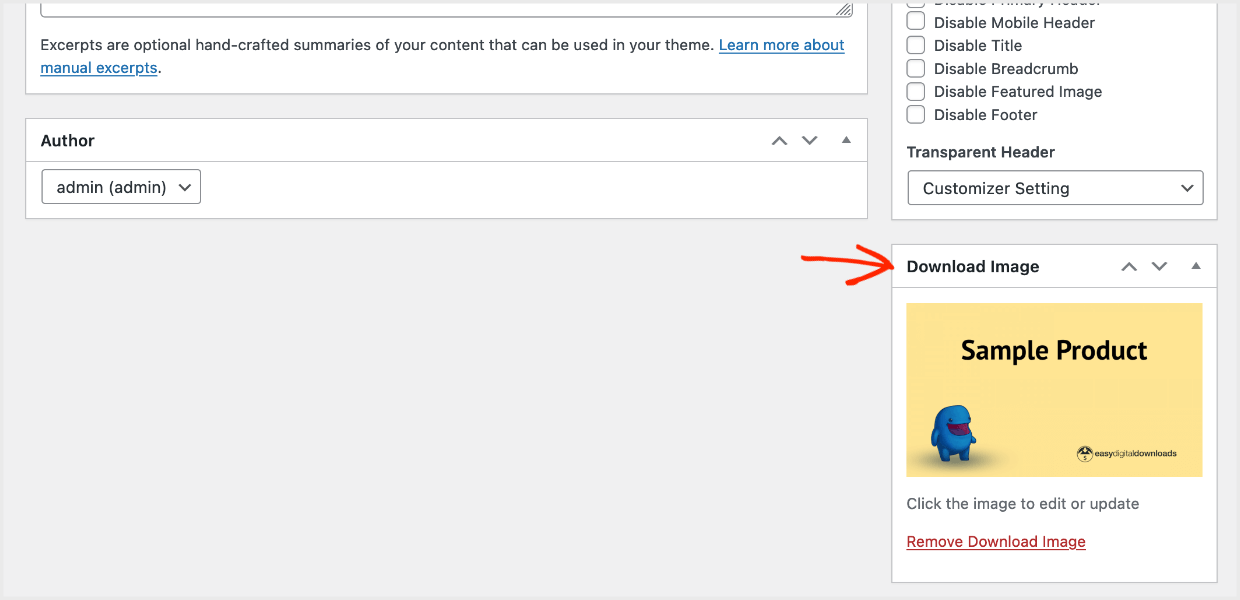 That's all you need to do to get a download set up and ready to sell! Go ahead and hit Publish.
Your Download is ready to view and sell on your site. Click on View Download on the top notification banner after.

You'll see your new Download page at yourdomain.com/download/product-name.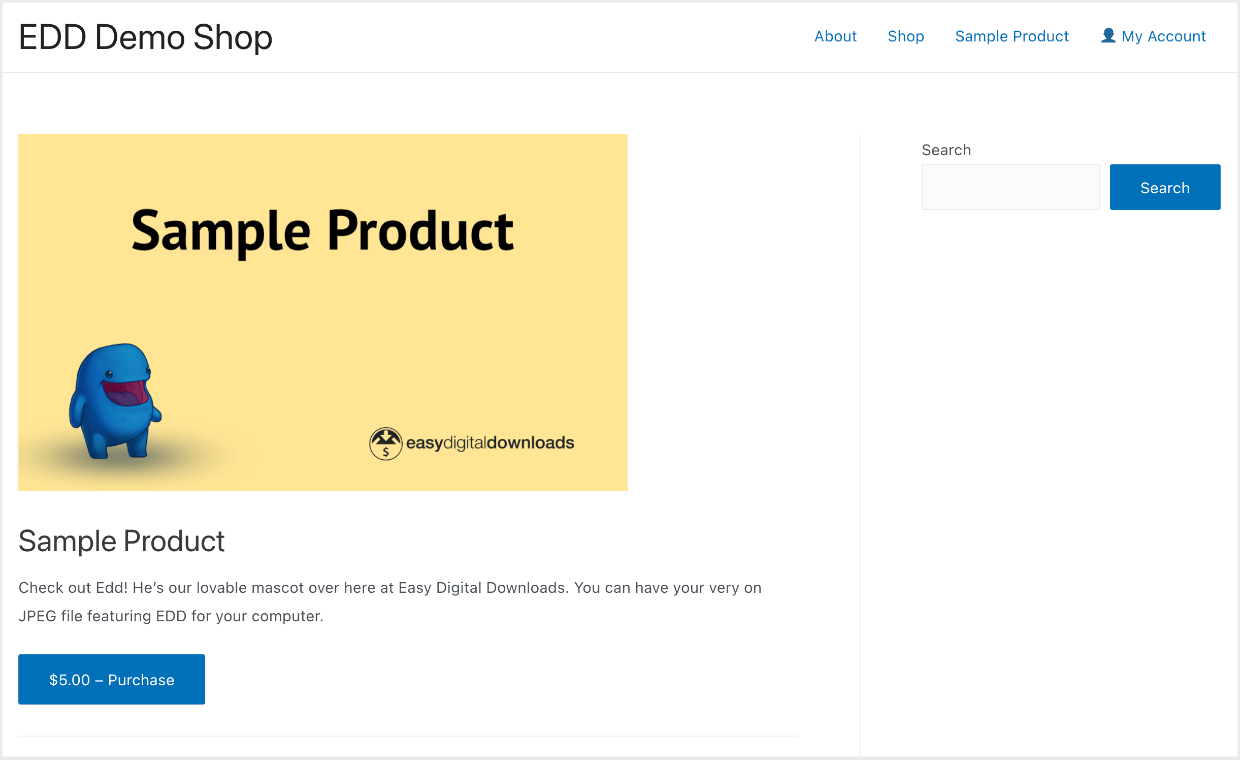 Note: you can repeat step 3 for each product you have, if you have several products ready to sell.
Great work so far! You've got your first Download all ready to sell (or to make-believe sell).
The great thing about digital products is you don't have to worry about inventory. You can sell an unlimited number of your products right away!
In the example above we are using the free WP Astra theme. Your page will look something like this, but may vary a bit depending on which WordPress theme you have.
Step 3: Do a Test Purchase
You'll want to do some tests before you try selling your products to the public. This is a great way to learn. Going through the checkout process lets you experience your store like a customer.
First, go to Downloads » Settings » Payment Gateways.
First you need to select the Test Mode checkbox.
Then, select the Test Payment option in the Payment Gateways section below that.
Last, set the Default Gateway to Test Gateway.
Next, click on All Downloads on the left-side menu. Hover over the download you just created and click the View button. This will take you to the frontend page for your Download.

Click the Purchase button.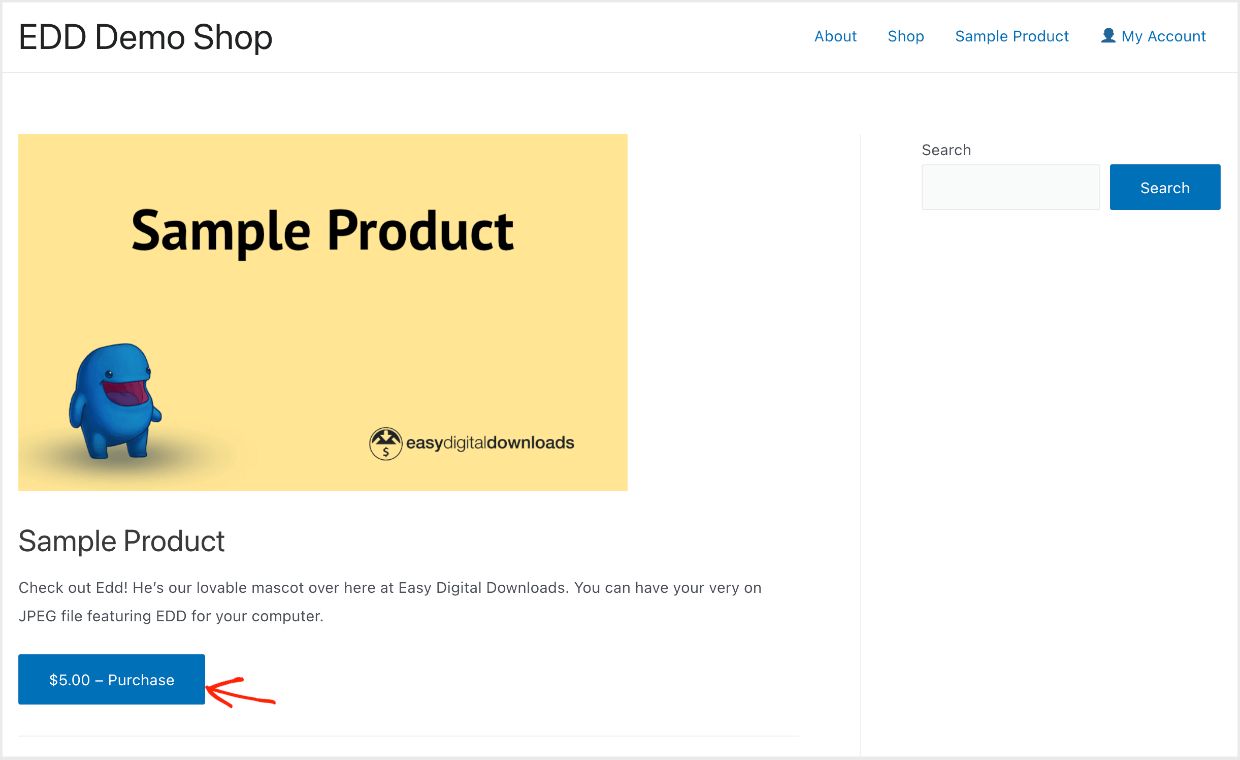 The item will be added to your cart. Next, you need to click the button again, which now says Checkout.

You will be taken to the checkout page. Since this is a test, you won't have to enter any credit card info.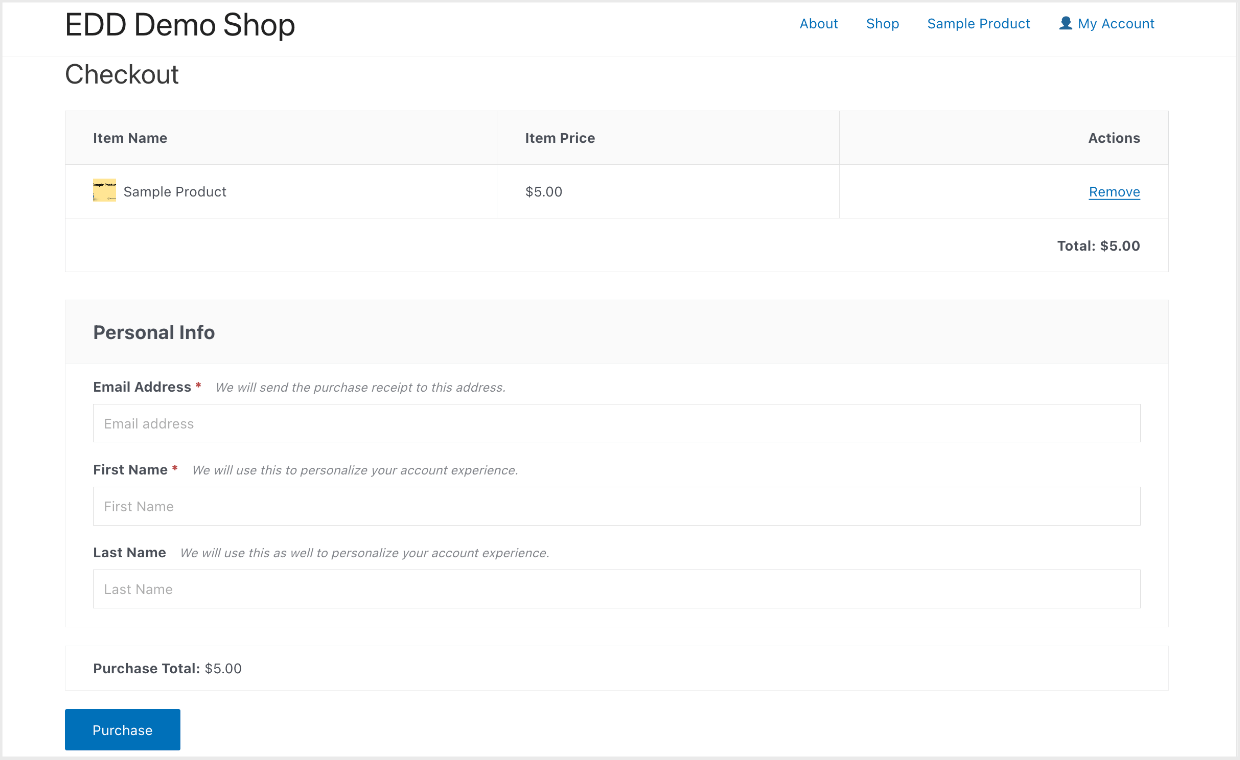 You need to enter your email address, name, and click Purchase to complete a test purchase.
You will get a purchase confirmation email after completing your make-believe purchase. The default email looks like this.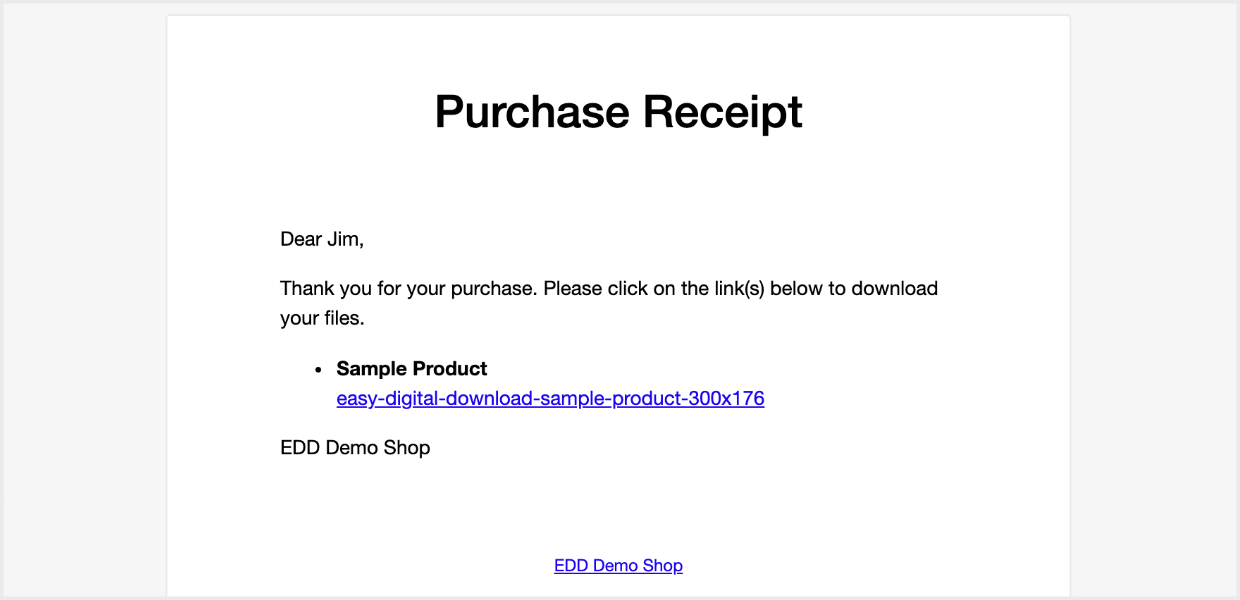 Visit our Documentation to learn more about customizing email notification settings.
Next Steps: Unlimited Free Trial of EDD
Great work, you set up an unlimited free trial of Easy Digital Downloads. Your website is now also a powerful store!
The next thing you need to do is select one or more payment methods. Which one should you choose? It depends, mostly, on where in the world you are located.
We recommend using Stripe, unless it's not available in your country. Click here to get started with Stripe setup.
If Stripe is not available in your country we recommend using Paypal. See our other payment gateway extensions here.
Once you choose and configure a payment gateway you can go live to the public with your digital products store!
Not sure what to sell? Check out this article with the 12 most popular digital products you can sell for inspiration.
Want to get more out of your store? Purchase an Easy Digital Downloads Pass to get access to our extensions. Extensions add great features to your store. You can add things like email integration or subscriptions (also called recurring payments).
Stay up to date! Follow us on Facebook and Twitter for more free WordPress resources.
---
Frequently Asked Questions
Do I Need WordPress and Is that Free?
Yes. You need a WordPress.org website to use Easy Digital Downloads. EDD is a WordPress plugin.
And, yes, WordPress.org is free. However, you do need a hosting provider to launch a WordPress.org website. Here is a great guide for choosing WordPress hosting if you don't have a host yet. You can get started with a great WordPress host for a few dollars a month.
EDD can be used on a WordPress.com website if you have a paid 'Business' or 'eCommerce' plan. Learn more about the differences between WordPress.org and WordPress.com websites in this helpful article.
How Does WordPress.org Make Money?
They don't. WordPress is open source software. It is built by thousands of volunteers. These volunteers believe in the mission of WordPress to democratize publishing for everyone. Most of these volunteers also make money by helping people use WordPress as service providers or theme and plugin builders.
It's working out great. WordPress now powers 42% of the internet. No other web platform, paid or free, has ever grown so large or helped so many people start businesses.
Why should I use Easy Digital Downloads Instead of Others?
EDD is easier to use and faster to set up than many eCommerce solutions. This is because other solutions are set up to sell physical products. For most of them, selling digital products is an afterthought.
With physical product stores you have to manage things like inventory, fulfillment, and shipping. If you are selling digital products, you don't need to bother with these things. So why use a solution that has a lot of bulky features you don't need?
EDD is well respected as a solution that is both easy to use for beginners and flexible enough to grow with any business as it's needs change.
How Does Easy Digital Downloads Make Money?
EDD makes money by selling extensions. Extensions add functionality to the free 'core' of Easy Digital Downloads. EDD extensions solve specific problems for growing businesses. You can buy and use extensions if they meet a need. Or you can just use the free version.
Will EDD Work with Your Website Theme?
Yes. EDD works with any WordPress theme. It fits right in with your design. We also have a listing of free and premium themes that are optimized for EDD stores.
You don't have to do any custom coding. Just jump right in with fully functional store pages and a beautiful shopping cart. Customers can browse your product catalog, add items to their cart, and checkout when they are ready. Or they can bypass the cart using 'Buy Now' buttons.
How Do I Customize My Store?
There are lots of ways. You can choose from many free and paid options.
Customize Your Site's Appearance
We offer two free WordPress themes that integrate perfectly with EDD. They both allow you to control the look and feel of your site with a standard WordPress interface called The Customizer.
🔎 Check out our free Themedd or Vendd themes and third-party themes
You could also use one of many page builder plugins available. We recommend SeedProd. SeedProd is a powerful WordPress builder plugin. It's easy to use. It also now offers the ability to build your entire website theme, without code, using an elegant drag-and-drop interface.
🔍 Click here to learn more and see SeedProd in action on our blog post "How to Create Your Own Beautiful WordPress Theme (Without Coding)"
Customize Your Site's Functionality
We offer 100+ Extensions for EDD that add all sorts of functionality to your store. Need email marketing, subscriptions, Amazon S3 or Dropbox integration, or software licensing tools? We have all that and more.
🔎 Click here to learn about our Extensions
It's very rare that our Extensions don't cover everything you need. But, if you need something specialized or unique you could work with a web developer that specializes in EDD customization.
We've partnered with Codeable for projects like this. We trust them to build anything you can dream up.