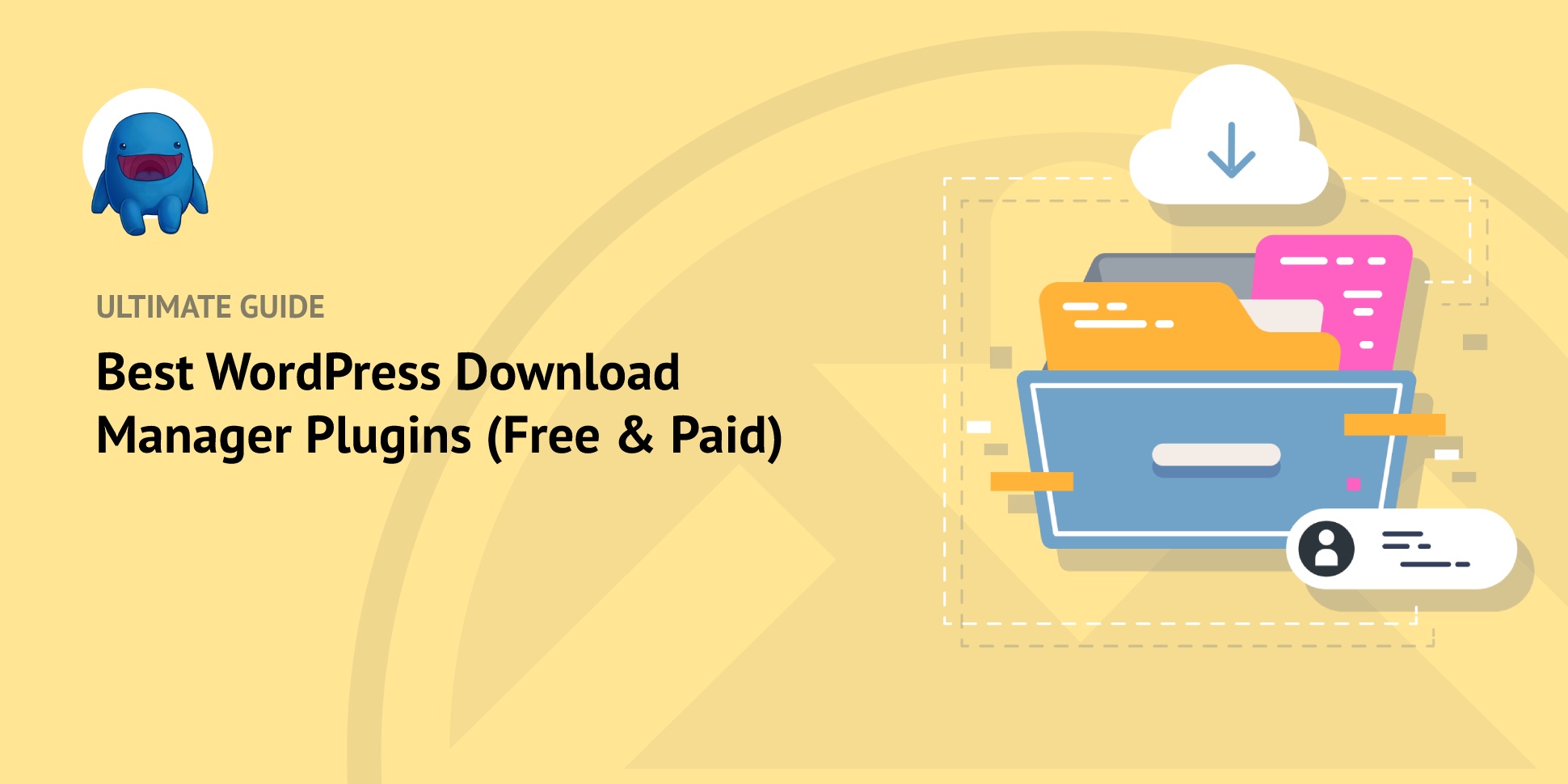 If you offer downloadable products on your website, it's essential to have a way to manage all your files. One way to do that is by using a WordPress download manager plugin.
The right tool can help streamline your e-commerce platform. It can make organizing, securing, and selling your digital assets quicker and easier.
To ensure you choose the best solution for your specific needs, it's wise to familiarize yourself with some of the top available options. Learning about the features and details of each will better position you for success.
🔎 In this post, we'll cover the following:
What Is a WordPress Download Manager Plugin?
A WordPress download manager plugin is a tool that allows you to handle all your downloads. It helps manage files transferred between your website and users.
When you have a lot of files on your site, you may not want to host them all on your server and then link them to your site. A more efficient approach would be to use a download manager plugin. This enables you to store the files in another location like Amazon S3, Google Drive, or Dropbox. It also gives you more control over how they're accessed and monitored.
Why Use a WordPress Download Manager Plugin?
There are many benefits to using a WordPress download manager plugin. First, you can easily manage files through your WordPress dashboard.
A quality WordPress download manager plugin can help with the following:
Uploading, managing, and selling downloads
Restricting file access to registered and specified users and paying customers
Offering file downloads on your website (eBooks, PDFs, etc.)
Tracking file downloads with a built-in download monitor tool
Limiting copies of a digital file
Safeguarding files from spammers, hackers, and bots
A download manager plugin can help secure the files delivered to your users. It can also streamline your workflow and optimize downloads (and delivery) to boost conversions.
What to Look for in a WordPress Download Manager Plugin
There are a few factors to consider when choosing a WordPress download manager plugin. First, you'll want one that offers an easy-to-use interface and user management system. This will make it much simpler to handle all your downloads without too much of a learning curve.
You may want to look into the support and documentation offered if you're a beginner. Popular plugins often include support and plenty of tutorials and resources for guidance.
In addition, the download manager must have strong security. Features such as file encryption can help protect both your content and your customers.
As with many e-commerce owners, cost probably factors into your decision-making process. Naturally, you want a plugin that offers everything you need at an affordable price.
There are both free and premium WordPress download manager plugins available. Some of the best offer both options. You can always start with the free version and upgrade to a paid plan for more advanced capabilities.
5 Best WordPress Download Manager Plugins (Free & Paid)
Now that you know the benefits of a download manager and some important things to look for, let's explore some options. Below are five of the best WordPress download manager plugins: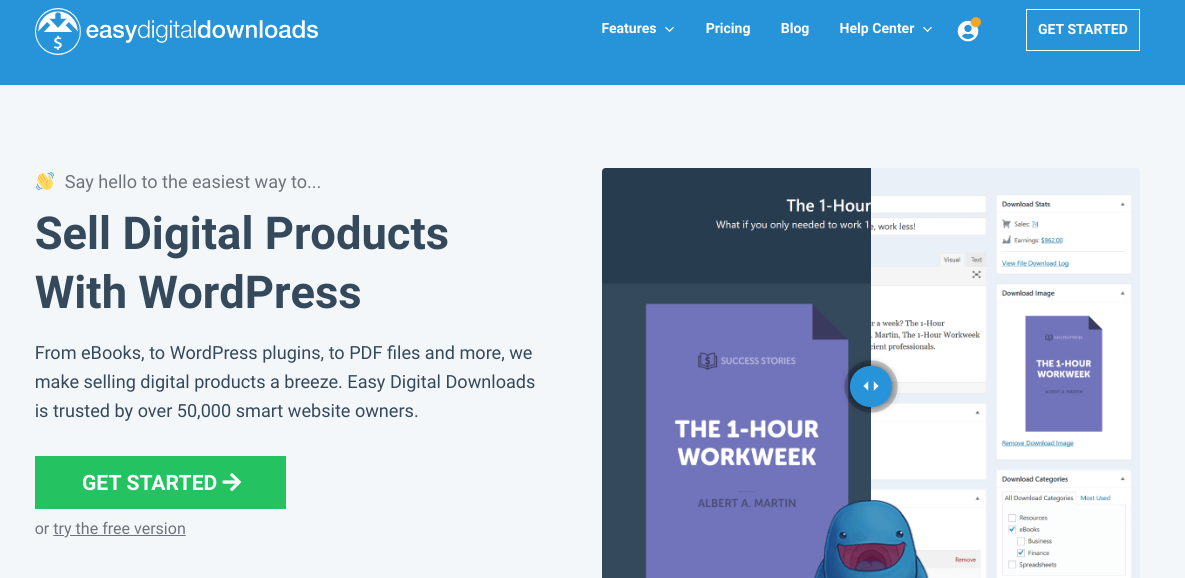 When it comes to WordPress download manager plugins, you can't go wrong with Easy Digital Downloads (EDD). With over 50,000 active installations, EDD helps e-commerce owners create, manage, and sell digital files and downloads.
True to its name, the e-commerce plugin is easy to use and is both developer- and beginner-friendly. You can use it to upload and manage file downloads and track and share them as necessary. In addition, the advanced reporting tools let you quickly gather data and insights to help drive conversions: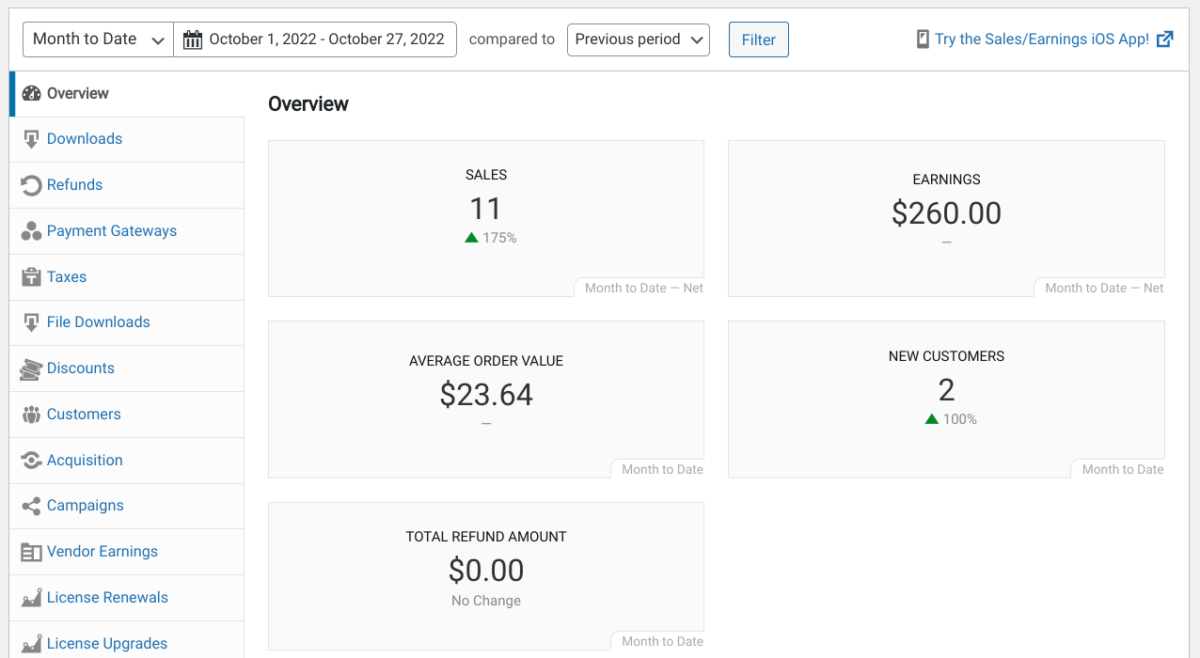 All files are automatically secured. You can leverage a handful of tools to protect downloads further. This includes fraud monitoring, locking downloads and restricting content, licensing software, and more.
You can limit the number of times each user is able to download files. You can also configure link expirations to limit the amount of time the file is valid for. Both of these features can help prevent unauthorized users from accessing and sharing your products.
EDD has a complete built-in shopping cart system and seamless checkout. Another aspect distinguishing it from other WordPress download managers is its robust extensions library: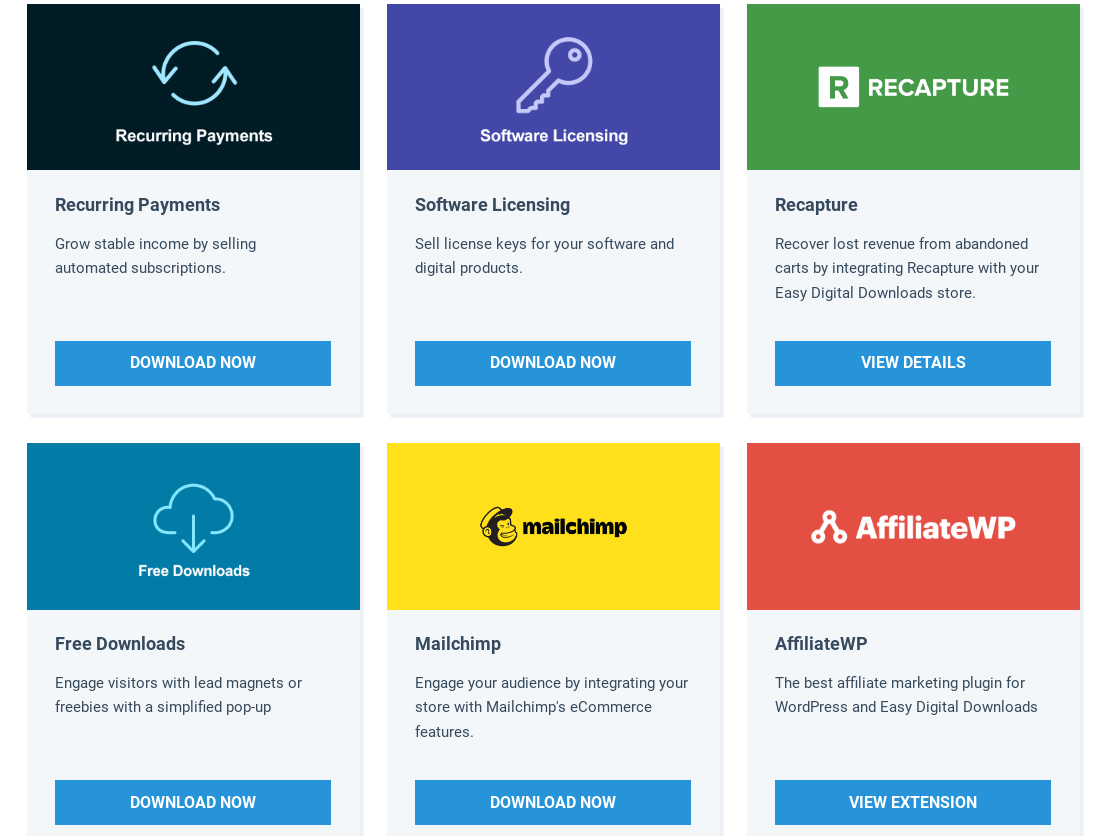 You can easily integrate EDD with email marketing tools such as ConvertKit, Mailchimp, and AWeber. Addons such as Downloads As Services and Recurring Payments let you set up service and subscription-based pricing for your downloads.
🔑 Key Features
File download limits
Trackable download links
Access control and password protection for members-only content
Customer management
File sharing
Clean user interface
Add multiple files and digital downloads with variable pricing or recurring payments
Option to embed downloads in pages or posts
Support for all major payment gateways, including PayPal, Stripe, and more
Built-in analytics reporting
Support for all WordPress themes
The free version of EDD comes packed with powerful features for selling digital products and managing downloads. You also have the option to upgrade to a premium plan. They range from $99 to $499. We recommend the EDD All Access Pass, which provides you with unlimited access to all of the tools and extensions.
Using WordPress and want to get Easy Digital Downloads for free?
Enter the URL to your WordPress website to install.

As the best Google Analytics plugin for WordPress, MonsterInsights is a popular tool that lets you track file downloads on your website. The reporting and tracking features provide you with valuable insights and analytics. You can use them to learn more about which files and downloads have the highest conversion rates.
This plugin supports a wide range of files, including images, PDFs, and zip files. You can organize and categorize your files and view the reports directly from your WordPress dashboard: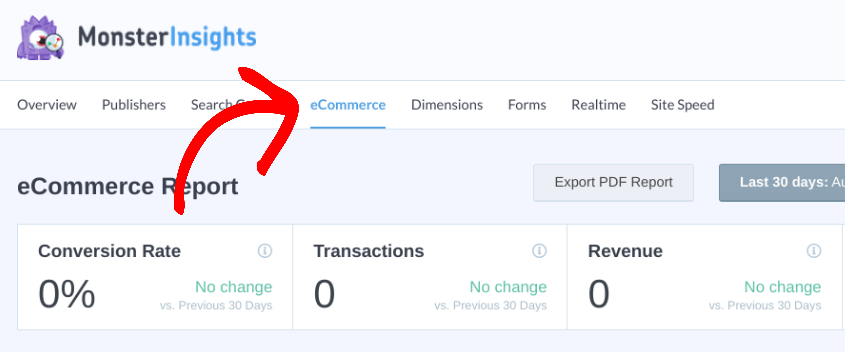 As with Easy Digital Downloads, MonsterInsights integrates with a plethora of other plugins and services.
🔑 Key Features
Support for multiple file types
Track downloads and conversion stats
Access to Google Search Console, Website Speed, and similar reports directly from the dashboard
User-friendly and simple installation
Option to export and import reports
User permissions
There is a free version of MonsterInsights. We recommend upgrading to a Pro plan (starting at $99.50 per year) to take full advantage of the suite of features.

Another popular WordPress download manager plugin worth considering is File Manager. This handy tool lets you upload and edit files on your WordPress site rather than having to use a File Transfer Protocol (FTP) client.
It eliminates the need for you to move files from local environments or use your hosting provider's control panel. Instead, you can handle everything right from your WordPress dashboard: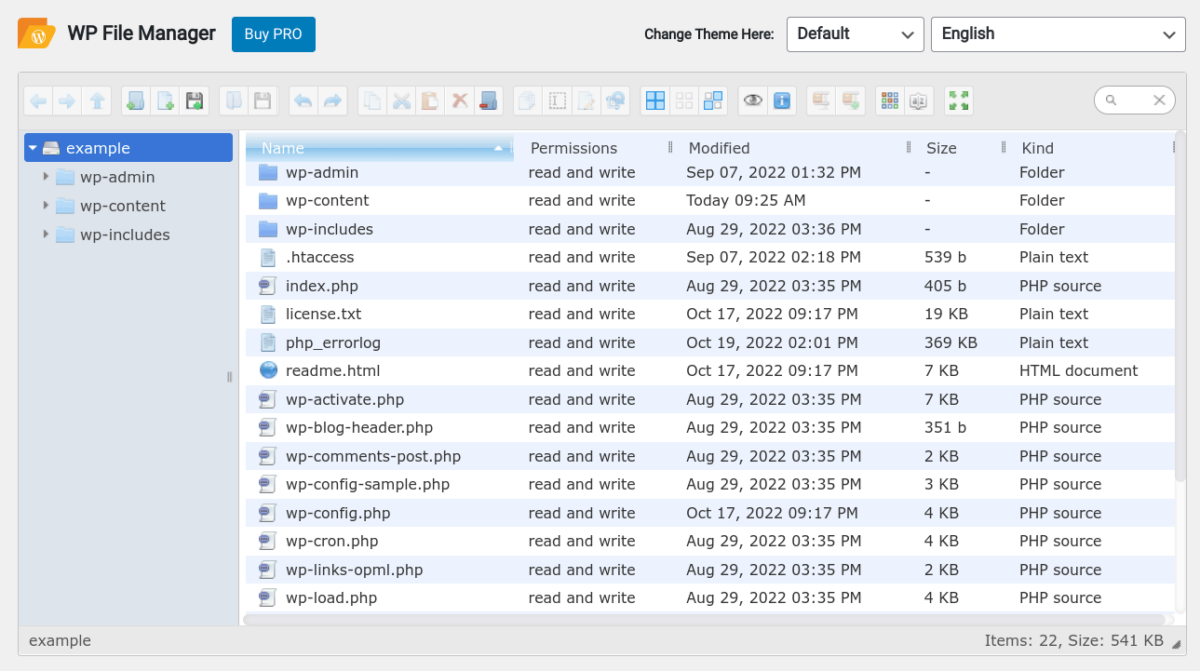 If you sell downloads or digital products, this may not be the best option for you. It doesn't provide a complete e-commerce solution as EDD does. However, it can be an excellent choice if you want a simple, quick way of uploading and organizing your files using your Media Library.
🔑 Key Features
Support for multiple file types
Drag and drop for moving files
Search functionality for quickly locating files
Built-in code editor with syntax checker
Interface themes and toolbar styles
File image thumbnails
Automatic file resizing
Option to create private folders and assign user roles
Email notifications for file downloads
File Manager is free to download. There is also a Pro version ($25 for one site; $99 for 10 sites) that lets you configure more advanced settings, including maximum file size controls, email notifications for file changes, and the option to embed the file manager on the front-end of your WordPress website via shortcode.
4. WooCommerce (Free + Paid Addons)

WooCommerce is one of the most well-known and widely used WordPress plugins. As EDD specializes in digital downloads, WooCommerce primarily focuses on physical goods.
But you can also use it for digital products. It lets you create an online store in a matter of minutes. You can add downloads as products using the file uploader tool. In addition, you can limit the number of downloads and configure expiry settings.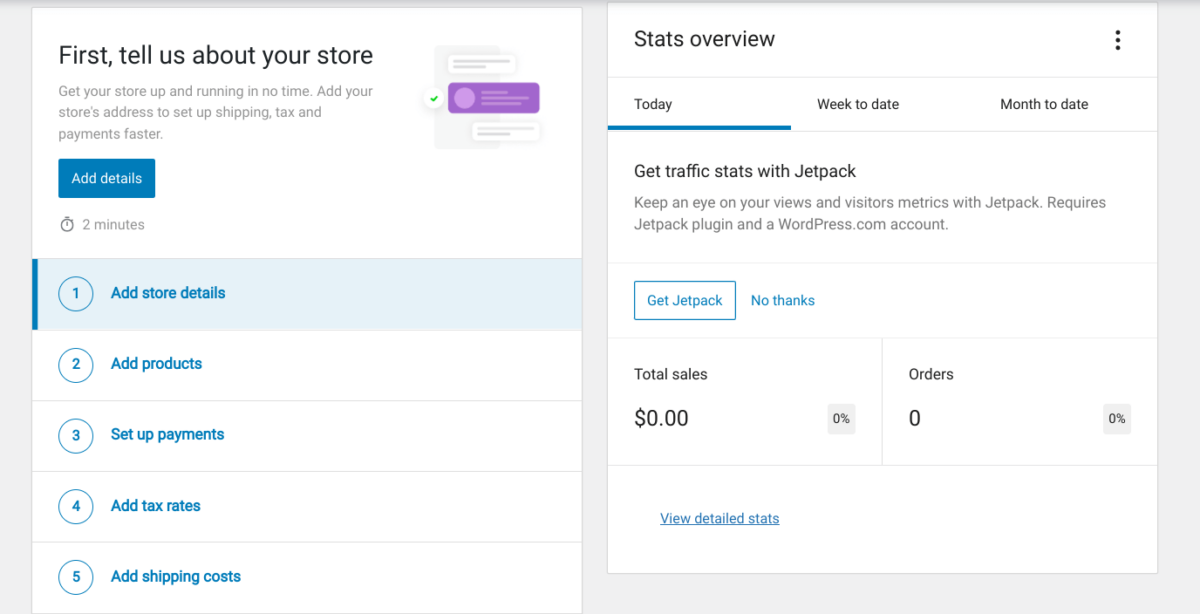 WooCommerce is also backed by a large community. Therefore, you can always find resources, tutorials, and guides that can help you learn and navigate it.
It comes with a lot of features, many of which may not be necessary unless you plan to sell physical items. By default, its payment gateway is WooCommerce Payments. While it does support other payment providers, it requires extensions.
🔑 Key Features
Multiple download methods
File protection
Pricing variations
Collections for organizing downloads
Option to create downloads with both downloadable and physical assets
Provide download access post payment
Downloadable restrictions for non-registered users
Built-in analytics
WooCommerce itself is a free plugin. But you can also choose from a handful of premium extensions to help extend its features and functionality.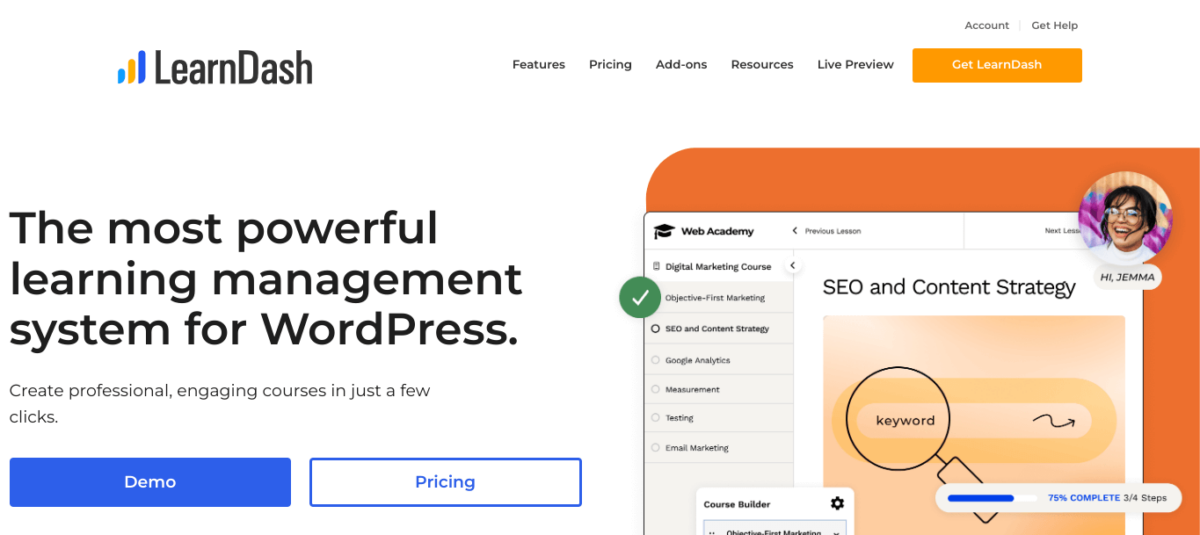 Technically, LearnDash is not a WordPress download manager. It's a Learning Management System (LMS) plugin. However, it comes with a wide range of helpful tools and features for adding, managing, and selling files on your website. It supports video, audio, images, and more.
LearnDash is an excellent choice if you want to sell online courses, create quizzes, and offer other types of membership content. It lets you accept payments directly from your site either as a one-time fee or as a recurring subscription.
If you want complete control over your course content, including the downloadable files, LearnDash has you covered. You can use it to restrict access based on user roles and course completion stages.
🔑 Key Features
Online course creation
Support for multiple media types, including audio, images, video, and more
Statistical reports
Integration and support for popular tools such as Easy Digital Downloads, WooCommerce, and more
LearnDash is a premium plugin costing $199 per year for a single site license, rising to $799 for unlimited domains.
Best WordPress Download Manager Plugin: Final Thoughts
A WordPress download manager plugin can make selling and managing files significantly easier. There are multiple tools available. The best one for you will depend on the type of site you have and the specific features you need.
If you're looking for a complete, affordable, all-in-one e-commerce solution for managing WordPress downloads and files, Easy Digital Downloads is the way to go. Grab an EDD All Access Pass today to get started! For more tips and ideas, you can also check out How to Sell Files Online (Best Way + Comparisons). 🎉
Be sure to subscribe to our newsletter and follow us on Facebook or Twitter for more WordPress resources!