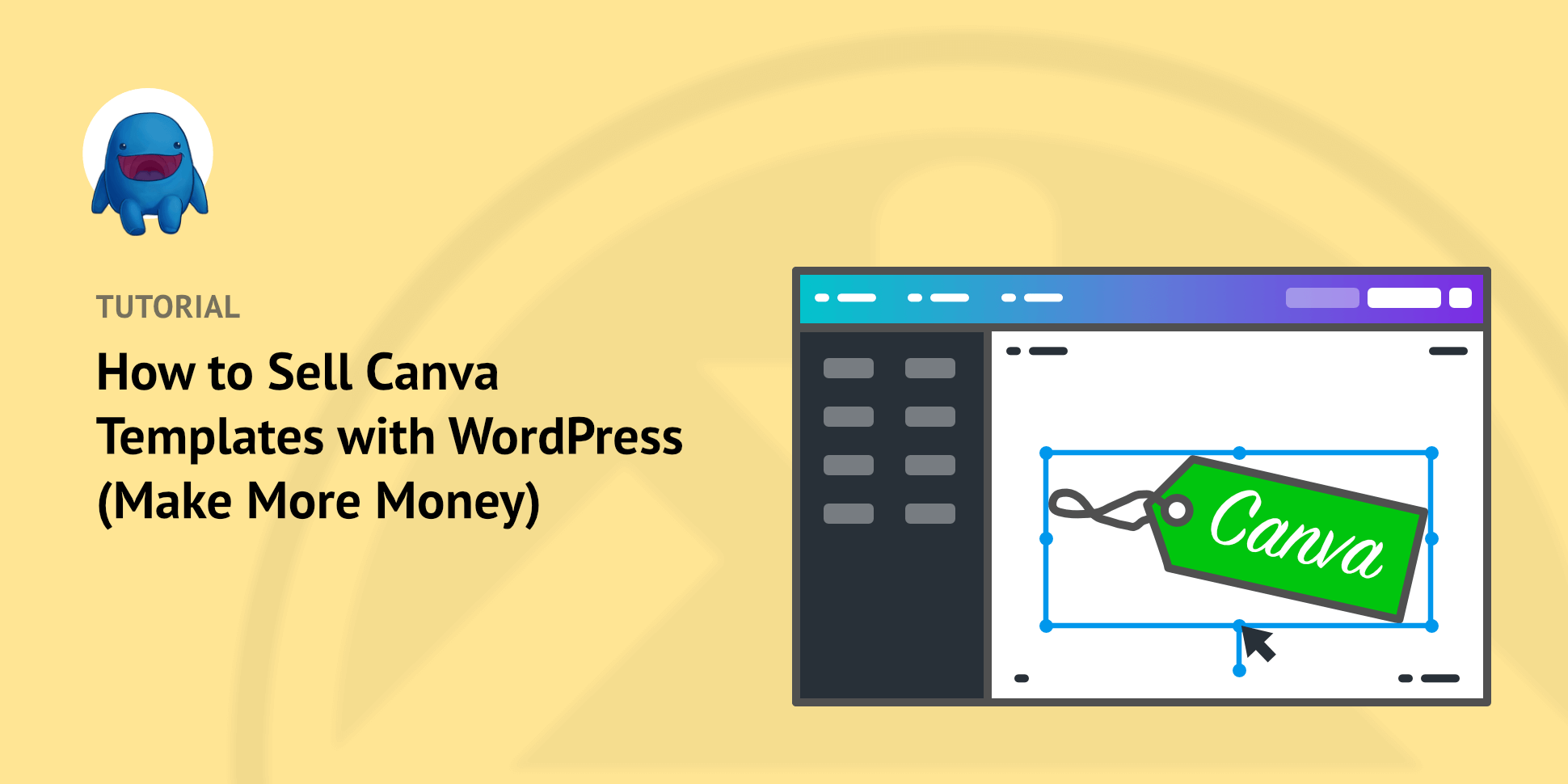 Do you want to use your graphic design skills to make money online? One way is to sell Canva templates. This is an incredible opportunity to grow your business.
In this article, we'll explain how to easily sell Canva templates with WordPress. We'll also explain what Canva is and why it's a good opportunity for e-commerce stores and business owners.
🔎 In this article, we'll cover:
What Is Canva?
Canva is an online design tool that was started in 2013.
The website app makes it easy to work with layered graphics. Using the Canva website is similar to using Adobe, Affinity, or Sketch apps. But it's way more simple and straightforward.
You don't have to download any software. You only need a computer/smartphone and an internet connection.
Canva has a free version that is quite powerful. You can use templates or make custom graphics of different sizes for different uses.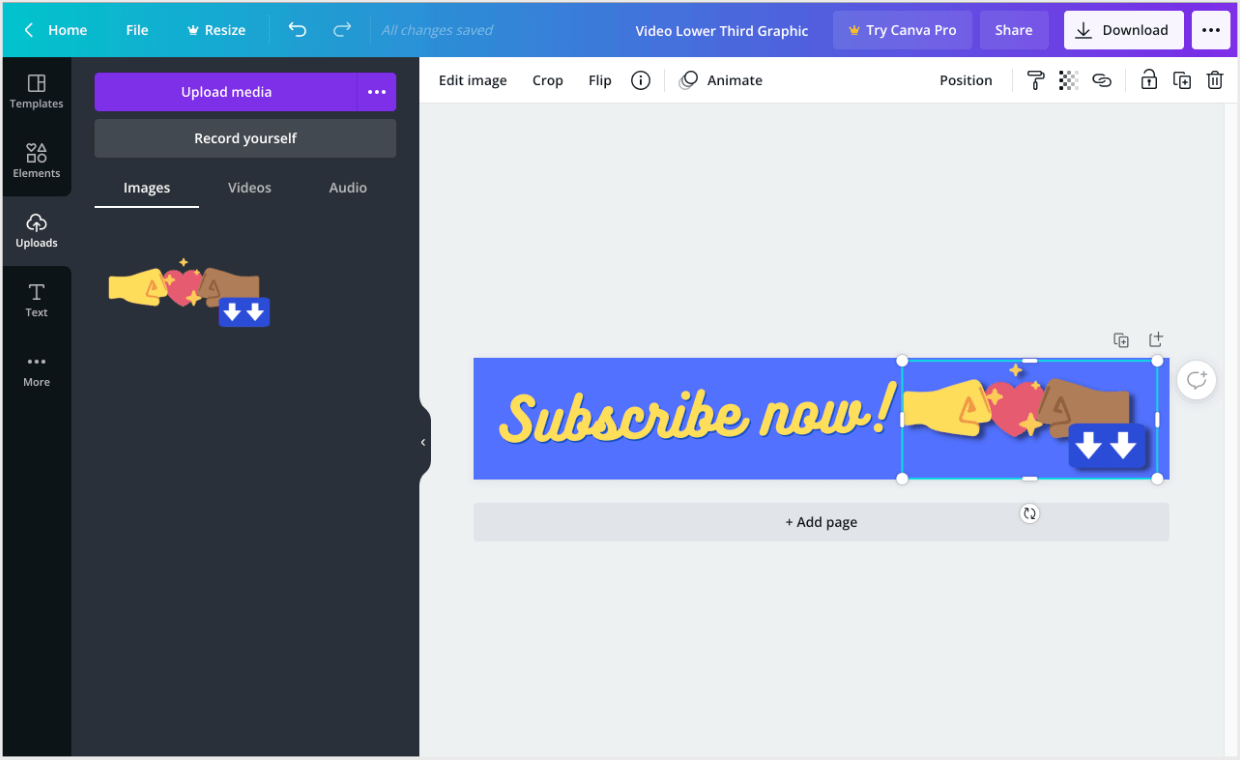 There is also a Canva Pro account plan for solo users or small teams. There are paid plans for large enterprises as well. And get this, it's free to use for registered non-profits and NGOs.
There are lots of types of downloadable products you can make with Canva. Get creative and imagine all the things a small business or freelancer could use: workbooks, printables, planners, media kits, infographics, resumes, business cards, social media templates, social media graphics, website templates, fonts, affiliate marketing creatives… There are so many!
Why Sell Canva Templates With WordPress?
If you're a designer or creator, you've probably heard of Canva. It's an online design platform that allows users to create stunning graphics, documents, and marketing materials with ease. And if you're looking to monetize your Canva templates, selling them online is a great way to earn some extra income.
One of the most popular ways to sell digital products online is by using WordPress and Easy Digital Downloads. These platforms offer an easy-to-use and customizable solution for selling digital products like Canva templates.
Maybe you are an established or full-time graphic designer. Perhaps you've been successfully selling Adobe Photoshop, Illustrator, or AfterEffects templates for years. Or you work for an agency or run your own business doing custom work for clients.
In any case, there are a handful of reasons to sell Canva templates with WordPress:
You can put your existing design skills, know how, and tools to use in this new way to make new sources of revenue.
Most folks using Canva are looking for quick results. They may be beginners, bloggers, or busy small business owners. They don't have money to hire a designer for custom work. So you can use your Canva design skills to meet that need with little or no overhead expense.
As we have mentioned, Canva is huge, and it's growing fast. Organizations use Canva a lot for social media, and that will only continue to grow. Canva is likely to become the most popular way to build graphics in the near future.
You could use Canva templates to build a new side income stream. This will be passive income which is a great side hustle that doesn't take too much time.
Alternative Options for Selling Canva Templates
Most other solutions are built for selling physical products that have shipping and inventory tools. This includes Shopify or WooCommerce. For these solutions, selling digital products, like Canva templates, is an afterthought.
As a result, they can be harder to use and slower to set up. You'll waste time configuring an overly-complicated store.
Marketplace websites are easy to use, but also act as a middleman. They charge high fees and are set up to take a cut of everything you earn. The more you earn, the more they take. This includes Canva Creators, Etsy, Creative Market, and other marketplaces.
It's usually better to sell your products on your own website.
Why not just set up your own store?
Play by your own rules
Keep all your money
Smart entrepreneurs know that it's not a good strategy to build your business on someone else's website. WordPress + Easy Digital Downloads give you full control and flexibility. If you need a web host to start your WordPress site, we recommend SiteGround's Managed EDD Hosting plans.
How to Sell Canva Templates With WordPress
Ready to get started? In the following step-by-step tutorial, we'll walk you through how to sell Canva templates with WordPress.
Step 1: Get Easy Digital Downloads
The best way to sell your Canva templates in WordPress is the Easy Digital Downloads plugin:


With just a few clicks, Easy Digital Downloads (EDD) turns your WordPress website into a full-featured eCommerce store. Sell unlimited downloads while controlling every aspect of the customer experience.
Once you have installed EDD on your website, you'll see a new menu item on the left side of your WordPress dashboard that says Downloads, which is what EDD calls products for sale on your site: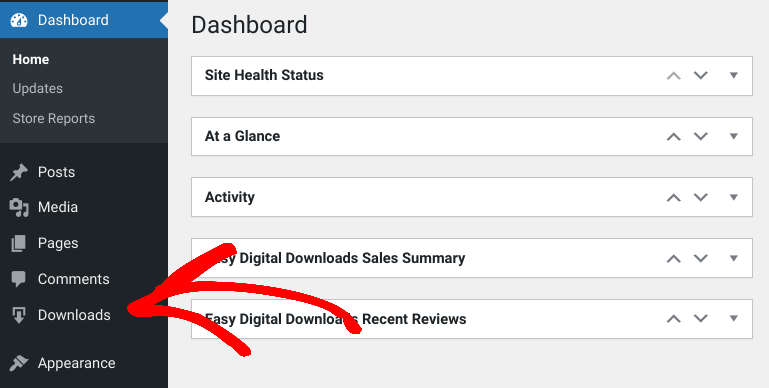 If it's your first time installing/using EDD, you can follow the Onboarding Wizard to complete the initial key steps of setting up your online store: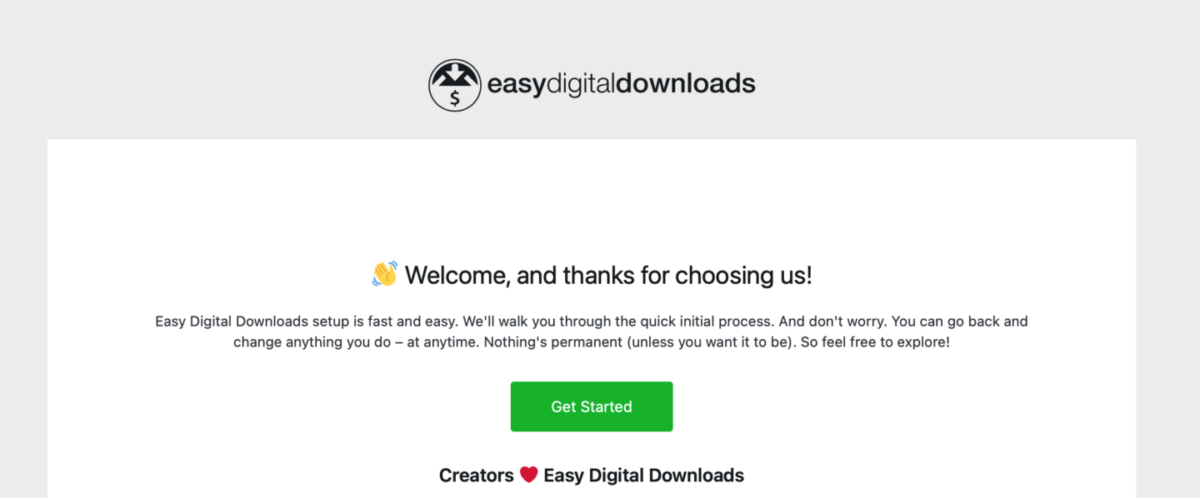 Next, we'll walk you through setting up a Canva template to sell. Pay special attention to the template links.
eCommerce without limits!
That is our promise. Most eCommerce solutions limit your creativity
…not Easy Digital Downloads!
Step 2: Create Your Canva Template
To create Canva templates, you just need a free Canva account.
Note: A Canva Free account does have a few key limitations to keep in mind, although you can work around them.
You can only export PNGs, JPGs, and PDFs. You cannot export vector SVG files
Your design templates cannot have transparent backgrounds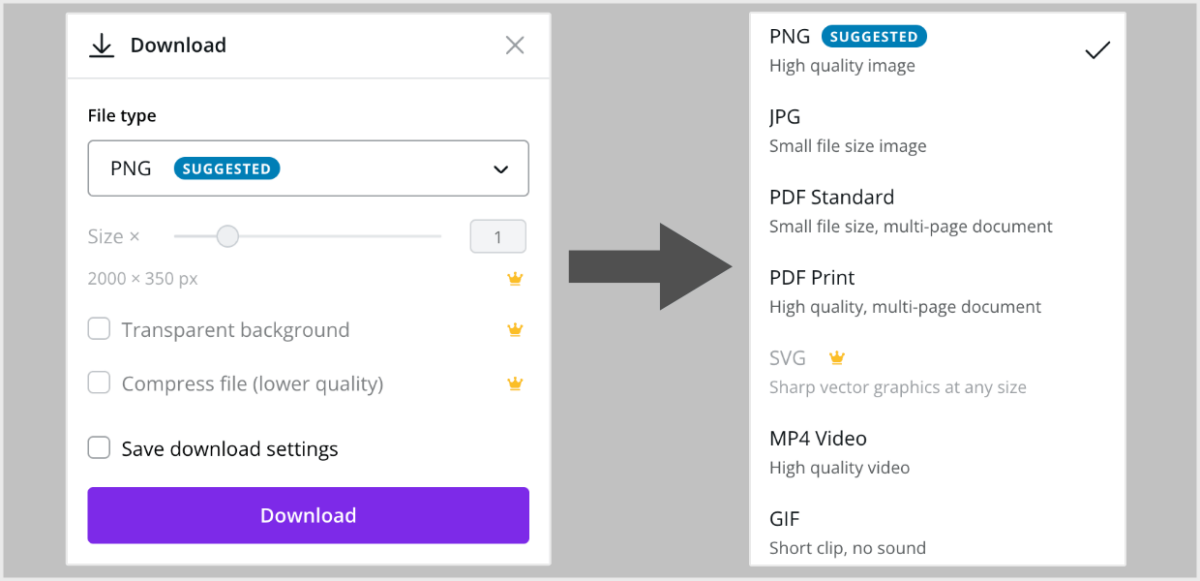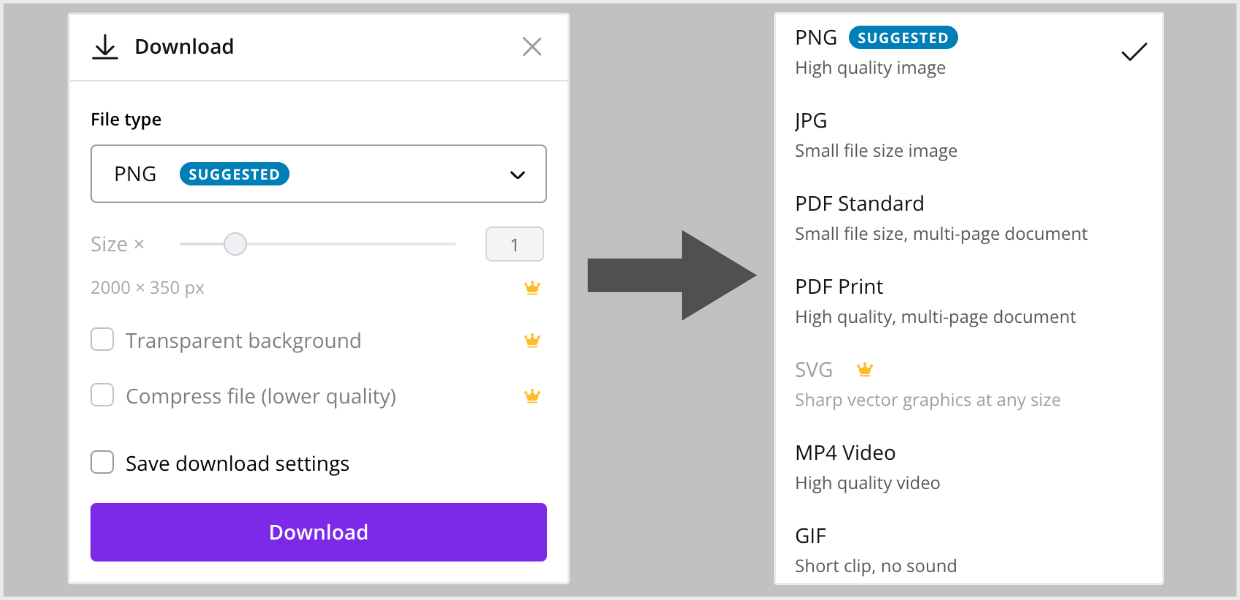 Making A Graphic
Today, we will make a lower-third video graphic as a sample project using the Canva free plan.
For our graphic, we'll start a new project by clicking Create a design:

Next, we'll choose the Custom Size and make our document 2000px by 350px. This is great to put at the bottom third of a video.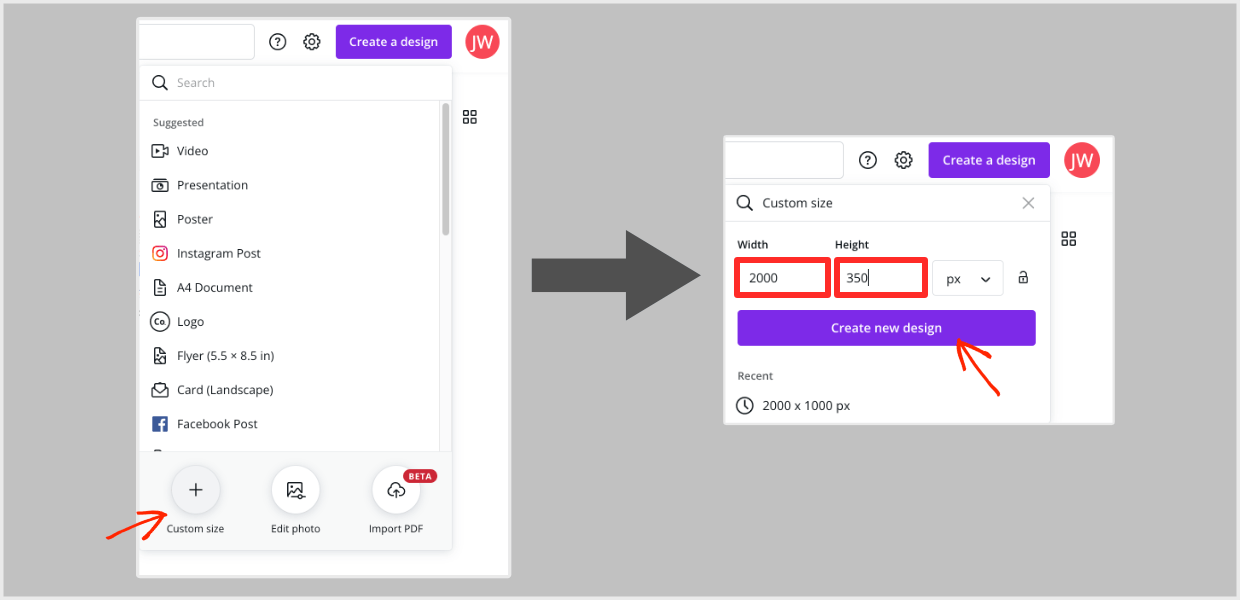 Last, we'll have some fun making a design. We'll use a free text element to add 'Subscribe now!'. Then we'll put together a goofy custom fist bump graphic using some stock graphics.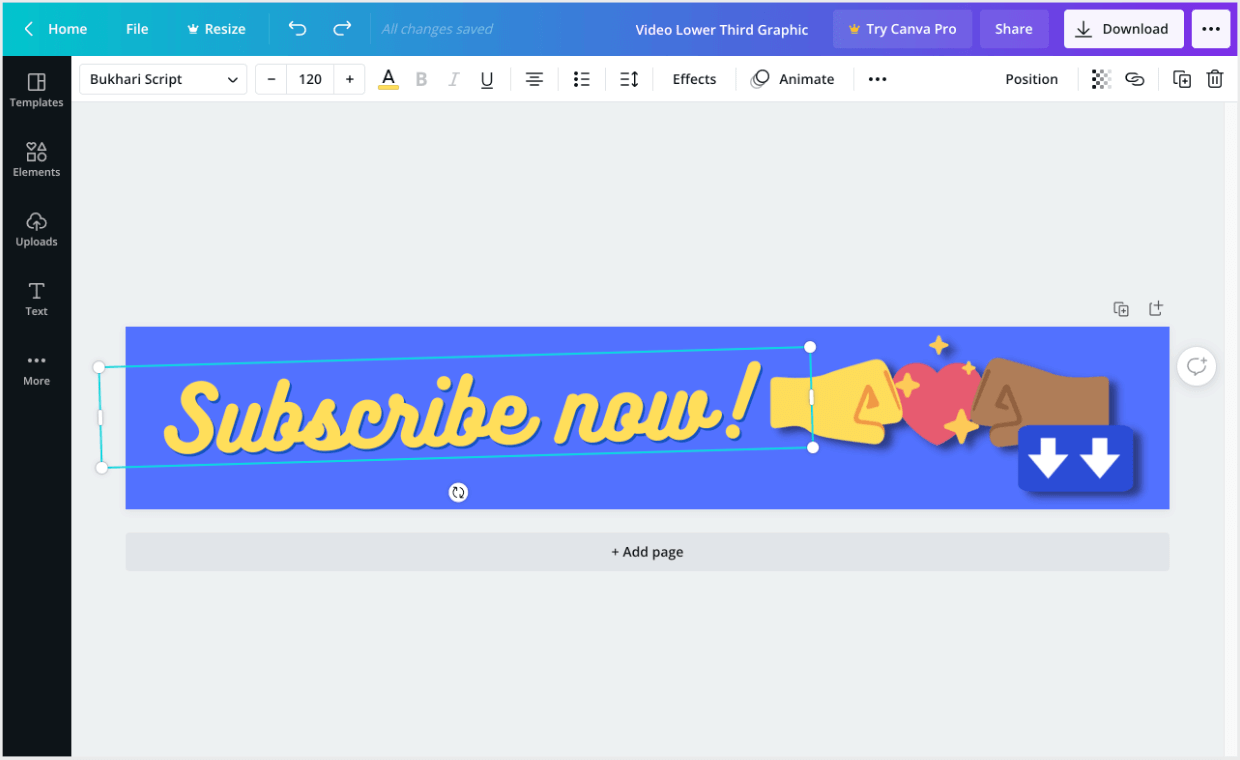 Note: The stock graphics used here are from our own collection of high-quality stock images we purchased elsewhere. Using graphics not available to all Canva users is how your templates will stand out from the rest.
Using Template Links
When your graphic is done, you need to get the Template Link.
Click on the Share button on the top right:


Next, click on the Share a link to dropdown. Select the option to Share a link to use as Template option: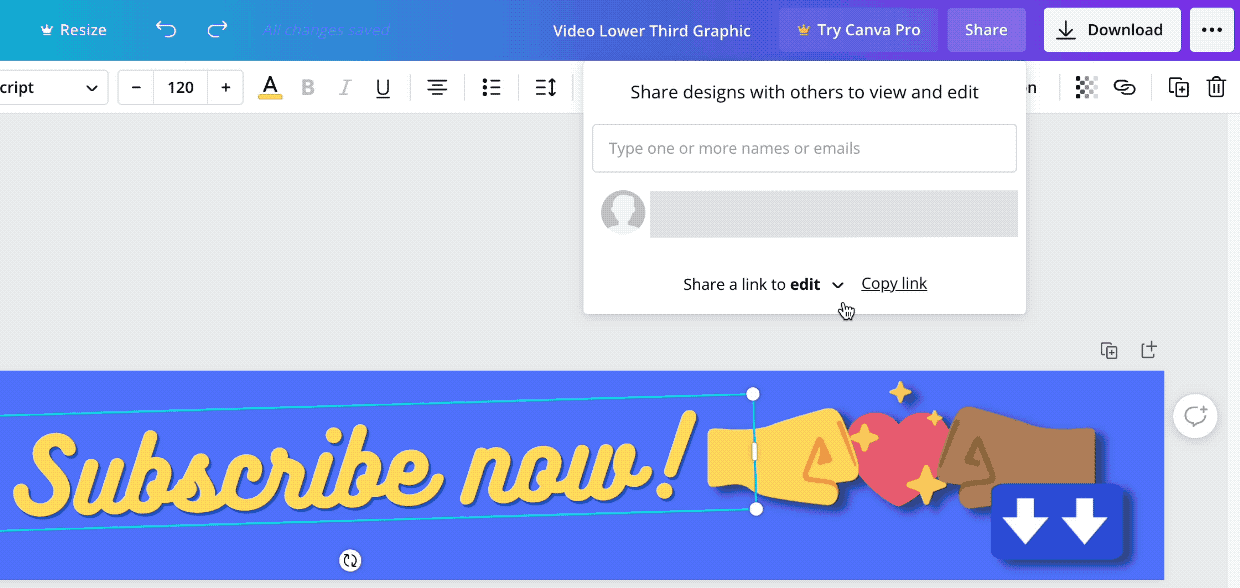 Last, click on the Copy Link button to add the link to your clipboard. Also, you should save the link to a text file, document, or note on your computer somewhere so you can grab it for the Download Files section of Step 3.

You may want to use a link shortener for these links. Here is a great article about shortening links with WordPress.

When another Canva user clicks this template link, they'll be taken to a special web page. The page will have a preview image and a button that says Use Template: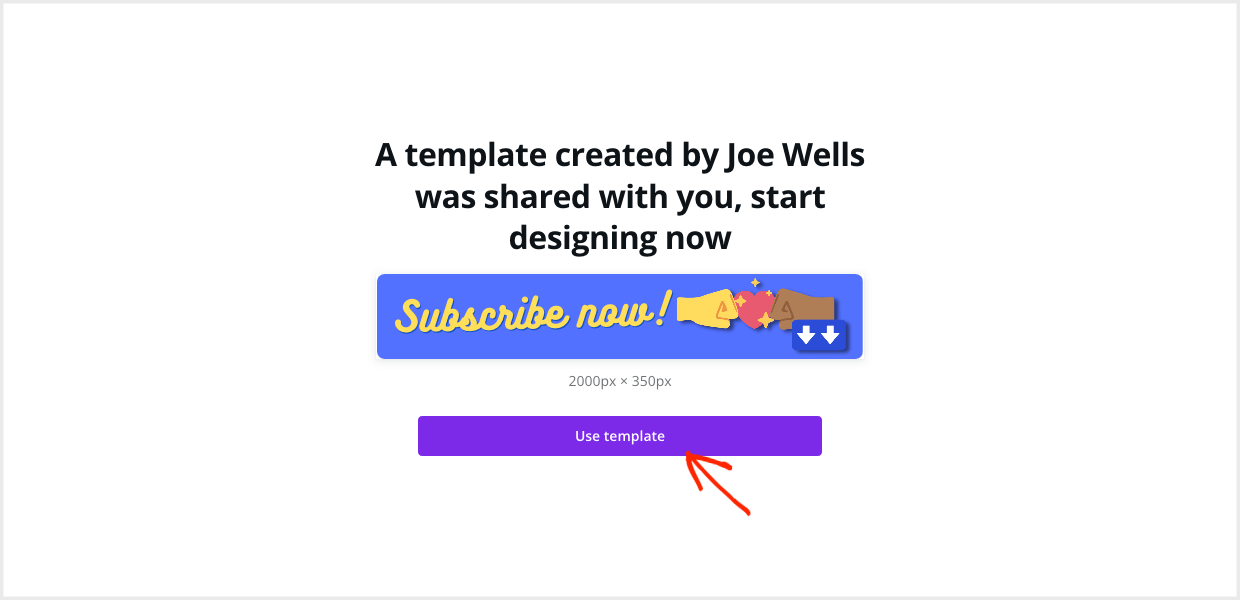 When they click that button, a new copy of the file will be opened in their editor. This copy is their own and they can customize it and use it however they want.
💰 Access to that link is what you are selling. This is how you'll make money, by only giving this template link to paying customers. ⬇️ Here's how.
Step 3: Add Your Template as a Digital Product
We're going to create a Download, or product, from the template link.
On your WordPress dashboard, under Downloads click Add New: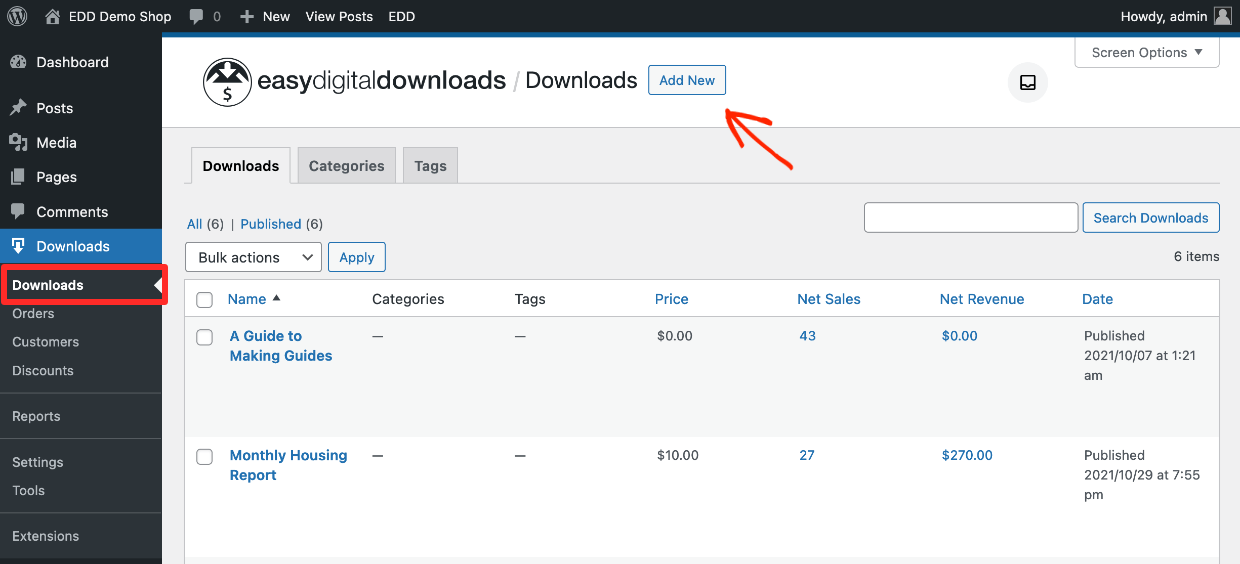 First, you need to give the Download a name. Then add a description and describe it in a way that makes it irresistible to purchase. 😇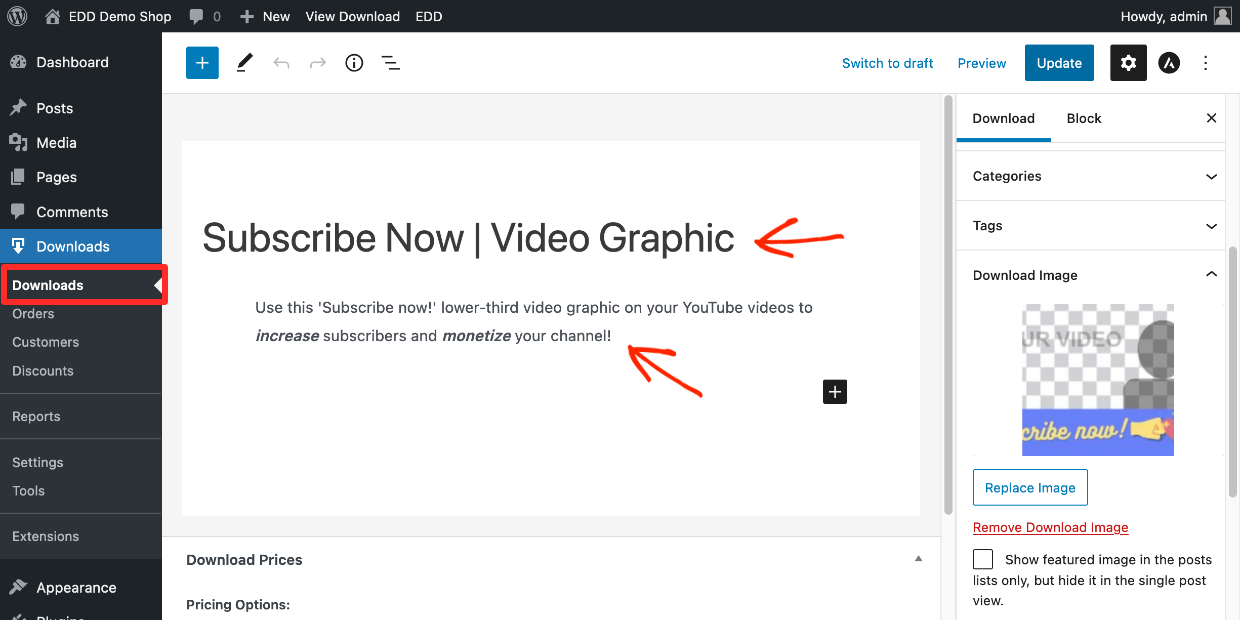 Next, set a price for your template under Download Prices:

After that, we need to configure the Download Files (in this case, it's just one 'file'. This is what the customer gets after purchase. In this case, the download is your Canva template link.
Under File Name, type in a phrase that describes the product. We suggest, for this example, typing "video graphic template".
Under File URL, paste in the Canva template link from above.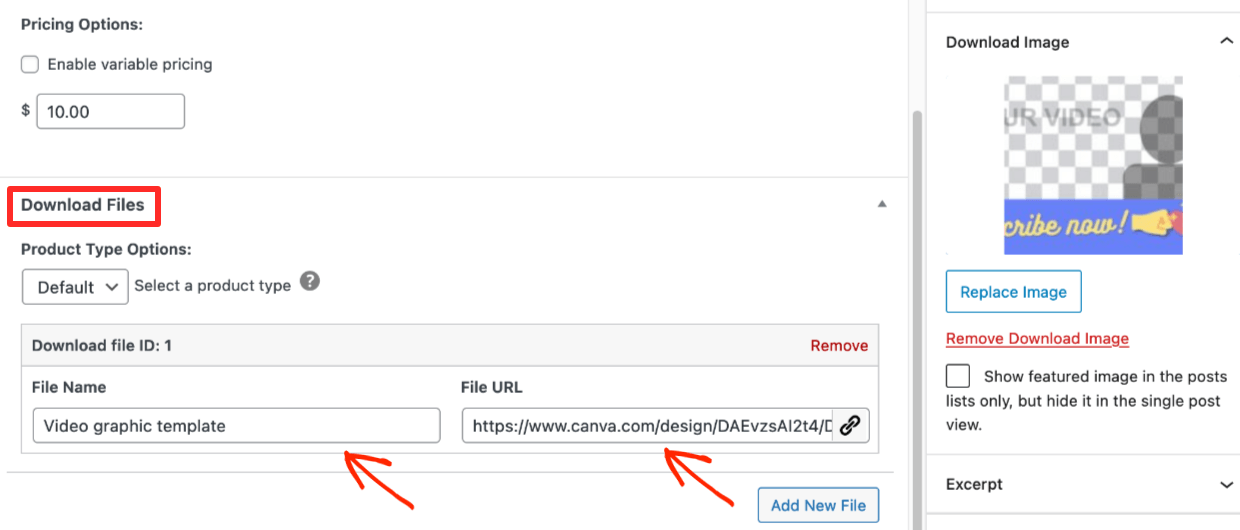 Last, you need to add an attractive product image. This is important. It's the preview image of what they are buying. Make sure it looks nice and helps them understand how the graphic is used. Check out this article for tips and templates for product images.
In the case of our lower-third graphic sample, we made a graphic that demonstrates its use in the context of a video.
Go to Download Image and upload your image: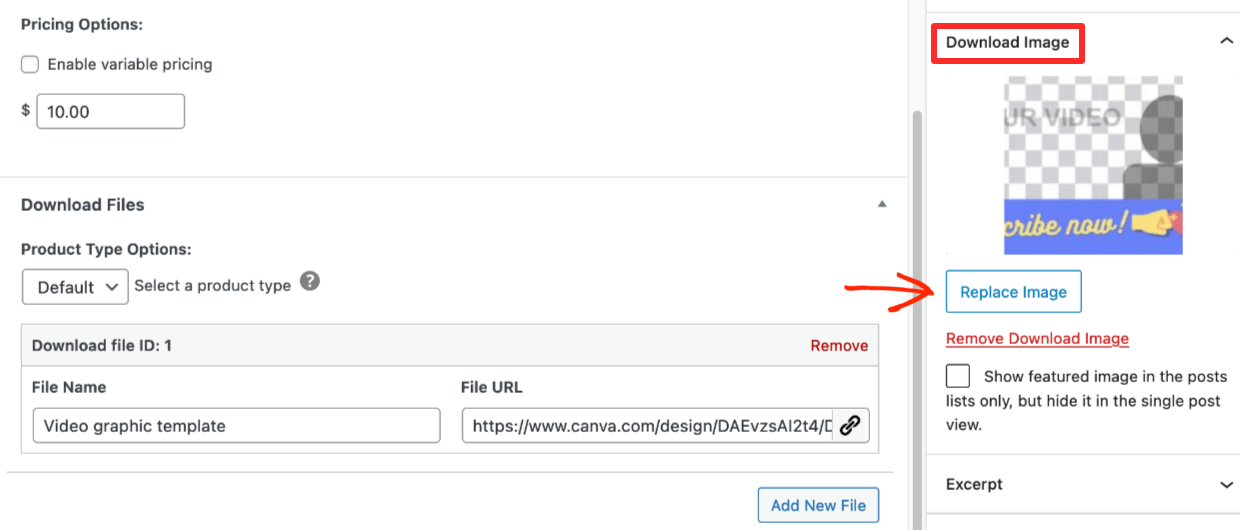 Great work! That's it. Click Publish.
Set Up a Payment Method
You need to set up a way for customers to pay. We recommend using Stripe. If Stripe is not available in your area, PayPal is a good option. Click the links below to get started:
Step 4: Publish & Sell Canva Templates from Your Store
Once you have created your Download and set up a payment method, your template is ready to sell. Let's give it a look.
Click on View Download button on the top of the right side bar:

You'll see your Canva template page on the front-end of your website. In the example below, we are using the Astra theme. Your page look will vary depending on which WordPress theme you have. EDD works with any WordPress theme and we also have a list of suggested themes.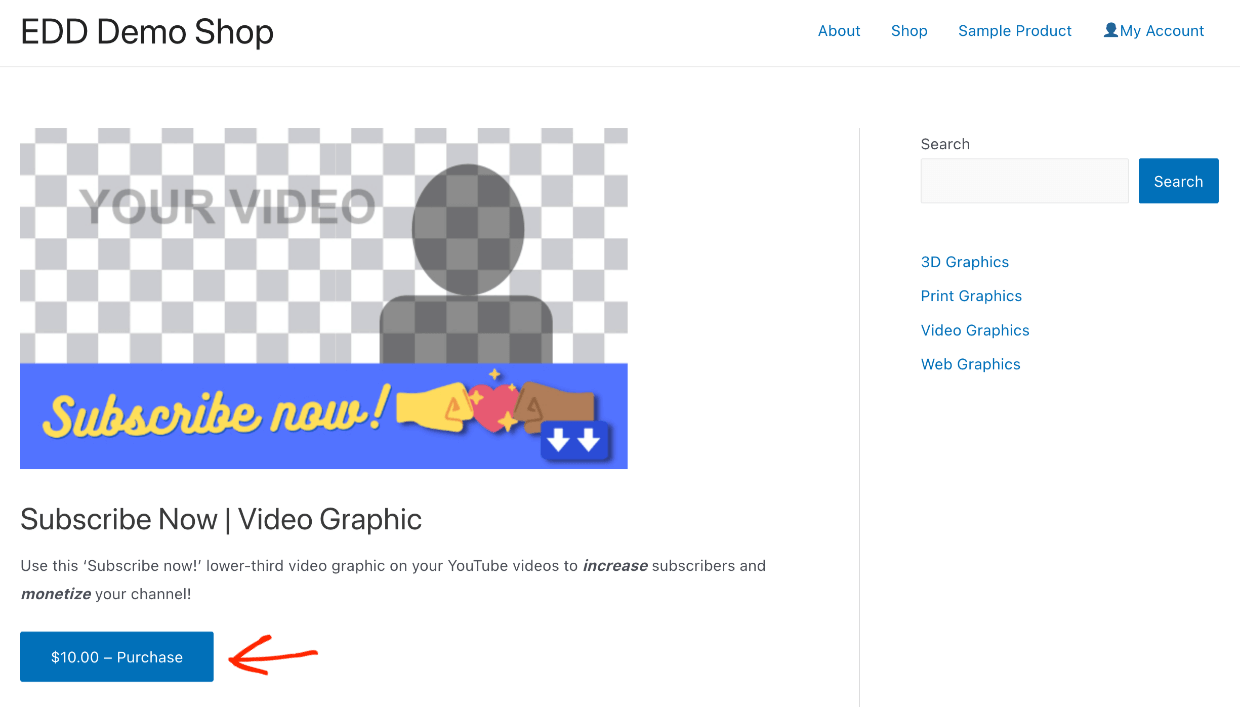 Customers will click the Purchase button. The item will be added to their cart. Next, they will click the button again, which now says Checkout.
After making a purchase, customers will see the purchase confirmation page. This page will have a link to the Canva template.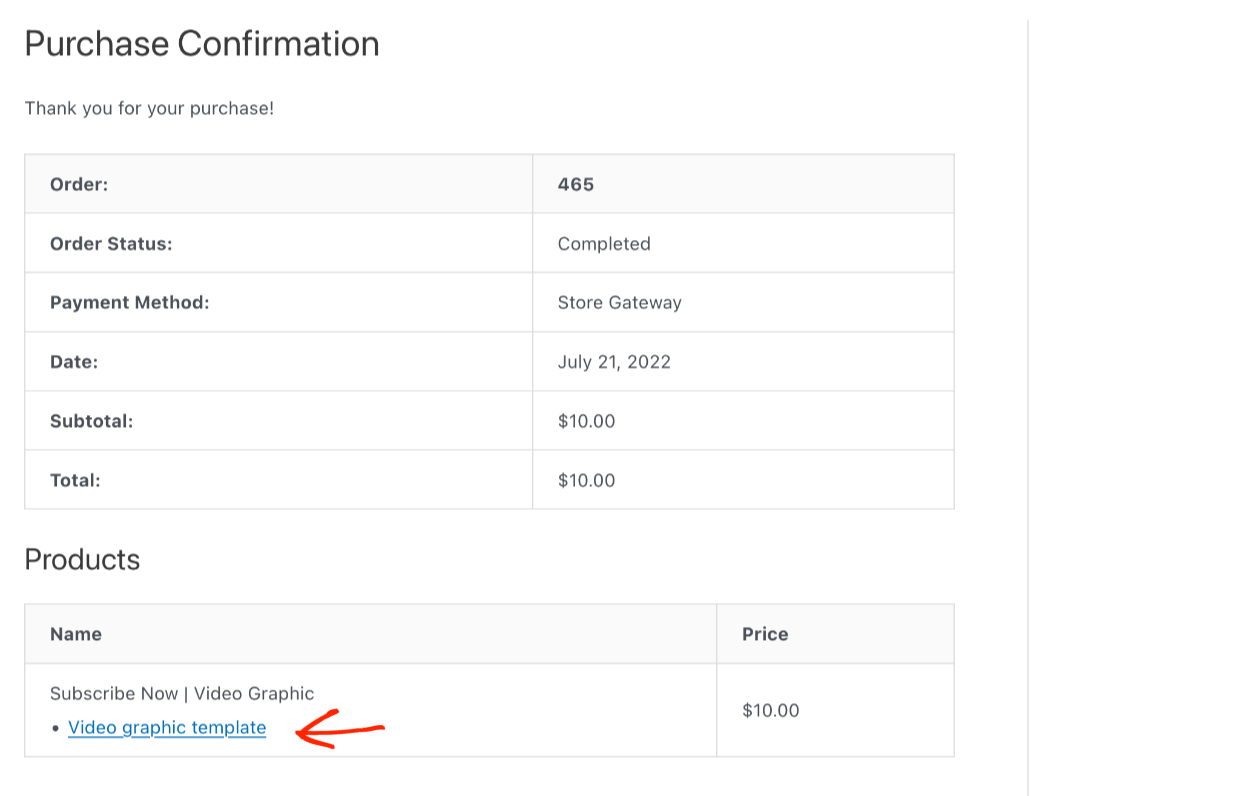 Customers will also get a purchase receipt email. The default email looks like this: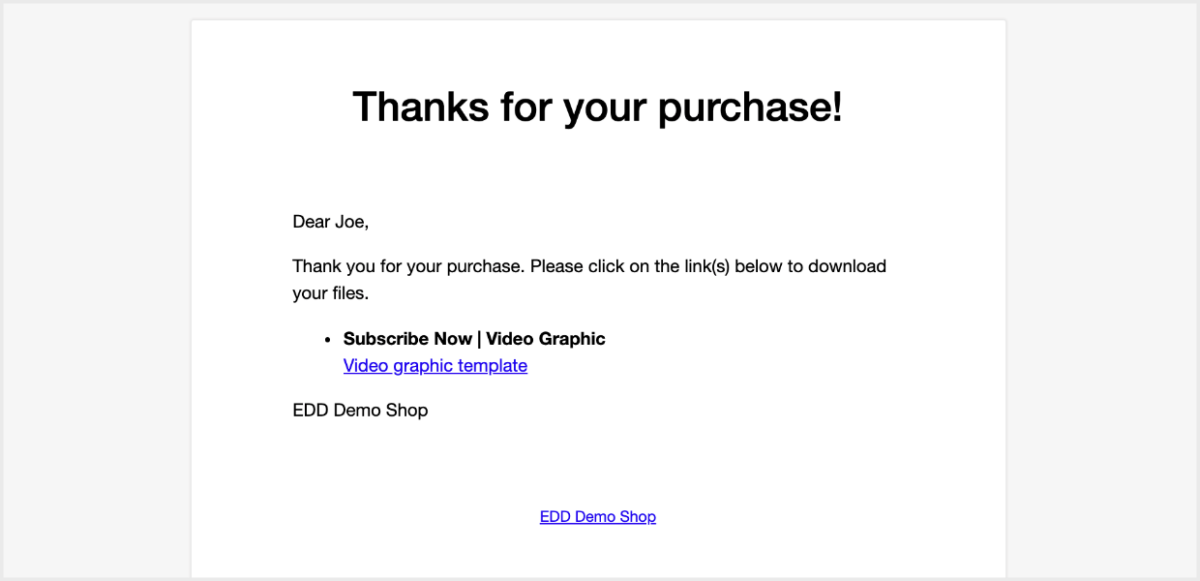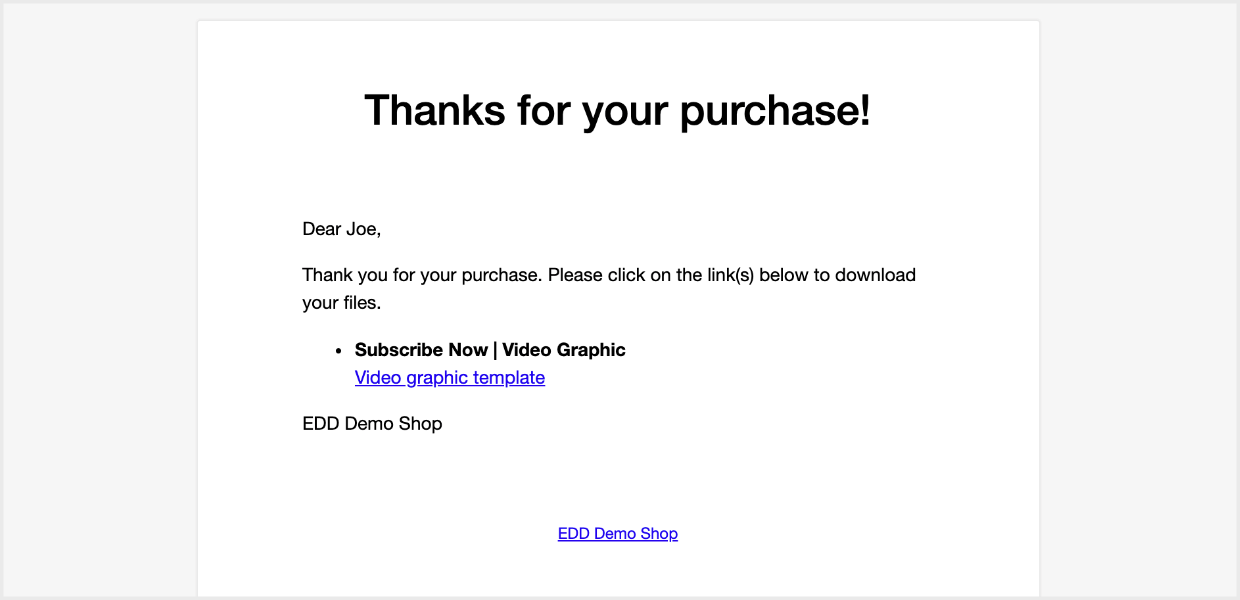 🎉 Great work! You have a full-featured eCommerce store ready to sell Canva templates.
Use EDD to Sell Canva Templates in WordPress
Thanks for reading. Now you're ready to grow your online business and sell Canva templates with Easy Digital Downloads!
eCommerce without limits!
That is our promise. Most eCommerce solutions limit your creativity
…not Easy Digital Downloads!
Looking for a great way to get more traffic and sales on your site? Consider creating a lead magnet (freebie) on your site to grow your email list, click here for a full tutorial.
We have tons of resources for entrepreneurs and digital creators like you! What do you want to learn about next?
📣 P.S. Be sure to subscribe to our newsletter and follow us on Facebook or Twitter for more WordPress resources!