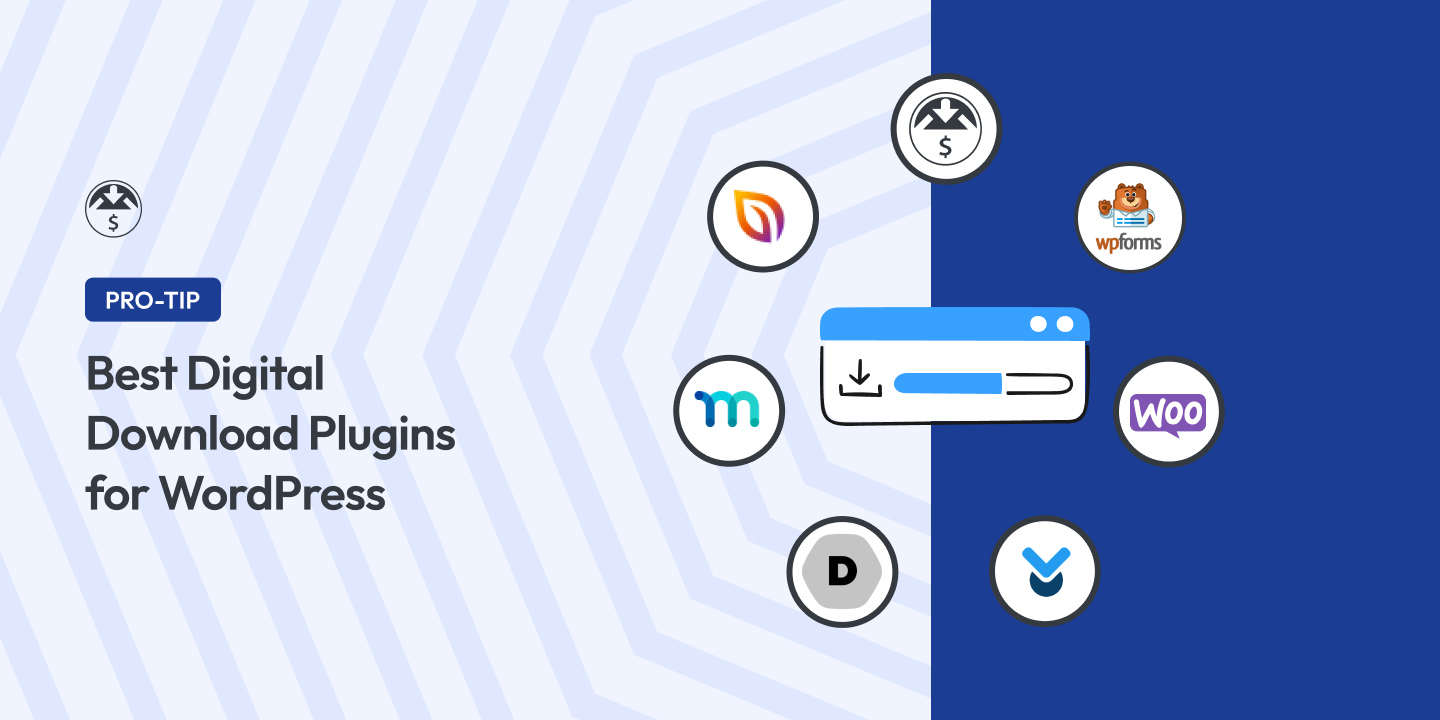 Trying to find the best digital download plugins for WordPress?
There are a variety of tools you can use to create, manage, and sell digital downloads in WordPress. With so many options to choose from, finding the perfect one that meets all your needs may seem difficult.
Fortunately, it doesn't have to be. This guide will help make your decision easier by comparing the top options on the market today.
🔎 In this article, we'll cover:
Why Use WordPress Digital Download Plugins?
When it comes to running a WordPress site, the ability to offer digital downloads to your visitors can be a game-changer. Not all plugins include the same features or functionality.
However, the best digital download plugins typically come with a handful of advantages. From adding and organizing files to tracking and selling downloads, the right plugin can help you establish a smooth and efficient workflow (and sales process!).
You can use them for:
Uploading, categorizing, & maintaining digital product inventory
Monetizing your WordPress site content through digital downloads & selling
Securing digital file delivery to customers & preventing unauthorized sharing
Adapting pricing strategy for digital downloads to maximize sales & profits
Integrating with popular payment gateways for secure & convenient transactions
Customizing the appearance & branding of digital download landing/product pages
Tracking sales & analytics via built-in reporting
If you plan to offer downloadable files on your WordPress site, a digital download plugin can be an excellent way to streamline the process. However, it's important to compare the available options against your specific needs.
What to Look for in Digital Download Plugins
When researching and comparing the best WordPress plugins for digital downloads, it's smart to consider some key factors. Knowing what to look for can save you time and help ensure you choose a solution that checks all of your boxes.
For instance, some important aspects to take into account include:
Ease of use & user interface
User reviews & ratings
Payment gateway integrations
File management capabilities
Security features such as file encryption and download restriction/limitations
Comprehensive reporting & analytics for tracking performance & monitoring activity
Compatibility & integration with third-party tools and services (email, CRM, etc.)
Support & documentation from plugin developers
Of course, your budget likely plays a role in your decision-making process. The good news is that many of the best digital download plugins for WordPress offer multiple pricing tiers (as well as free core versions).
Summary: Best Digital Download Plugins
Digital Download Plugins🔌
Free 🛒
Pricing 🏷
Best For 💡
Cons❌
Easy Digital Downloads
✅
$199 – $999/yr
Selling digital downloads & products
Not ideal for physical goods
WPForms
✅
$49.50 – $299.50/yr
Creating custom download/order forms
No eCommerce shopping cart system
Many form features require Pro
WooCommerce
✅
✖️
Paid addons available
Selling mostly physical products with some digital goods
Designed mostly for physical products
WordPress Download Manager
✅
$99 – $499/yr
Simple file management & user access control
Limited free features
More for file uploading/sharing than selling
Download Monitor
✅
$39 – $159/yr
Uploading, tracking & managing digital files
PayPal is only payment gateway
Support limited to highest plan
MemberPress
✖️
$179.50 – $399.50/yr
Selling restricted digital content on membership sites
No free version
Simple Download Monitor
✅
✖️
Paid addons available
Tracking digital file download counts
Limited integrations
No premium upgrade option
7+ Best Digital Download Plugins for WordPress
Ready to learn more about the best digital download plugins for WordPress? Below, we'll take a comprehensive look at each, including key features and pricing details.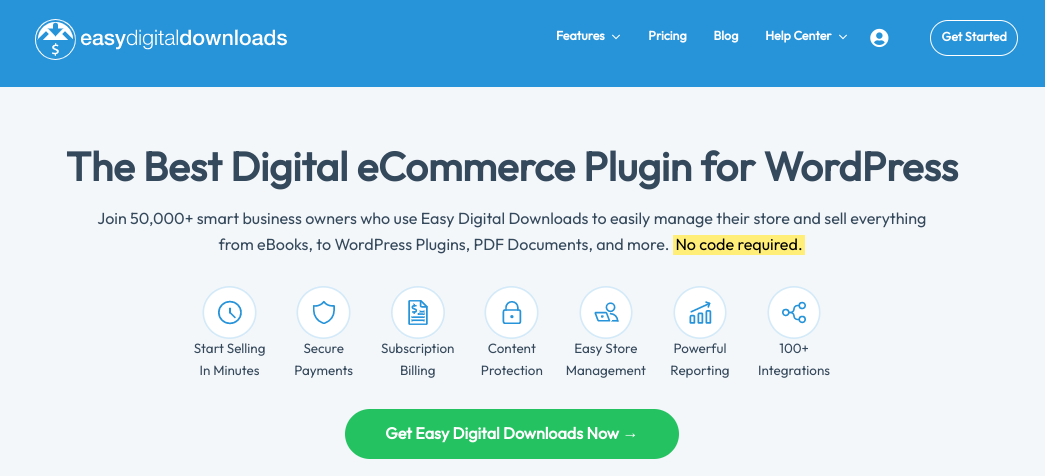 When it comes to the best digital download plugins for WordPress, Easy Digital Downloads (EDD) is far and away the top option. As the #1 WordPress plugin for selling digital products and downloads, EDD offers a complete eCommerce solution ideal for users of all experience levels.
You can use it for any type of digital content, including software, eBooks, PDFs, images, videos, etc. In addition to easily creating an online store for digital downloads, the EDD plugin lets you track sales & earnings, create discount codes, accept recurring payments/subscriptions, and much more.
🔑 Key Features
Unlimited products & transactions with no hidden fees
Onboarding Wizard to create digital download store within minutes
Seamless integration with payment gateways (Stripe, PayPal, & Amazon Pay, etc.)
Full shopping cart with customizable checkout page
Buy Now button for instant purchases
Built-in reporting & analytics to track sales, earnings, & performance
Compatibility with any WordPress theme, including EDD-specific themes
Support for variable pricing, Software Licensing, Recurring Payments & Bundles
Huge library of extensions & 100+ integrations (Mailchimp, AWeber, ConvertKit, etc.)
Advanced file protection & security features
Customer & order management with automated emails
Coupon & discount codes
Reliable & dedicated support with tons of online documentation, tutorials, etc.
🛒 Pricing: Easy Digital Downloads' free core plugin is packed with powerful features. EDD Pro grants access to the full range of premium features & extensions. There are four pass levels, starting at $199/year.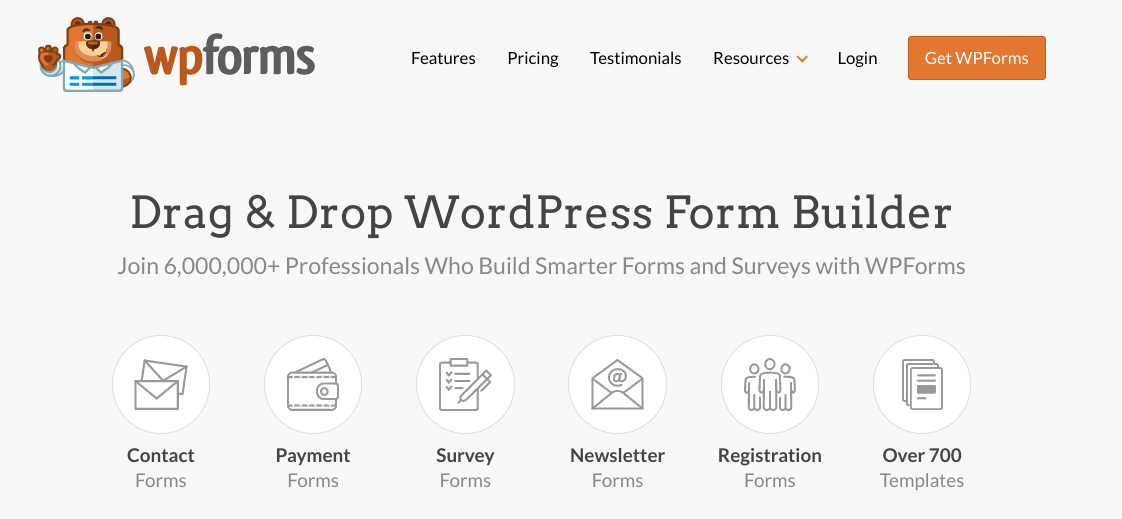 WPForms is the best form builder for WordPress. While not specifically a digital download plugin, it can enhance your digital sales process. You can create custom order, payment, and download forms to streamline the user experience for your customers.
WPForms seamlessly integrates with popular payment gateways, like PayPal and Stripe. You can use it to easily collect visitors' information and deliver downloadable files in return. If you only offer one or two digital assets, WPForms can be an excellent alternative to complete digital eCommerce plugins like EDD.
🔑 Key Features
Drag-and-drop form builder interface for easy customization
Any type of form (contact, registration, donation, order, etc.)
Option to embed forms across WordPress site to promote downloads
Smart conditional logic to show or hide form fields based on user responses
Spam protection to prevent unwanted submissions
700+ form templates, including a premade download form
Instant notifications & entry management
File uploads with form submissions
Library of addons for advanced functionality & features
5+ million active WordPress installations
🛒 Pricing: WPForms offers a free Lite version. To access premium features, paid plans are available, starting at $49.50/year.

With over 5 million active installations, WooCommerce is the most popular WordPress eCommerce plugin. Its user-friendly interface, extensive customization options, and large user community make it a reliable choice.
One of WooCommerce's biggest draws is that it's free. It's an affordable solution for creating a storefront and managing inventory and order fulfillment. WooCommerce is primarily meant for selling physical goods rather than digital assets.
However, similar to Easy Digital Downloads, it can support both. You'll just need the right extensions and integrations to optimize it for both physical and downloadable products.
🔑 Key Features
Most popular open-source eCommerce solution
Full shopping cart & checkout
Built-in inventory management & order tracking for efficient store management
Customizable product pages & catalog layouts to showcase offerings
Compatible with tons of other WordPress themes
Integration with 100+ payment gateways
800+ extensions (including free & paid WooCommerce plugins/tools)
🛒 Pricing: WooCommerce itself is free. However, if you want to expand the plugin's core functionality, you'll likely incur varying costs from premium extensions and/or themes.
💡WooCommerce vs. Easy Digital Downloads: Which Is Best?

Another popular choice in the list of best digital download plugins is WordPress Download Manager. This file management plugin can help you easily organize, categorize, sell, and track files on your website.
In addition to offering free and paid downloads, you can restrict user access, add password protections, control the download speed, and more. Most features center around the file storage and digital asset management aspect of WordPress documents.
But Download Manager can be ideal if you're looking for a quick and straightforward way to create download links and buttons.
🔑 Key Features
Simple digital asset management
Access control, including password protection & user role restrictions
Detailed download logs & statistics
Integration with file storage platforms (OneDrive, Google Drive, etc.)
Custom templates
Different license levels/multi-file packages
Order & invoice management
Spam prevention, reCAPTCHA support & IP address blocking
Front-end file manager
Shopping cart with integrated PayPal system
🛒 Pricing: There is a limited free plugin. However, most of the above features require a Download Manager Pro plan, which start at $99/year.

Download Monitor is another popular plugin that simplifies the process of managing and selling digital downloads in WordPress. It's not as feature-rich as some of the other digital download plugins on this list. However, it can be a cost-effective option for specific use cases.
Similar to Download Manager, it provides an intuitive interface for uploading files, organizing them into categories, and tracking download activity.
Download Monitor allows you to customize download buttons, track download counts, and even create membership plans for exclusive content access. You can also use it to collect email addresses for lead generation and targeted marketing campaigns.
🔑 Key Features
User-friendly interface for uploading & managing single or multiple files
Ability to tag, categorize, & add other meta data to downloads
Customizable download buttons & templates
Download tracking & statistics
Access restriction based on user roles/passwords
Membership add-on for gated downloads
Option for lifetime licensing
Download WordPress Block & embed shortcode
Ability to add terms & conditions
CSV import & export
🛒 Pricing: Download Monitor is available as a free plugin. Premium plans start at $39/year.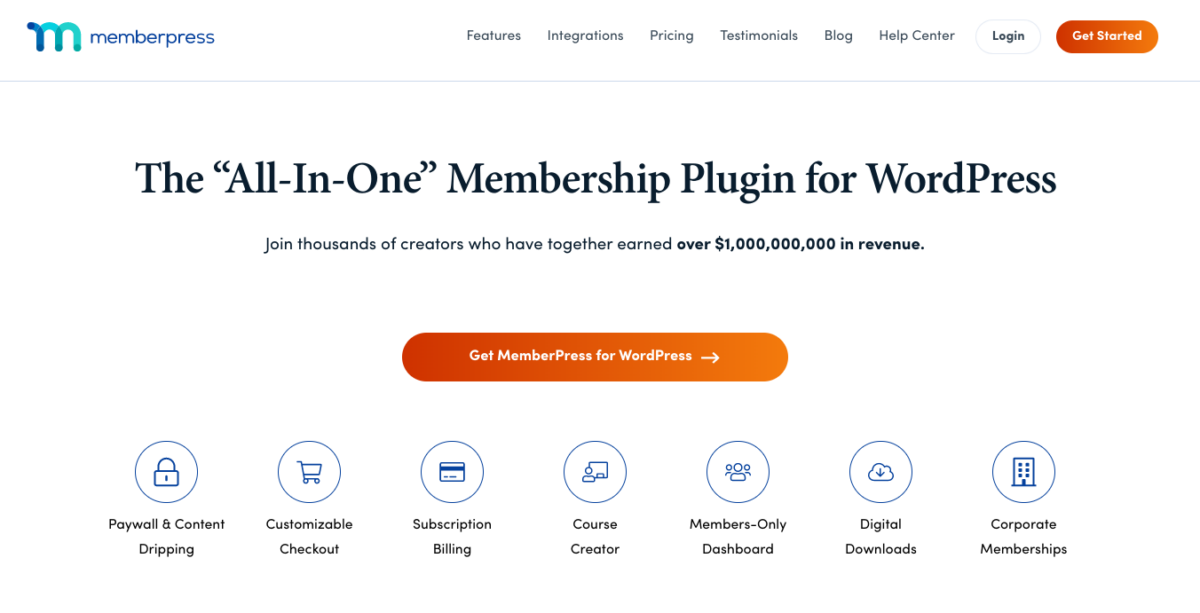 If you're looking to offer digital downloads as part of a membership site, MemberPress is the plugin for you. It lets you easily create a membership site and restrict access to your digital products to paying members only.
This is one of the best solutions you can use to monetize your website and its content. MemberPress offers flexible membership management, content access controls, and payment integrations. With MemberPress, you can easily set up recurring payments, protect your digital content, and provide an exclusive experience to your members.
There are so many different types of digital downloads you can offer and sell via MemberPress. Some of the most popular examples include online courses, eBooks, members-only blogs, digital service & subscription sites, and more.
🔑 Key Features
Membership management capabilities, including tiered & subscription plans
Content access controls to restrict downloads
Build & sell online courses
Customizable checkout process with multiple payment gateway integrations
Drip content functionality to schedule the release of digital downloads to members
Built-in reporting & analytics with email notifications
Membership Downloads addon for extra features
Download file tracking & email notifications
Integration with third-party tools & apps for email marketing, page builders, & popup widgets, etc.
🛒 Pricing: Pricing for MemberPress starts at $179 per year.

Rounding out our list of the best digital download plugins for WordPress is Simple Download Monitor. If you're looking for a free, standard plugin for tracking download counts in WordPress, this hassle-free tool is worth checking out.
Simple Download Monitor is easy to use and provides a straightforward interface for uploading and monitoring file downloads directly from your dashboard.
You can add customizable download buttons across your site, including pages, posts, and sidebars. It also provides reports for tracking file download counts, user browsers, and IP addresses.
🔑 Key Features
Monitor file & document downloads
Password protection & reCAPTCHA for downloadable files
File uploading, editing, & monitoring
Download date, time, & IP address logging
Drag-and-drop interface for file & document upload
Ability to organize downloadable files by categories & tags
Download buttons with option to set display rules & add terms & conditions
🛒 Pricing: Simple Download Monitor is free. Premium addons are available for purchase.
Bonus: SeedProd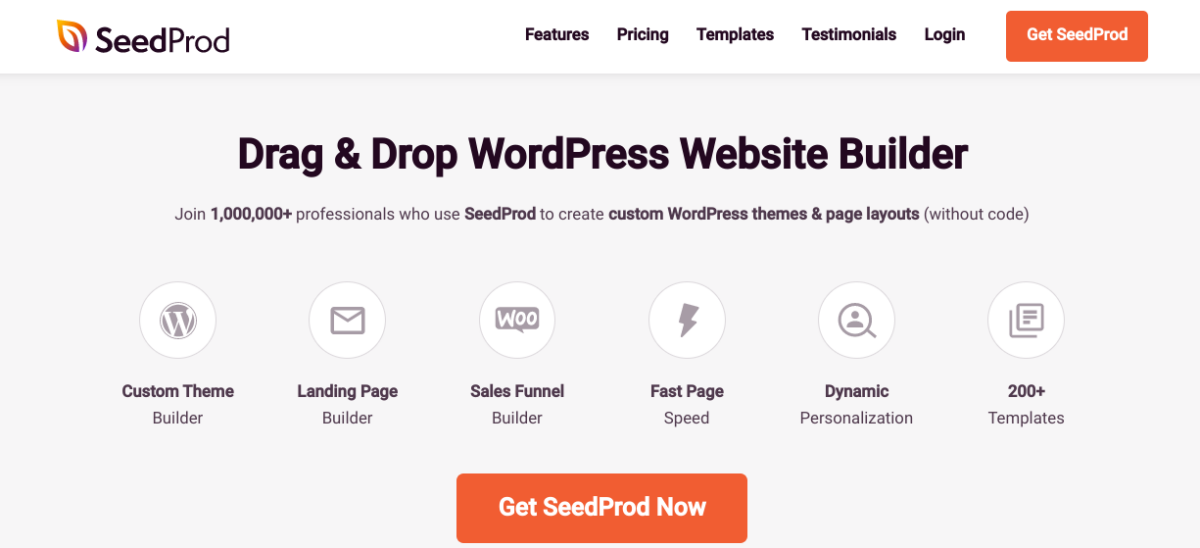 As a drag-and-drop website builder, SeedProd isn't specifically tailored for digital downloads.
However, it does let you create stunning landing pages to promote and sell your digital products. With over 1 million active installations, this beginner- and user-friendly plugin includes a visual editor for building custom pages without touching any code.
You can add Add to Cart and Buy Now buttons to pages to provide visitors with a quick and seamless checkout.
🔑 Key Features
Ability to create custom digital download/product category pages
Shopping cart navigation menu item
200+ templates
90+ blocks for displaying static & dynamic content
Pre-built themes
Subscriber management & tracking
Email marketing integrations (MailChimp, ActiveCampaign, ConvertKit, Constant Contact, etc.)
Free downloads
Spam protection
Access control by role or IP address
🛒 Pricing: There is a free version available. Pricing for SeedProd premium plans starts at $39.50 per year.
FAQs About WordPress Digital Download Plugins
Before we wrap up, let's address some frequently asked questions about digital downloads in WordPress.
Can you make money selling digital downloads?
Yes, whether you're a freelancer, small business, or larger company, there's always a way you can make money selling digital products. The key is choosing the right type of asset to sell and using an eCommerce tool packed with features to help drive conversions.
What is the best plugin for digital downloads?
The answer may depend on your specific needs. But, overall, the best digital download plugin for WordPress is Easy Digital Downloads.
It's one of the few WordPress eCommerce solutions built specifically for digital products and files. It provides everything you need to start an online store, integrate various payment options, and create a positive, personalized, and seamless shopping experience for customers.
What are the advantages of digital downloads?
Digital downloads offer numerous advantages for both sellers and buyers. Some of the key benefits are convenience and cost-effectiveness. Downloads are instantly delivered without having to deal with physical shipping and delivery costs/wait times.
Additionally, you can use digital downloads to reach customers worldwide without geographical limitations. You can replicate them indefinitely (meaning unlimited sales potential) and easily distribute & update versions as needed.
Get the Best Digital Download Plugins for WordPress
When it comes to adding, managing, and selling downloads on your WordPress website, choosing the right plugin is crucial. Hopefully, this comparison of the best digital download plugins helped narrow your decision.
Each of the tools we discussed has its own unique advantages.
But if you're looking for an affordable, all-in-one solution for offering and selling digital downloads on your WordPress website, you can't go wrong with Easy Digital Downloads! Grab your pass to get started:
eCommerce without limits!
That is our promise. Most eCommerce solutions limit your creativity
…not Easy Digital Downloads!
📣 P.S. Be sure to subscribe to our newsletter and follow us on Facebook or Twitter for more WordPress resources!