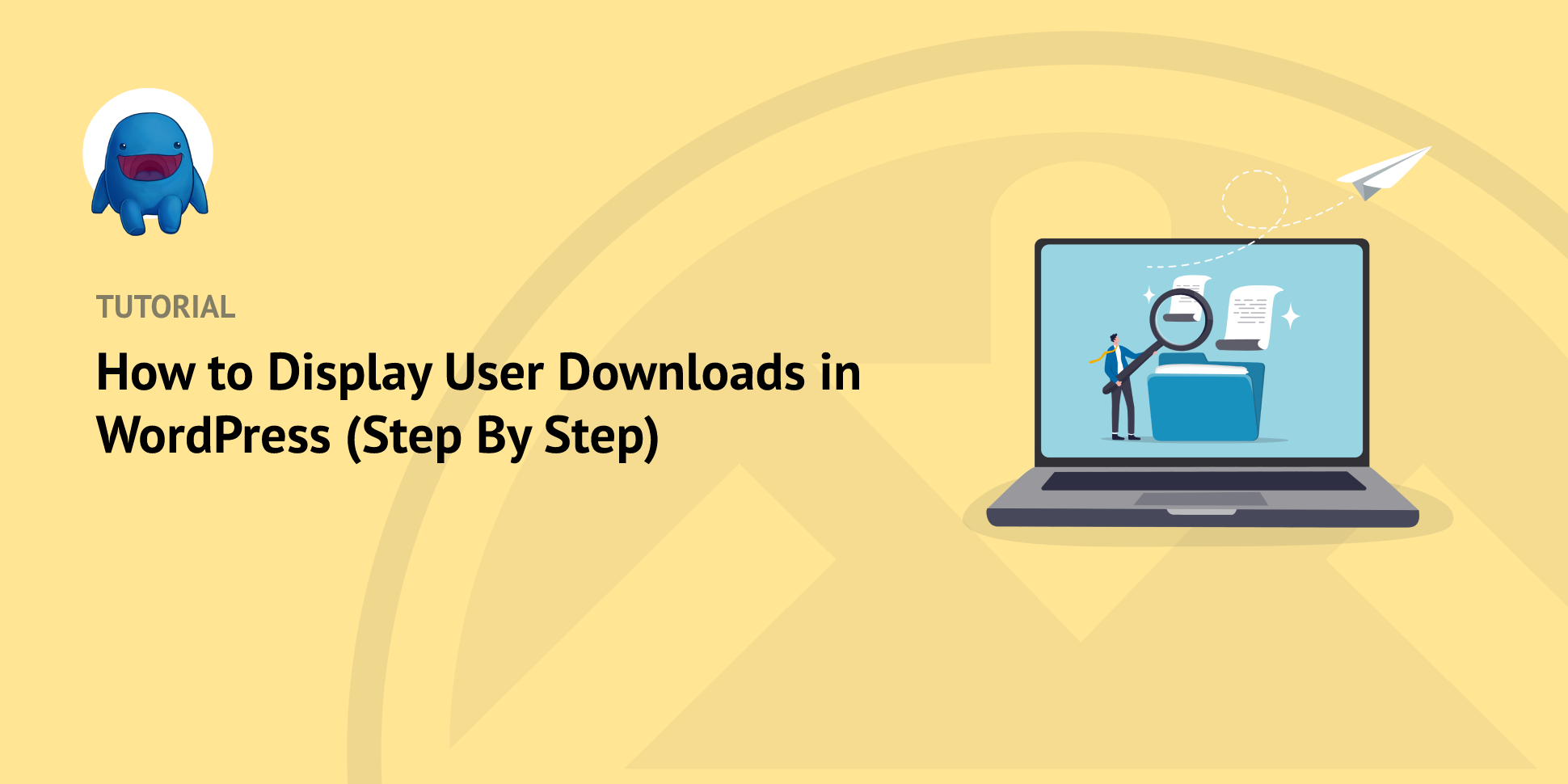 Do you want a quick and easy way to display user downloads on your WordPress site?
Doing so can be a simple yet effective way to enhance the customer experience on your e-commerce site. It can also help build credibility, engagement, and trust. If you sell digital files and downloadable products, Easy Digital Downloads (EDD) is a popular WordPress plugin that can help you display user downloads with ease.
🔎 In this article, we'll cover:
Why Display User Downloads to Customers?
Displaying user downloads on your e-commerce website can be a useful tool for enhancing customer engagement and satisfaction. By allowing your users to view and manage their download history easily, site owners can create a more user-friendly and transparent customer experience.
One major benefit of displaying user file downloads is that it can help you build trust with your customers. Providing a clear record of all downloads made by a user lets them easily verify their purchases and ensure they have access to all the products they paid for. This can help reduce customer complaints and disputes, as well as increase overall satisfaction.
Another reason you might want to display user downloads and a download count is that it can encourage customers to return to your site to make additional purchases. By providing a quick and easy way to access and track file downloads and previously downloaded products, users can find and repurchase products they've enjoyed. Additionally, showcasing user downloads can help them discover other similar or relevant products they may be interested in buying based on their previous download history.
How to Display User Downloads in WordPress
Ready to get started? In this tutorial, we'll walk you through the process of how to display user downloads in WordPress using Easy Digital Downloads.
If you don't already have a WordPress site, I recommend checking out SiteGround's Managed EDD Hosting! These budget-friendly & beginner-friendly plans give you everything you need to start an online store with WordPress. You can also check out our guide on How to Start an Online Store With WordPress!
Step 1: Install Easy Digital Downloads
If you're already an EDD user, feel free to skip ahead to Step 2. Otherwise, the first step is to install and activate Easy Digital Downloads on your WordPress site.
Easy Digital Downloads is a popular WordPress plugin to help you sell digital products like eBooks, software, and music. It's an easy-to-use platform that simplifies the entire process of selling digital products and allows you to focus on creating and promoting your products. EDD is an ideal WooCommerce alternative if you don't sell physical products.

There are two versions of Easy Digital Downloads available: a free version and a Pro version. While the free version has a lot of features, the premium version offers more advanced functionality and customization options.
🔗 Learn more about EDD Free vs EDD Pro
To get started with Easy Digital Downloads, go to the Plugins section of your WordPress admin area. Then click on Add New. Next, either search for "Easy Digital Downloads" or click on Upload Plugin (if you downloaded it from the EDD site or WordPress.org Plugin Directory):
Select Install Now, followed by the Activate Plugin button.
Once activated, you'll see a new Downloads menu item in your WordPress dashboard. This is where you can manage your digital products and customize your store settings: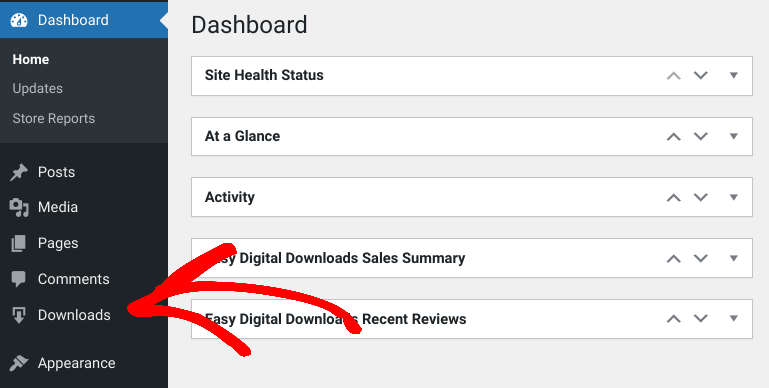 An Onboarding Wizard should also appear that prompts you through the key first steps of getting your store set up: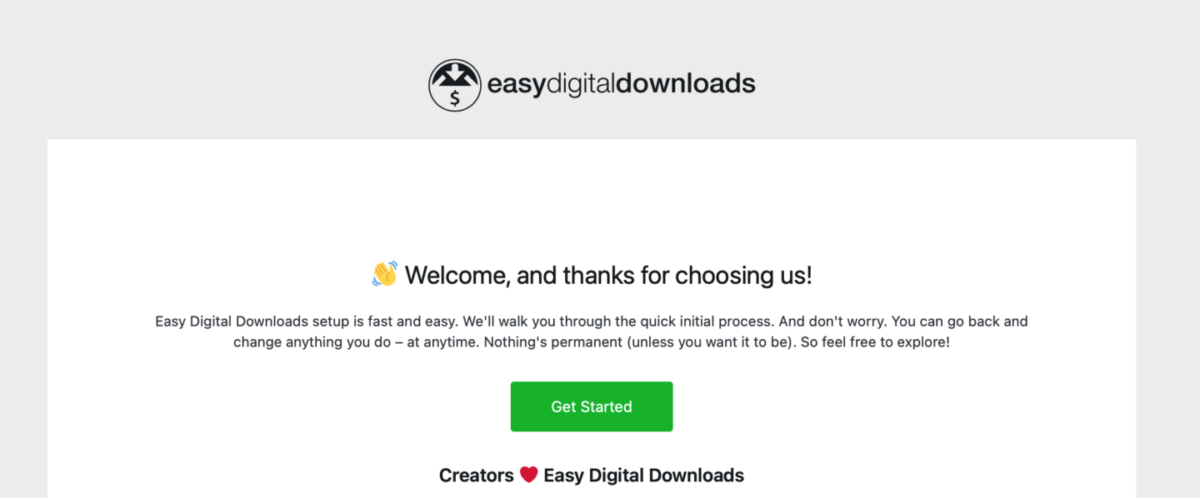 If you're interested in a premium version of Easy Digital Downloads, you can purchase it directly from our site. The premium plans offer additional features such as more payment gateway integrations, enhanced reporting, and more customization options. EDD Pro is perfect for businesses looking to take their sales to the next level.
💡 You can follow our documentation to learn how to upgrade from EDD Lite to EDD Pro as well as EDD Quickstart Guide.
Step 2: Insert the EDD User Downloads Block
The EDD User Downloads block is a block that comes with the Easy Digital Downloads plugin. While we always recommend upgrading to a Pro plan, you don't need a premium license to use this block. It's included with the free version of the plugin. However, if you do have EDD Pro, you have the option to display a search form in the User Downloads table.
Built to replace the previous downloads history shortcode, the User Downloads block is a tool that lets you display a list of downloads that a particular user has purchased or downloaded. Again, it can be helpful for users who want to see what they've bought or downloaded in the past, or for you to provide a convenient way for users to access their downloads.
When you add the EDD User Downloads block to a page, you can choose which user's downloads to display. You can also customize the settings, such as which content to include.
To add the EDD User Downloads block, navigate to the WordPress page or WordPress post where you want to place it. Then click on the Add Block button (+ icon) in the Gutenberg editor and search for "EDD User Downloads":

Click on the block to insert it into the page.
Step 3: Configure the Display User Downloads Settings
Once you've added the block, you'll see several settings in the block's sidebar: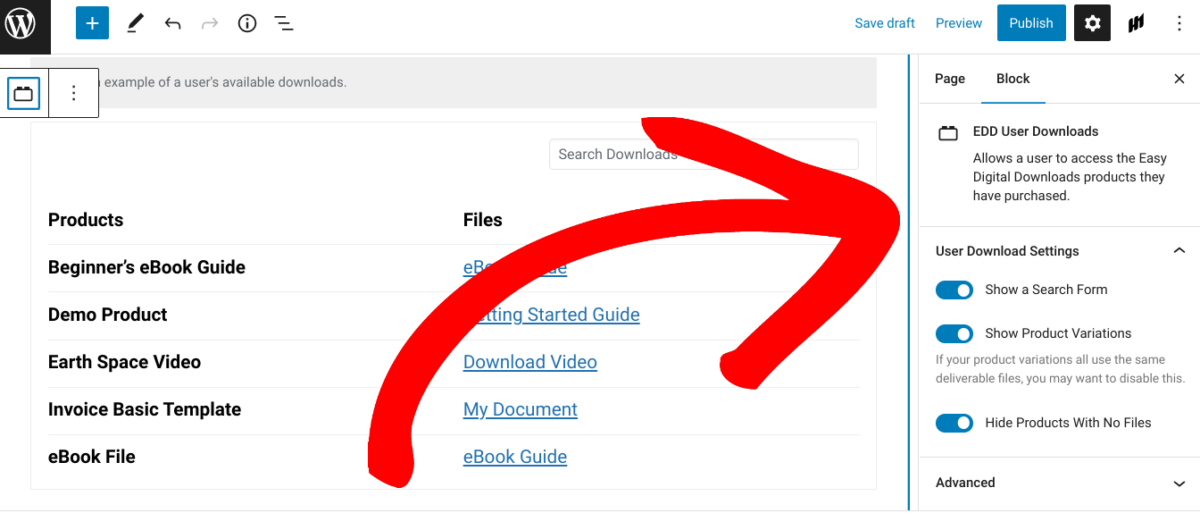 Here's an overview of some of the key settings:
Show a Search Form: When activated, a search form will appear at the top of the block. Please note that this option is only available for EDD Pro users.
Show Product Variation: If your product variations have access to the same file(s), you might want to hide this.
Hide Products With No File: When enabled, the products without any files won't appear in the list.
By customizing these settings, you can create a user downloads table that fits your site's needs.
Once you're done, you can save changes by clicking on the Save draft or Publish button. Then you can select Preview to see how the user download page looks from the frontend of your site.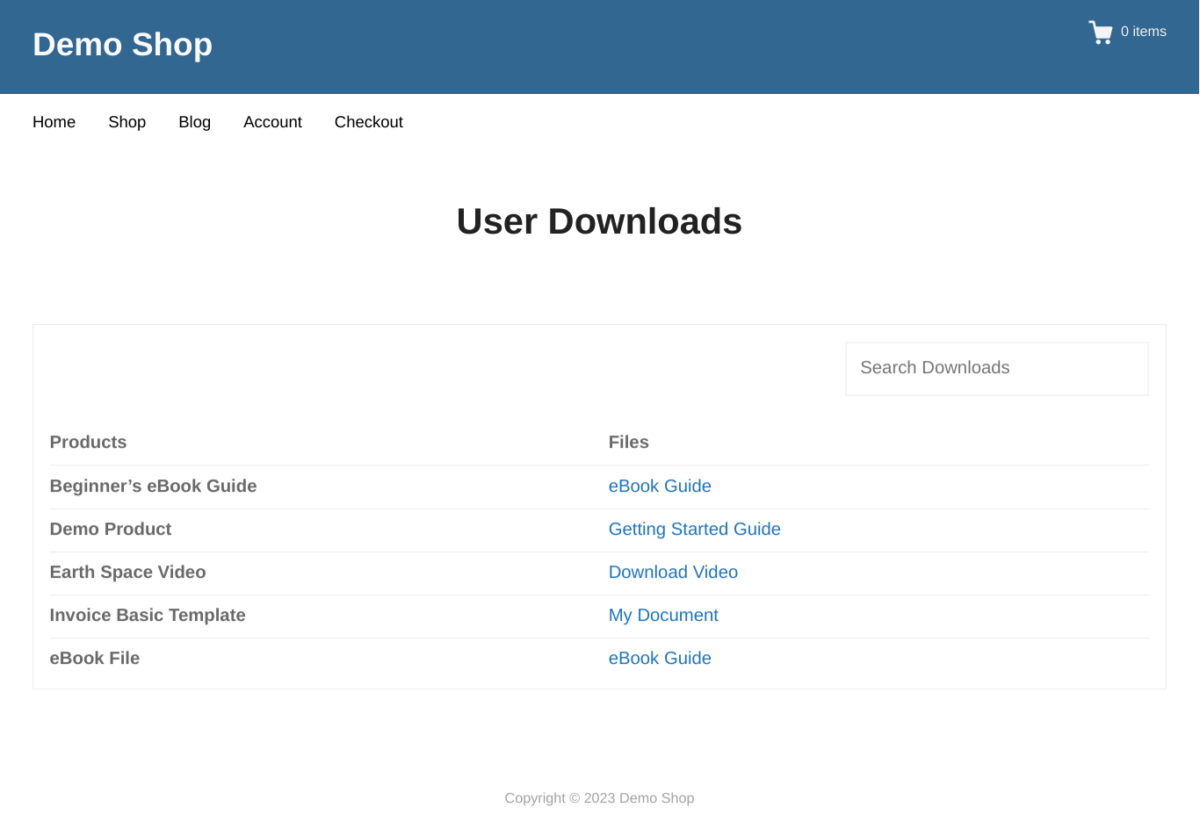 Of course, the appearance of your page depends on what WordPress theme and/or template you're using.
FAQs About Using EDD to Display User Downloads
Do you need a paid plan to use the EDD User Downloads block?
No, this feature/block comes included with the free Easy Digital Downloads plugin. However, only EDD Pro users will have the option to enable a search feature within the User Downloads table.
Plus, there are many other benefits of upgrading to a premium EDD Pro plan. For instance, it also unlocks access to dozens of add-ons that you can use for everything from SEO and Google Analytics to password protection and exclusive content for building membership sites. You can also find tools to integrate with other third-party services and tools, such as Mailchimp.
Why use EDD for displaying user downloads?
In short, this plugin offers a quick, concise way for logged-in users to keep track of the number of downloads they have from your store and easily access the WordPress files if they're unable to find it from their initial purchase confirmation email.
Easy Digital Downloads also eliminates the need to install and manage another third-party download monitor plugin. The built-in functionality serves as a powerful download manager plugin as well as an e-commerce solution.
Use EDD to Display User Downloads in WordPress
Displaying user downloads can be a powerful way to improve your customers' experiences on your WordPress website. By providing a transparent and user-friendly system for managing downloads, you can use EDD to build trust and encourage customer loyalty.
Ready to get started? Download Easy Digital Downloads to begin creating and managing your online store within minutes!
eCommerce without limits!
That is our promise. Most eCommerce solutions limit your creativity
…not Easy Digital Downloads!
Looking for more ways to boost the user experience? Learn How to Display Recently Viewed Products in WordPress!
📣 P.S. Be sure to subscribe to our newsletter and follow us on Facebook or Twitter for more WordPress resources!