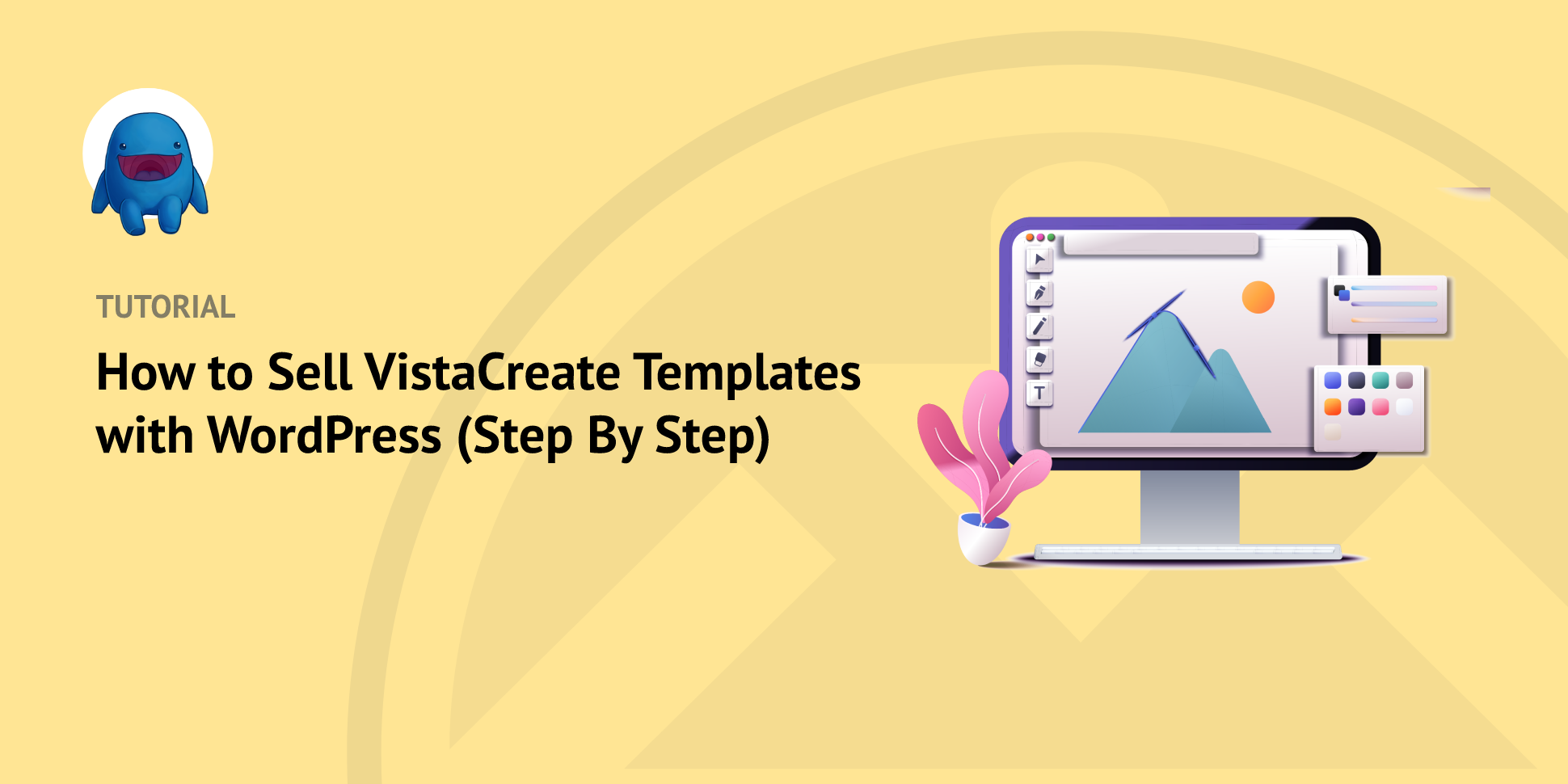 Do you want to learn how to sell VistaCreate templates with WordPress?
If you have a talent for graphic design and want to monetize your skills, selling VistaCreate templates on your WordPress site can be a lucrative opportunity. Plus, Easy Digital Downloads (EDD) makes it a simple, straightforward, and quick process!
🔎 In this article, we'll cover:
What Is VistaCreate?
VistaCreate, formerly known as Crello, is an online graphic design tool that allows anyone to create professional, eye-catching designs quickly and easily without any custom design software or even design skills. It has mobile apps for Android and iPhones.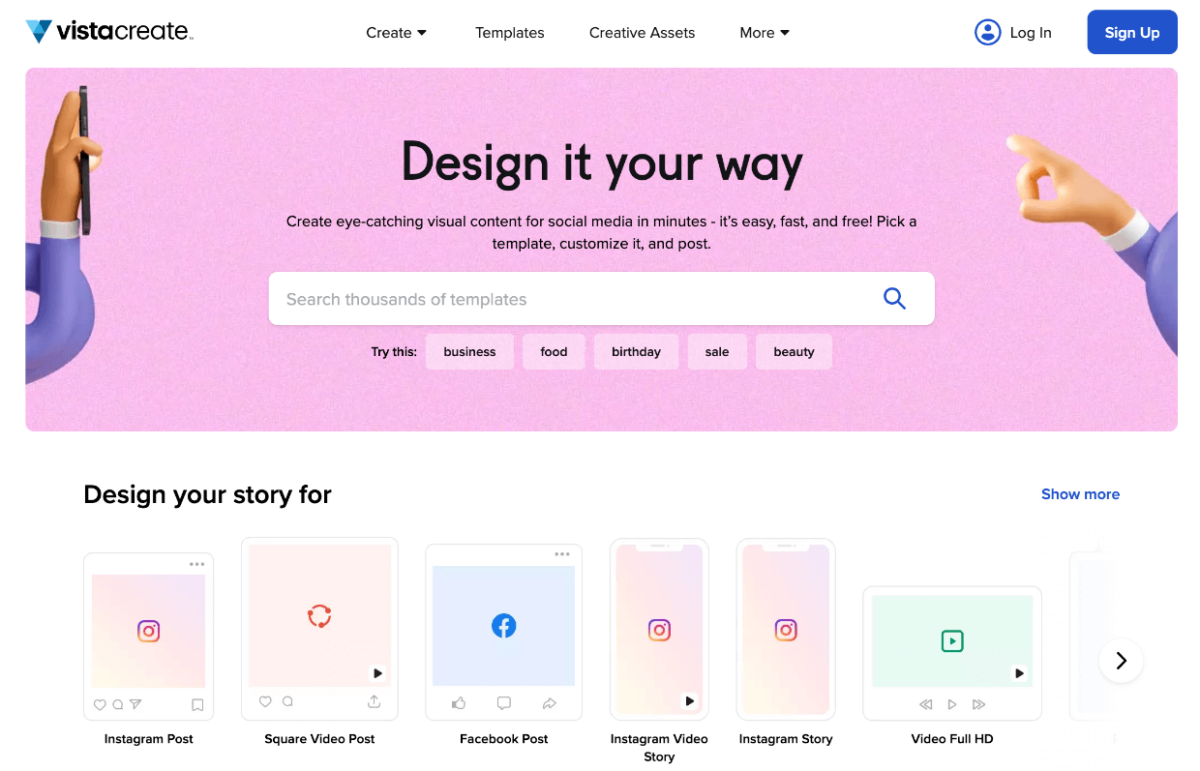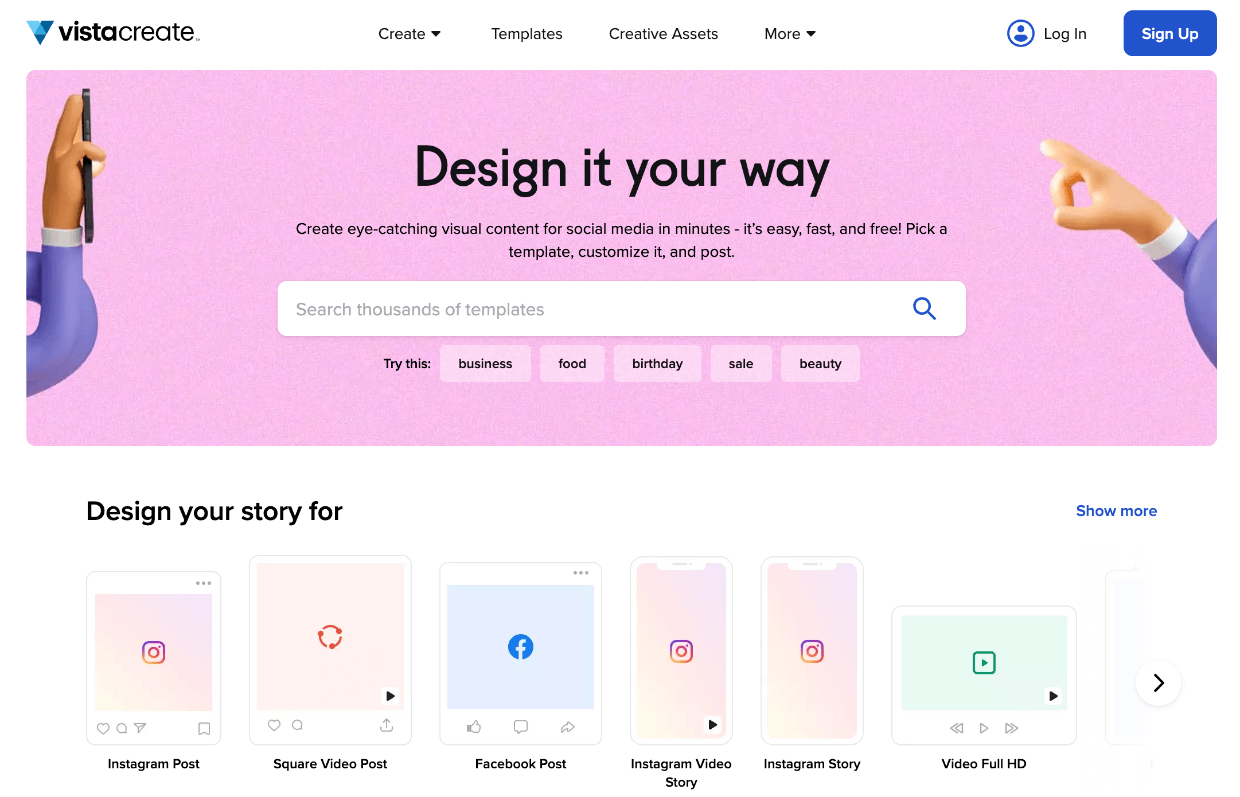 With a vast library of templates, design elements, and editing tools, VistaCreate empowers individuals and small business owners to create stunning graphics. It's similar to the popular Canva platform.
You can choose from its free Starter plan or a Pro plan for $10/month.
Even with a free account, you can make graphics for many design formats; social media graphics, video animations, and layouts for print. You can output various formats, including JPG, PNG, PDF, MP4, and GIF.
The Pro version adds unlimited storage and the ability to have teams. It also adds brand kits, which are collections of creative assets and marketing materials (logos and branded graphics) for a client or company.
Why Sell VistaCreate Templates?
One of the benefits of VistaCreate is that everyone from beginners to professional designers can use it to create customizable templates and visual content. For instance, these days, each social media platform has different size formats. VistaCreate has design templates for social media posts of all sorts, including Instagram, Facebook, and LinkedIn.
Selling VistaCreate templates can be an excellent way to earn passive income, whether you're a graphic designer, blogger, or entrepreneur. With over 7 million users worldwide, VistaCreate has a large and growing user base. This means that there is a vast potential market for your templates.
Thanks to its ease of use, templates are relatively simple to create. VistaCreate has an easy-to-use design editor and a library of pre-designed templates. You can customize these templates with your branding, colors, and fonts to create unique and high-quality designs to sell on your WordPress site.
Plus, templates are scalable. Once you create them, you can sell VistaCreate templates repeatedly without any additional effort. It's an excellent source of passive income.
How to Sell VistaCreate Templates With WordPress
Now that you know the benefits of VistaCreate let's walk through the step-by-step tutorial on how to sell VistaCreate templates on your WordPress site.
Step 1: Create Your VistaCreate Account & Template
If you haven't already, the first step is to create a free VistaCreate account. You can do so by going to their website and clicking on Sign Up: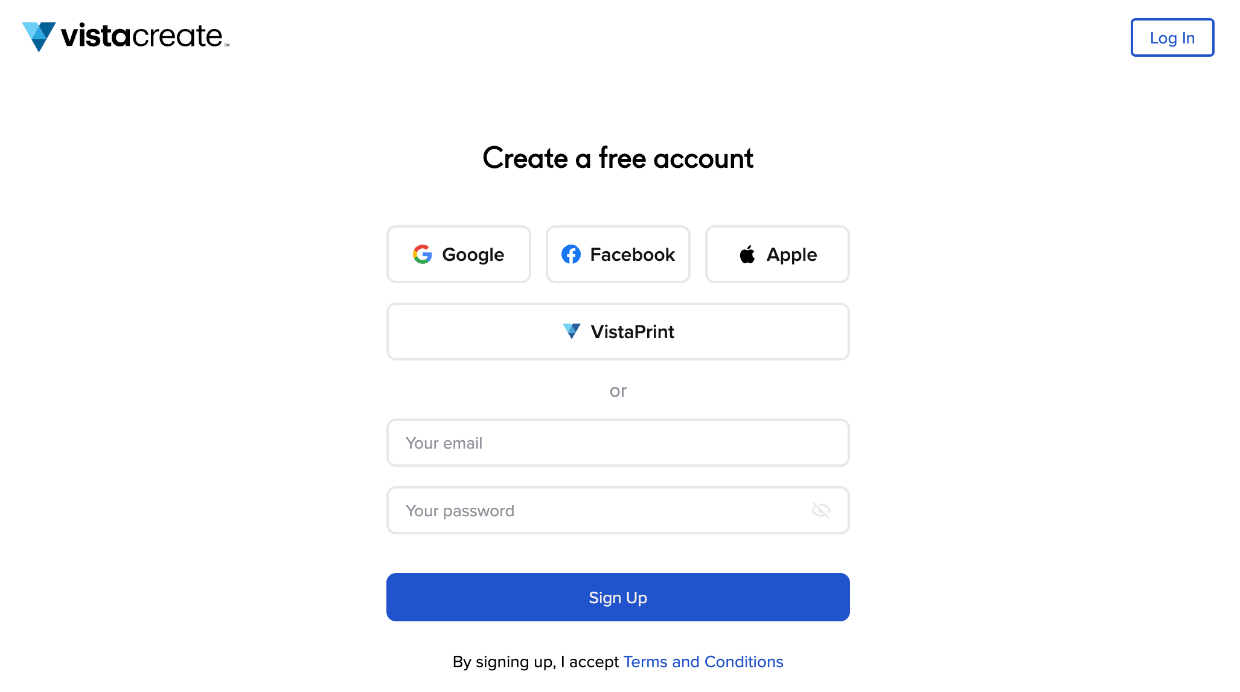 When you're ready to create your design, you can log in to your VistaCreate account. Next, you can navigate to Design your story for. You can create a custom-sized graphic or choose from one of their templates.
Alternatively, if you're working with an existing design, scroll down to My recent designs: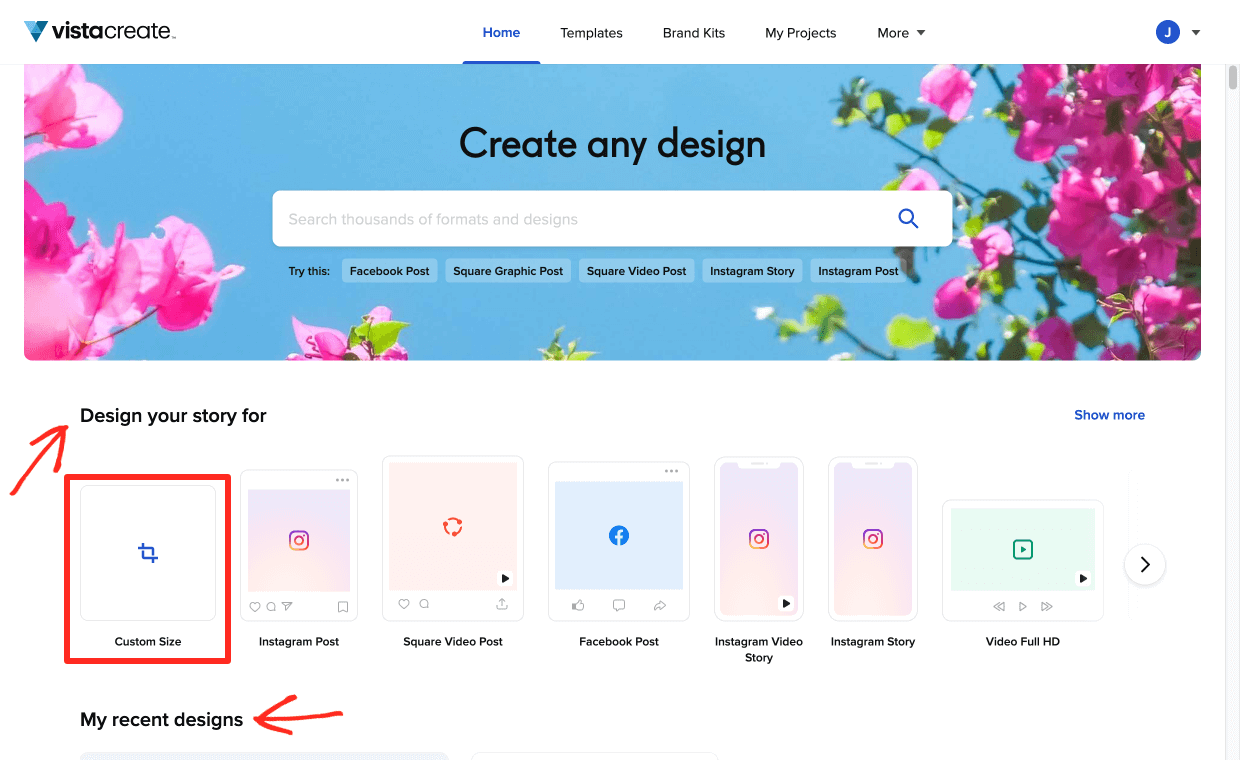 You can drag and drop VistaPrint-included creative assets from the left-side menu. There is a search bar for finding new graphics elements.
In this example, I'm making a product image (download image) for selling a Document template: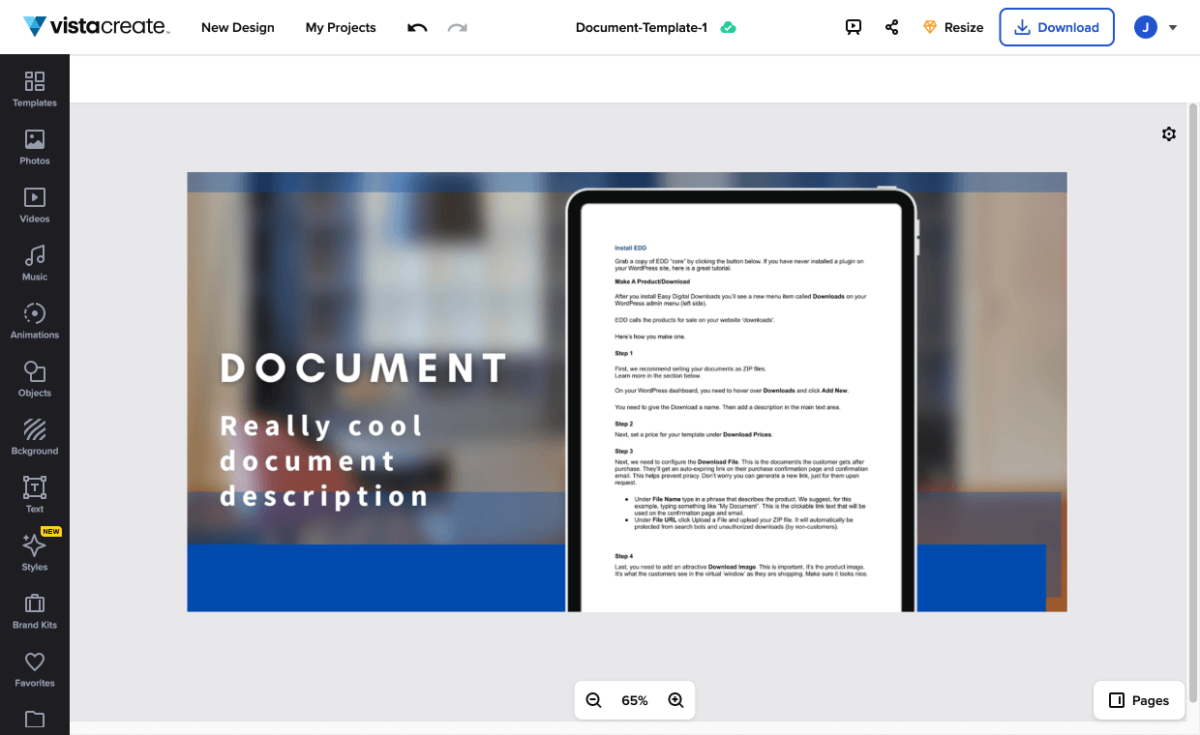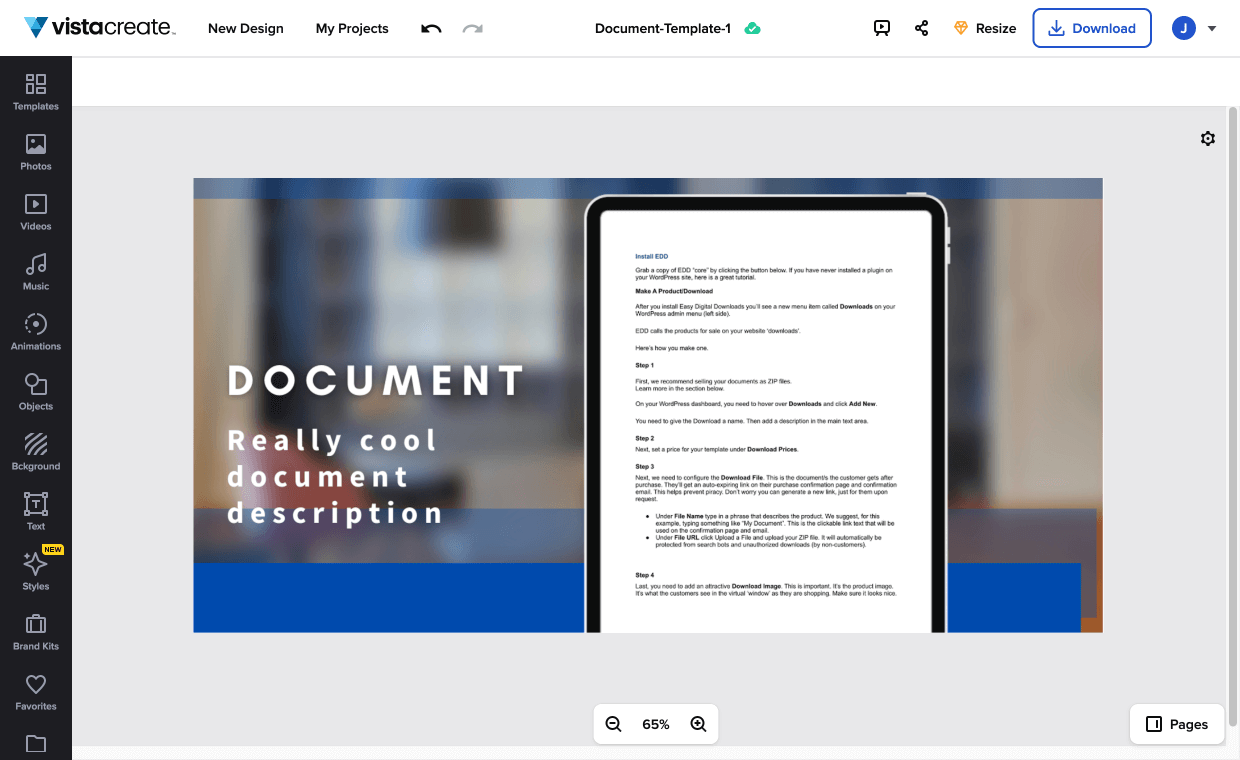 You can add your own graphic elements or photos under My Files. I suggest using your own to make your designs unique.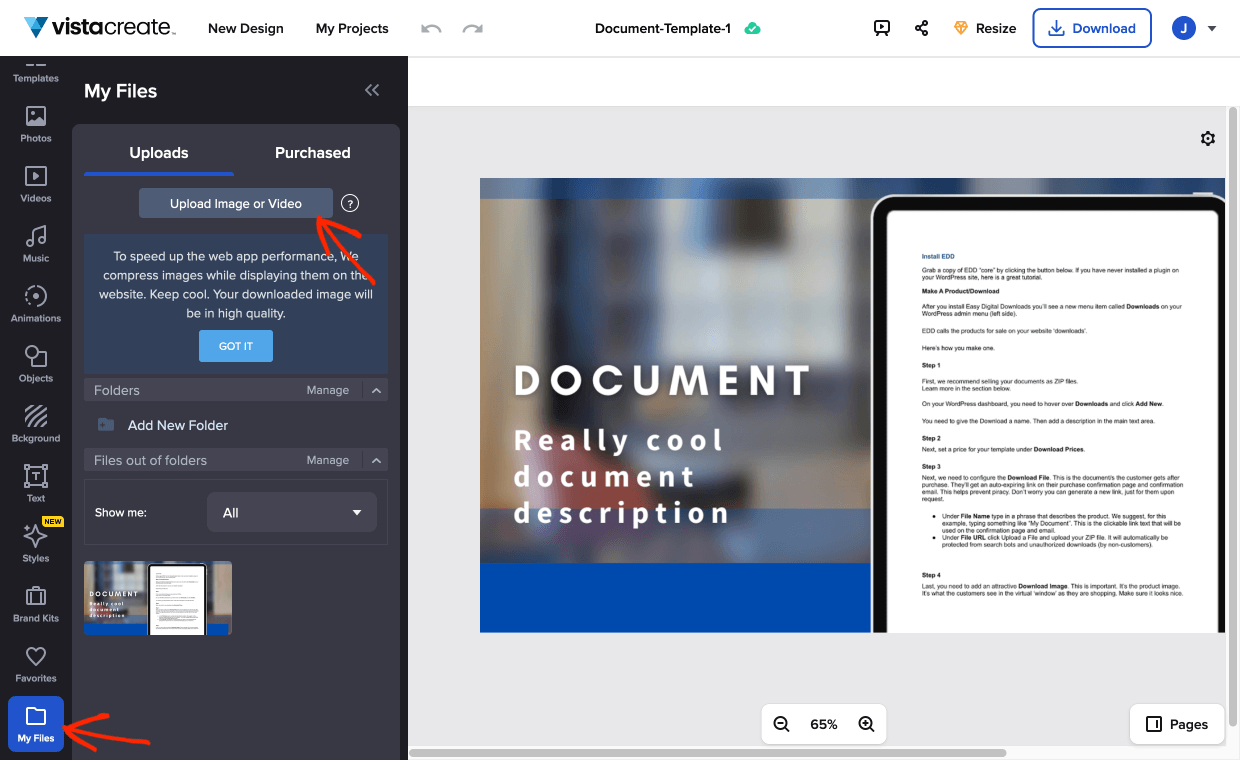 Note: The stock graphics used here are from our own collection of stock images purchased elsewhere. To make your templates stand out from the rest, use your own graphic elements that are not included in VistaCreate.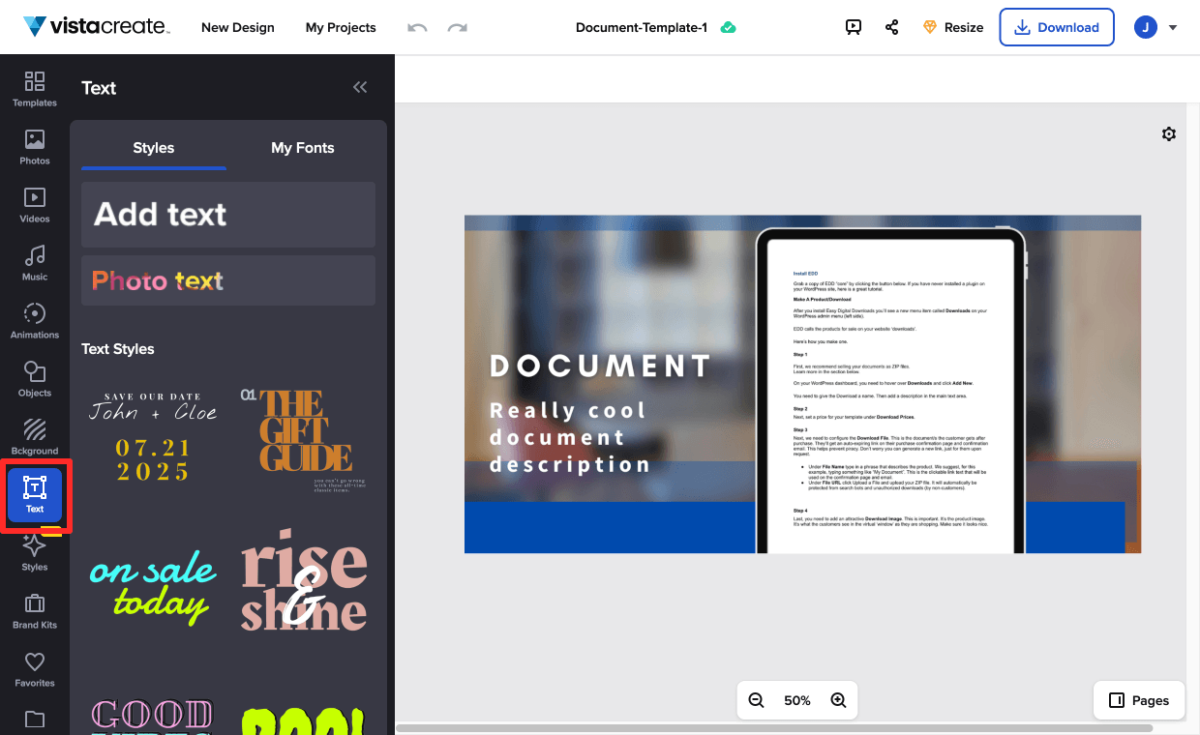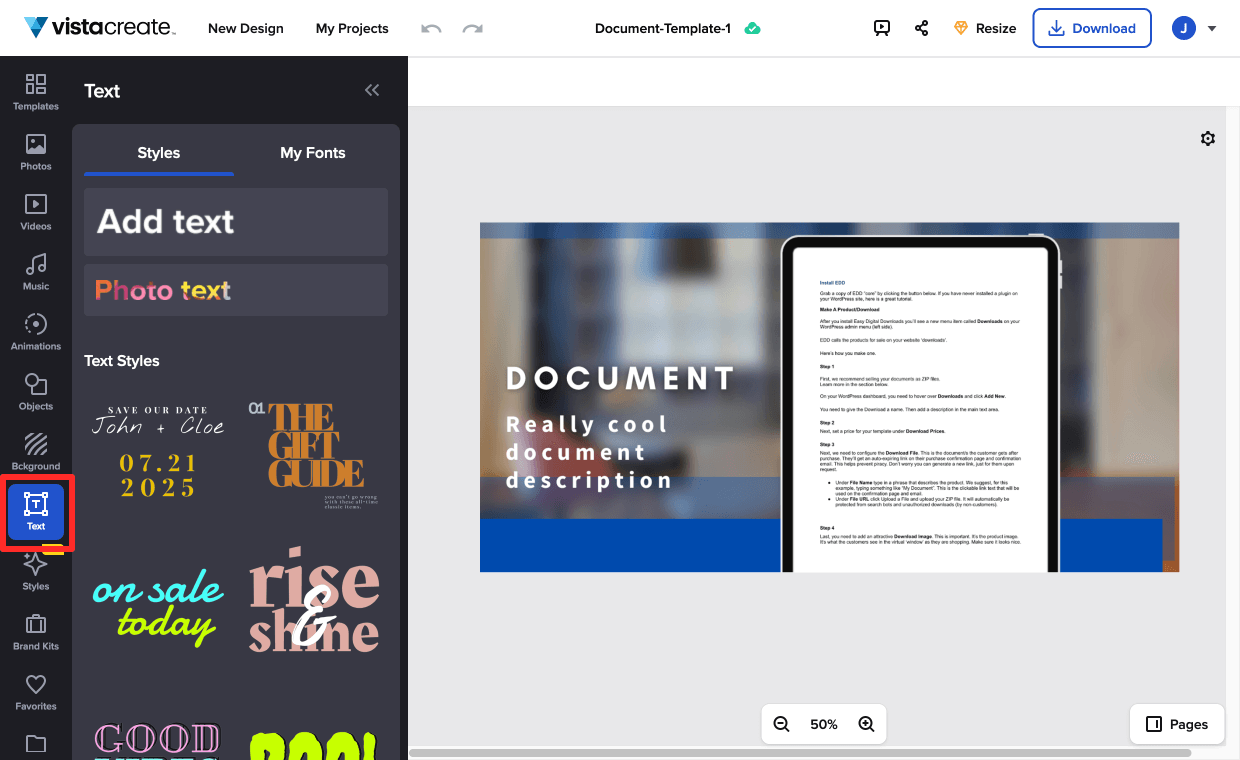 Step 2: Get Your Template Link
When your graphic is done, you need to get the template link. That is what you are selling: access to the template link.
Click on the Share icon on the top menu:
Next, click on Email and Link.
In the box that opens, under Share Your Design, navigate to Share a link and select the to use as a template option: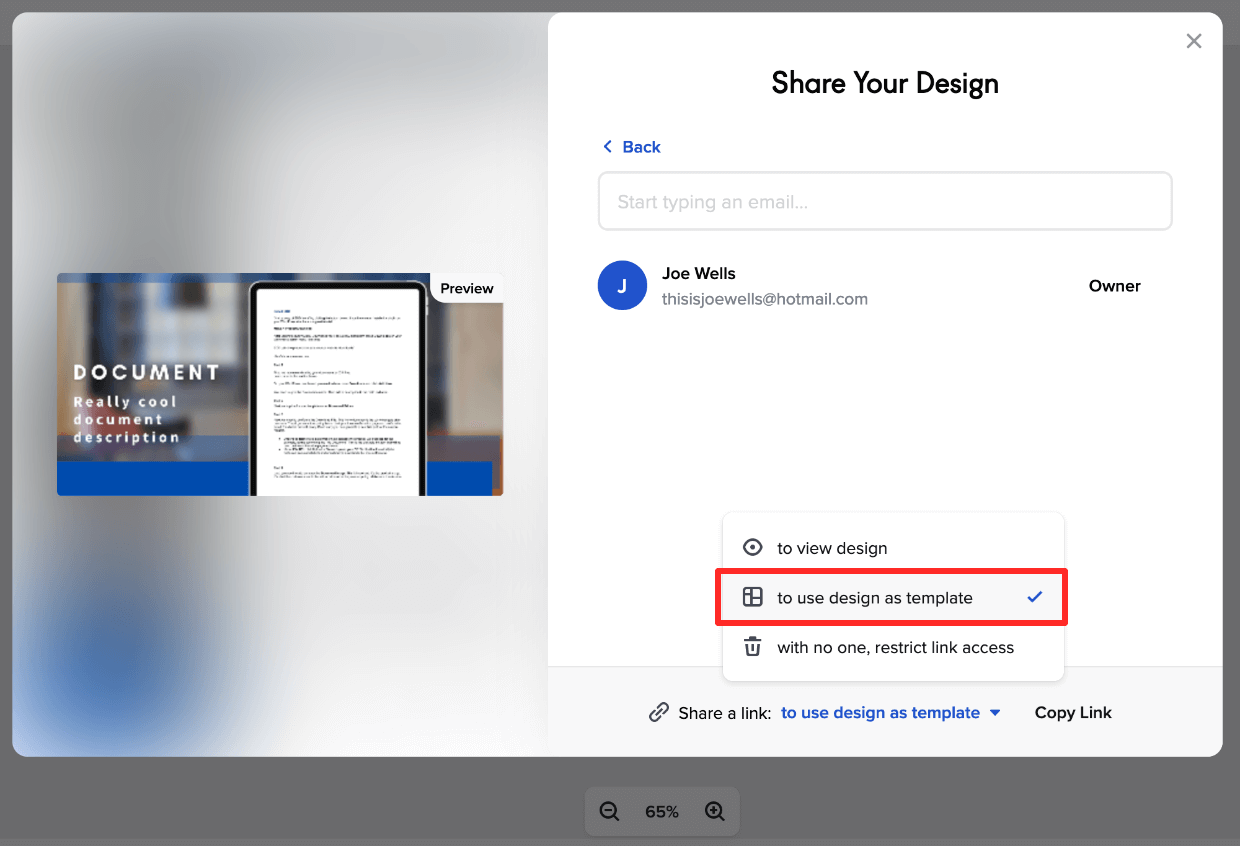 Click the Copy Link button to add the link to your clipboard. Hold on to that. In the steps below, we'll add that to your digital product that you will sell: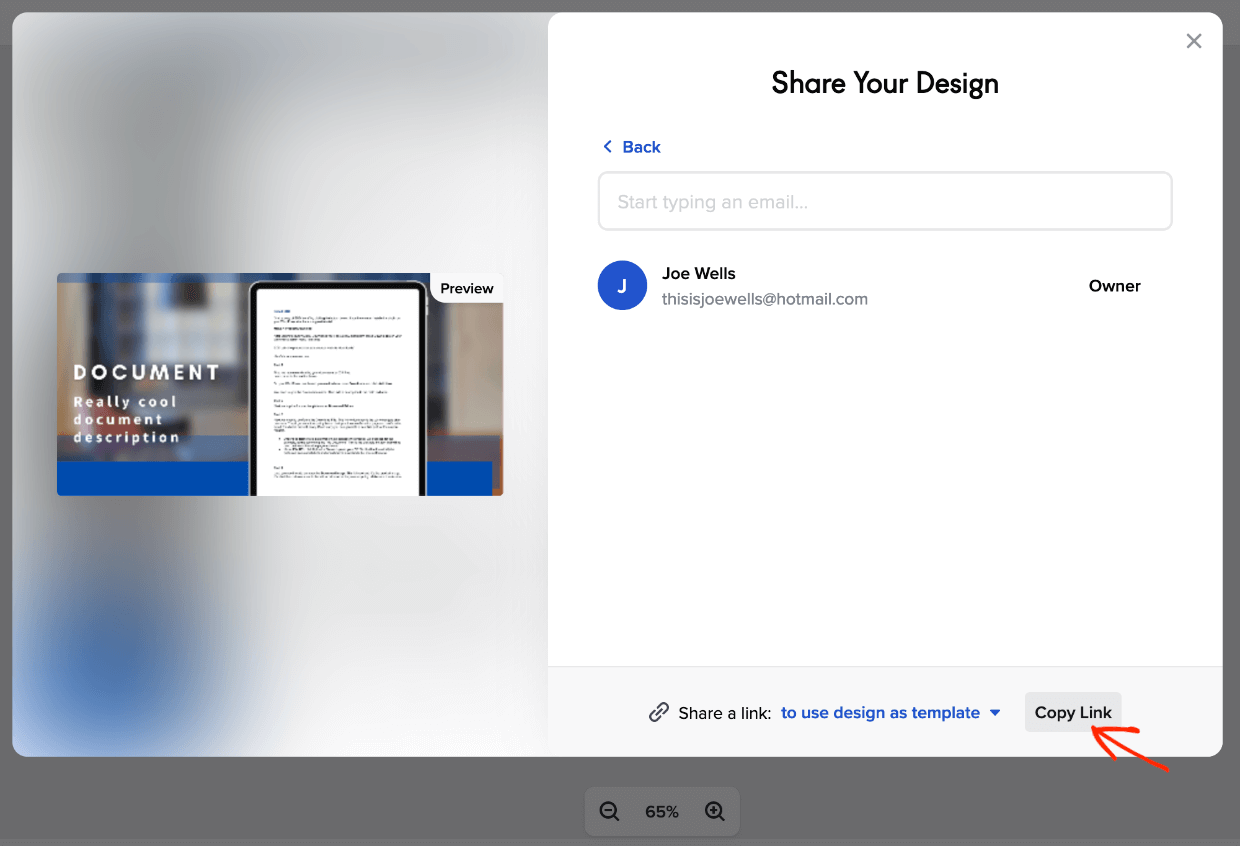 The link will look like something like this:
https://create.vista.com/share/1234567
The number at the end of the link is your unique identifier. Don't share this. You will be selling access to it. 💰
Step 3: Get Easy Digital Downloads
The Easy Digital Downloads plugin is the best way to sell digital products on your WordPress website:

It's the best WooCommerce alternative if you don't sell physical products.
There is a free version of the WordPress plugin available. But I recommend upgrading to an EDD Pass. There are four pricing plans to choose from. If you need help installing and/or setting up the plugin, you can refer to these guides:
Upon installation and activation of EDD, a new Downloads menu item appears on the left side of your WordPress dashboard: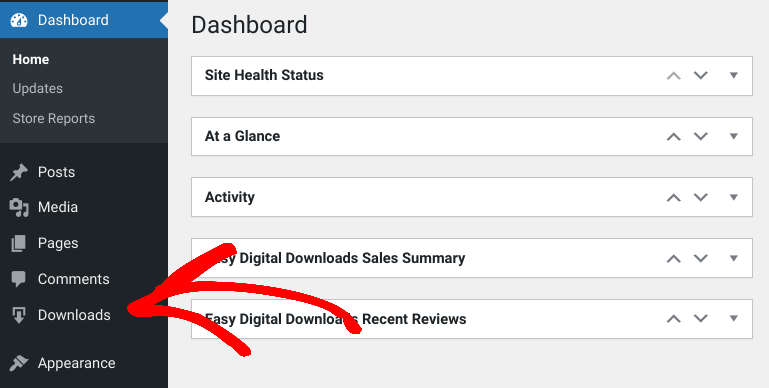 You can follow the Onboarding Wizard to set up your online store: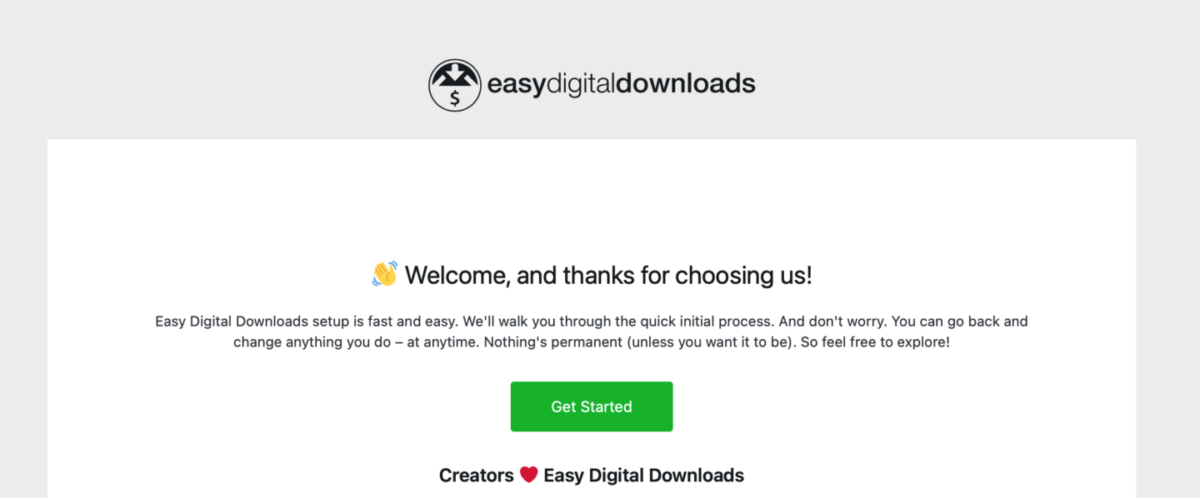 Note that the products you sell (VistaCreate templates) are called downloads in EDD.
Step 4: Add Your Template as a Digital Product
Next, let's create the digital product/download that you'll use to sell VistaCreate templates. From your WordPress dashboard, go to Downloads and click Add New: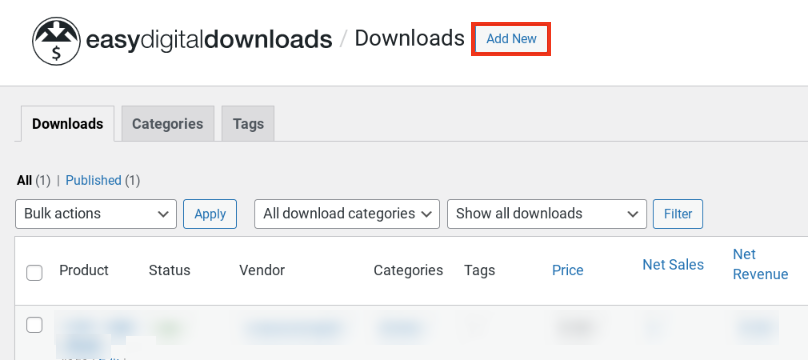 First, you need to give the Download a name. Then you can add a description and describe it in a way that makes it desirable for purchasing:
Next, set a price under Download Prices:

After that, we need to configure the Download File. This is what your customer will get after purchase on the purchase confirmation page and email.
Next, go get the template link from your VistaCreate template. You should have that open in another tab. Use the Copy Link button under the share settings on the VistaCreate designer.
Under File Name type in a phrase that describes what will happen when they click on the link. For this example, we'll use "Click here to download VistaCreate template".
Next, paste that link in the box labeled File URL: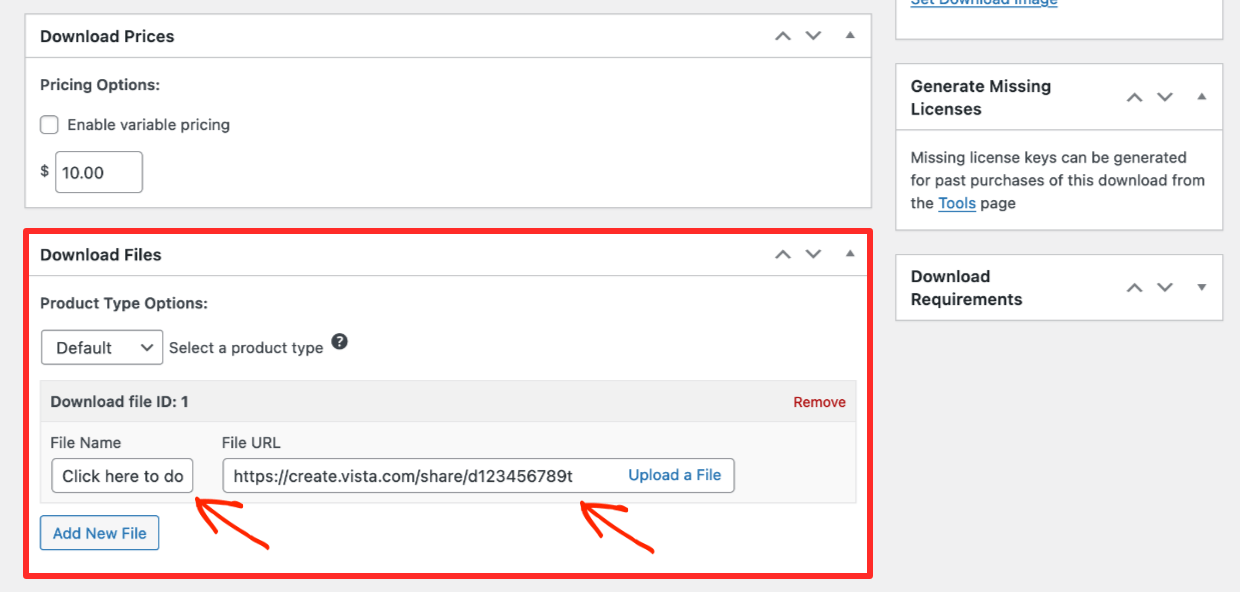 Last, you need to add an attractive product image (or Download Image):
This is important. It's the preview image customers see when shopping on your site.
Click Publish.
Step 5: Preview & Sell VistaCreate Templates
Once you publish it, you can click on View Download to see how the product page looks to customers:

You'll see your VistaCreate template page on the front end of the website. The look and feel of your site will vary depending on which WordPress theme you have: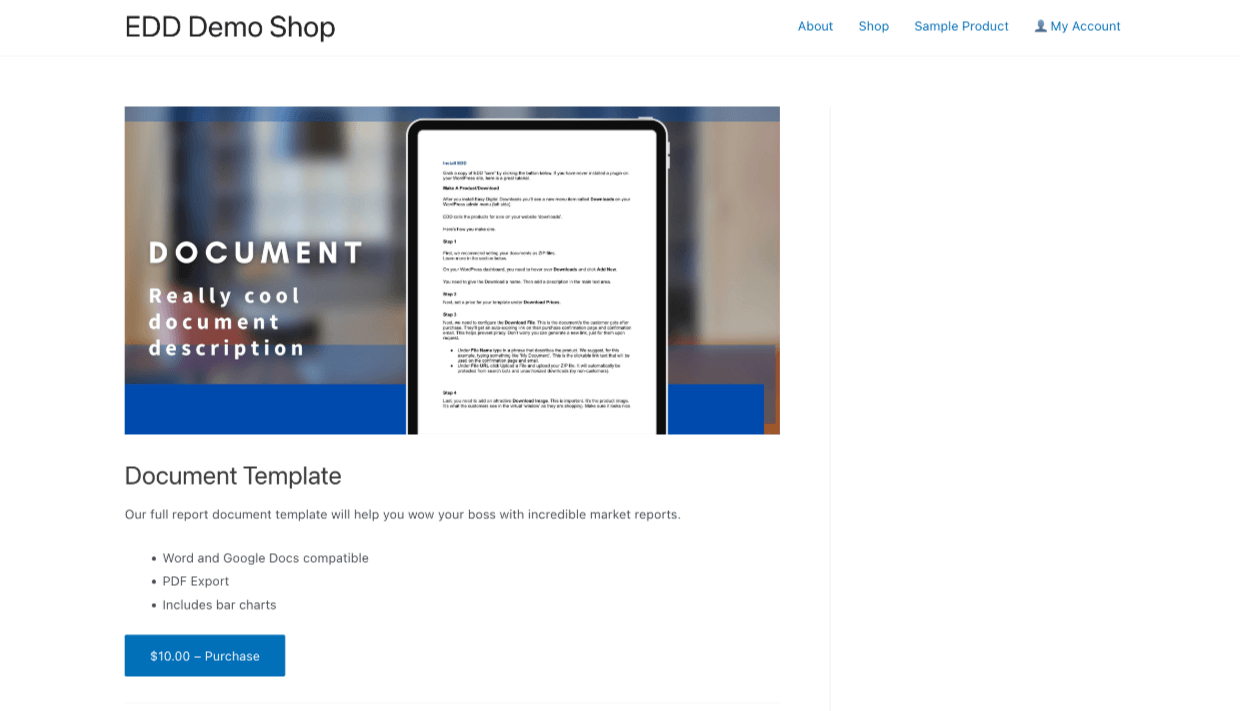 If you want to do a test purchase, you can:
First, go to Downloads » Settings » Payment Gateways.
Go to Downloads » Settings » Payment Gateways
Select the Test Mode checkbox
Select the Test Payment option in the Payment Gateways section below that
Set the Default Gateway to Test Gateway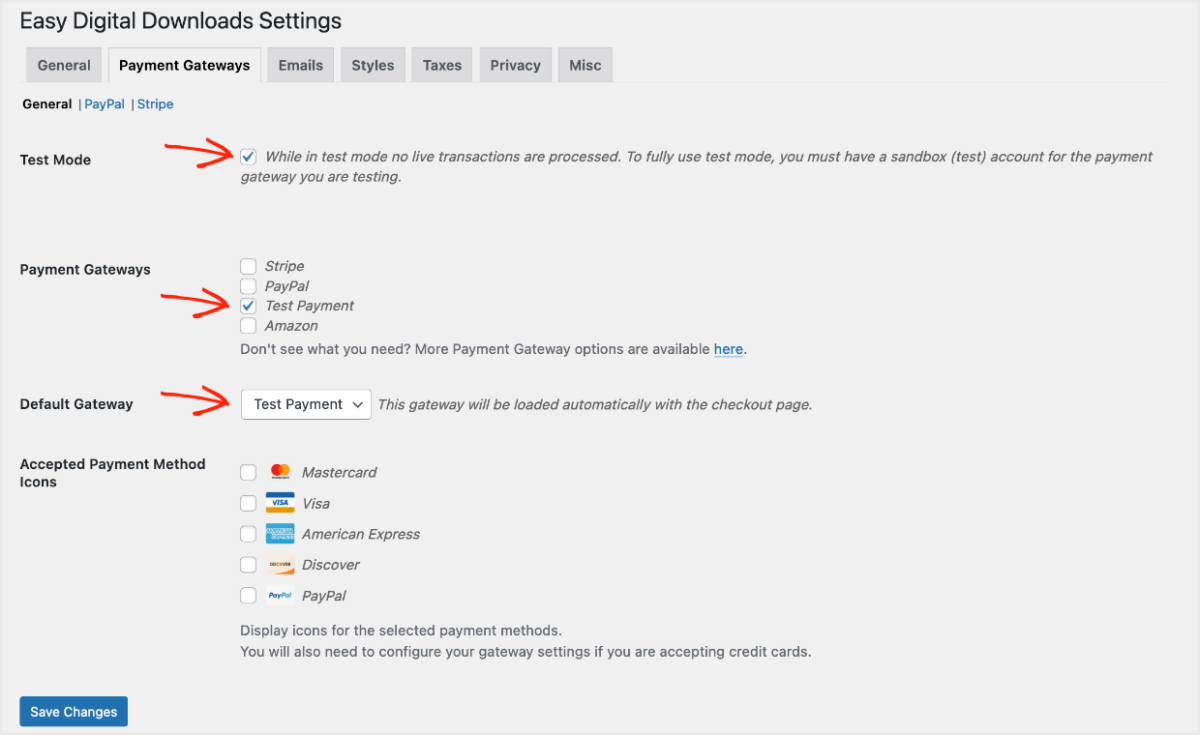 Now go to Downloads, hover over the template you created, and click on View. On the front end of your site, select the Purchase button and continue to the checkout.

Since this is a test, you'll only have to provide a name and email address.
Click Purchase to complete a test purchase: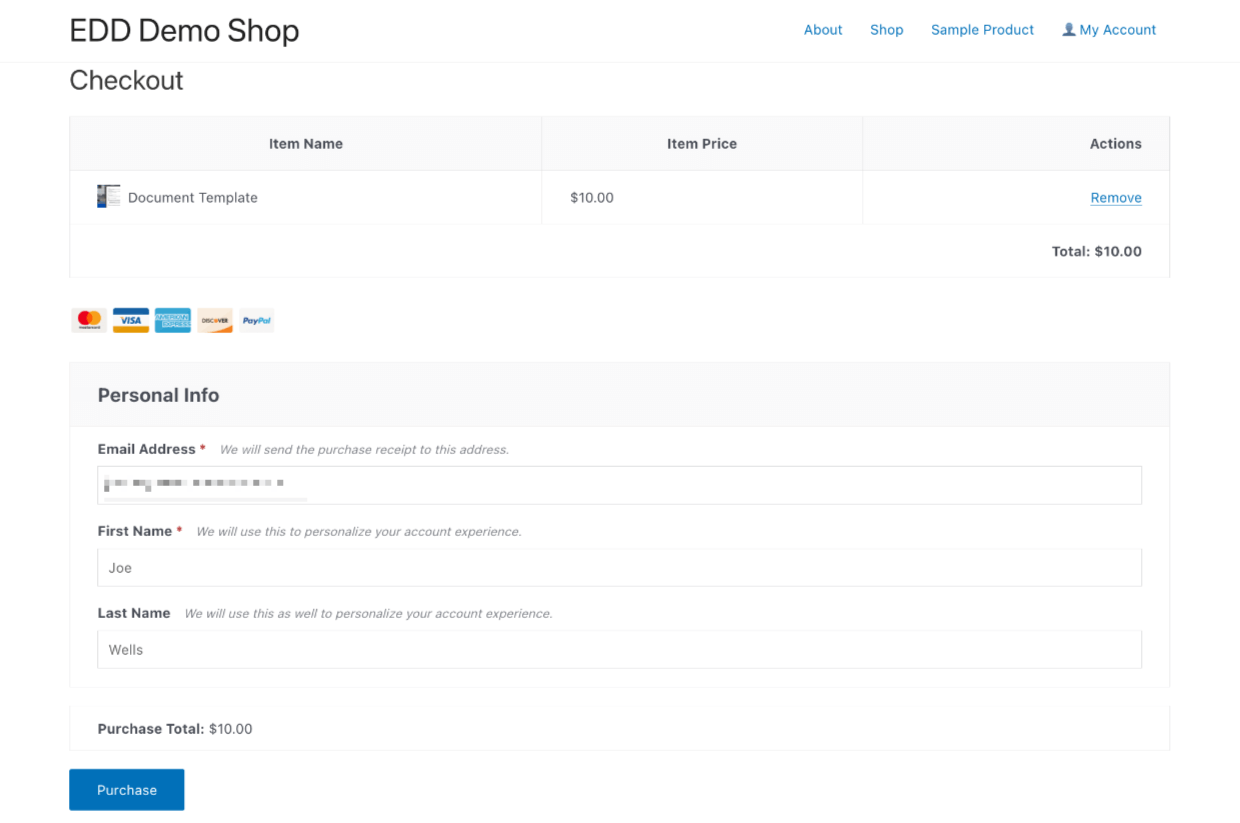 Purchase Confirmation Email
You will get a purchase confirmation email after completing your test purchase.
In the email is a link to the VistaCreate template. The default email looks like this: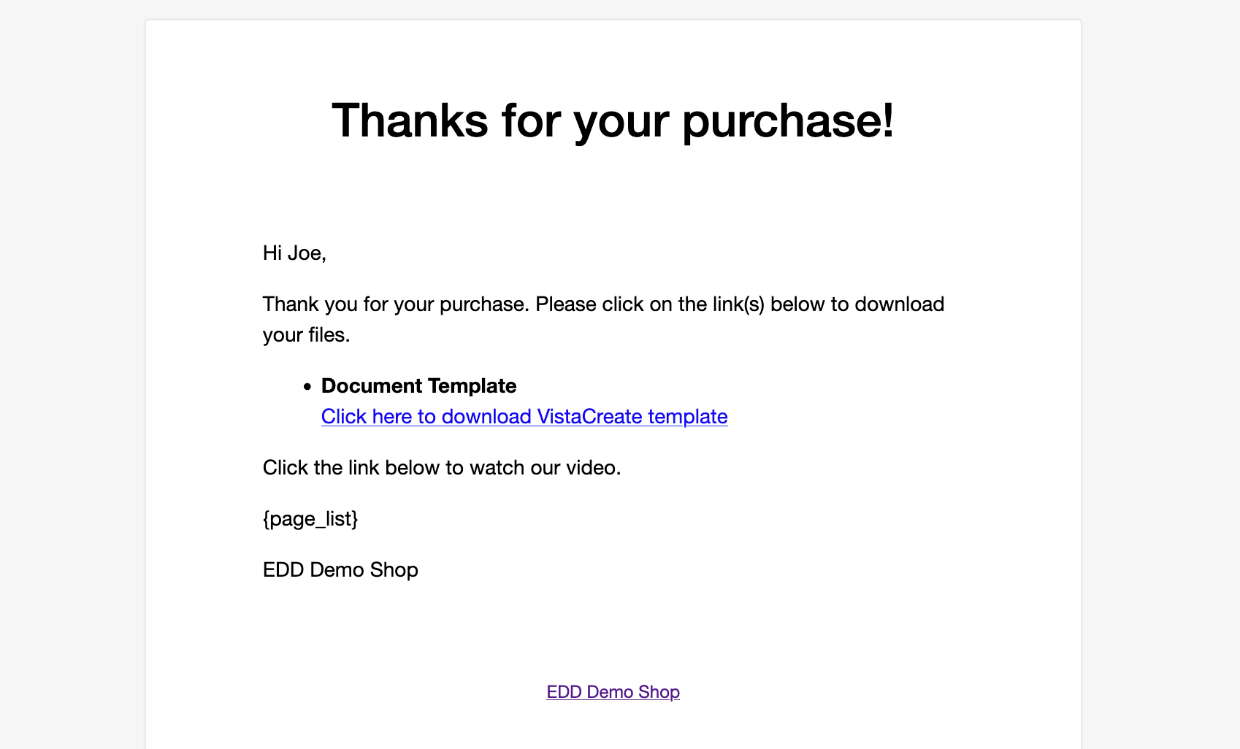 This is the default text for the email, it's ready to use. You can customize the email on your WordPress dashboard under Downloads » Settings » Emails » Purchase Receipt.
When your customer clicks on the VistaCreate link, they'll be taken to a landing page where they can choose to Edit This Design. When they click that (assuming they have a VistaCreate account) a copy will be made and they can customize the graphic however they want!
Tips to Promote & Sell VistaCreate Templates
To successfully sell VistaCreate templates to as many customers as possible, it's important to develop a sound marketing and promotion strategy. There are a handful of strategies and tools you can use to help spread the word about your templates.
Use social media marketing: Social media platforms such as Facebook, Instagram, and Pinterest can be powerful marketing tools. Share your templates on these platforms and use relevant hashtags to reach a wider audience.
Offer discounts: Offering discounts to your customers can be an effective way to generate sales. You can offer a discount code for first-time customers or create bundle deals for multiple templates.
Reach out to influencers: Influencers in your niche can help promote your templates to their followers. Reach out to influencers and offer them a commission for each sale they generate.
Use email marketing: Email marketing is an effective way to reach your audience and promote your templates. Create a newsletter and send updates on new templates, promotions, and other relevant information.
Need more ideas? Check out our post on How to Promote Digital Products on Your WordPress Blog.
Use EDD to Sell VistaCreate Templates With WordPress
Selling VistaCreate templates on your WordPress site using Easy Digital Downloads is a great way to monetize your design skills. With a little effort and creativity, you can create beautiful designs and sell VistaCreate templates in no time!
Give it a try and start selling your VistaCreate templates. Download Easy Digital Downloads to get started!
eCommerce without limits!
That is our promise. Most eCommerce solutions limit your creativity
…not Easy Digital Downloads!
We have tons of resources for digital creators like you. What else do you want to learn about today?
📣 P.S. Be sure to subscribe to our newsletter and follow us on Facebook or Twitter for more WordPress resources!