---
Do you want to make money online using your existing graphic design skills? Do it! Here's a new way to make revenue from passive income you might not be aware of…VistaCreate templates.
In this article we'll explain what VistaCreate is and how you can build a business selling templates for VistaCreate for free with WordPress.
A new source of passive income is ready and waiting for you! Here's what we'll cover. Feel free to skip around:
---
What is VistaCreate
VistaPrint is an online design tool. It makes it easy for anyone to create eye-catching designs without any custom design software or even design skills. The software is easy to use and runs in a web browser or mobile app.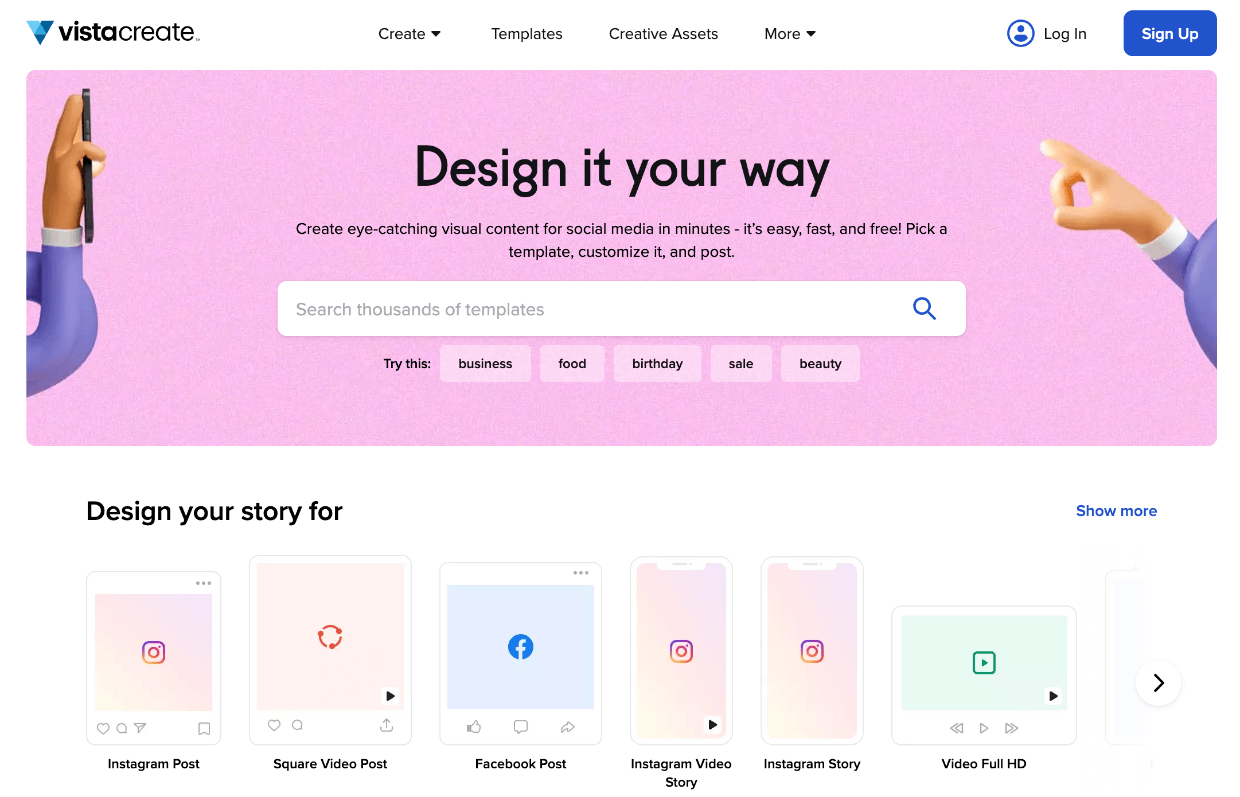 VistaCreate has mobile apps for Android phones and iPhones (no iPads, despite iOS support, at this time).
VistaCreate used to be called Crello. It was purchased by VistaPrint in October 2021. VistaPrint is an online printing company that's been around since 1999. VistaPrint is popular with small businesses for print-on-demand items.

VistaPrint also bought a stock photo company called Depositphotos when they acquired Crello.
Starter Pack and Pro Pack
They offer a Starter plan that is free or a Pro plan that is $10/month. They call them the Starter Pack and Pro Pack.
Even with just a free account you can make graphics for many design formats; social media graphics, video animations, and layouts for print. You can output many formats including JPG, PNG, PDF, MP4 and GIF.
The Pro pack adds unlimited storage and the ability to have teams. Pro also adds 'Brand Kits'. A brand kit is a collection of marketing materials (logos and branded graphics) for a client or company. It makes designing graphics faster because all the required corporate creative assets are in one place.
Competitors

VistaCreate competes with Canva and Adobe Express. These are also popular web-based design apps.
Changes in The Design World
In the past, creating professional graphics required hard-to-learn and expensive design software.
Adobe dominates the graphic design world with apps like Photoshop, Illustrator, and InDesign. These apps are all part of their subscription service called Creative Cloud. For most of the 1990s, 2000s, and 2010s Adobe seemed to have no major competition.
Recently new players have been on the scene giving Adobe a run for their money:
Online design tools like Canva and VistaCreate
Serif's Affinity desktop design apps (Affinity Designer, Affinity Photo, and Affinity Publisher)
These online design apps (Canva and VistaCreate) are especially disruptive because, unlike Adobe's industry-standard apps, you can run it on any computer with an internet connection. Everything happens in the cloud.
The online design apps are easier to learn. They also make it easy to collaborate with others using their customizable templates that can be accessed easily.
These online design apps are also well suited for the modern media landscape. These day's speed is important. Companies need to make a lot of visual content, all the time.
VistaCreate makes it easy to create online graphics for many uses, and fast! These days each social media platform has different size formats. VistaCreate has design templates for social media posts of all sorts including Instagram, Facebook and LinkedIn.
Need evidence that Canva and VistaCreate make Adobe nervous? The7 launched their own online design tool called Adobe Express in December 2021, not long after VistaPrint acquired and relaunched Crello as VistaCreate!
The online design market is growing huge and growing fast. You can get in on this market early by selling VistaCreate templates.
---
Why Selling VistaCreate Templates is a Great Opportunity
If you are a professional designer, you may think you don't want to mess with online design tools like VistaCreat or Canva. Those are for the amateurs or beginners, right? Maybe. But you can empower those users with your design skills by creating templates.
Selling VistaCreate templates is a good opportunity for many reasons. Here are few top reasons:
It's a new market. VistaPrint recently relaunched and is aggressively marketing. Provide design resources in this space first, and you'll have an advantage.
It's a market that is very likely to grow, and grow fast. It's free to use VistaCreate, and VistaPrint will likely be integrating it with their popular print services in the future.
You can put your existing design skills and tools to use in making new revenue. There are no overhead costs AT ALL!
With very little work you can create a new source of income. This will be passive income which is great for a side hustle or small business.
We also recommend selling Canva templates as well. Why? Because the market for them is growing fast and even bigger than VistaCreate. Check out our article about selling Canva templates after you read this article.
---
How To Make VistaCreate Templates
All you need to create VistaCreate templates that can be sold (or shared) is:
Get a free VistaCreate account
Some design skills and creativity
Optional: other design apps
1 – Get A Free VistaCreate Account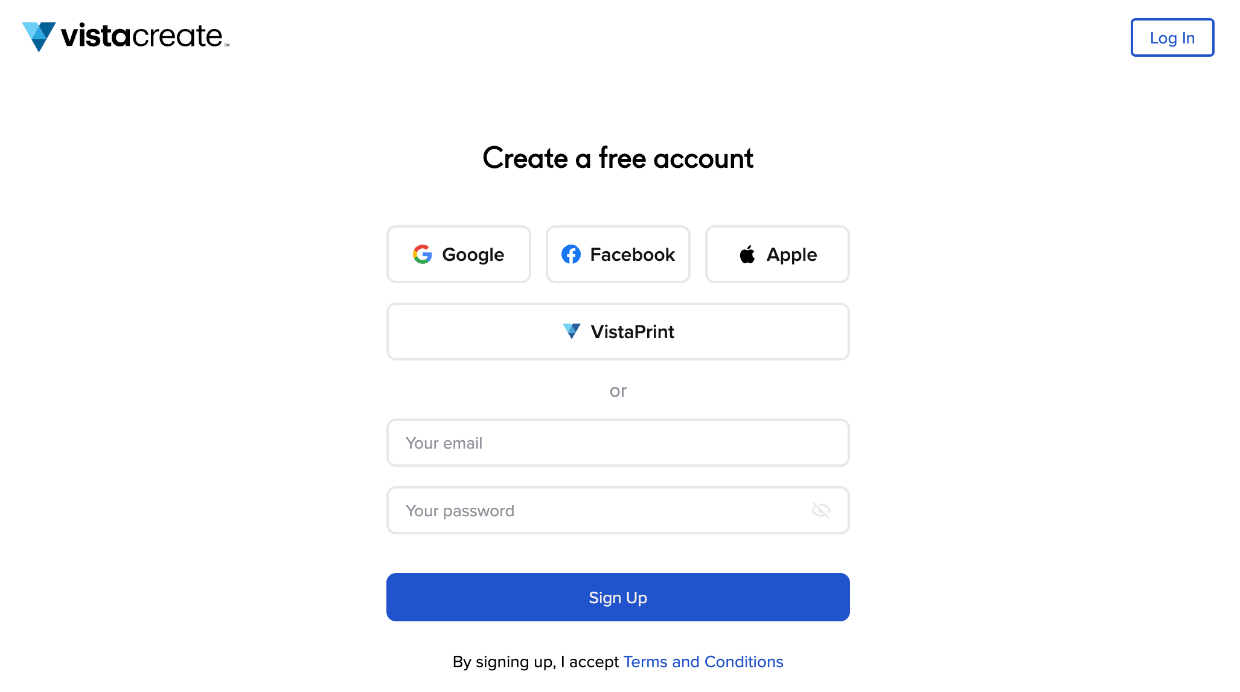 You just need a free VistaCreate! Click here to get that started.
Note: If you have a VistaPrint account, you can use that to log in. I dug up my old VistaPrint credentials to get started. I hadn't used it since printing some business cards years ago. 🙂
2 – Some Design Skill and Creativity
You'll need some creativity and design skill to make VistaCreate designs others will want to buy. You'll have to bring value by making unique designs. Remember, anyone can make a pretty decent graphic pretty quickly using the existing VistaCreate templates.
You also have to be sure not to plagiarize other people's work. You can't take an existing VistaCreate template, make some minor changes, and then resell it.
Learn more about the licensing requirements for here.
You'll need to be making entirely new designs. Making entirely new designs will also be what sets apart your templates from others and makes them worth purchasing.
3 – Optional: Other Design Tools
You may want to make use of graphic design tools/apps like Adobe Photoshop or Illustrator, Affinity Designer or Photo, Sketch for building custom graphics. If you are looking to sell high-quality graphics, you probably have one of these tools and some design skills.
The VistaCreate Starter plan allows you to access 50,000 templates and 1 million free stock photos and graphic elements. Every user has access to these.
The Pro plan adds access to 50 million stock photos and graphic elements. Any Pro users has access to these.
Your VistaCreate templates will be more valuable and appealing if you create custom graphics and photos that are not available to everyone else.
---
Making A Graphic
Log in to your VistaCreate account. Once you have the design app loaded in your browser look under 'Design your story for'. You can create a custom-sized graphic or choose from one of their templates.
Or if you are working with an existing design, scroll down and it should be under 'My recent designs'.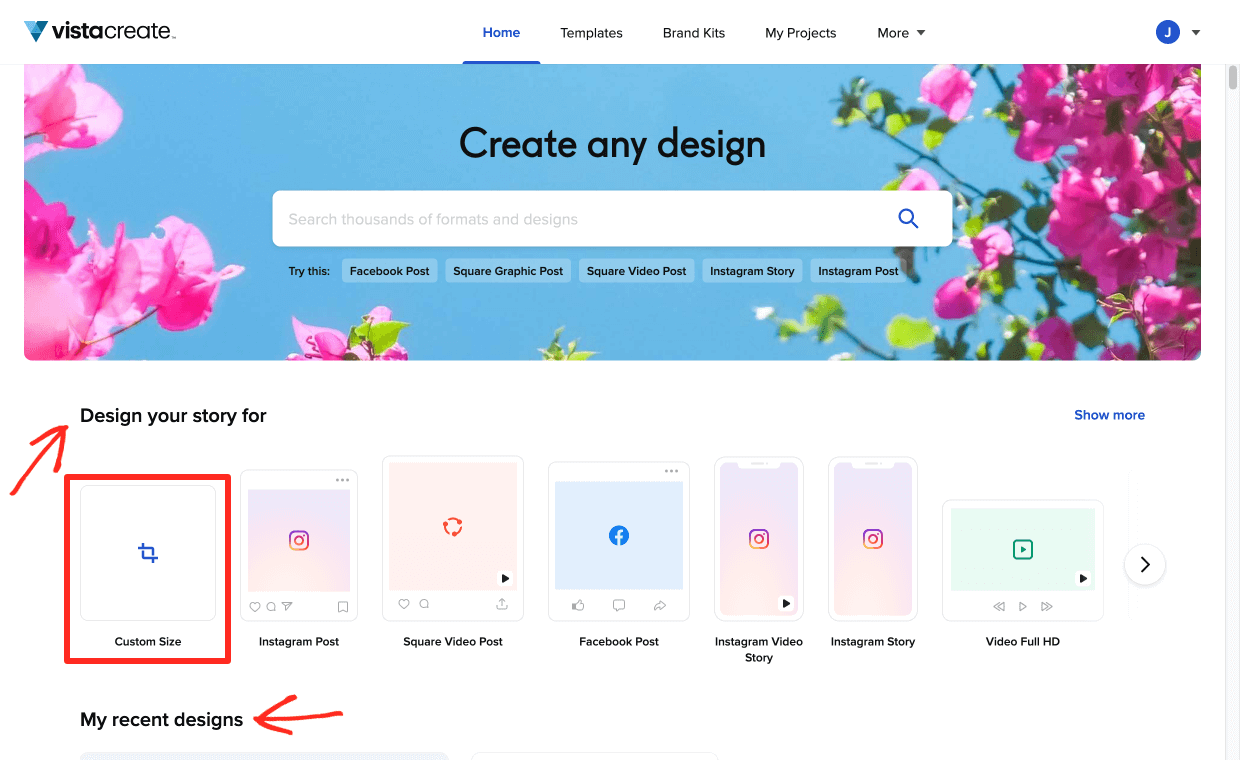 Make something cool!
You can drag and drop VistaPrint included creative assets from the left-side menu. There is a search bar for finding new graphics elements.
In this example I am making a product image (download image) for selling a Document template.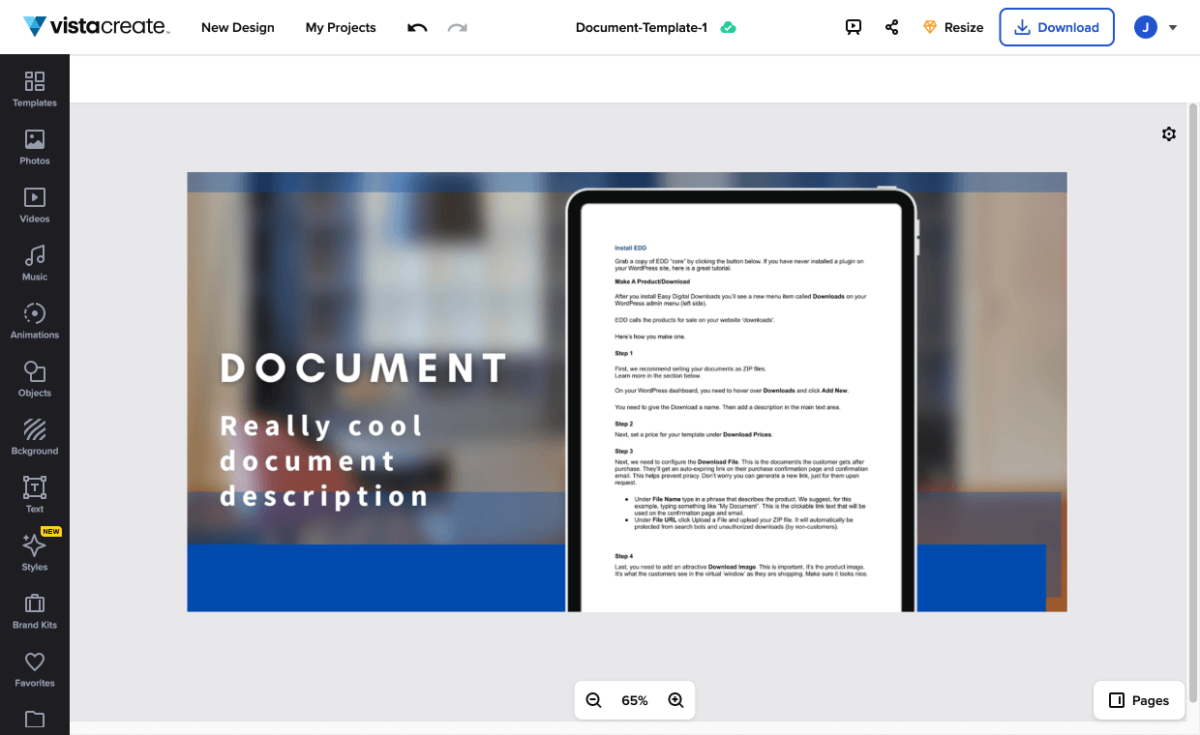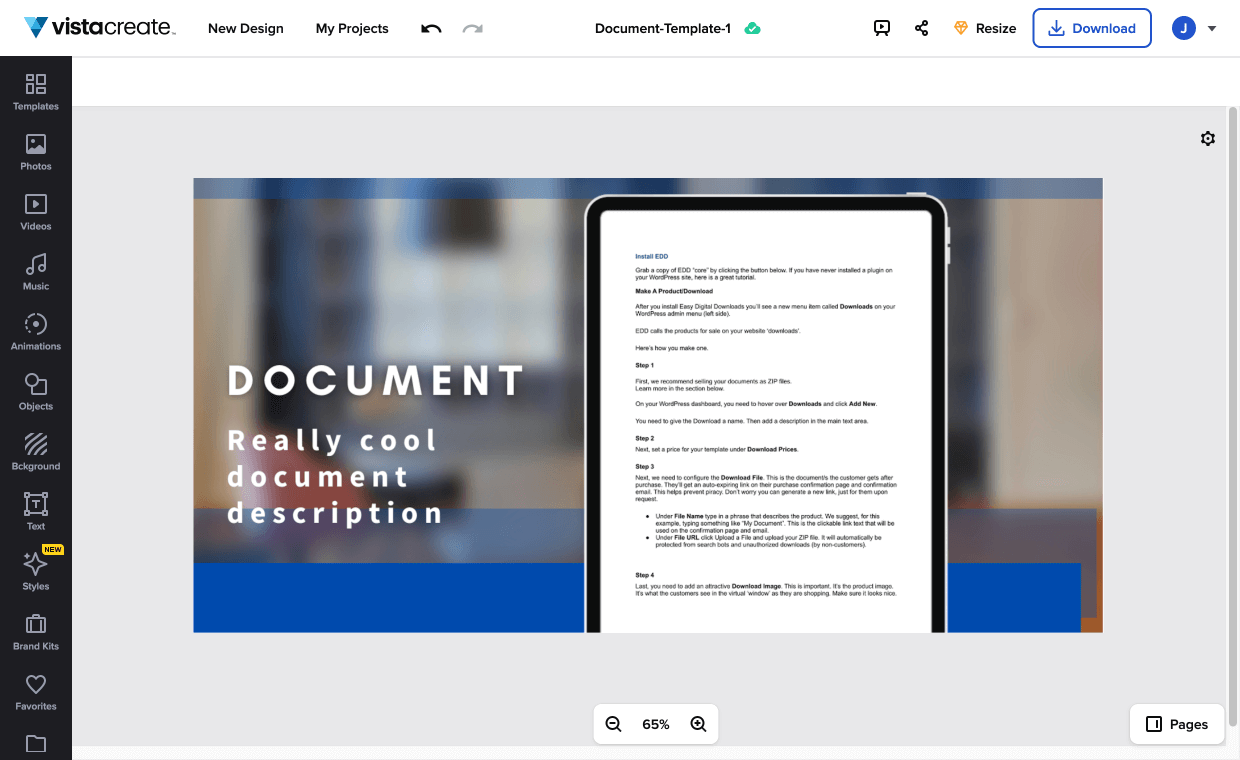 You can add your own graphic elements or photos under 'My Files'. And we suggest using your own to make your designs unique.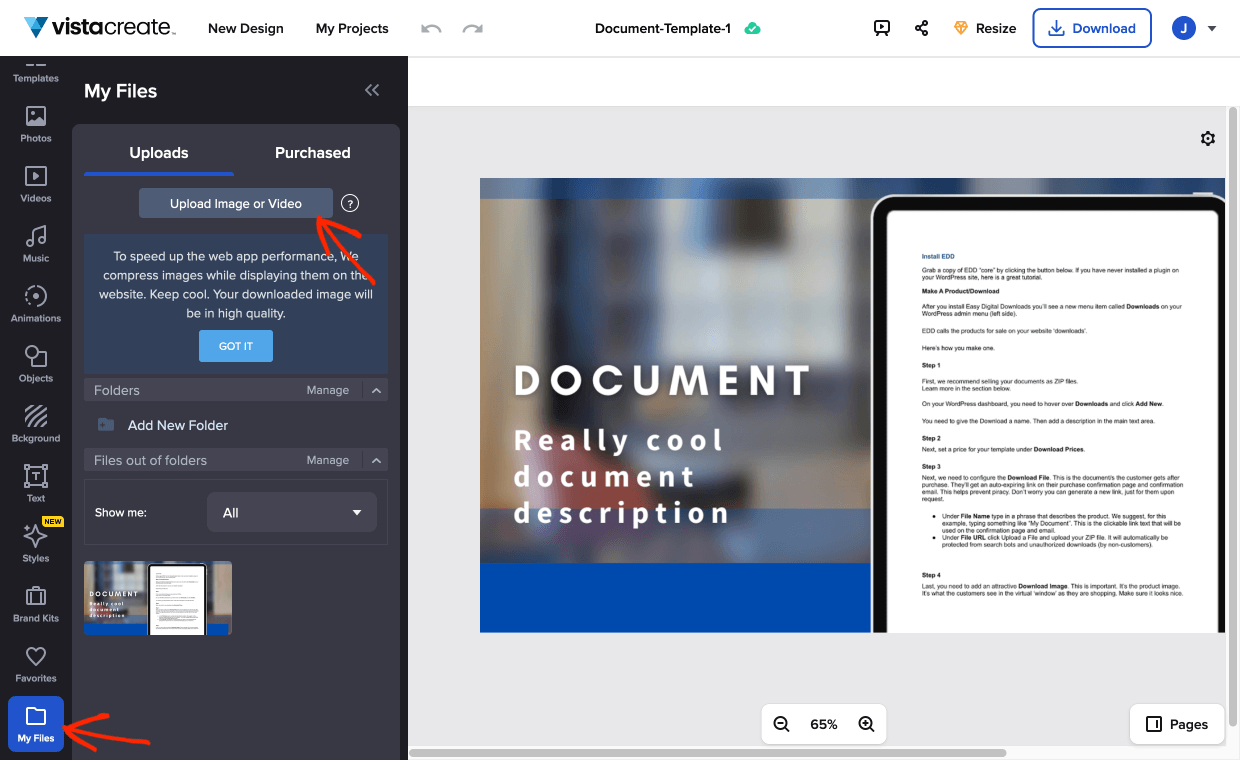 Note: the stock graphics used here are from our own collection of stock images we purchased elsewhere. To make your templates stand out from the rest, use your own graphic elements that are not included in VistaCreate.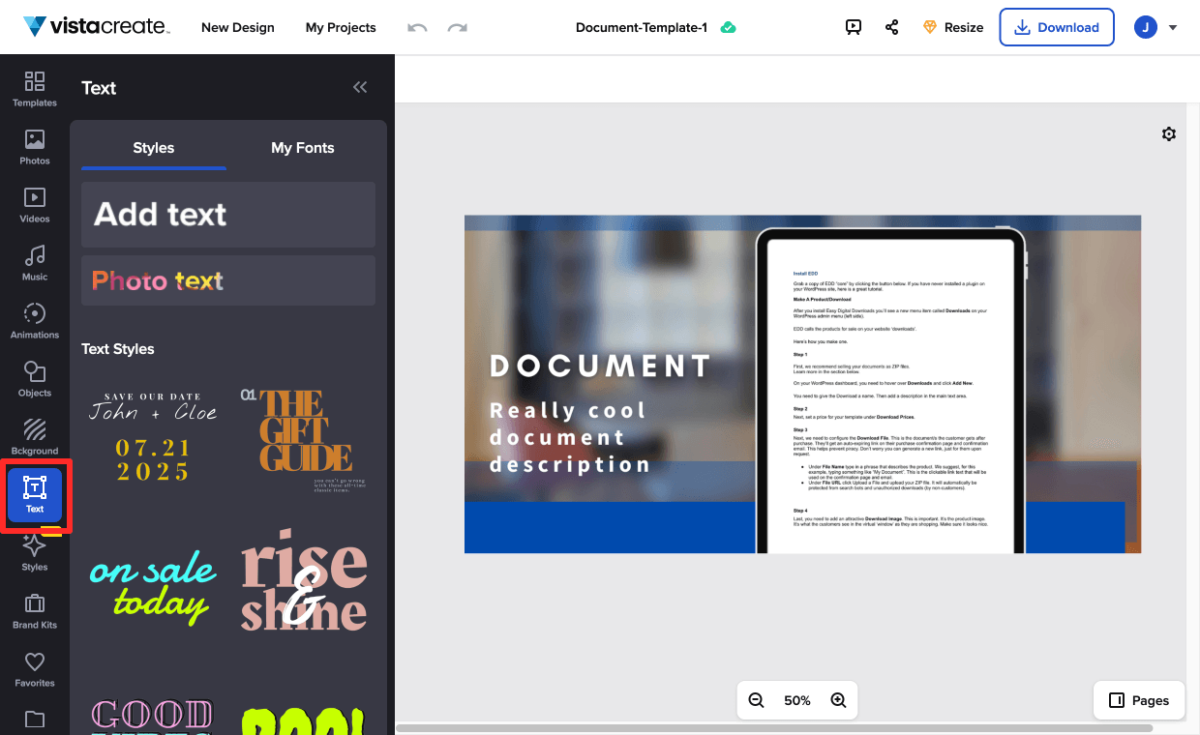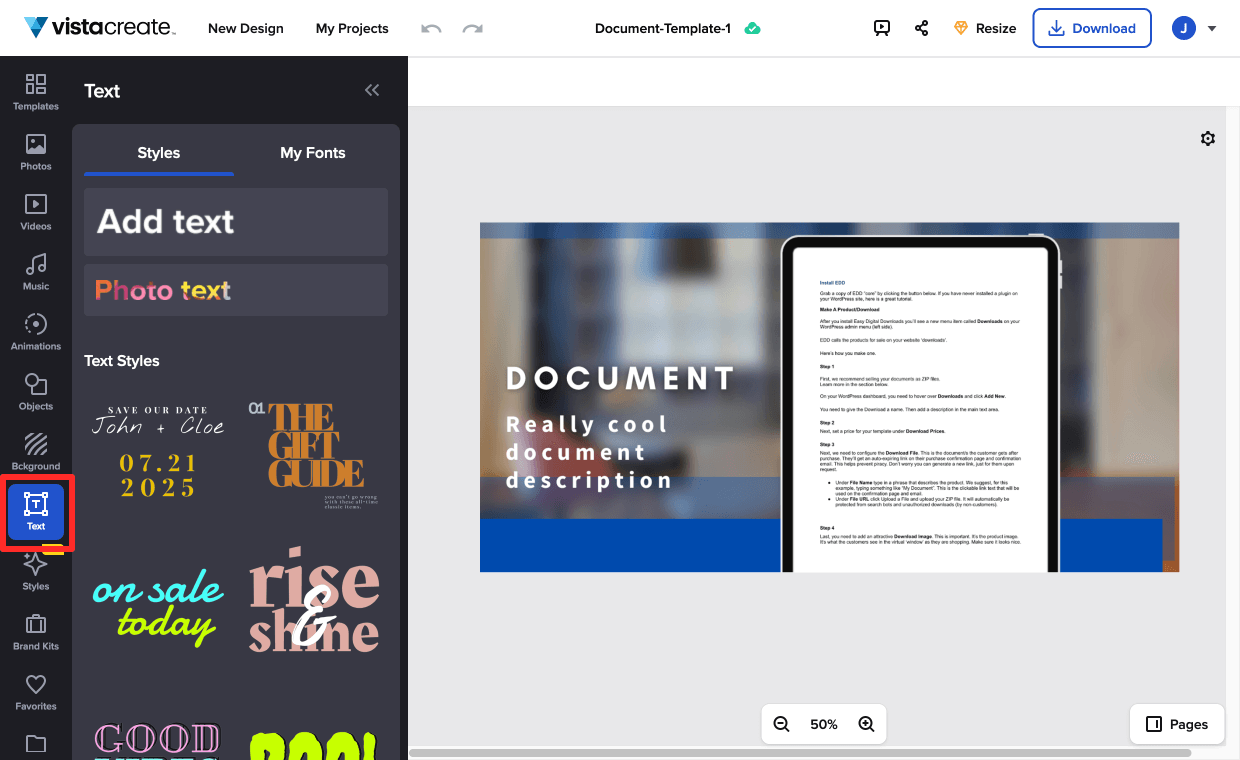 Tips for VistaCreate Template Selling
Keep in mind the possible license restrictions. When using stock design elements (stock photos, vectors, illustrations) try to use royalty free photos or illustrations. You'll have to check the terms of use of any stock photos or illustrations you are using in your templates. Many providers offer an 'extended license' that allows for resale.
When using VistaCreate included graphics or fonts, consider using only the free graphics fonts that are available on the free VistaCreate plan. This way everyone can use your template, both Starters and Pros. If you use a font only available in the Pro plan someone could have a negative experience with your template and be forced to use a different font.
There are lots of types of downloadable products you can make with VistaPrint! Your target market is likely small business owners and solo entrepreneurs.

Be creative and imagine all the things they could use: workbooks, printables, planners, media kits, infographics, resumes, business cards, coffee mugs, social media templates, affiliate marketing creatives… There are so many!
Using Template Links
When your graphic is done, you need to get the template link. That is what you are selling; access to the template link.
Click on the 'Share' icon on the top menu.
Next, click on 'Email and Link'.
A box will come up that says Share Your Design. You can add individual email addresses, but that's not what you want to do. Look below that to where it says 'Share a link' and select the 'to use as a template' option.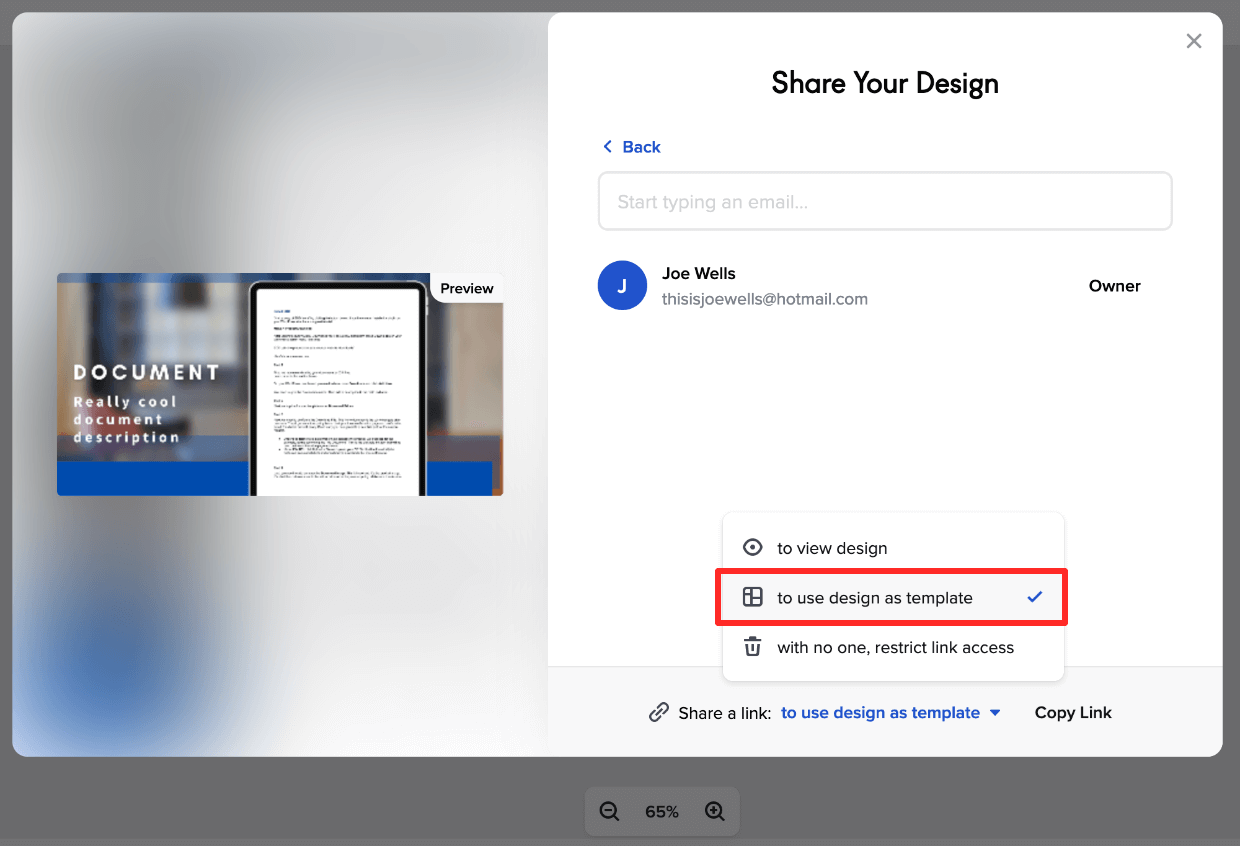 Use the 'Copy Link' button to add the link to your clipboard. Hold on to that. In the steps below, we'll add that to your digital product that you will sell.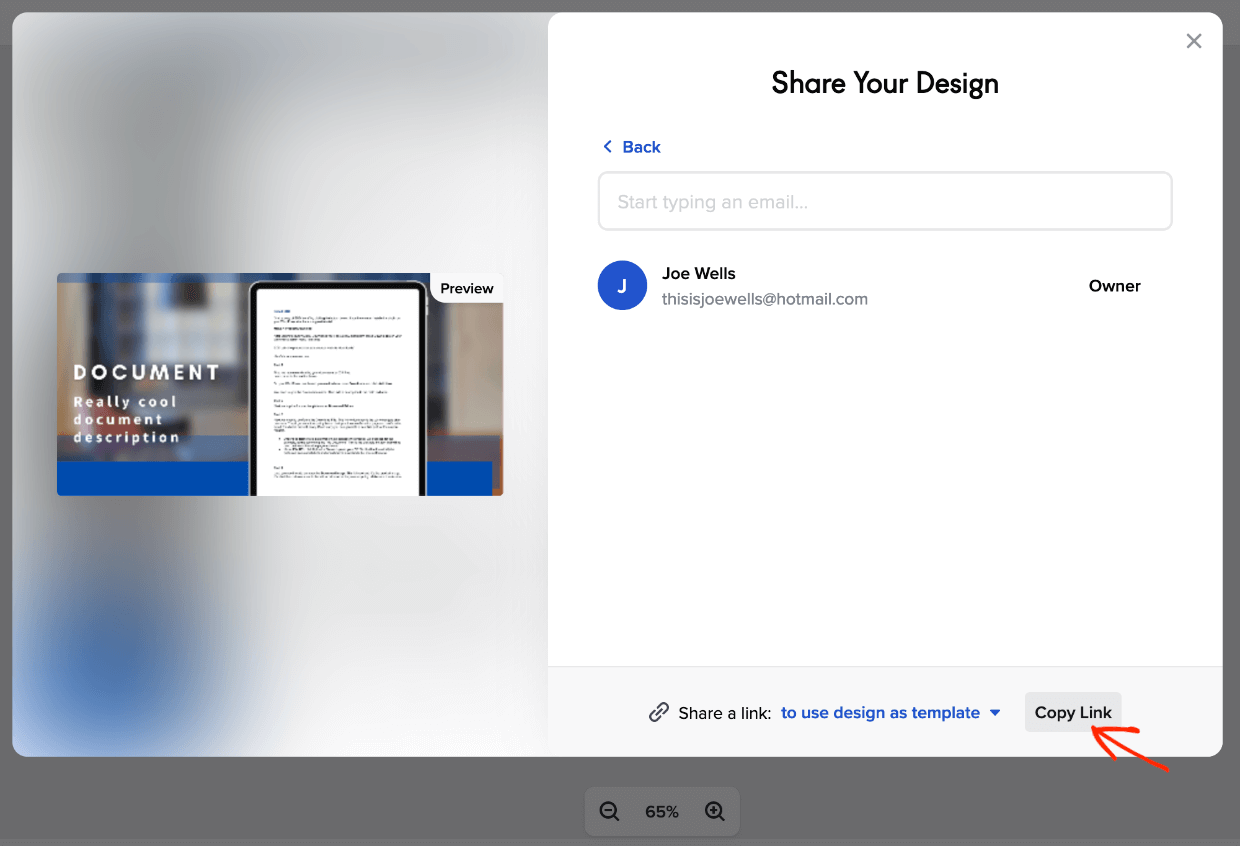 The link will look like this:
https://create.vista.com/share/1234567
The number at the end of the link is your unique identifier. Don't share this. You will be selling access to it. 💰
---
How to sell your VistaCreate templates with WordPress
The best way to sell your VistaCreate templates is with WordPress and the Easy Digital Downloads plugin (EDD).

🤷🏻 Don't Have a WordPress Site Yet?
WordPress.org websites are free, but you need someone to host the website for you. A good and reputable web host will make it easy to install WordPress. Many web hosts will install it for you, or they'll make it as simple as a few clicks.
🟢 Read this guide to choosing a WordPress web host (with discount codes!)
Why WordPress?

WordPress started out as a CMS (content management system) for bloggers. It's still the best blog platform out there. But the WordPress CMS can do a lot more than blogging. It can do, well, basically anything.

It's the most popular website platform in the world, powering millions and millions of sites. From membership sites, eCommerce sites, all the way to news sites.
WordPress powers more than 43% of the internet. No other web technology has reached 5%.
Its approachable for beginners and does anything an advanced user/developer needs.
There's no better mix of powerful and inexpensive available.
It's future proof and can do anything you need. It has the largest ecosystem of themes (aka templates), plugins, and professional service providers to customize it.
🤷🏾‍♂️ Don't Have EDD Yet?
The Easy Digital Downloads plugin is the best way to sell digital products on your WordPress website.
Note: VistaCreate templates are considered digital products or also known as; downloadable products, downloads, virtual products, or digital goods.
EDD is purpose-built for selling digital products like PDFs, eBooks, spreadsheets, graphic templates, or software.
It allows you to set up your own eCommerce platform. For free!
Why EDD?
Like WordPress, EDD is both affordable and powerful.
There is a huge ecosystem of themes and plugins for EDD and WordPress. You don't know what you'll need in the future, but WordPress + EDD likely have it covered.
EDD has a proven 10-year track record. It's one of the most trusted WordPress eCommerce plugins in the ecosystem.
It's trusted by more than 50,000 entrepreneurs to run their digital stores.
EDD has a free version, not a free trial. It includes everything you need for selling VistaCreate templates:
Protected downloads, only paying customers can access your template files
Stripe and/or PayPal payment methods (payment gateways)

Use Stripe and/or PayPal for accepting credit cards
Use Stripe for Apple Pay and Google Pay express checkout buttons

Fully customizable branding and customer experience
Full control over pricing
Shopping cart
Flexible checkout options
Customer management (basic CRM)
eCommerce reports
Discount codes
🤑 What's stopping you!? Get started selling VistaCreate templates for free!
Using WordPress and want to get Easy Digital Downloads for free?
Enter the URL to your WordPress website to install.
Why Not The Other Solutions?
Other solutions, including WooCommerce and Shopify are built for selling physical products. Digital products are kinda an afterthought. You'll waste time configuring shipping, logistic, and inventory tools you don't need. You may find you have to purchase add-on tools (sometimes from third parties).
Selling on marketplaces is easy to get started with. But there are many downsides. They charge high fees. They take a cut of everything you earn. The more you earn, the more they take. This includes Etsy, Creative Market, and other marketplaces.

When you need more features as your store grows or needs change, you can purchase an EDD Pass. We have 4 passes set up to grow with you as your business grows. You only pay an affordable annual subscription for a Pass.
---
Step-By-Step Guide to Make Your First Product
First, install Easy Digital Downloads on your WordPress site.
If you're new to WordPress and not sure how to install a plugin, click here for a guide.
When you install EDD on your website, you'll see a new menu item on the right side of your WordPress dashboard that says Downloads.
The products you sell (VistaCreate templates) are called 'Downloads' in EDD.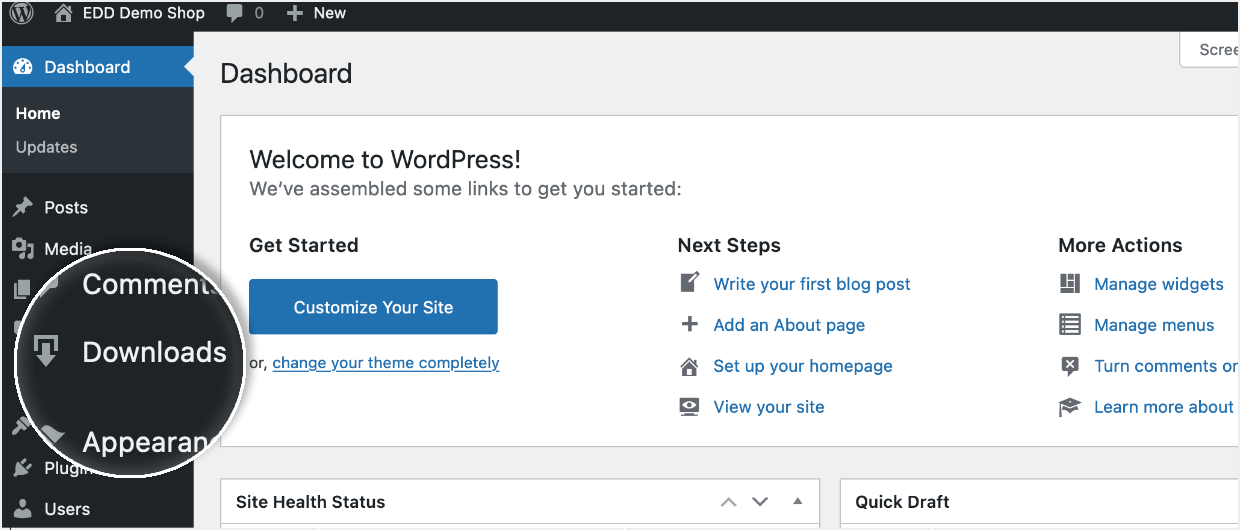 Tip: Have your WordPress dashboard set up in one browser tab, and the VistaCreate website in another tab.
Set Up Your Template as a Download
Let's create your product, which is your template link. On your WordPress dashboard, you need to hover over Downloads and click Add New.
First you need to give the Download a name. Then add a description, describe it in a way that makes it desirable for purchasing.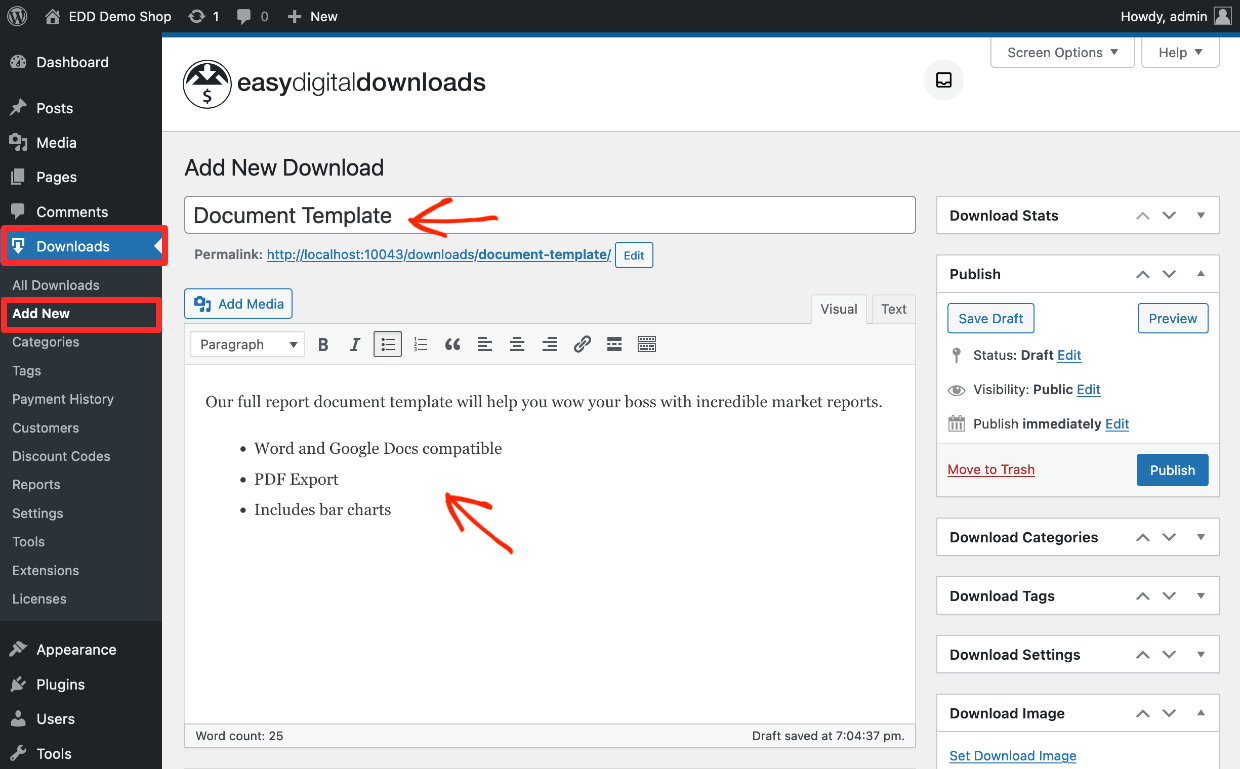 Next, set a price.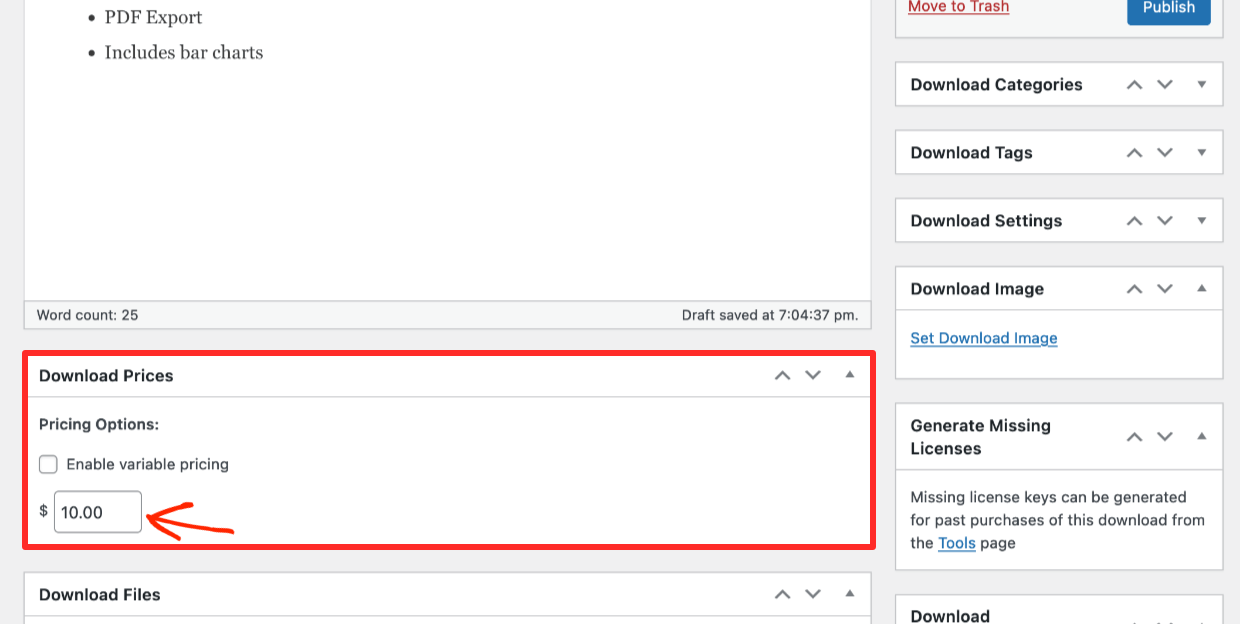 After that, we need to configure the Download File. This is what your customer will get after purchase on the purchase confirmation page and email.
When you're selling a VistaCreate template, you're essentially selling access to a web link. Be sure to keep this link private.
Next, go get the template link from your VistaCreate template. You should have that open in another tab. Use the Copy Link button under the share settings on the VistaCreate designer.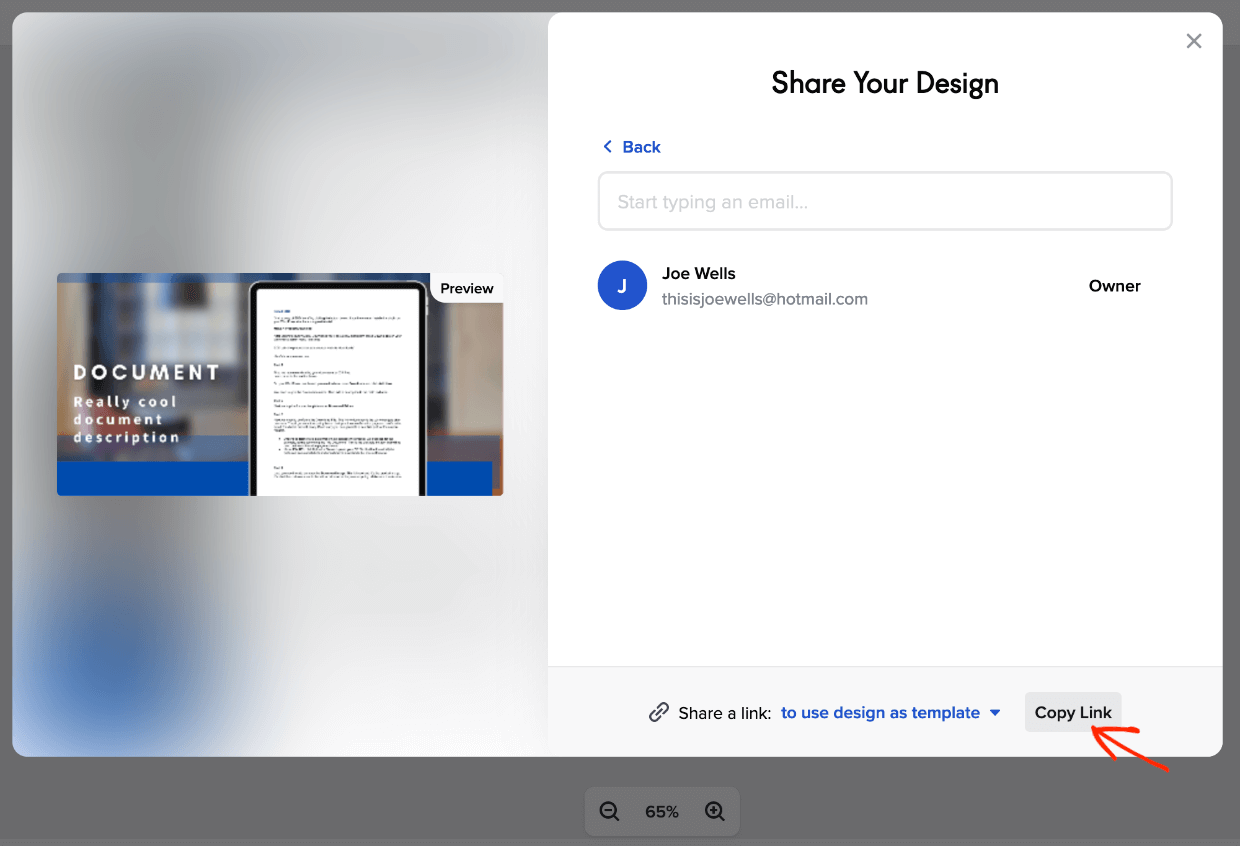 Under File Name type in a phrase that describes what will happen when they click on the link. We suggest, for this example, typing "Click here to download VistaCreate template".
Next, paste in that link in the box labeled File URL.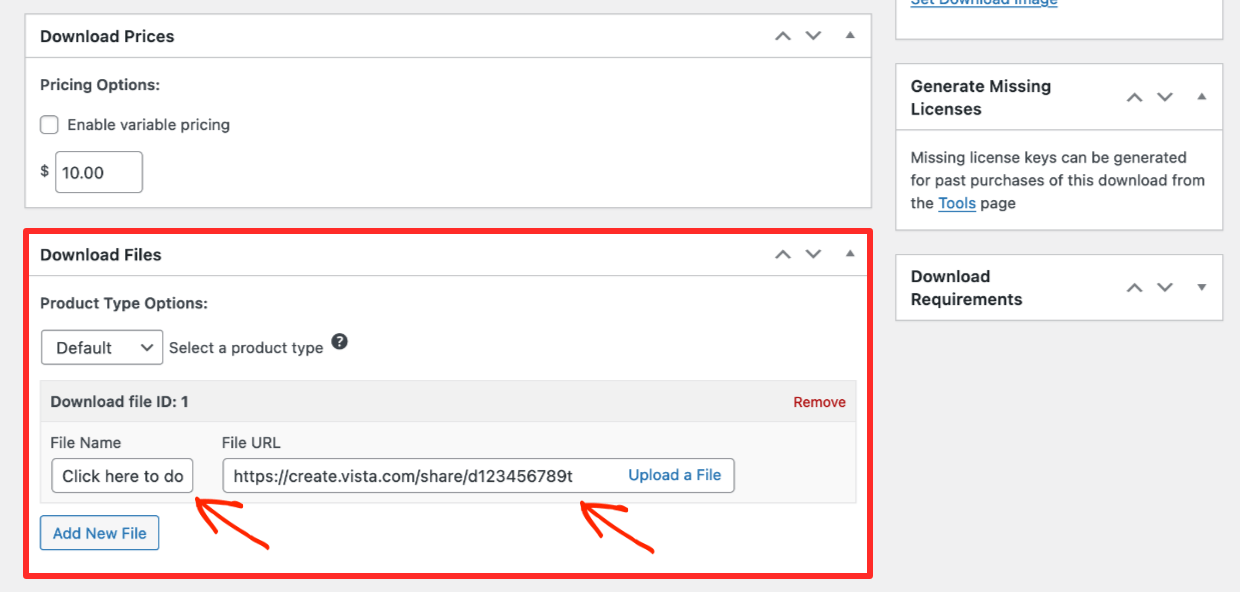 Last, you need to add an attractive product image (or Download Image). This is important. It's the preview image they will see when they are shopping on your site. Have it look nice and demonstrate how the graphic is used.
Once you have the image click Set Download Image and upload it to the download/product.
Great! That's it. Click Publish.
View The Download
Your VistaCreate template is set up as a product/download on your WordPress site and almost ready to sell. Let's look at how the shopper (potential customer) will see it.
Click on View Download on the top notification banner that appeared after you hit Publish.
Pro Tip: Open the View Download link in a separate tab and keep it open for testing.

You'll see your VistaCreate template page on the front-end of the website. In the example below we are using the free Astra theme. The look and feel of your site will vary depending on which WordPress theme you have.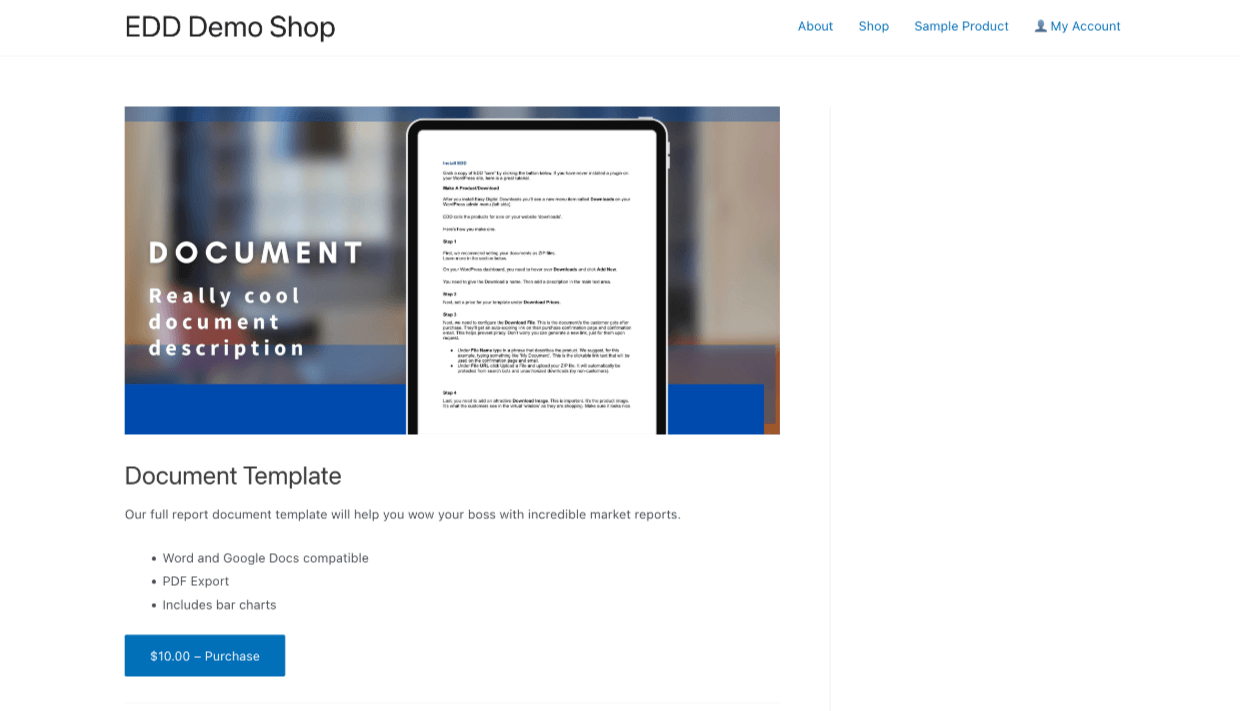 Do a Test Purchase
Let's do a quick test. We'll pretend we are purchasing the template from your Download page. And make sure all the steps work and look nice.
First, go to Downloads > Settings > Payment Gateways.
You need to select the Test Mode checkbox.
Then, select the Test Payment option in the Payment Gateways section below that.
Lastly, set the Default Gateway to Test Gateway.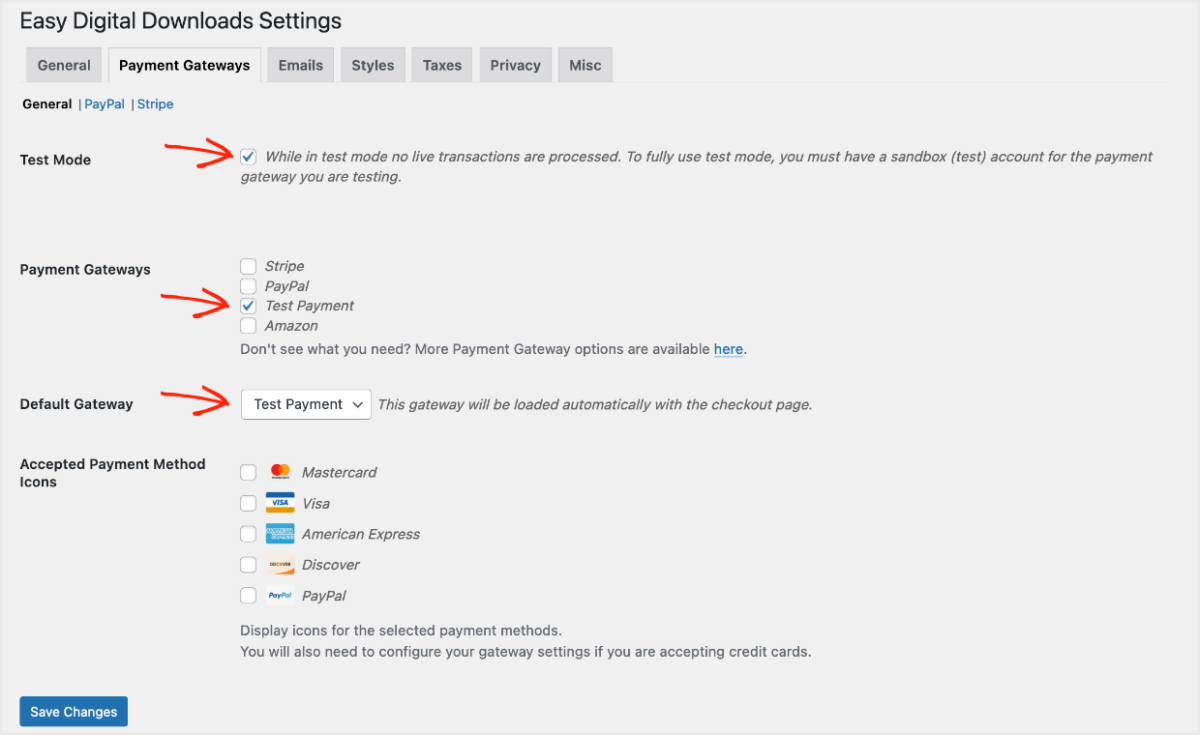 Next, go back to the front-end view of your VistaCreate template page. If you closed it, go to your WordPress dashboard. Click on All Downloads on the left-side menu. Hover over the download you just created and click the View button. This will take you to the frontend page for your Download.
Click the Purchase button.
The item will be added to your cart. Click the button again, which now says 'Checkout'.

You will be taken to the checkout. Since this is a test, you'll only have to provide a name and email address. Use your own email address so you can get a purchase confirmation email. You won't have to enter any credit card info.
Click Purchase to complete a test purchase.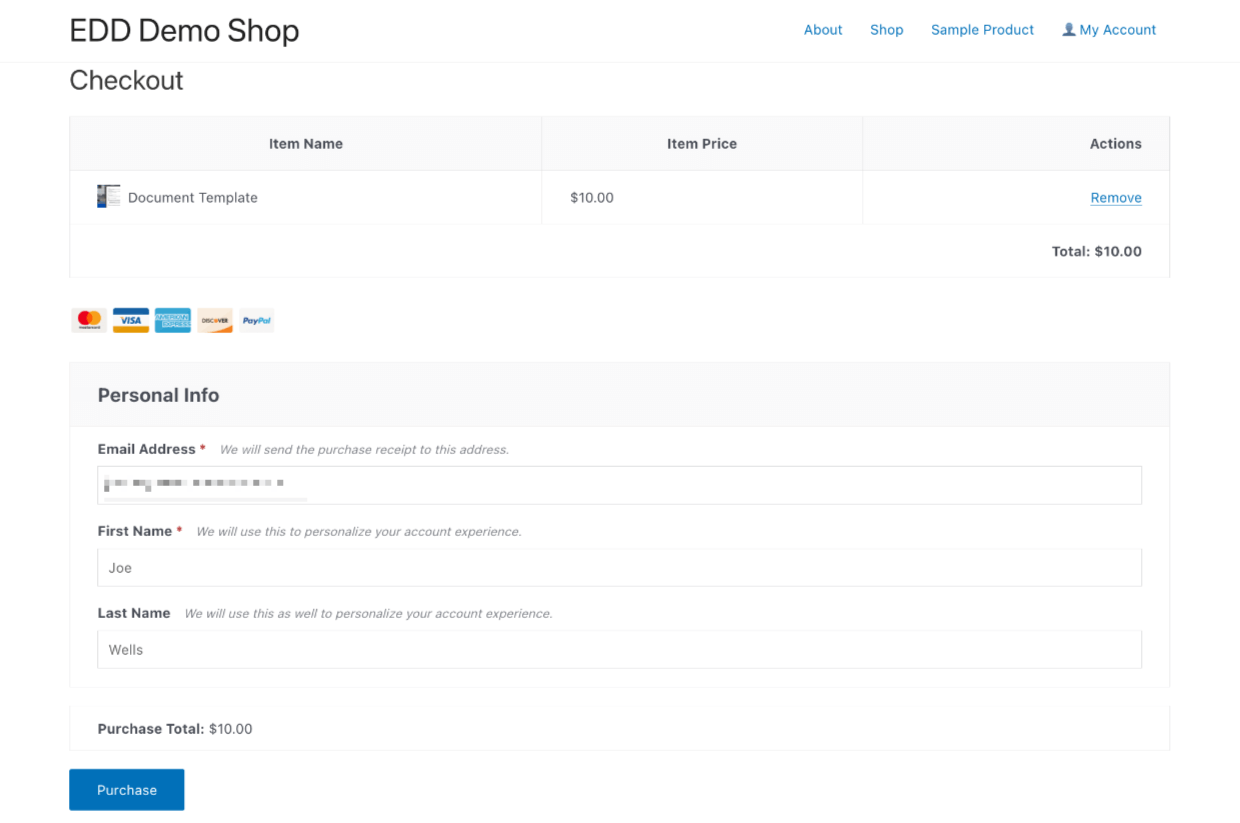 Purchase Confirmation Email
You will get a purchase confirmation email after completing your test purchase.
In the email is a link to the VistaCreate template. The default email looks like this: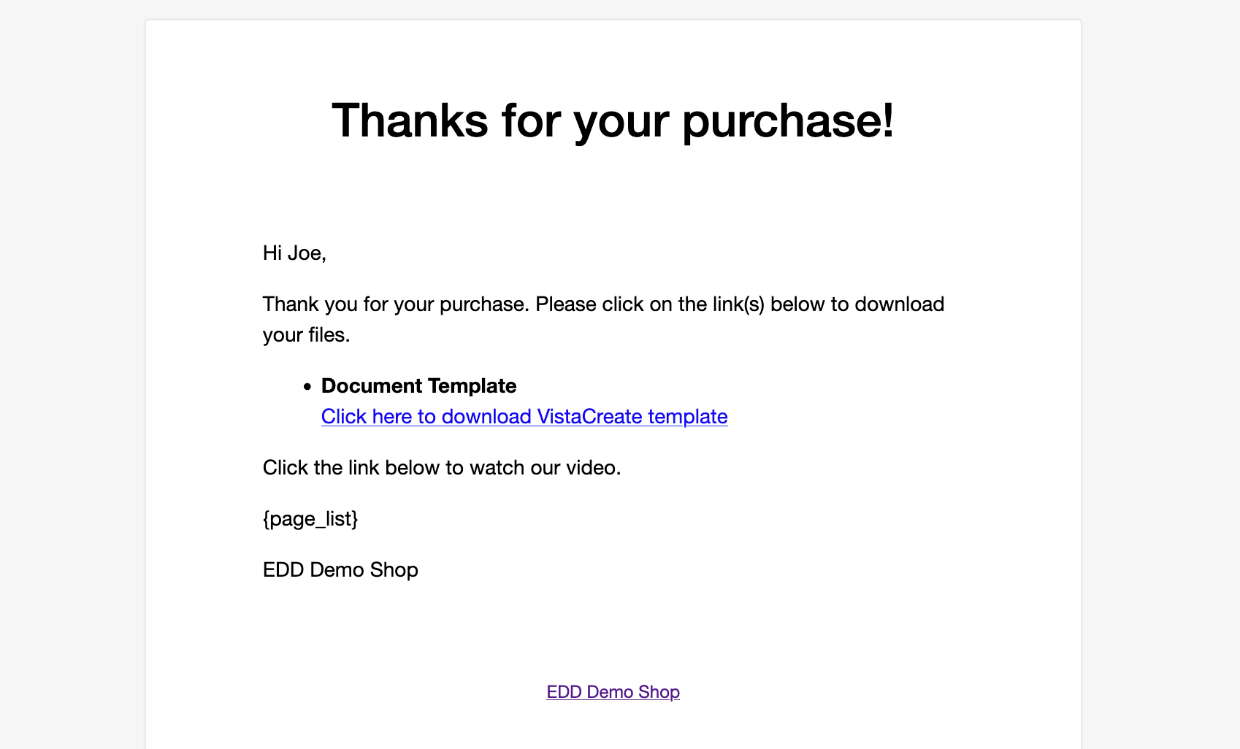 This is the default text for the email, it's ready to us. You can customize the email on your WordPress dashboard under Downloads > Settings > Emails > Purchase Receipt.
When your customer clicks on the VistaCreate link, they'll be taken to a landing page where they can choose to 'Edit This Design'. When they click that (assuming they have a VistaCreate account) a copy will be made and they can customize the graphic however they want!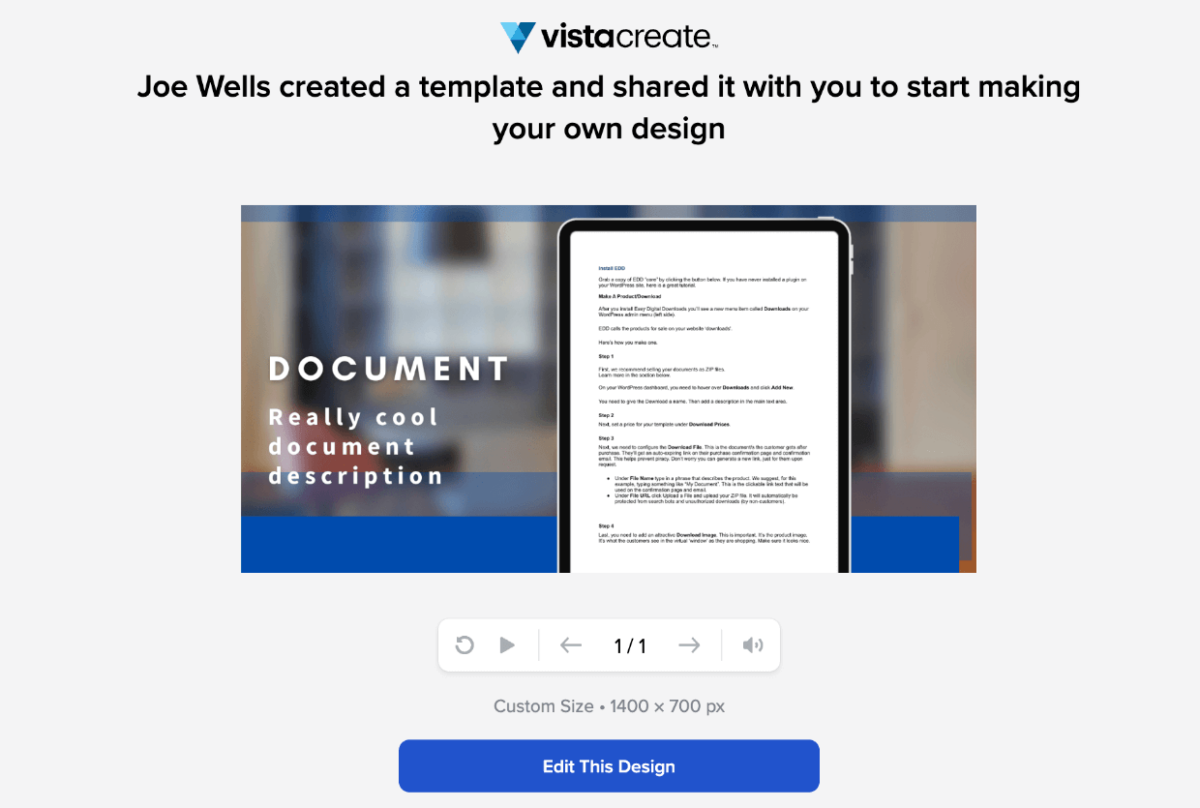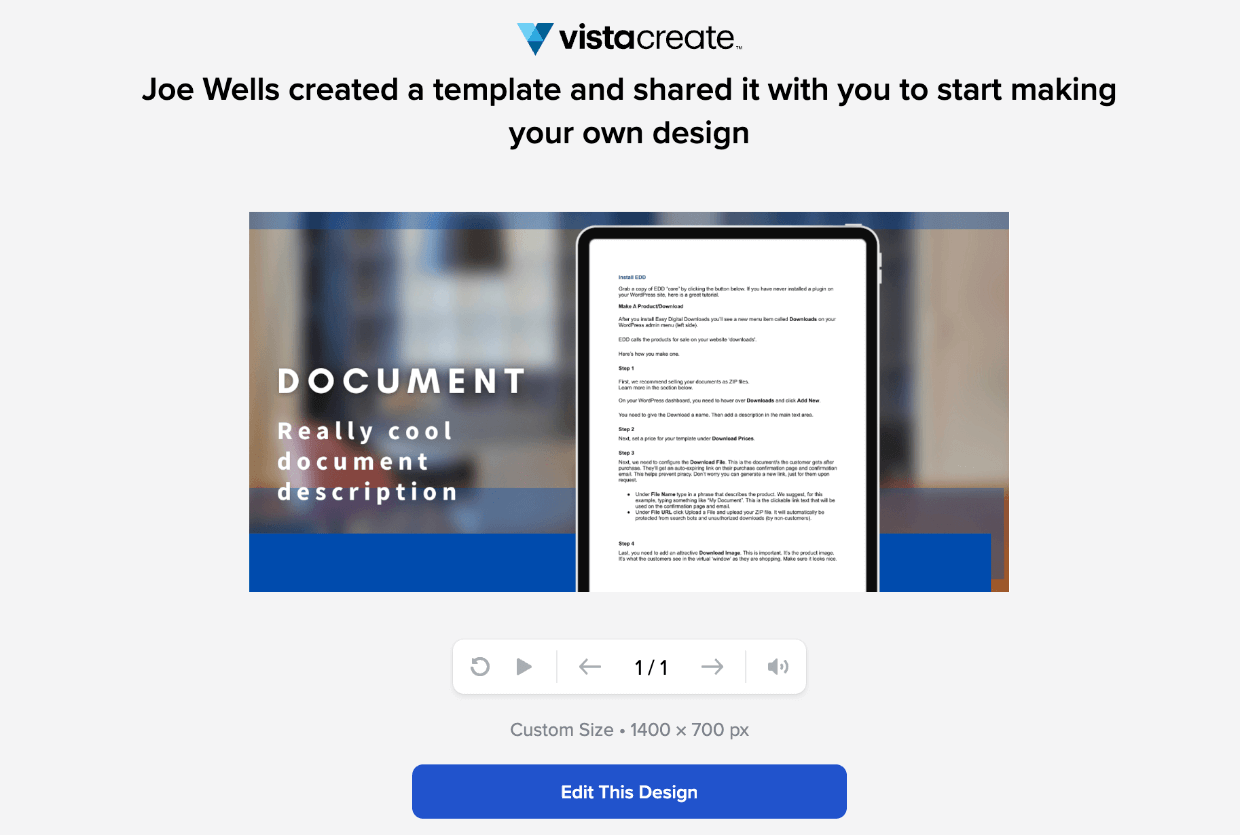 Great work! You have full-featured eCommerce store ready to sell VistaCreate templates. You just need to set up a pay to accept credit card payments.
Set Up a Payment Method
EDD makes it easy for customers to pay with your payment gateways. We recommend using Stripe. If Stripe is not available in your area, PayPal is a good option.
With Stripe you can accept credit cards, and ApplePay and GooglePay!
To learn more and get payments set up, choose your option:
---
Conclusion
Cool! Thanks for reading. You've learned how to make money selling VistaCreate templates. This is another great way to use your existing design skills to help others and generate passive income.
We have tons of resources for digital creators like you. What else do you want to learn about today?
Be sure to subscribe to our newsletter or follow us on Facebook and Twitter to get our latest resources for digital creators.