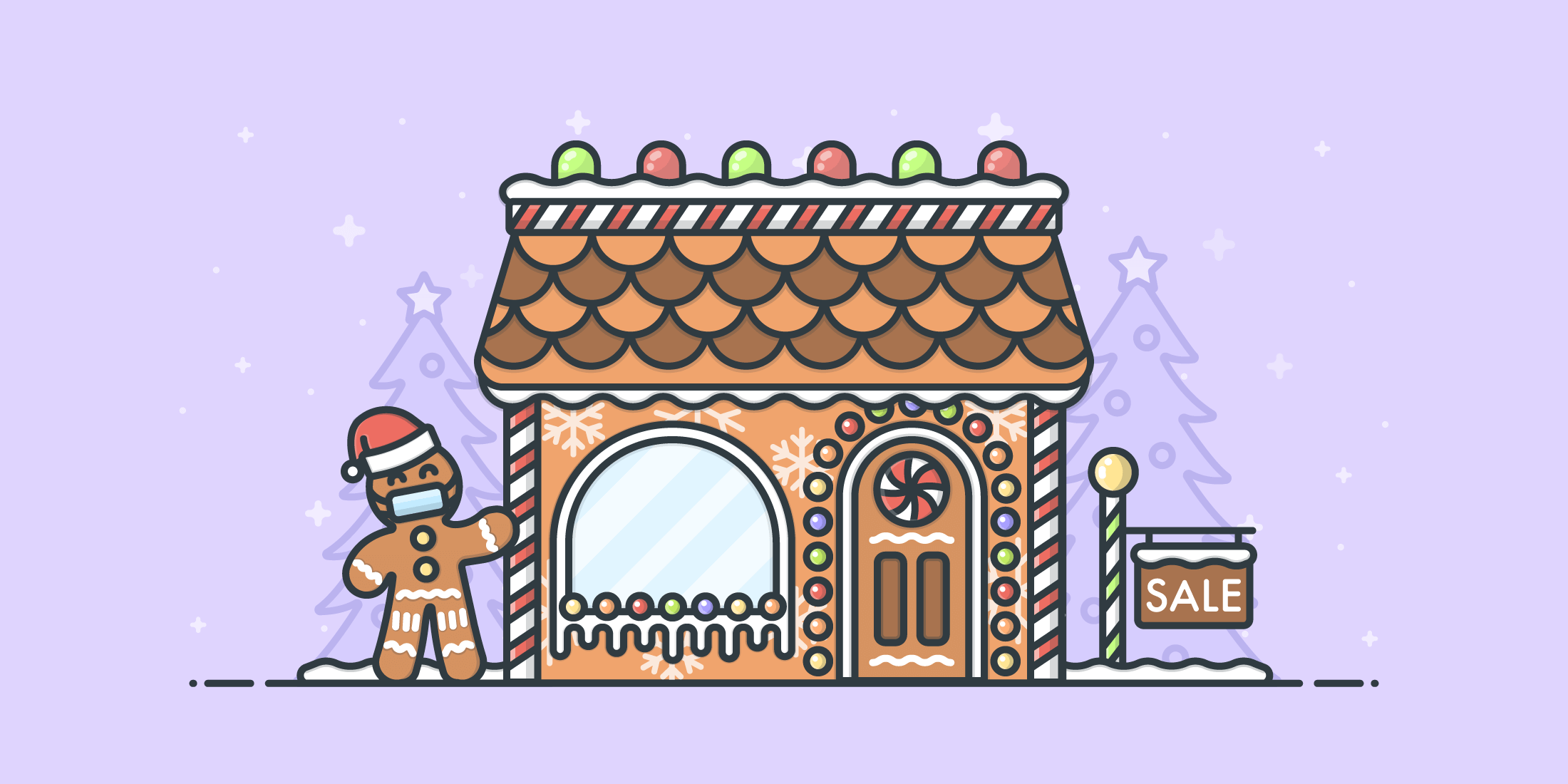 You may already know that the holidays can account for as much as 20-30% of your yearly revenue (in some cases, more), but this year is particularly unique due to the COVID-19 pandemic.
According to a report by eMarketer, US eCommerce sales during the 2020 holiday season are expected to grow by an unprecedented 35.8%. Although eCommerce has been on the rise for years now, that's more than double the increase seen in 2019.
Essentially, we're looking at more than two years of growth in one.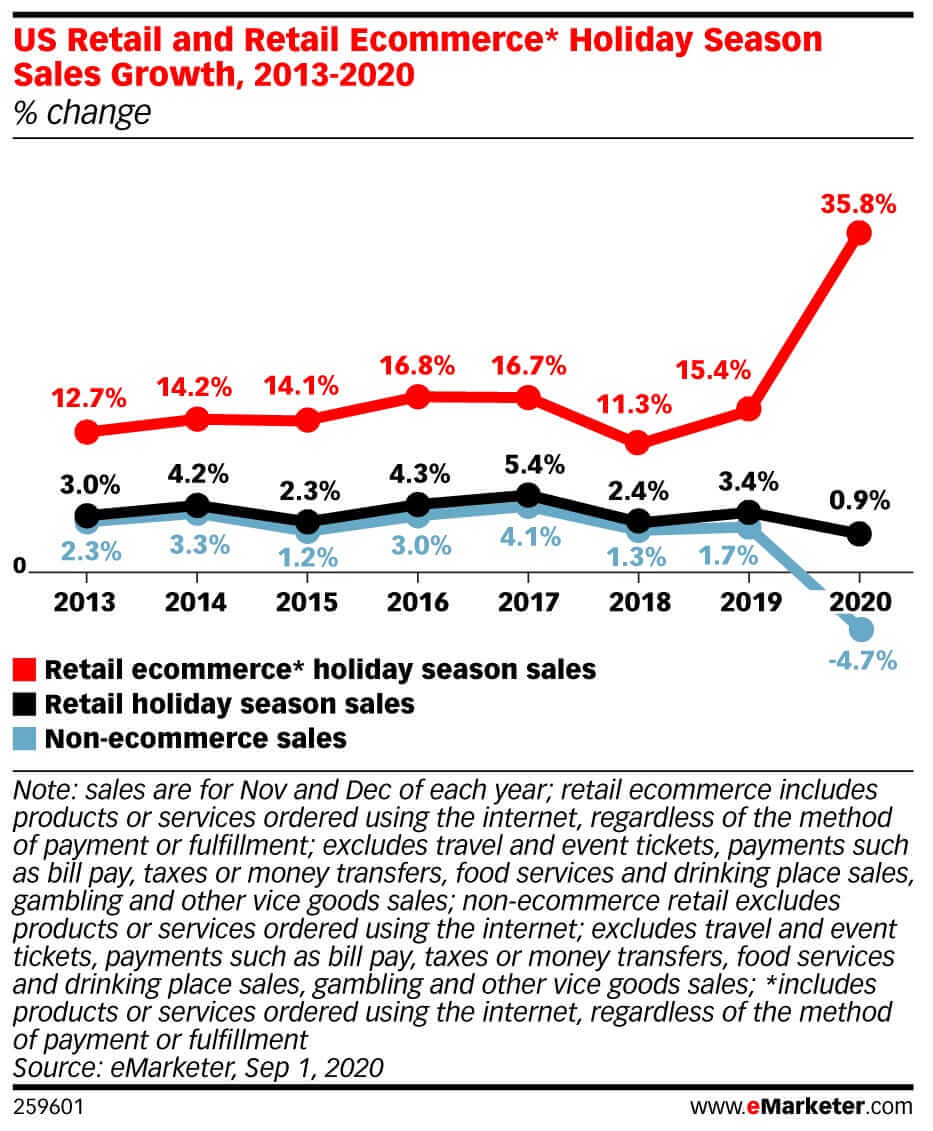 "Our forecast is most influenced by a US economy driven into recession by the coronavirus pandemic, high unemployment, and ongoing economic uncertainty."

eMarketer
While in-store holiday sales are forecasted to decline by 4.7%, this super-shift to eCommerce is expected to push total holiday season sales beyond 1 trillion dollars. In fact, IBM's U.S. Retail Index suggests that the pandemic has sped up the consumer shift from frequenting physical stores to shopping online by as much as five years.
Of course, the effects are more dramatic for physical goods businesses, as digital products are typically purchased online anyway. Nevertheless, consumers are still spending more time at home – with both work and play demanding the regular use of digital tools and content.
So, what does this all mean for digital products and the holiday season?
There's plenty of opportunity for generating serious revenue.
But, there's an art to making those famous holiday sales – as well as some strategies for digital product store owners in particular. It's also been a year of tremendous change and volatility, so it's more important than ever to pay attention to what consumers actually want.
"Customer behaviors have wildly shifted during the pandemic and expectations have increased."

BigCommerce.com
In a previous post, we discussed how to successfully run a sale on your eCommerce website.
In this week's edition of The EDDit – our final post for this year – let's talk about some of the most up-to-date and relevant strategies when it comes to rocking a holiday sale on your digital product store.
1. Get clear on your goals
What do we mean by "rocking" a holiday sale? Hint: It's more than some fancy graphics, although we like those!
Generally speaking, any action you take around your digital product store should be determined by specific goals. That way, you have a way to assess how successful your efforts are.
When it comes to running any sale, these goals typically include:
Turning leads / site visitors into paying customers, or conversion
Keeping existing customers, or customer retention
Increasing the average amount that customers spend, or average order value (AOV)
To learn more about digital product store metrics, check out this post.
2. Prioritize personalization
With a total eCommerce frenzy around the holidays, consumers can easily get overwhelmed with the sheer volume of marketing messages coming at them – many of which are indiscriminate in nature.
For the average person, this can take up more mental bandwidth than you might expect. After all, it's already difficult for consumers to avoid analysis paralysis when they're faced with so many options.
The holidays amplify this effect even further!
The worst offenders? According to a survey by Redpoint Global and Harris Poll, offers for items already purchased, irrelevant offers, and not being recognized as an existing customer are the greatest sources of frustration.
To avoid this kind of mental fatigue – as well as the wasted marketing spend that goes along with advertising the wrong things to the wrong people – personalization is key.
In fact, 49 percent of the people surveyed said that they are more likely to buy from brands who send them personalized content and offers.
"To compete during one of the busiest and most unprecedented seasons yet, brands need to create meaningful connections with consumers, offer personalized online experiences, and provide holiday shoppers with added conveniences and peace of mind."

BigCommerce.com
So, what are some ways to personalize the customer experience on your store?
Segment your audience according to buyer personas you've created, survey data, purchase history, demographics, and site behavior
Display relevant product categories according to user behavior, survey data, and past purchases to make it easy for customers to find the products most relevant to their needs and interests
Make dedicated product pages or sections for specific audience segments
Use the customer's first name on your store and in email subject lines to keep things personal
Use personal language like "Some recommendations for you," or "If you like [Product A], you might also enjoy [Product B]"
Pre-fill forms or display fewer forms to reduce redundancy for customers if they've already completed the forms or given the relevant information
Collect data on signup with surveys and quizzes that help you direct customers to the best products for them
Display product recommendations based on past purchases or site browsing history
Use chat bots to quickly connect with customers, provide them with personalized service, answer any questions they may have, and navigate them to the right place
Send emails with personalized shopping recommendations and promotions according to the customer's interests, purchase history, or products recently viewed
Give customers more information around their interests by linking to relevant blog posts or other content they may enjoy
Send emails when customers are most active according to login times, location, and other demographics
Create lead magnets, extra content, and special offers for specific audience segments, such as blog posts with tips, video tutorials, checklists, PDF guides, reports, eBooks, and webinars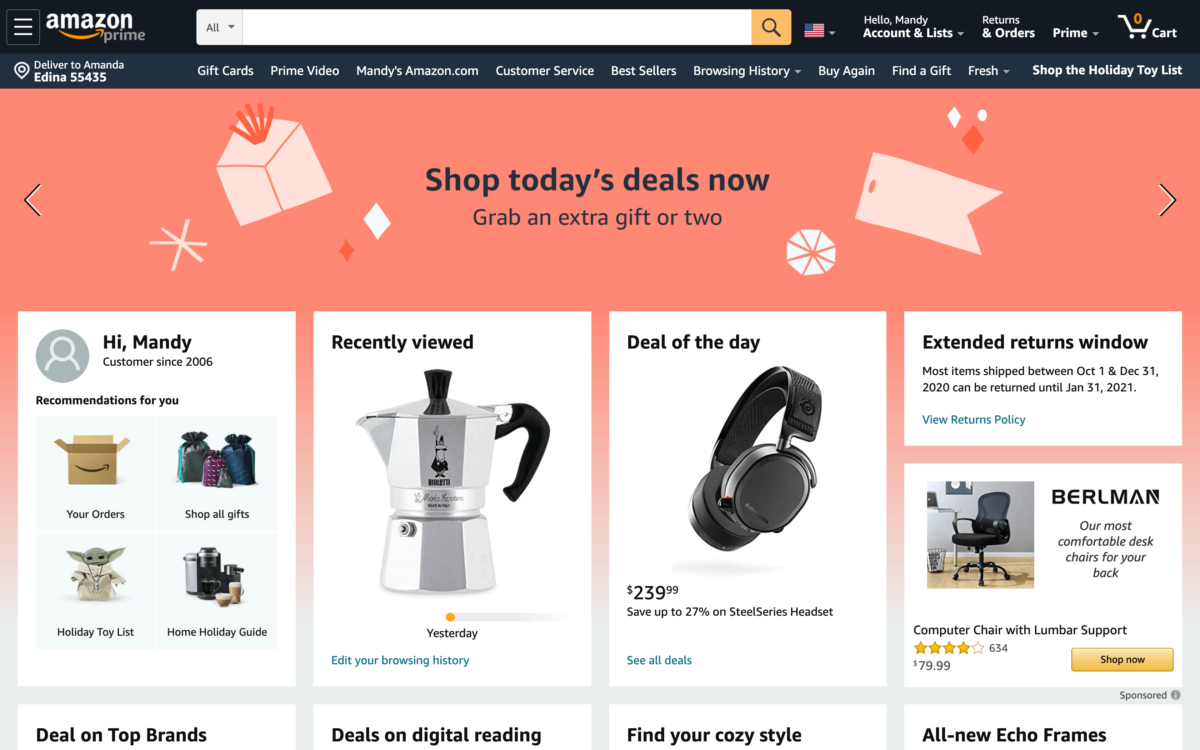 You can also:
Design sale promotions for specific audience segments. For example, you might offer a product bundle that gives beginners everything they need to get started, while offering completely different discounts and promotions for more advanced users
Upsell and cross-sell to increase your average order value (AOV) or simply boost a customer's spend on your store by nudging them toward products related to their cart contents or purchase history.
While these methods work well any time of the year, they are particularly effective during the holidays when so many brands are fighting for consumer attention.
Relatively small changes can add up to create a much more personal experience for people, making them want to spend more time (and money) on your store – and amplifying the effects of your holiday sale!
3. Create stand-out offers
During the holidays, you are likely to have increased competition, as businesses vy for a piece of the seasonal pie. But there's good news: Consumers have an increased drive to buy, too.
"While more than half (56 percent) of consumers expect to spend the same this holiday shopping season, 27 percent say they will spend less due to economic uncertainty. For retailers, this means the competition to stand out and win over the small segment of shoppers increasing buying will be even more important."

Redpoint Global
What are your options for creating offers that really stand out? Consider these:
Buy One Get One (BOGO) to give customers double the value for their money
20-50% off store-wide to give customers maximum choice and exciting discounts no matter which product they choose
Exclusive bundles that are only available during the holidays
All access passes that give customers access to every product on your site for a promotional price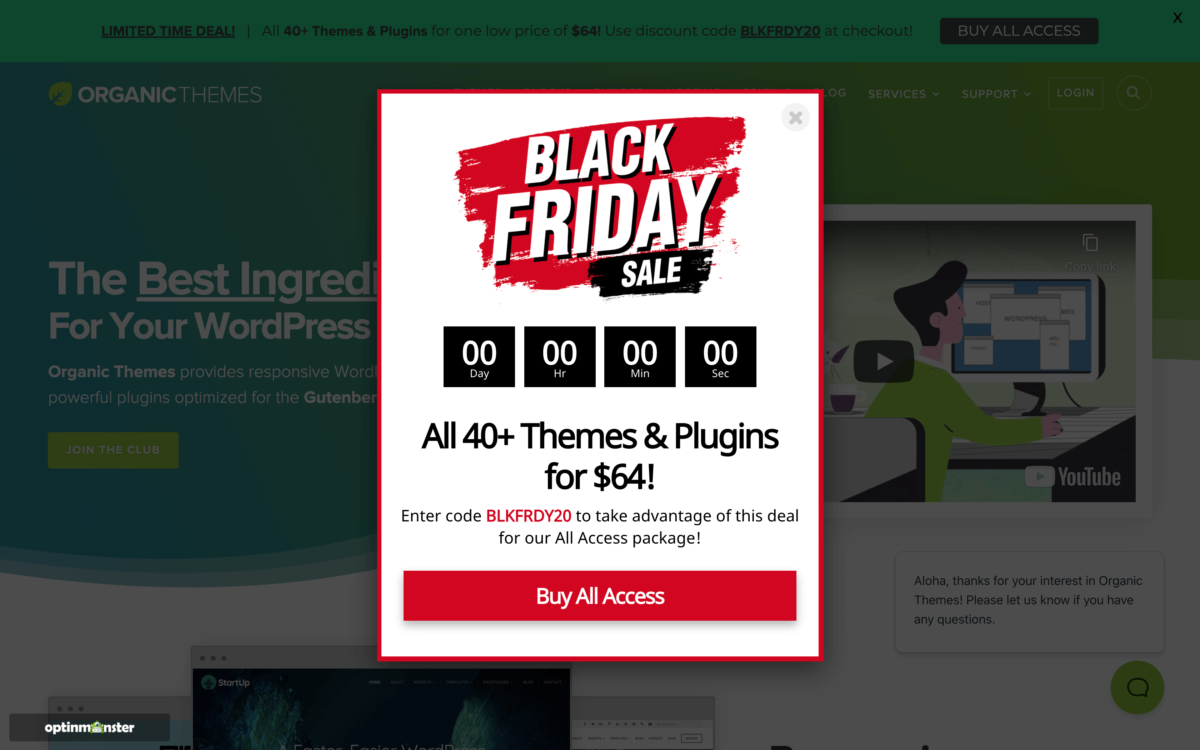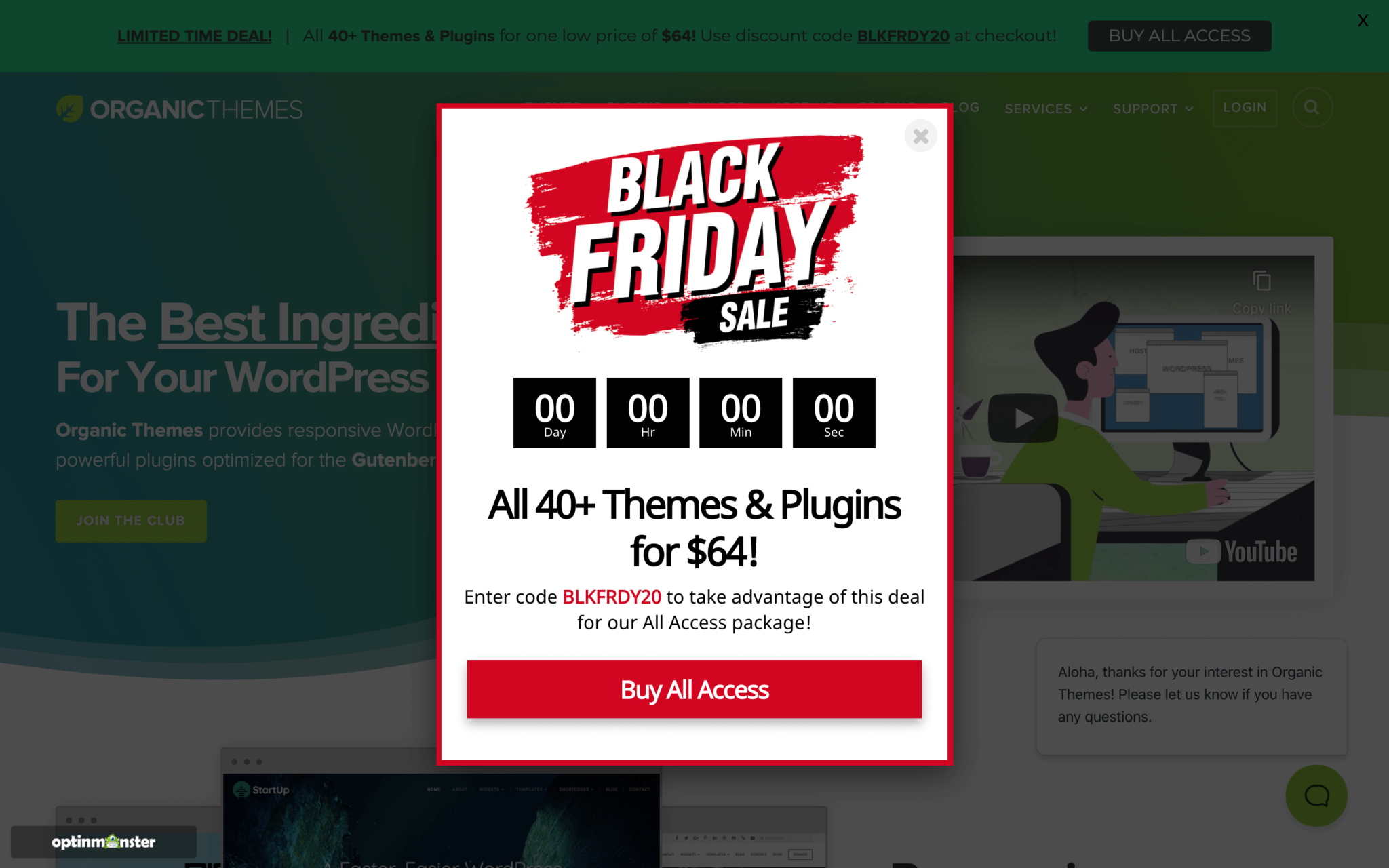 Rare deals like promotions on products that rarely go on sale (if ever), or deep discounts on premium or high-priced products
Free gifts and extras that boost the value of the offer, such as companion products, extra goodies like downloadable workbooks or creative asset packs, tutorials, exclusive community access, 1-to-1 coaching, webinars, VIP memberships, or bonus content
Tiered discounts that give customers bigger discounts the more they spend
Flash deals to give customers deep discounts that are only available for extremely limited periods of time – maybe even just a few hours
4. Put a limit on it
A successful holiday sale almost always taps into psychology in some way – in particular, the fear of missing out (FOMO).
From the consumer's point of view, one of the most motivating things about holiday sales is that they don't come around often; They're rare, exclusive, and something to get truly excited about.
In short, the best holiday sales are events that customers simply do not want to miss.
Use FOMO to your advantage by giving your customers exactly what they want – within limitations.
That means limiting the time frame the deals are available or limiting the numbers of products available, something that's often more applicable to physical products, but still doable for digital products (especially when it comes to things like membership signups, webinars and digital courses, and services, for example).
The point of these limitations is to create a sense of urgency, enticing customers to buy now.
You can also create urgency by:
Using urgent language like "hurry", "don't miss out", "limited time only", and "sale ends soon"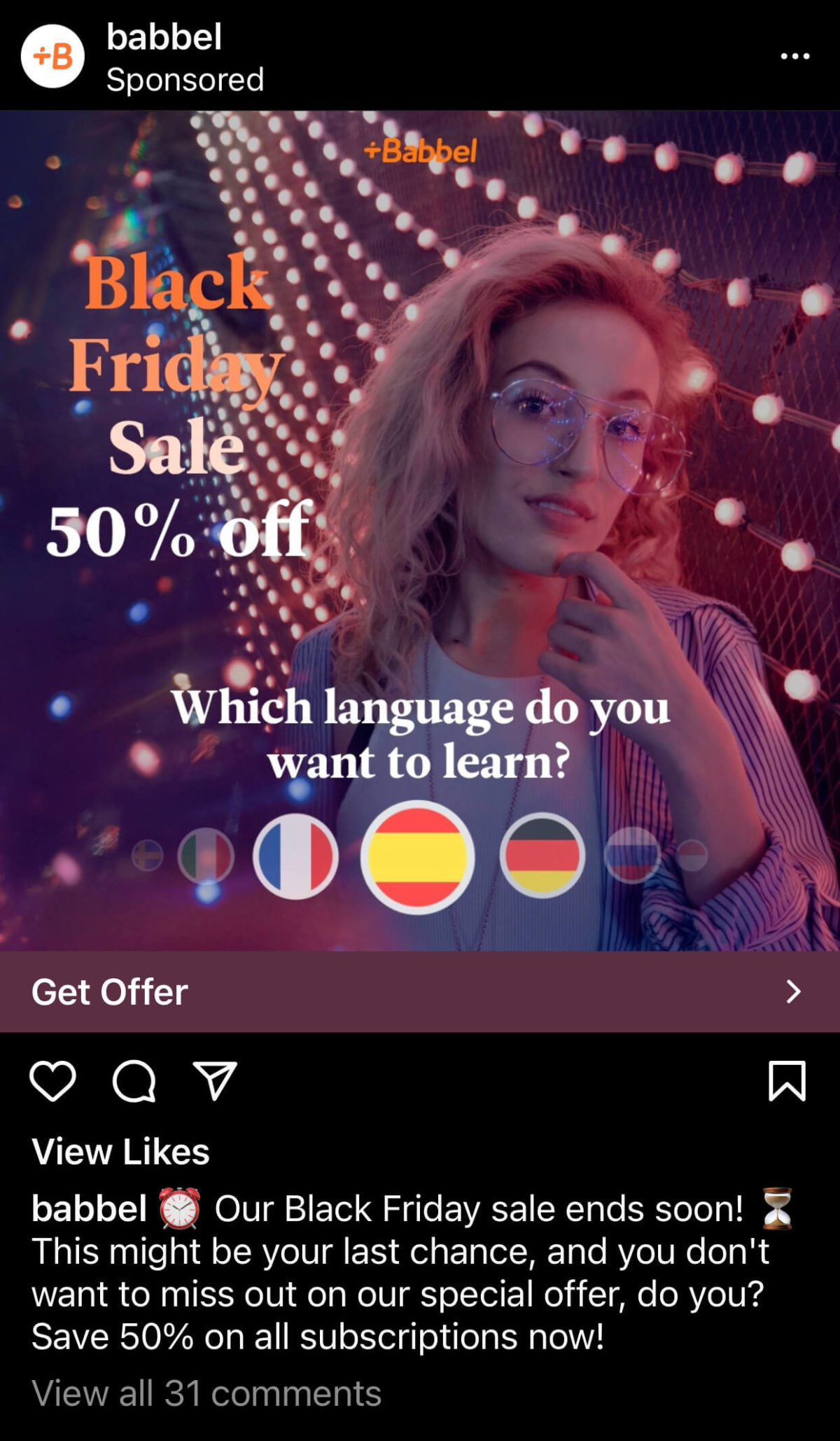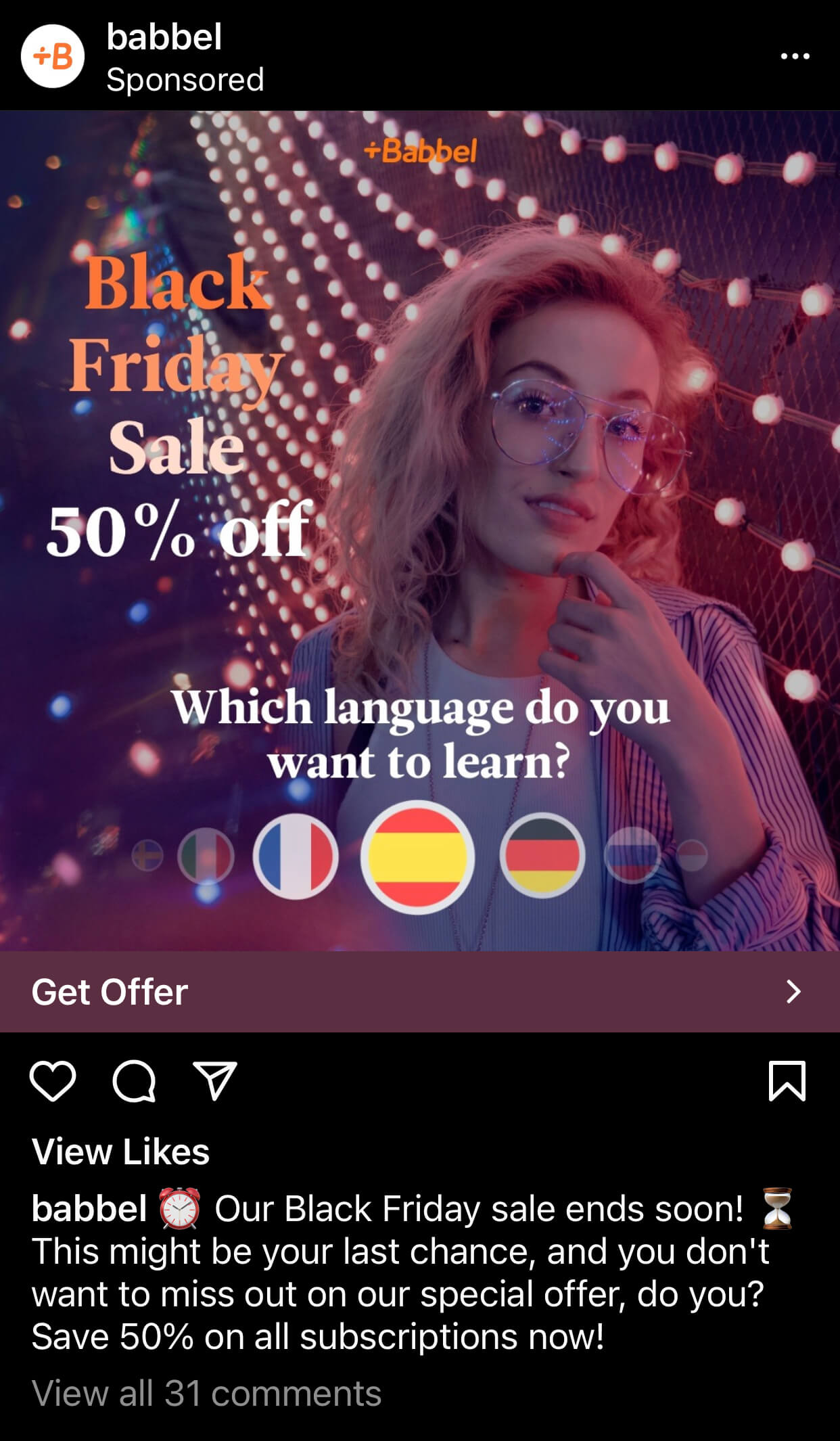 Creating a countdown timer to show customers that there's a limited time frame on the deal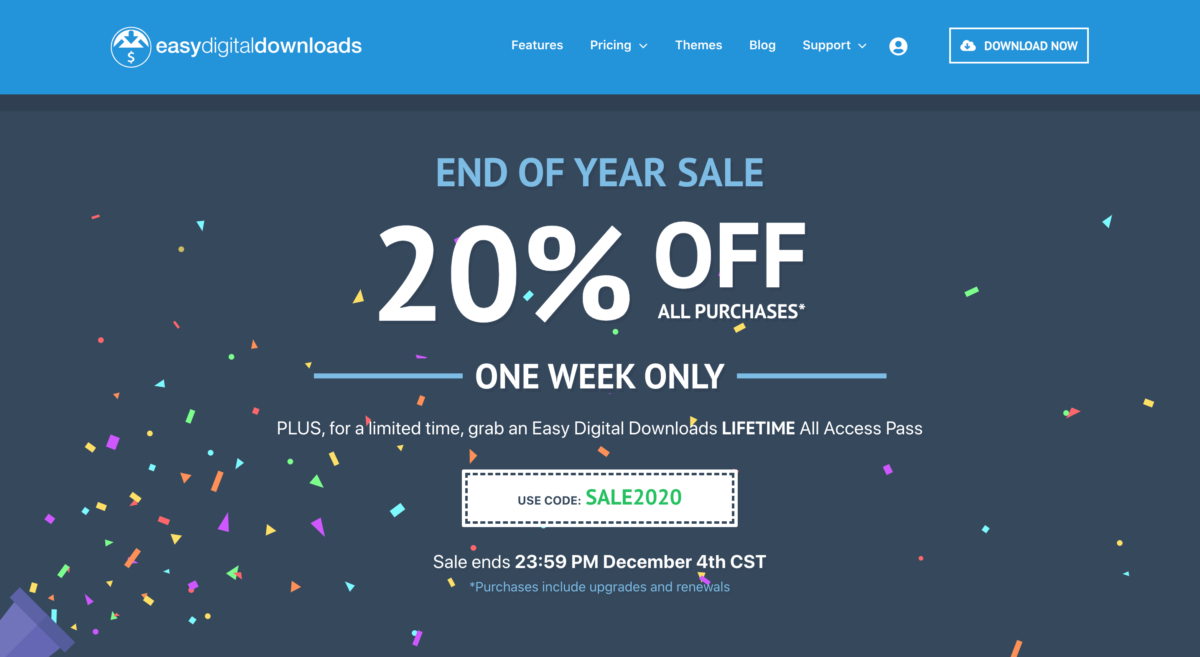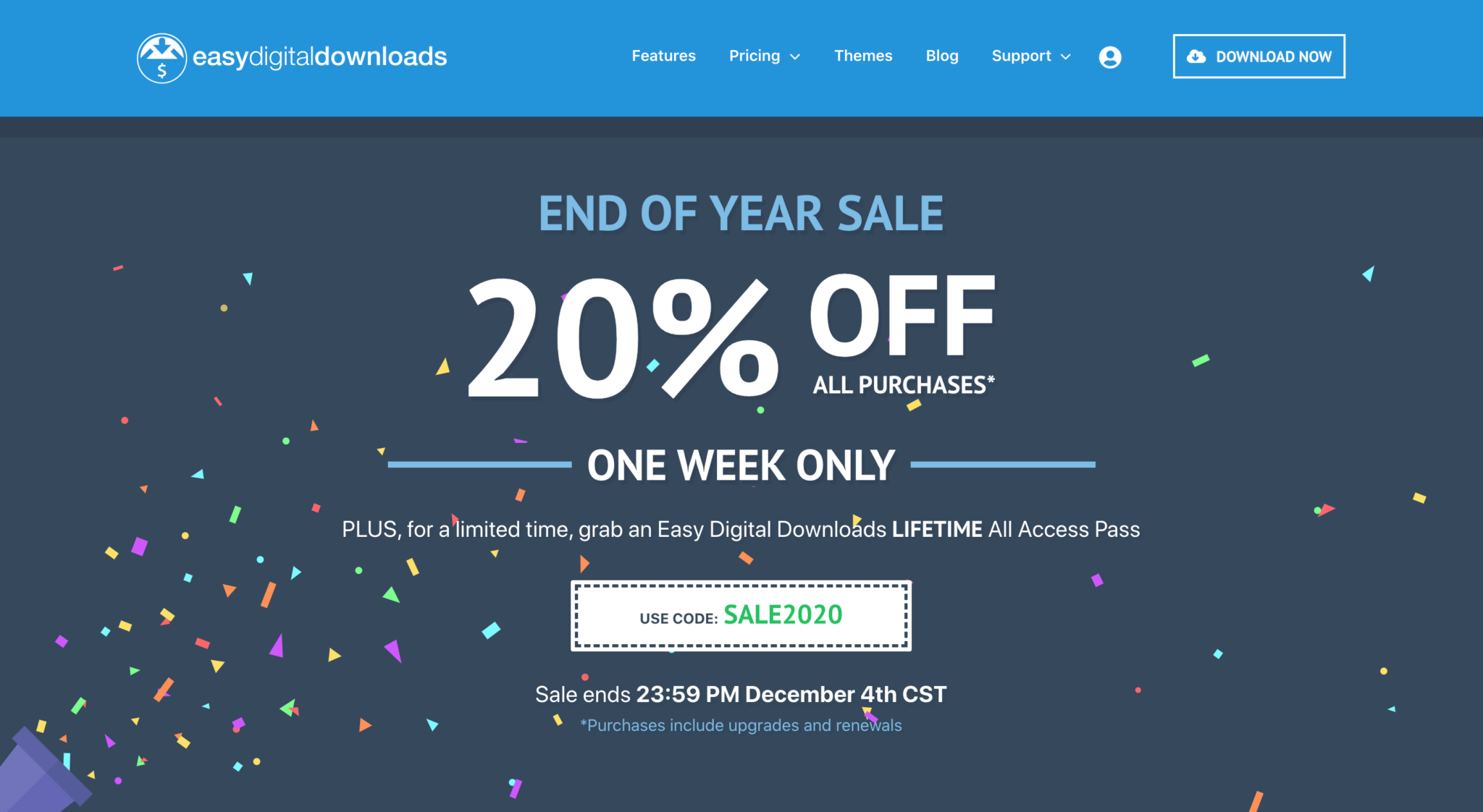 Changing up your promotions frequently, even daily or hourly in order to limit availability
Offering early access to incentivize loyal customers, big spenders, or VIP customers, while tapping into holiday spending budgets before they get depleted
Give customers something extra that isn't typically included, even during normal sales


5. Reduce friction
With plenty of competition and consumers that are in a hurry to get their holiday gifts sorted, it's important to do everything you can to facilitate an efficient and enjoyable experience for your customers.
Reducing friction between the customer and the sale involves a variety of elements – from the checkout process to removing doubt and uncertainty about your brand and products.
Here are a few ways you can do it:
Provide a seamless checkout
1-click ordering is particularly popular, especially for repeat customers. If you can't implement that, consider collecting only the necessary information from customers, with a sleek and minimal checkout page with minimal distraction.
Give customers multiple payment options
Some people may love your holiday sale offers, but decide not to buy simply because they can't use their preferred payment method.

Stripe (our preferred payment gateway) and PayPal are the industry standards for credit card payments, but increasing numbers of consumers are looking to pay with Apple Pay, Android Pay, or even cryptocurrencies.
The last thing you want is to drive valuable traffic to your website, only to lose those site visitors to slow page load times.
"Customers are stressed during the holidays and they're rushed. They already hate waiting for content to load, evident by studies that show a 1 second increase in load time can reduce conversions by as much as 7%."

Neil Patel
Optimize your site for mobile use
With such a rapidly increasing preference for eCommerce over in-person shopping, mobile accessibility should be a serious priority. More consumers will be making purchases from their mobile devices than ever before this holiday season, so keep this in mind!

We wrote a whole post about mobile optimization, which you can check out here.
Answer customer questions upfront
FAQ sections, quality product demos, good product descriptions, and the use of chat bots are all helpful in resolving any doubts or concerns customers may have.
Offer gift cards
Sometimes, it's hard for customers to decide on a product. Offering gift cards gives them the freedom to decide later – plus, it allows people to buy store credit as a gift for others.

You can even extend your holiday sale benefits to gift cards by offering deals like "spend $50 and get $100 value," for example.
Clearly display customer reviews
"The average consumer reads 10 reviews before feeling able to trust a business."

BrightLocal
Providing social proof is one of the best ways to convert sales, and real customer reviews are particularly effective, especially user-generated content like real tweets, Instagram posts, and Facebook posts.

That's because community approval is extremely important to consumers – and it has been a powerful marketing force for many years.
"Tied to social proof, UGC builds trust in your brand. Customers don't have the same financial incentives as employees, so their content is perceived as more trustworthy."

BigCommerce.com
6. Start a social sharing campaign for your sale
Want to make your holiday sale reach farther than you could've imagined? Social sharing campaigns can do just the trick!
These campaigns can increase brand awareness, allow you to track and analyze your content, and boost your engagement all at the same time.
Plus, you don't have to rely on the likes of influencers – although they can certainly be helpful. Often, the best marketing reach comes from word-of-mouth recommendations amongst family, friends, and colleagues.
In fact, a holiday retail report by Klarna suggests that 79% of consumers would rather get shopping advice from family and friends, as opposed to influencers.
Some options for social sharing campaigns include:
Referral programs
This encourages customers to refer their friends to your business; They give you new business and in exchange, you give them some kind of benefit, such as a free product, free gift, or discount.
Keep in mind that the person they referred should also receive some kind of benefit!
Uber gained incredible momentum in its early days by using this strategy; Both existing users who referred friends and the friends that were referred got rewards in the form of free rides / credits toward using the service.
Contests, sweepstakes, and giveaways
People are often more than willing to share campaigns when there's a compelling prize to be won. Plus, free stuff in general is a huge motivator.
For example, you might ask your audience to like and share your social media post in order to be entered into your sweepstakes. This can expand the reach of your holiday sale offering by a significant amount.
Whichever you decide on, choosing a hashtag that's unique to your campaign is a vital component; It can even make your campaign go viral.
Here are some best practices for choosing a hashtag:
Make it easy to read and remember
Take advantage of trending words and phrases, if applicable
Don't use more than a few words
Don't copy competitor hashtags too closely
7. Consider giving back
There's always a desire for goodwill that shows up around the holidays – and after a tumultuous year, the 2020 holiday season is no exception.
According to the Klarna report referenced above, a staggering 81% of consumers agree that brands should give back during the holidays.
To really stand out to potential customers as a top choice this holiday season, consider integrating donations or give-back programs with your sale. You could give a percentage of sales to a charity of your choice, for example.
It's also worth noting that transparency continues to rise in importance for consumers, so adjust your methods accordingly.
"Sustainability and transparency are front-of-mind for Gen Z and Millennial shoppers who continue to rise into more purchasing power."

BigCommerce.com
8. Don't forget the fun!
The holidays are times of fun and festivity, so don't be shy when it comes to giving your holiday sale promotions a bit of personality.
Festive graphics and language, games, free gifts, mystery gifts, and content designed purely for customer enjoyment can take your holiday sale up a notch and give customers positive associations with your brand that last for years to come.
From all of us at Easy Digital Downloads, we wish you the very best with your holiday sales this year!
What insights do you have to share from your experience running a holiday sale on your own digital product store? We'd love to hear them, so join the conversation in the comments below!
Illustration by Jessica Johnston