---
As some of you probably know, WordPress plugins are a big part of our history – in fact, if it weren't for this guy and one plugin in particular, you might not be reading this!
Needless to say, we are fans of selling plugins, and our users are, too. Plugins make up our second-largest segment (about 13% of our audience), so we decided it's finally time they get the spotlight!
In addition to being some of the most popular digital products you can sell online, plugins often provide much-needed solutions and specialized functionalities for WordPress websites, sometimes enabling and benefiting entire communities of people.
When it comes to selling plugins, a lot of the standard considerations apply: Where can you sell them? What prices should you charge? How do you market them? What about licenses, updates, and support? In this post, we aim to shed some light on some of the best practices!
Thinking about selling your own WordPress plugins? Here's what you need to know:
Pricing
Like WordPress themes, plugins have a range of prices, with tons of free plugins available to customers. What does this mean for you? Well, competition, for one thing! There are simply a very high volume of free options for customers to choose from, so your plugin has to stand out.
But, plugins are different from themes in that they typically provide functionality rather than a layout and visual aesthetic. This brings us to the competitive advantage, one of the most valuable aspects of your plugin – and one that will certainly affect what you charge.
If your plugin is extremely unique and/or particularly useful, you've got a competitive advantage. Think about what functionality you're providing the customer; plugins can be truly game-changing, allowing people to achieve things they simply couldn't before, like starting certain types of digital businesses, incorporating new elements that revolutionize their content, or making more money from their existing business.
Often, plugins pay themselves back over time, meaning the initial investment is easily covered by the income-generating benefit. The moral of the story is, if your plugin can make the customer money, that is an extra degree of value that can justify a higher price.
For example, consider the effects of cart abandonment plugins, affiliate plugins, or other types of plugins that boost sales, recover potentially lost sales, create more efficiency, or otherwise bring in more income.
Coming up with the number
So, where do you start? Well, there are some common prices seen throughout the world of WordPress plugins.
For example, some simple plugins that are sold on larger marketplaces can go for as low as $5-10, while premium plugins that provide highly specialized functionality or unique benefits might pull in as much as several hundred dollars per sale.
Some factors you should consider in your calculation include:
Your industry or niche. What does it need? What does it already have? What's working well? What are people willing to pay? Is the market saturated?
Your competition. Who are they? What do they charge? What do they include?
Your plugin's features and benefits. What real-world value do they provide the customer? How do they compare to your competitors' product(s)?
Your competitive advantage. What can you offer that your competitors can't? How much time, money, or headaches can your plugin save the customer? Can your plugin take the customer's website, business, or content to a new level? Is your plugin lightweight and bloat-free?
Remember that you can and likely will adjust your prices over time, so don't be afraid to pick a final number and run with it. Most digital product sellers have adjusted their prices at one time or another – it's just part of the business!
Ongoing revenue
Licenses
Like themes, plugins are the perfect digital product when it comes to ongoing revenue. Why? Because many plugins are sold using the license model.
Licenses allow people who purchase your plugin to use it for a period of time, commonly a year. In this case, the license must be renewed annually, providing you with recurring income. The other advantage is that you can forecast your earnings for the following year, making your income a lot more predictable!
Often, WordPress plugin licenses are sold in three or four pricing tiers – such as a single site license for $30, a 2-5 site license for $80, and an unlimited site license for $100, for example. In this case, you'll notice that the unlimited license is not too much more expensive than the 2-5 site license, which makes it particularly enticing for customers.
Best practices emphasize a mid-range tier, which is priced high enough to generate significant income, but kept affordable enough that target customers will actually buy it. Check out our pricing tiers here at Easy Digital Downloads for an idea: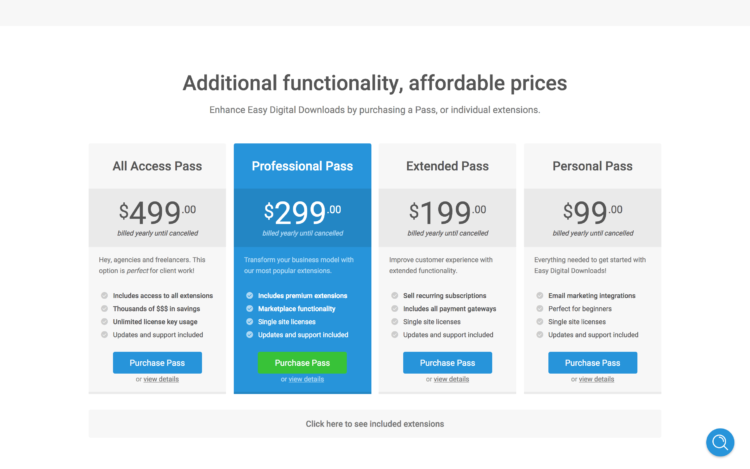 Pricing tiers emphasizing mid-range tier (Easy Digital Downloads)
Extensions and add-ons
In addition to licenses, there's always the potential for developing plugin add-ons and extensions, such as payment gateway or affiliate extensions. Some plugin developers create entire ecosystems around their plugins, providing all of the licenses, add-ons, extensions, support packages, and other elements like discussion groups, podcasts, video tutorials – even all-inclusive memberships!
Custom development
Sometimes, customers will want additional functionality from your plugin. Maybe the plugin does 90% of what they need, but they have a special case that calls for custom development. Of course, you can always use these requests for ideas when it comes to creating extensions and add-ons as well!
Distribution
Channels
There are basically two primary ways of distributing WordPress plugins: on your own website, or using a pre-made marketplace.
Selling through a marketplace
Marketplaces exist precisely for the people who don't want to run their own site (or don't necessarily have the technical expertise) – or, they might rather have more of the details taken care of for them. It all depends on your priorities!
Here are some pros and cons to think about:
Pros:
The audience has already been created for you – and they're looking for a plugin to buy.
Marketplaces attract a wider reach, giving you access to potential customers that you may not connect with otherwise.
There's simply more traffic – and that usually means more sales.
You can build initial traction for your brand, and expand to your own store later.
It's a good place to test out the viability your products.
Cons:
Prices are generally lower on marketplaces. Even if you get more sales, you still might not make as much as if you ran your own store
You often must to adhere to pricing guidelines, giving you less control over your prices.
Marketplaces often charge fees and/or collect portions of your sales.
It can be hard to stand out against the competition, as there is so much of it.
Sometimes, marketplaces neglect quality control. If you want to build a premium brand, a marketplace might not be the place to do it.
It can be difficult to build a mailing list if you use a marketplace, because you won't have access to customer details.
Going your own way
Selling plugins on your own website is easier than ever, with plugins like EDD and related software licensing extensions, but it also comes with its own set of considerations.
Pros:
What you say goes; you control your pricing, your website, your marketing, and everything else.
You don't have any marketplace fees to pay, so you get to keep 100% of the money you make.
It's easy to build a mailing list from customer details, which you can utilize in all kinds of ways, including marketing future products.
Cons:
Format
In terms of format, it's pretty much set in stone: WordPress plugins are sold as downloadable.zip files that must be uploaded installed onto a WordPress website. The .zip file includes PHP files for the core plugin functionality, a CSS style sheet, as well as a Javascript (JS) file for any interactive or front-end elements.
Other considerations
Support, updates, and compatibility
Software evolves and changes each year, which is why the license model works so well for software products like themes and plugins. This also means that plugins require updates to be compatible with the latest releases – but updates can come with their own unique challenges!
Make sure there is a mechanism in place for customers to get access to (and easily install) updates for your plugins. Outdated plugins can easily become a support nightmare so giving your customers an easy way to install updates can really help.Pippin Williamson
It's also worth noting that your plugins might not end up getting used exactly like you intend in every scenario; this has the potential to create new problems for you and the customer. However, there are ways to minimize the likelihood of these kinds of "edge cases". Just take it from our very own founder:
People frequently find very creative and even off-the-wall ways to use plugins for non-intended purposes and use cases. You need to anticipate this as much as you can by keeping your tool sets flexible. Learn defensive development practices and you can do a lot to help avoid unexpected conflicts that can harden your customers' experiences and put undue burdens on your support teams.Pippin Williamson
It's important to remember that if your plugin gains a lot of momentum, you'll need to be ready to deal with the increased amount of support requests. Having an adequate support team and ticketing system is crucial if you want to keep your brand flourishing.
It's also worth noting that by nature, WordPress plugins contain code that is licensed under the General Public License (GPL or GRU) and is technically free to distribute. What this means is that when someone purchases a license, they are purchasing access to support and updates as well. Especially if you offer an unlimited license, you'll need to be ready to provide the level of support needed!
Important policies
In order to protect yourself, your products, and your time, you'll want to have support and refund policies in place – and the terms you include in your support policy dictates what level of support your customers are entitled to by purchasing your plugin.
For example, you may have a free version of your plugin, but you might decide that you're not going to provide support unless a customer has made an actual purchase. This protects you from spending your time or your support team's time without any benefit to you. In some instances, customers may require custom development. Not commonly included in software support policies, this could be a good opportunity to upsell related services.
Showcasing your plugins
To make sales, every digital product needs a proper demo; it's one of the best ways you can give customers the confidence to purchase your product!
When it comes to plugins, this often includes:
A live demo site, with the plugin installed and shown in action
High-resolution screenshots and descriptions of the plugin's features
Testimonials
Use-case examples (hypothetical or real-world examples)
Video tutorials walking through the plugin features
API documentation that is thorough and easy to understand
If you're using screenshots, remember that you will need to keep them updated as time goes on and new features are added, or updates and bug fixes are released.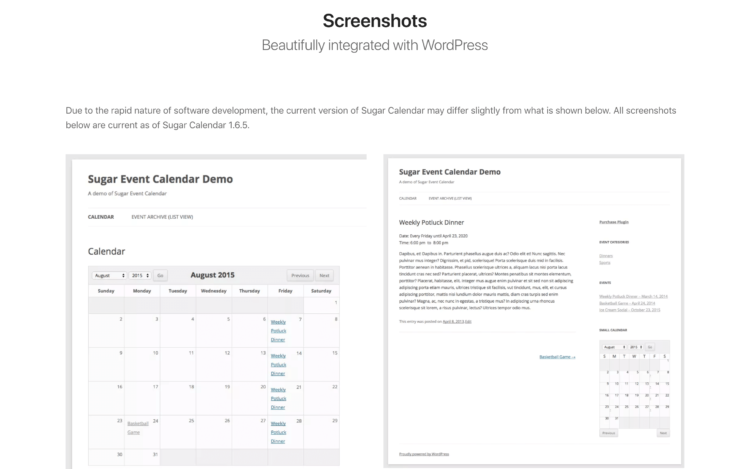 Screenshots (Sugar Calendar)
Use-case examples are another great way to help prospective customers visualize the different ways your plugin can be used.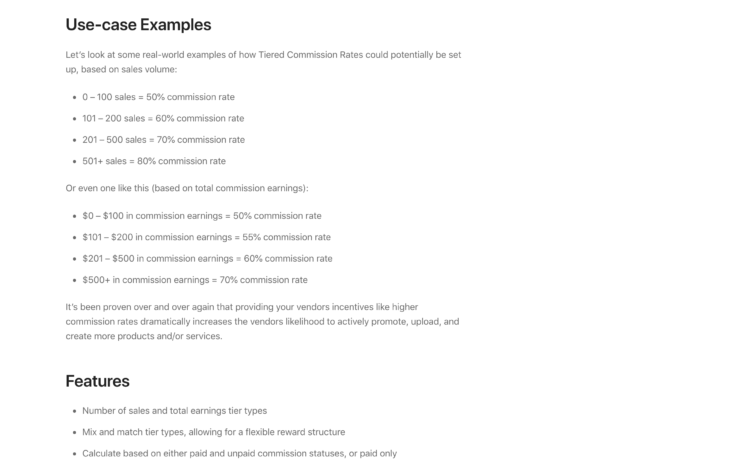 Use-case examples and features (SellComet)
Alternately, you may choose to release a free version of your plugin to show customers first-hand what it's like to use it, reserving advanced features for a paid or "pro" version!
It's still a good time for plugins
WordPress has been a big name on the eCommerce scene for years, with continuous growth that keeps WordPress themes and plugins at the forefront of the digital product landscape – and this is great news if you want to get into the business of selling plugins!
The process differs slightly from other types of digital products due to the specialized format and application of plugins, but a lot of the same overarching principles apply – researching the appropriate market, pricing your product accordingly, showing your customers your product in all its glory, and being ready to handle support. Hopefully we've given you a bit of guidance that can aid you in your own journey!
Do you have experience selling plugins and have some advice to share? Is there something we missed? Join the conversation below!
Illustration by Jessica Johnston.