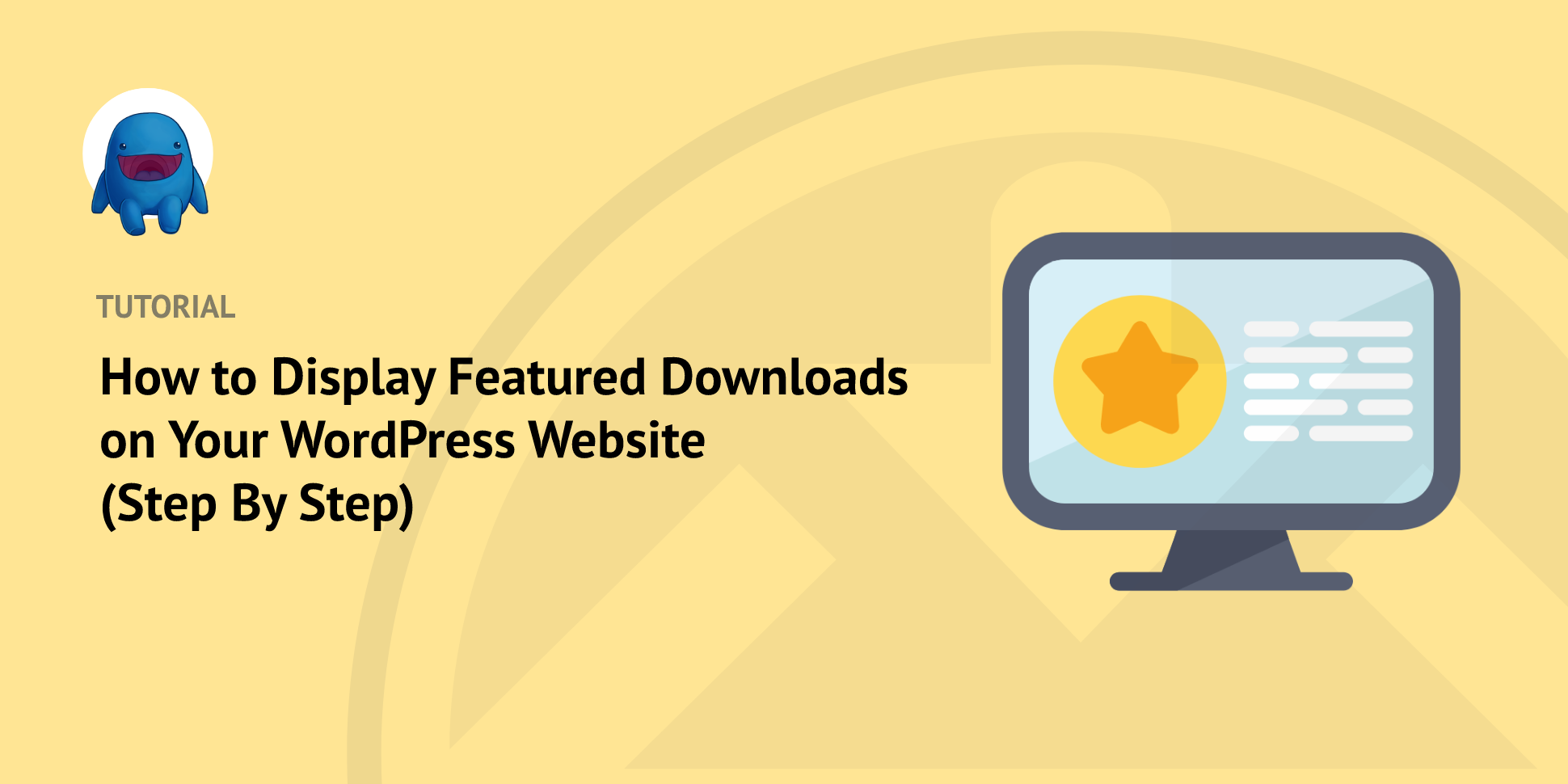 Do you want to add featured downloads in WordPress?
If you sell digital or downloadable products on your website, strategically highlighting and promoting your offerings can help boost sales. One way to do this is by adding a featured downloads section.
You can use this area to display new or popular items from your store. You could also use it to draw attention to products that are only available for a limited time.
🔎 In this article, we'll cover:
Why Show Featured Downloads on Your Site?
Displaying featured downloads on your eCommerce site is a great idea for multiple reasons. For starters, it shows customers that you have new, relevant products available and encourages them to explore the rest of the store.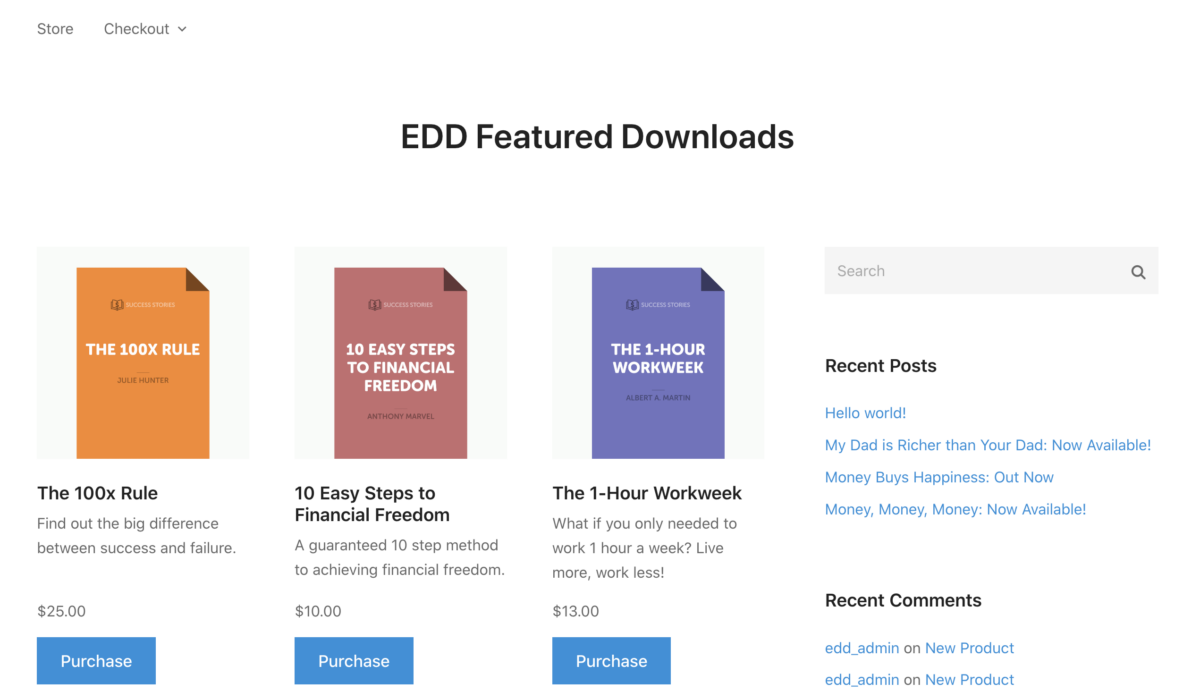 It helps customers quickly find items they may be interested in without searching through tons of categories or options. This can make their shopping experience smoother and more efficient.
In addition, displaying featured downloads in WordPress can increase sales by drawing attention to specific products you want to promote. This could include:
Limited-time offers
Seasonal collections
Finally, featuring downloads on your eCommerce site is a powerful marketing tool. It lets you showcase the best of your downloads and gives customers incentive to buy from your store.
How to Display Featured Downloads in WordPress
Ready to get started? If you have WordPress, Easy Digital Downloads (EDD) is the easiest way to sell digital files and add featured downloads to your website. In this step-by-step tutorial, we'll walk you through the process:
⚙️ Still need a WordPress website? Learn about SiteGround's Managed EDD Hosting!
Step 1: Install Easy Digital Downloads
The first step is to download and install the Easy Digital Downloads (EDD) plugin:

This complete, user-friendly eCommerce solution is the best WordPress plugin for selling digital products and downloads. This includes eBooks, software, templates, and much more.
It's an excellent WooCommerce alternative if you don't sell physical goods. Unlike other eCommerce plugins, you can also use it as a download monitor and file management tool. It lets you track downloads, sell various file types, set download limits, and much more.
There are multiple EDD pricing plans to choose from, including a free version. To use the EDD Featured Downloads premium extension, you'll want to grab an All Access Pass.
After you get your pro plan, visit your account and go to the File Downloads tab. Then click on the Get Easy Digital Downloads button to download the plugin: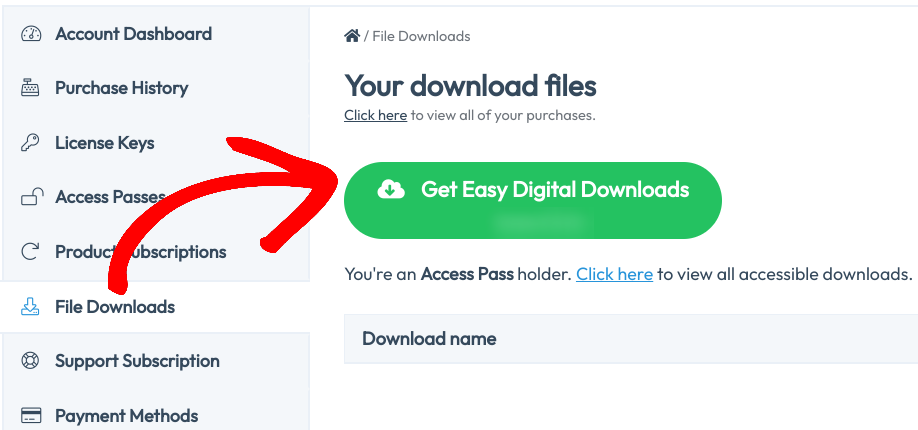 Next, go to Plugins » Add New » Upload Plugin from your WordPress dashboard:

Upload the EDD zip file, then click on the Install Now and Activate Plugin buttons. If you need help, follow WPBeginner's excellent guide on installing WordPress plugins.
Once activated, EDD adds a Downloads menu item to your WordPress admin dashboard: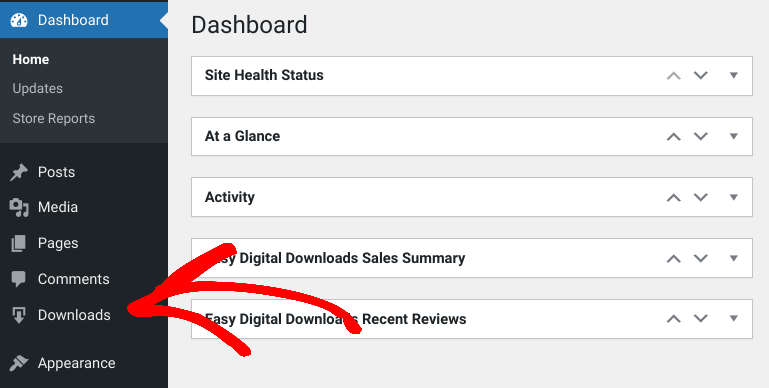 Note that EDD refers to any digital product or file a 'download'. Go to Downloads » Settings to begin setting up your store. You can enter your business details and configure payment gateways like PayPal and Stripe.
✍🏻 For help getting started, use these guides:
Step 2: Add the EDD Featured Downloads Extension
Next, we're going to install the EDD Featured Downloads add-on.
This premium extension makes it easy to feature downloads in WordPress. Once installed, you can choose which downloads to feature by selecting a checkbox. Then you can display the list on your site using a shortcode.
To start, go to the EDD Featured Downloads extension page and click on Download Now: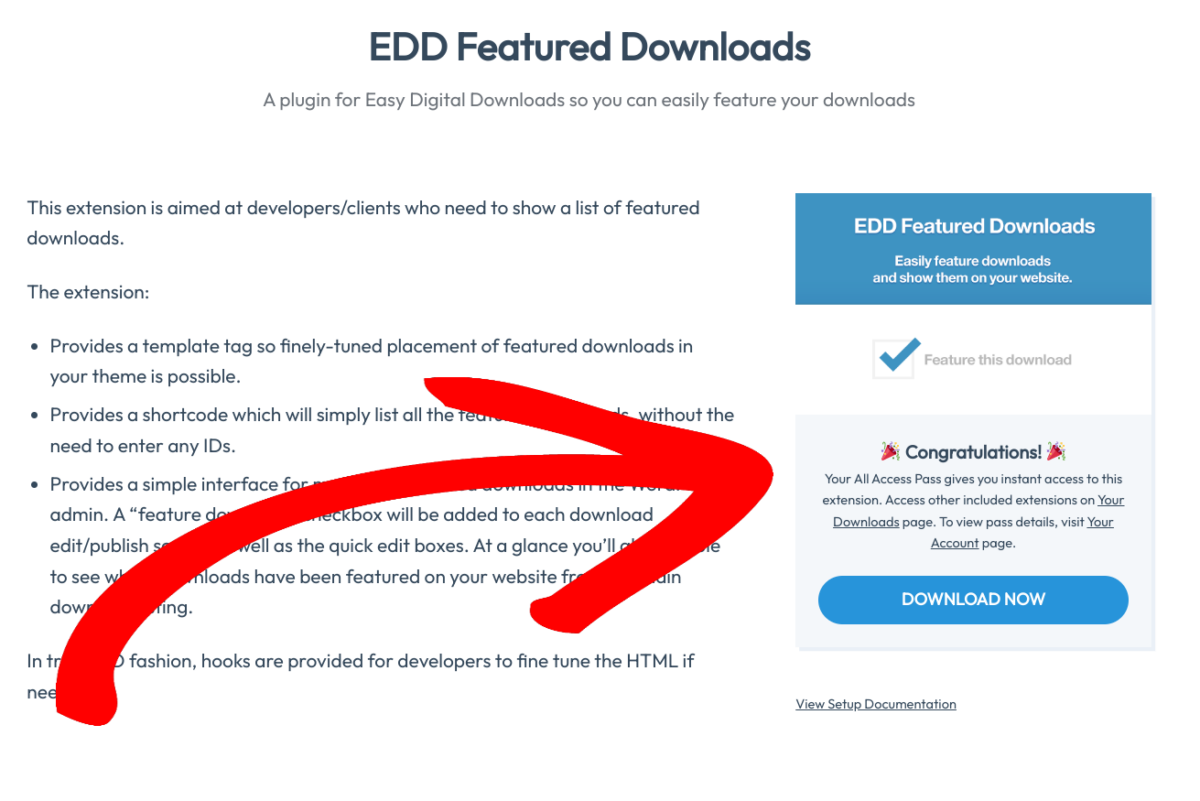 Next, go to the Plugins » Add New screen of your WordPress site to upload it:
Click on Install Now, then select Activate Plugin.
Step 3: Create Your Digital Products & Downloads
If you haven't already, the next step is to add your digital product/downloads. First, go to Downloads » Add New: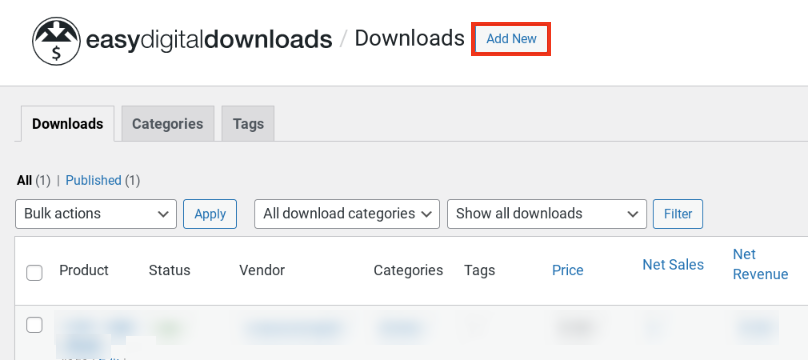 Next, name your download and add a brief description:

Under Download Prices, you can enter the amount you want to sell it for. To offer it as a free download, you can leave it as "0":

Next, under Download Files, you can add the WordPress files for customers to download after they purchase your digital product: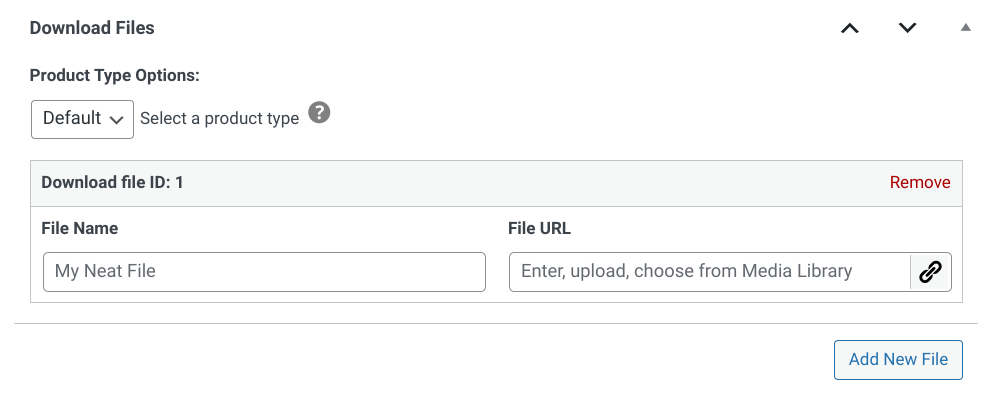 In the File Name field, enter a phrase to describe the product/file. For instance, we'll use "Getting Started Guide". This text displays as the download link on the order success/confirmation page and purchase receipts: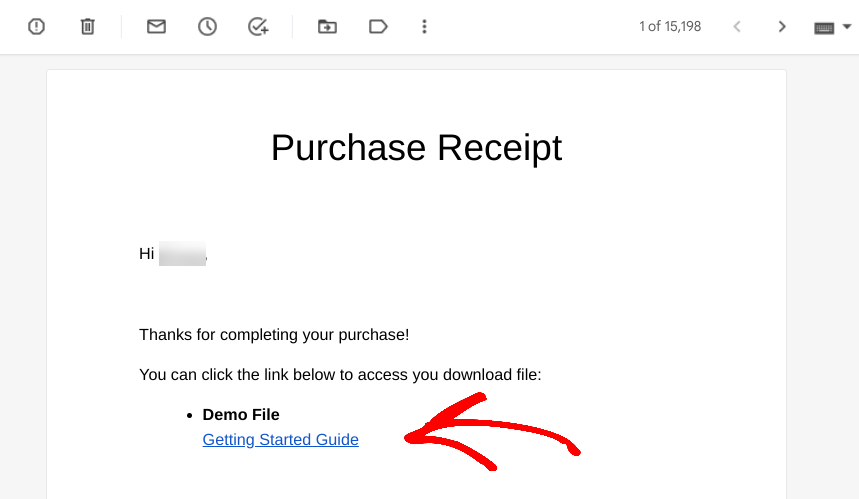 Next, under File URL, select the link icon to upload files:

You can add a new file from your Media Library or import it from a platform such as Google Drive or Dropbox.
In the settings panel to the right, you can add a Download Image.
Then to add this product as a featured download, go to the Feature Download box and select the checkbox:
This setting is available any time you create or edit a download (as long as the extension is activated).
When you're done, click on Save draft then Preview to see how it looks. If you're happy with it, return to the backend and select Publish.
You can repeat this process for every digital product or download you want to add to your store.
Step 4: Display Your Featured Downloads in WordPress
As I mentioned, the EDD Featured Downloads extension lets you display featured downloads in WordPress via shortcode functionality. By default, the featured downloads are listed in order of the date they were published.
To display your featured downloads, go to the area of your site you want to place them, such as your sidebar or homepage.
Next, insert the WordPress shortcode block and add downloads featured="yes" in the text field:

Save your changes. Then visit your site to see how it looks: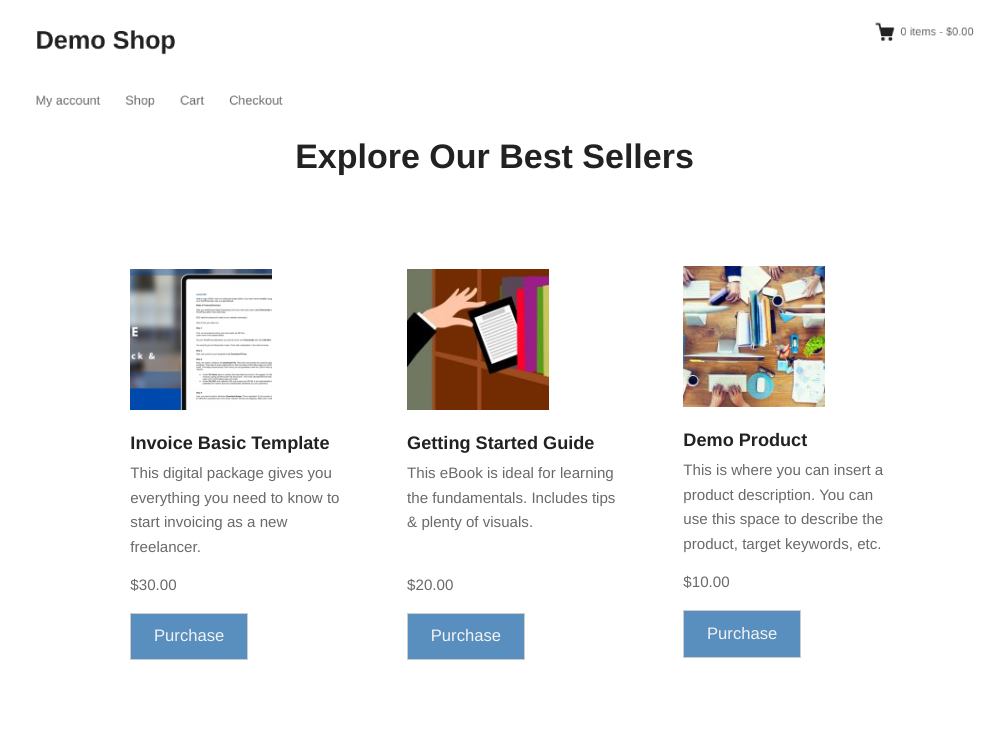 Another way to display the featured downloads in WordPress is to use a template tag. But you should only use this option if you're comfortable using custom code. For more guidance, refer to our Featured Downloads documentation.
Use EDD to Add Featured Downloads in WordPress
Displaying featured downloads on your eCommerce site can help boost sales while creating a more positive shopping experience for customers. With the right product selection and strategic placement, it can be an effective way to draw attention to important offers and even reach new customers.
What are you waiting for? Get Easy Digital Downloads to help showcase, promote, and sell your digital products and downloads in WordPress!
💡Interested in more ways of streamlining the customer experience? Learn how to:
📣 P.S. Be sure to subscribe to our newsletter and follow us on Facebook or Twitter for more WordPress resources!