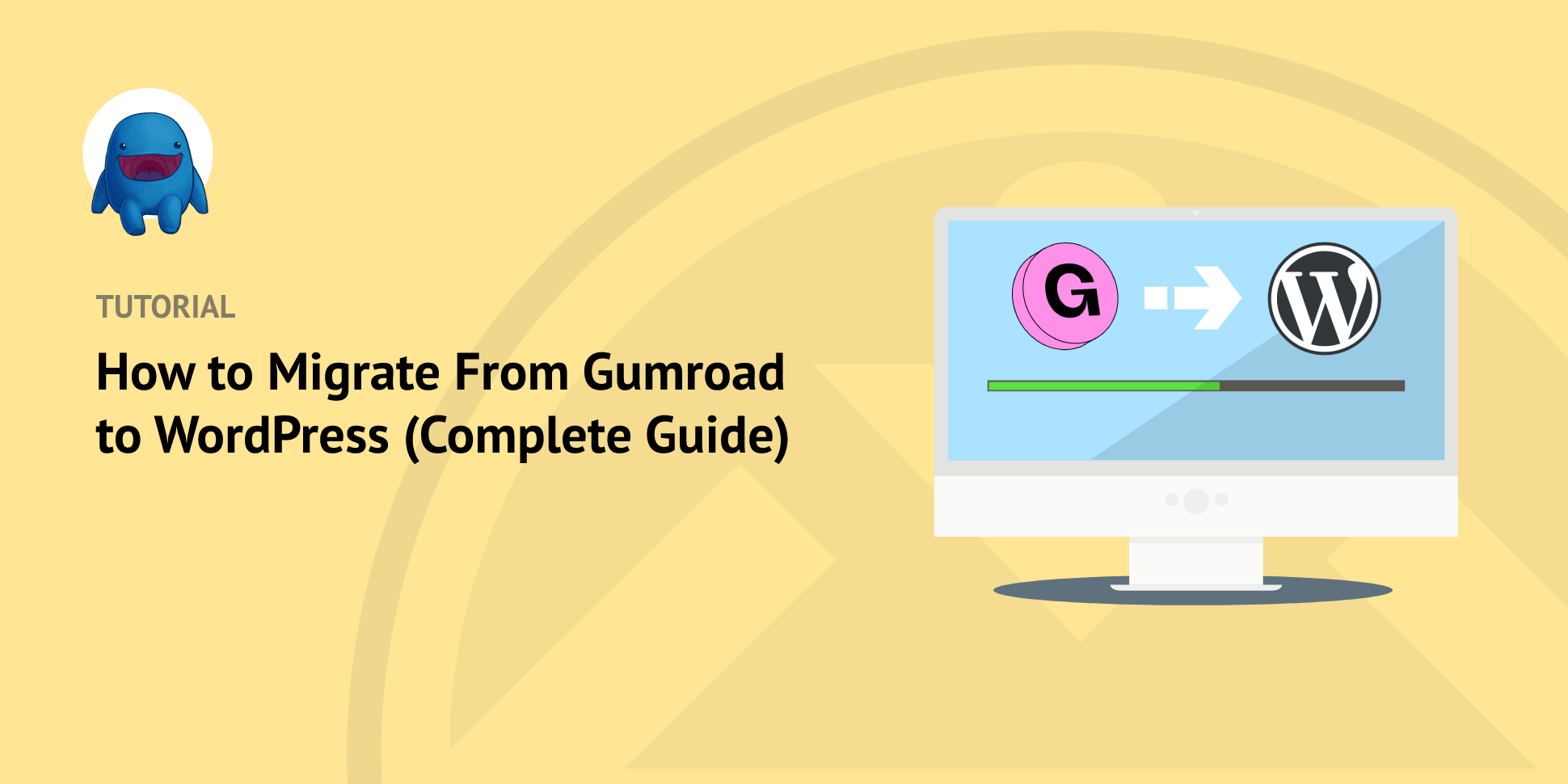 You shouldn't have to pay a fortune to sell your products online. That's why many online business owners are looking to migrate from Gumroad to WordPress.
Fortunately, doing so is easy. All you need is the right eCommerce plugin and WordPress hosting solution.
Easy Digital Downloads offers a powerful, self-hosted way to sell digital products. You won't deal with paying 10% fees for each transaction, which Gumroad is now asking users to do.
🔎In this post, we'll cover:
Why Migrate from Gumroad to WordPress?
One of the most obvious reasons to migrate from Gumroad to WordPress is pricing. Beginning in January 2023, Gumroad will charge users a 10% flat fee on each sale. This doesn't even include the credit card processing and transaction fees. For many users, this is a significant cost increase.
WordPress itself is free to download. It doesn't charge you fees to sell items. You only have to pay for your domain/hosting and any premium extensions or themes you want to use.
But there are many other benefits of migrating from Gumroad to WordPress. It can help you gain more control over your online presence and create a complete eCommerce website without relying on external services.
The Content Management System (CMS) platform is open source, so you can customize it according to your needs and preferences. WordPress provides access to tons of plugins and themes for extending its features and functionality.
It also offers exceptional Search Engine Optimization (SEO) support compared to Gumroad. This can be beneficial if you're looking to boost your visibility in search engine results. Search engines automatically index content created on WordPress sites.
You can easily integrate with third-party services like payment gateways and shopping cart solutions to simplify customer payments.
Migrating from Gumroad to WordPress offers many benefits. It can help you create a more powerful online presence. But it's important to review all aspects of the process to ensure it goes as smoothly as possible.
Choosing a Gumroad Alternative for WordPress
Before making the switch, you'll need to decide on a Gumroad alternative. There are plenty of paid and free eCommerce solutions to choose from. For a list of the best options, check out:
✅ 8 Best Gumroad Alternatives (Free & Paid eCommerce Solutions)
The best eCommerce plugin depends on what you're selling and the type of online store you want to create. For instance, WooCommerce is a popular WordPress plugin for selling physical products. WP Simple Pay is excellent if you don't want a full shopping cart.
If you sell digital products, downloads, and/or subscriptions, the best Gumroad alternative is Easy Digital Downloads (EDD):

Easy Digital Downloads offers similar features as Gumroad, only you get a lot more flexibility, customization, and control. EDD is also completely transparent with pricing. You can get started for free. Even with a premium plan, you won't have to deal with any middle-man fees. Regardless of how much you sell, you'll only pay one flat rate per year.
✍🏻 To learn more about Easy Digital Downloads as a Gumroad alternative, check out:
How to Migrate from Gumroad to WordPress
Ready to get into how to migrate from Gumroad to WordPress?
In this tutorial, we'll walk you through step-by-step how to migrate from Gumroad to WordPress:
Step 1: Set Up Your WordPress Site
Gumroad is a fully hosted solution. WordPress.org, on the other hand, is self-hosted. You can refer to this guide to learn about WordPress.org vs. WordPress.com.
To create and set up a live WordPress website, you'll need:
Domain name (the URL/ web address of your website)
Hosting to your site's files
WordPress installation
eCommerce plugin like Easy Digital Downloads to accept payments/sell products
Secure Sockets Layer (SSL) certificate
The easiest way to tackle all this at once is to use SiteGround's Managed EDD Hosting:
This powerful WordPress hosting solution lets you create and launch an online store within minutes. Each plan comes pre-installed with WordPress, Easy Digital Downloads, and a free SSL certificate.
It also comes with tools for growing your eCommerce site. This includes All In One SEO (AIOSEO), WPForms, MonsterInsights, and more.
After you choose a plan, you can add an existing domain or register a new one: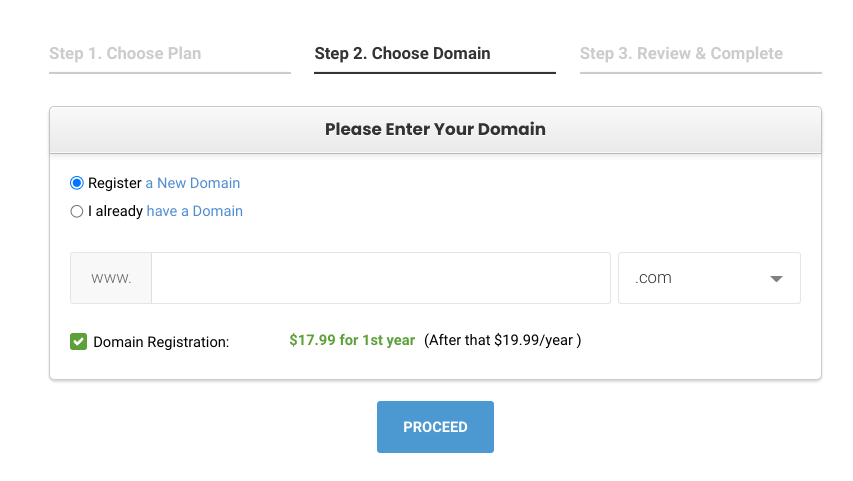 When you finish setting up your account, you can go to Websites, then select WordPress Admin.
This will launch your WordPress dashboard: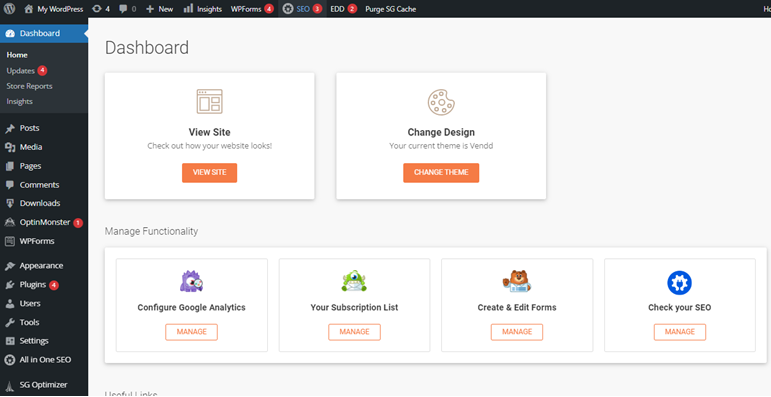 You can begin setting up your WordPress site.
Step 2: Configure Easy Digital Downloads
💡Note: SiteGround Managed EDD hosting automatically installs the free Easy Digital Downloads plugin. You can upgrade to a paid plan (which I recommend) for access to premium features and extensions. For more info, check out Easy Digital Downloads Free vs Paid: Which Is Right for You?
Once you have EDD activated, you can begin configuring the settings to set up your store. To start, you can visit Downloads » Settings » General to enter your basic business info: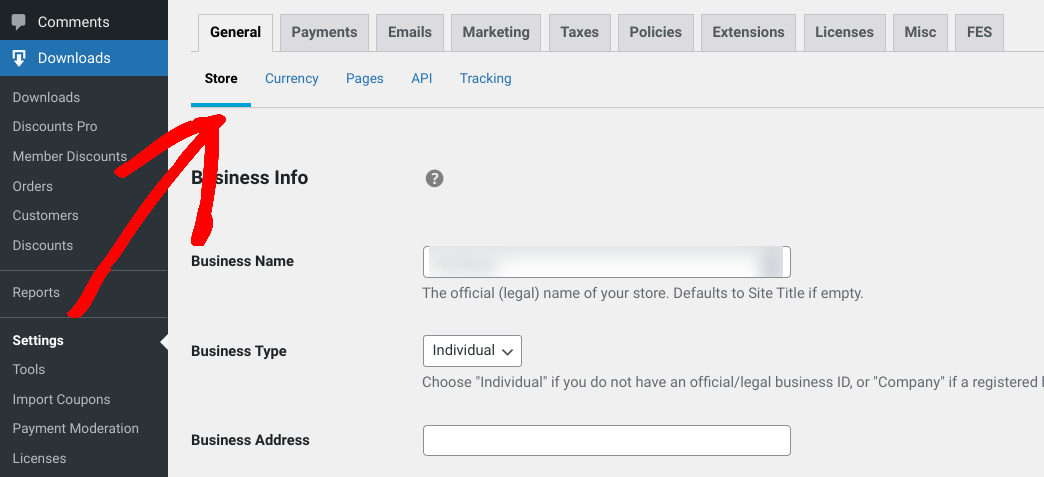 Along the top are various tabs for setting up your store. You'll need to set up a payment gateway to accept payments online (Settings » Payments » General):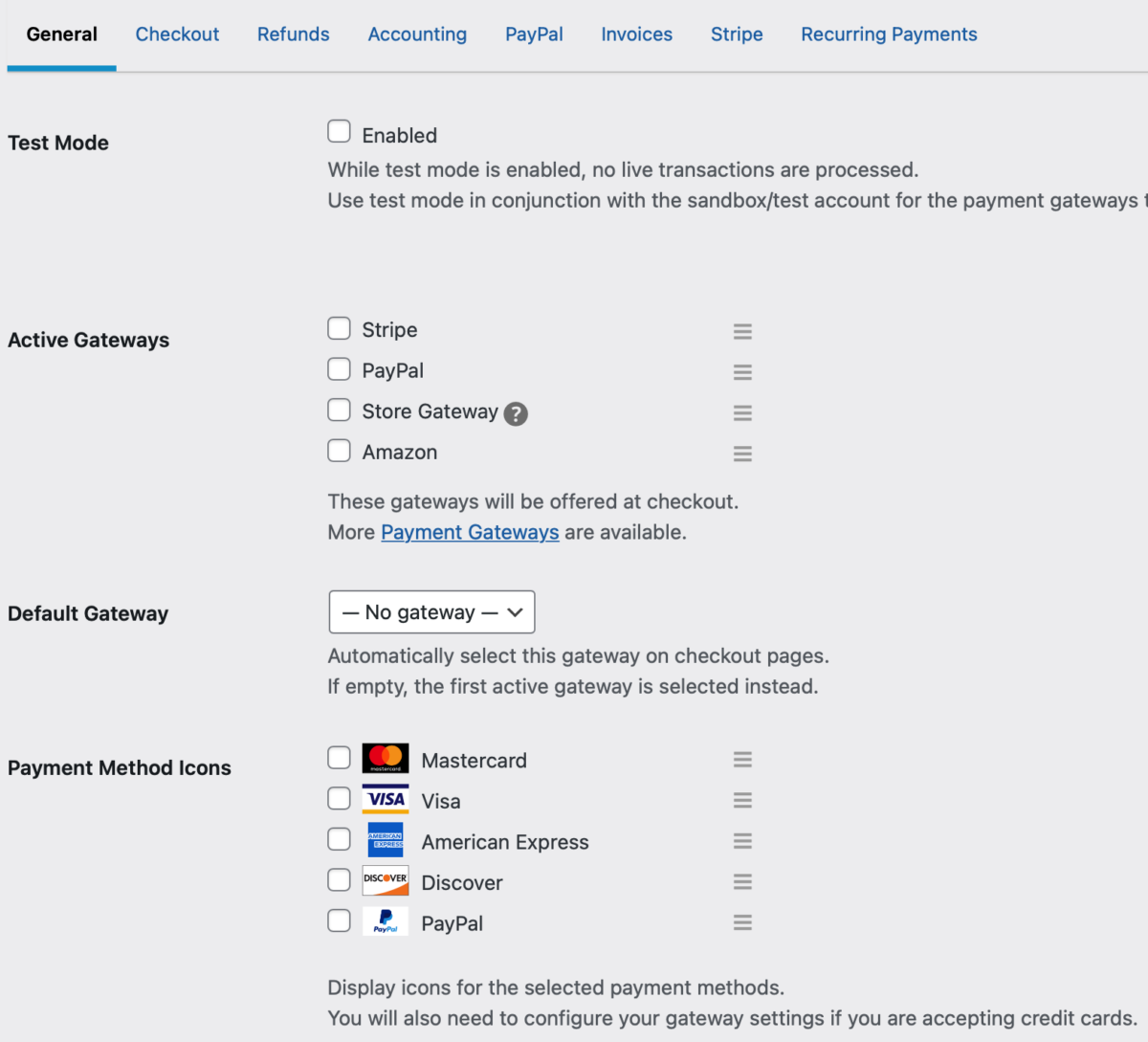 By default, EDD supports PayPal, Stripe, and Amazon payment gateways. You can also add support for additional payment methods via add-ons.
You can select a default payment gateway and which payment icons to display at checkout. When you're done, click Save Changes at the bottom.
This only scratches the surface of Easy Digital Downloads settings.
⚙️For more options and in-depth guidance, check out:
Step 3: Import Gumroad Products to WordPress
The next step is to begin adding products to your digital store. The exact steps vary depending on the product type.
🔗Below, we'll cover the basics. But you can also check out our in-depth documentation on Migrating to Easy Digital Downloads from Gumroad.
Unfortunately, Gumroad doesn't offer an easy way to export product data in a WordPress-friendly format. Therefore, you'll have to manually move your eCommerce products from Gumroad to WordPress.
You can create your first product by going to Downloads » Add New: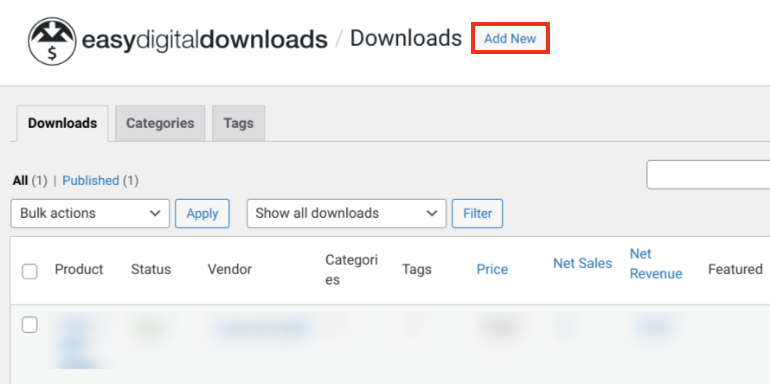 Nearly all Gumroad features for creating a product have a matching EDD feature. The following guide helps you visualize Easy Digital Downloads product settings vs. Gumroad's: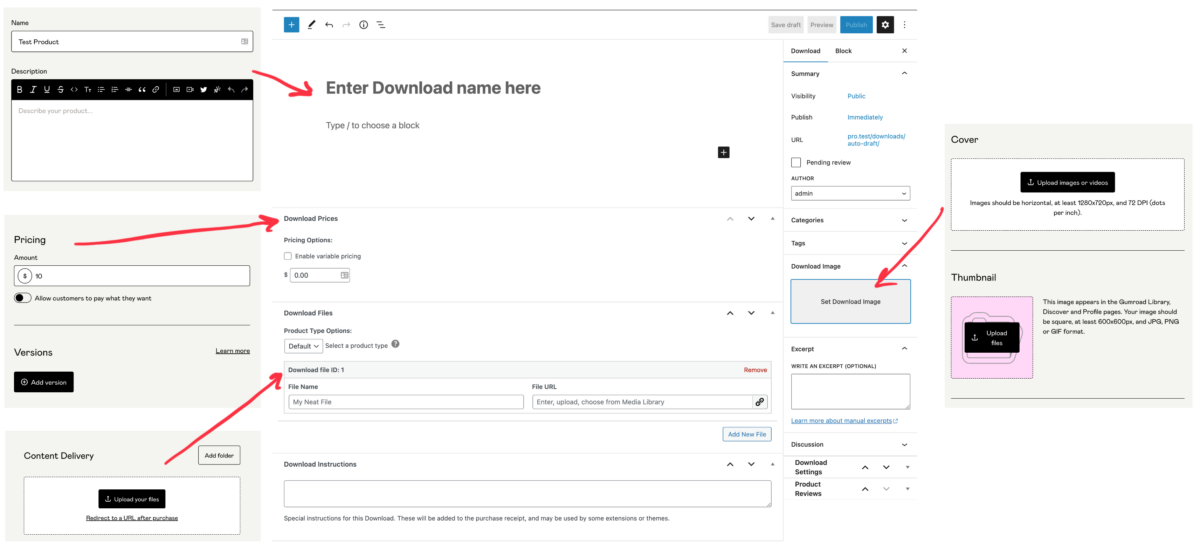 When you create a digital product in Easy Digital Downloads, you'll add a product name and description. You can enter new content or just copy/paste from your Gumroad product descriptions.
Below the editor, you can find Download Options: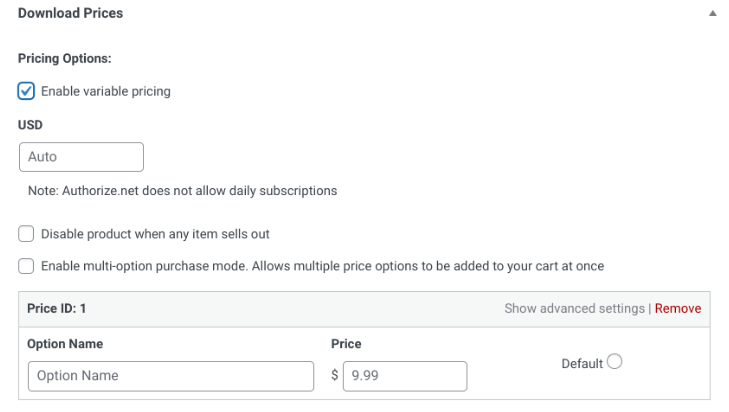 Under Download Prices, you can set the price, enable variable pricing, etc. You can also add a product image and upload a download file(s):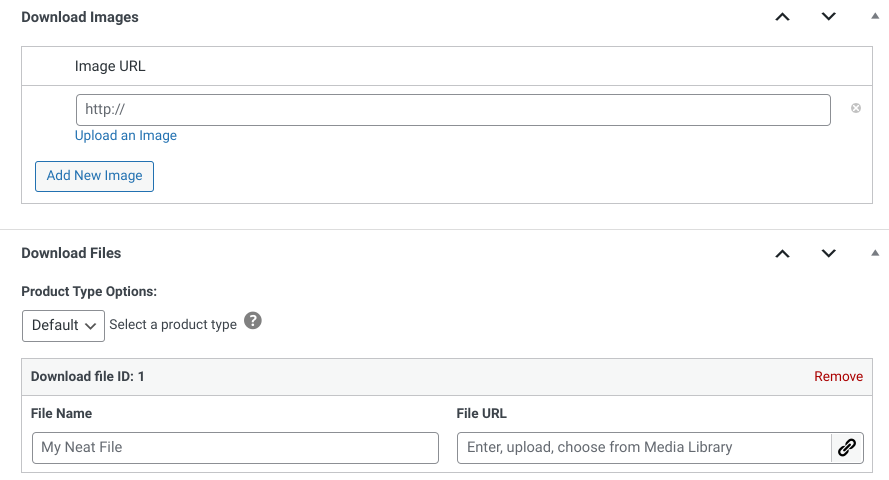 When you're done, select Publish:

This makes your product available for purchase: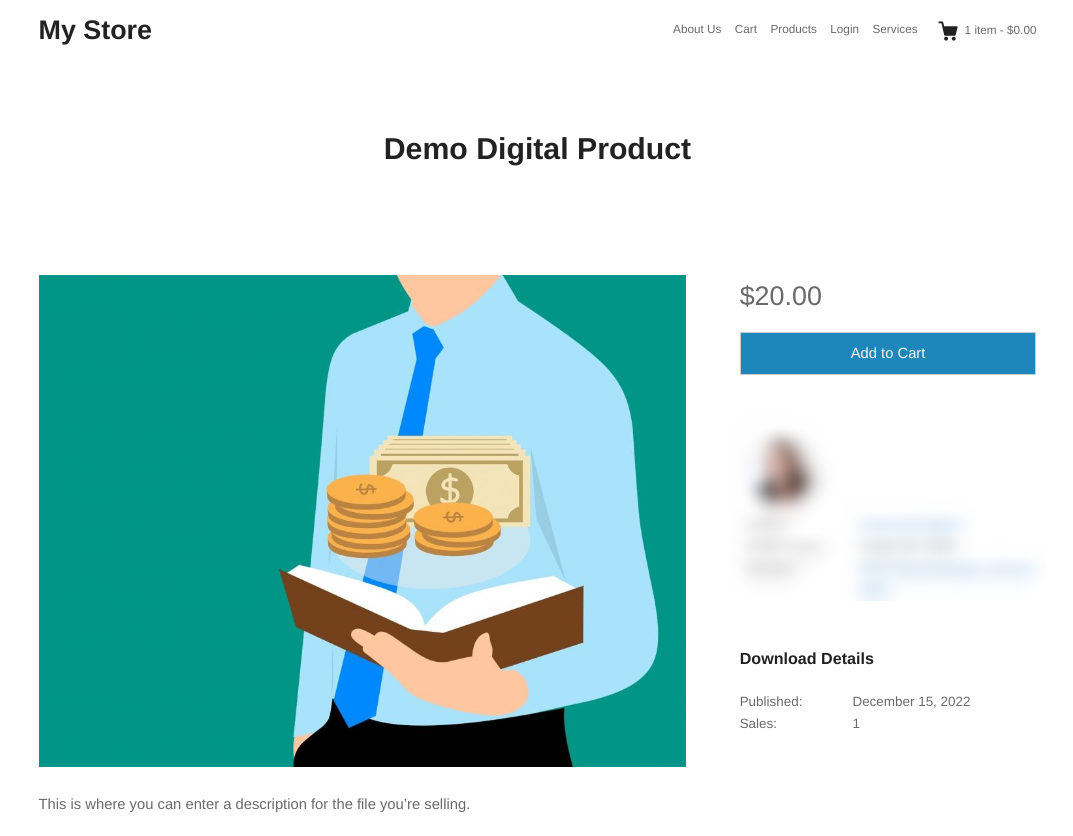 To preview it on the front end of your store, you can select View Download: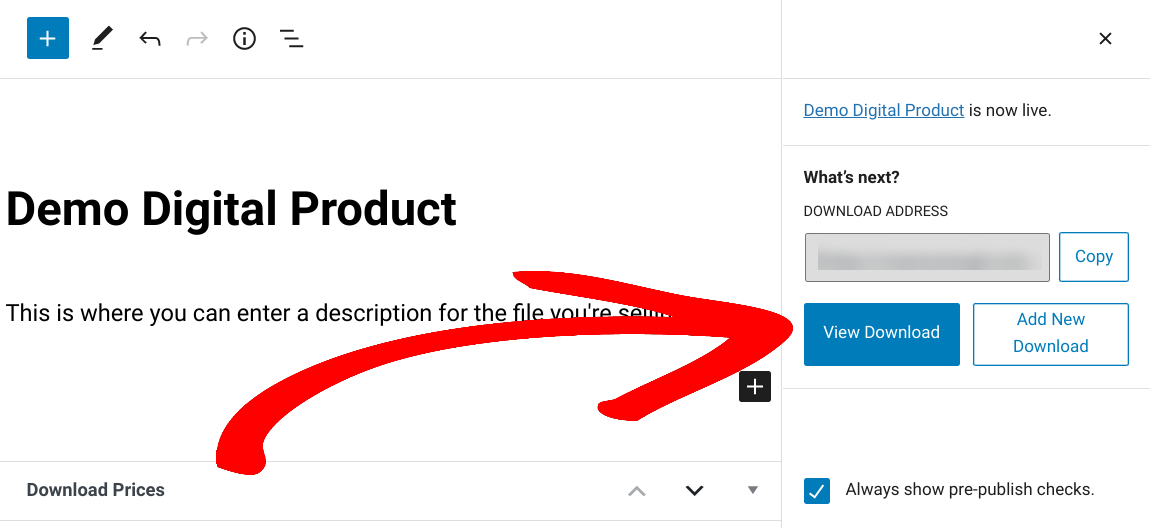 Note: Most of the custom product types available in Gumroad can be created in EDD as a 'Download'. But some Gumroad product types require features only available with a Pro version of EDD. This is why I recommend grabbing a premium pass.
Step 4: Migrate Subscriptions from Gumroad to WordPress
If you sell subscriptions and want to switch from Gumroad to WordPress, you have a few options. The Easy Digital Downloads equivalent is the membership product type.
With EDD Pro, you can offer recurring digital subscriptions with Recurring Payments. You can also use Content Restriction to restrict your site content based on a user's purchase history. Both Recurring Payments and Content Restriction features are available with the Extended Pass.
Another option to sell memberships or online courses is to use a plugin such as MemberPress:


💰 For guidance on using any of these methods, check out How to Sell Subscriptions with WordPress (3 Best Ways)
Step 5: Install & Customize Your WordPress Theme
Once you have your online store set up and you've added your digital products to sell, you may want to customize the appearance of your storefront. One of the best ways to do that is to select a WordPress theme designed for eCommerce.
There are plenty of free options in the WordPress Theme Directory: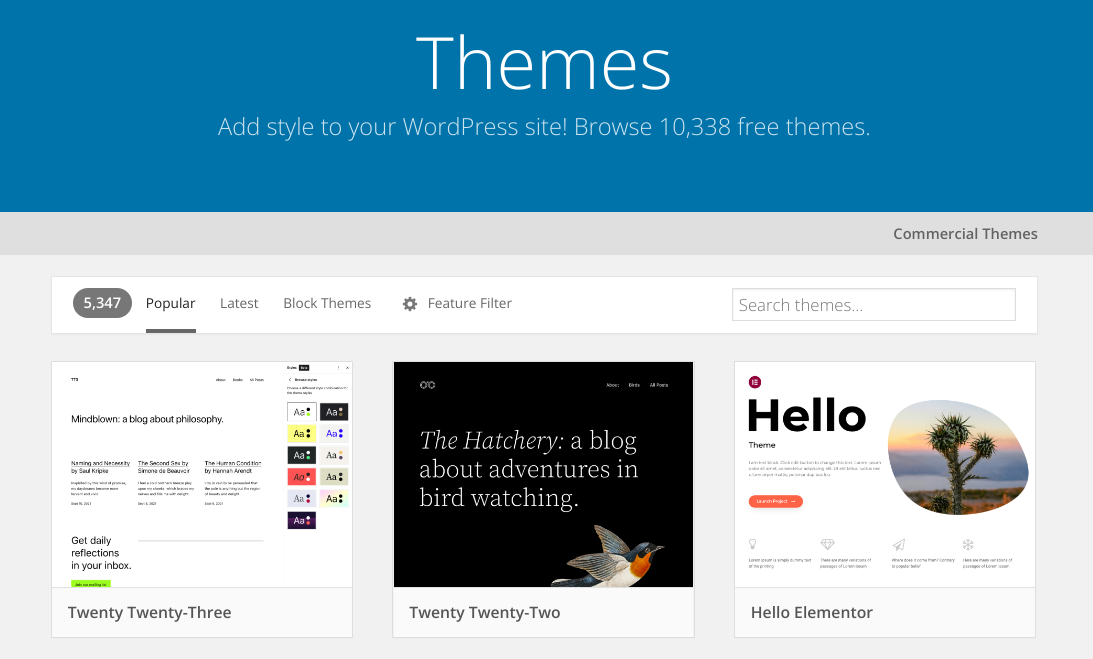 Themedd is an excellent theme that's geared toward online selling. Plus, it's free, extensible, and fully supported by Easy Digital Downloads: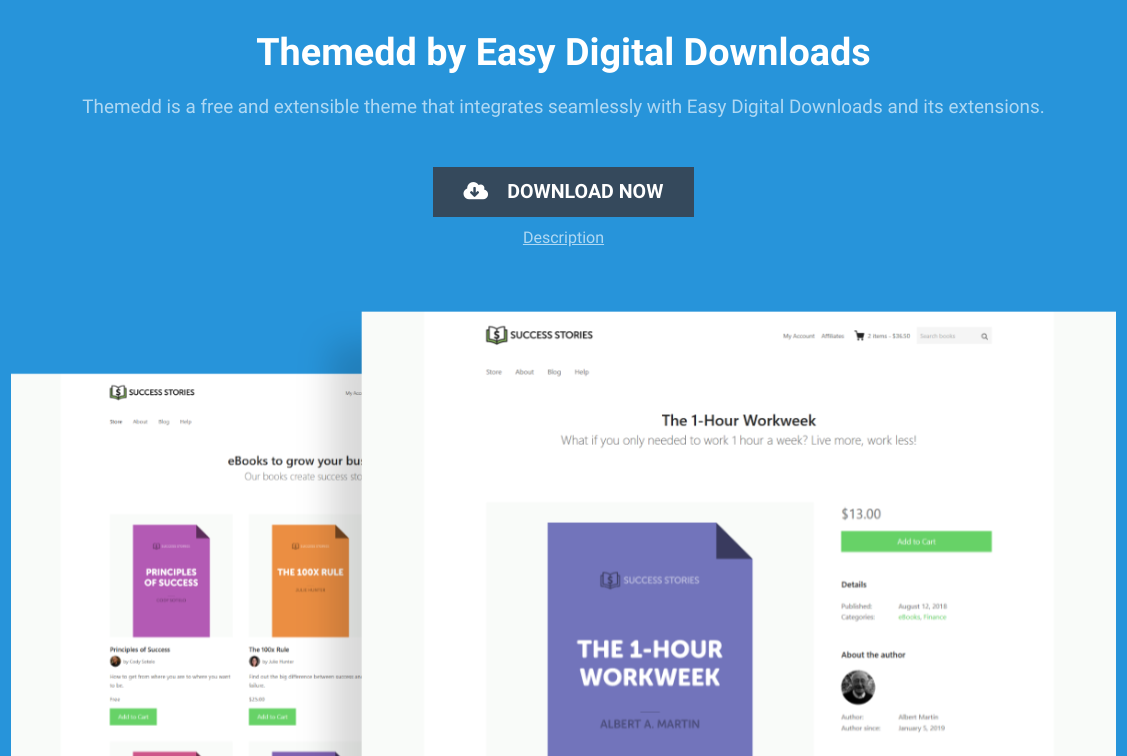 It's one of several EDD themes that are easy to use and integrate with extensions.
Once you choose one, you can install and activate it. For help with this, use this guide on How to Install a WordPress Theme.
Next, you can go to the WordPress Customizer (Appearance » Customize):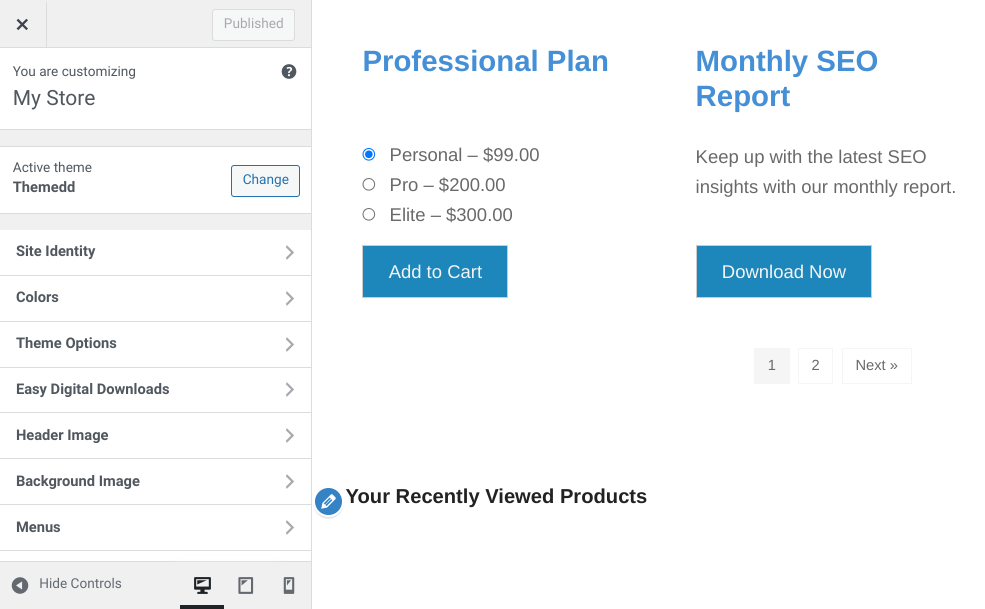 Here, you can adjust fonts, colors, menus, etc. Also, especially to beginners, I recommend using a page builder like SeedProd:


This WordPress plugin helps make website theme and product page customization even easier. You can use the drag-and-drop interface to insert pre-built templates and build landing pages.
🖌 You can also learn How to Make a Custom WordPress Theme.
Step 6: Configure EDD Emails & Purchase Receipts
Like Gumroad, Easy Digital Downloads uses emails to send customers purchase receipts (and other info). To change or manage your receipts and emails, go to Downloads » Settings » Emails: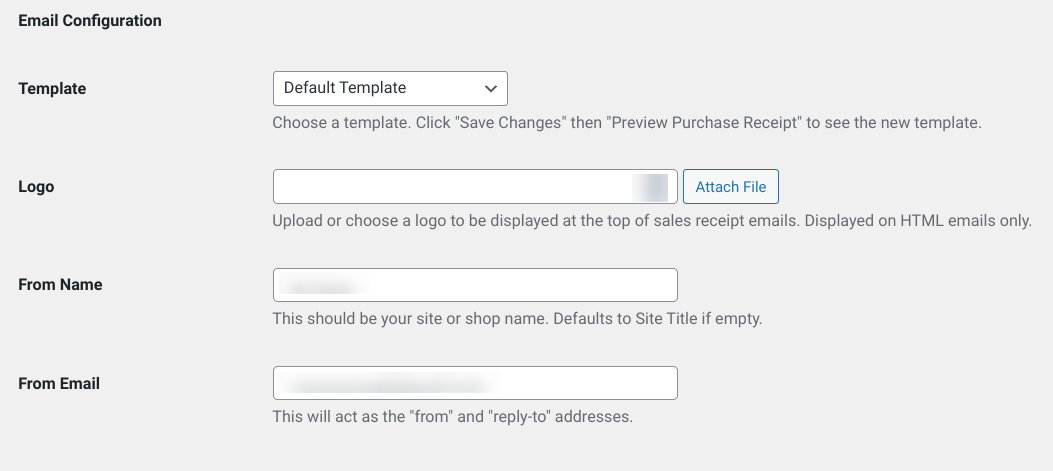 On this screen, you can add your logo to display in emails, configure the sender's name, and more.
Under the Purchase Receipts tab, you'll find options for customizing the email text: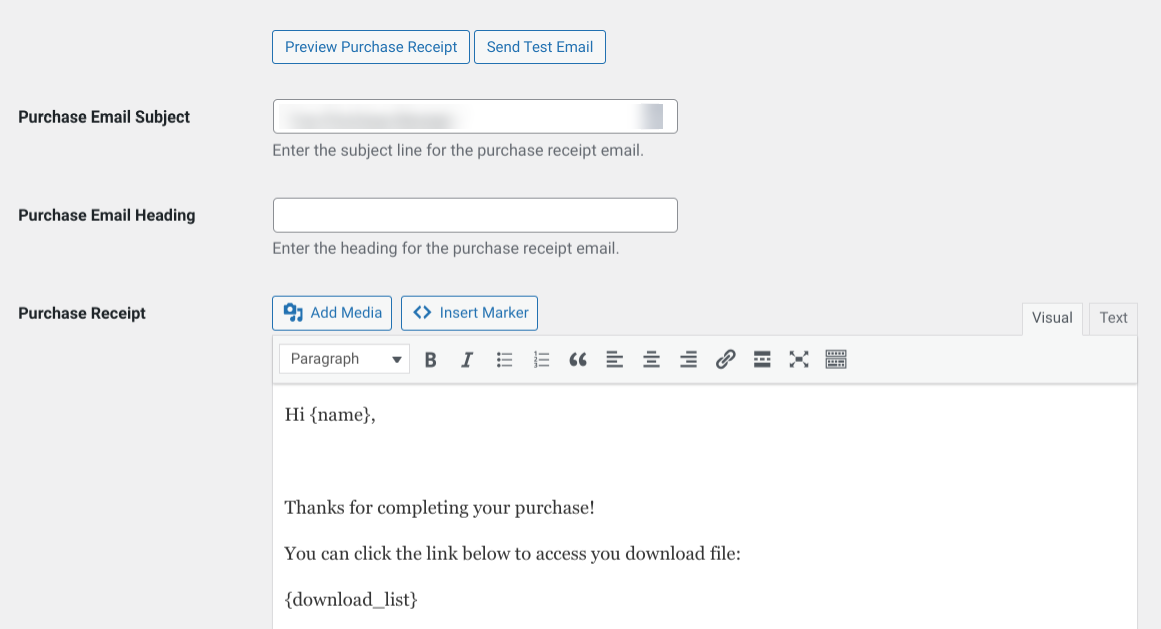 You can add the title, subject line, and email text for the email receipts. You can also test and preview what the purchase receipt email looks like: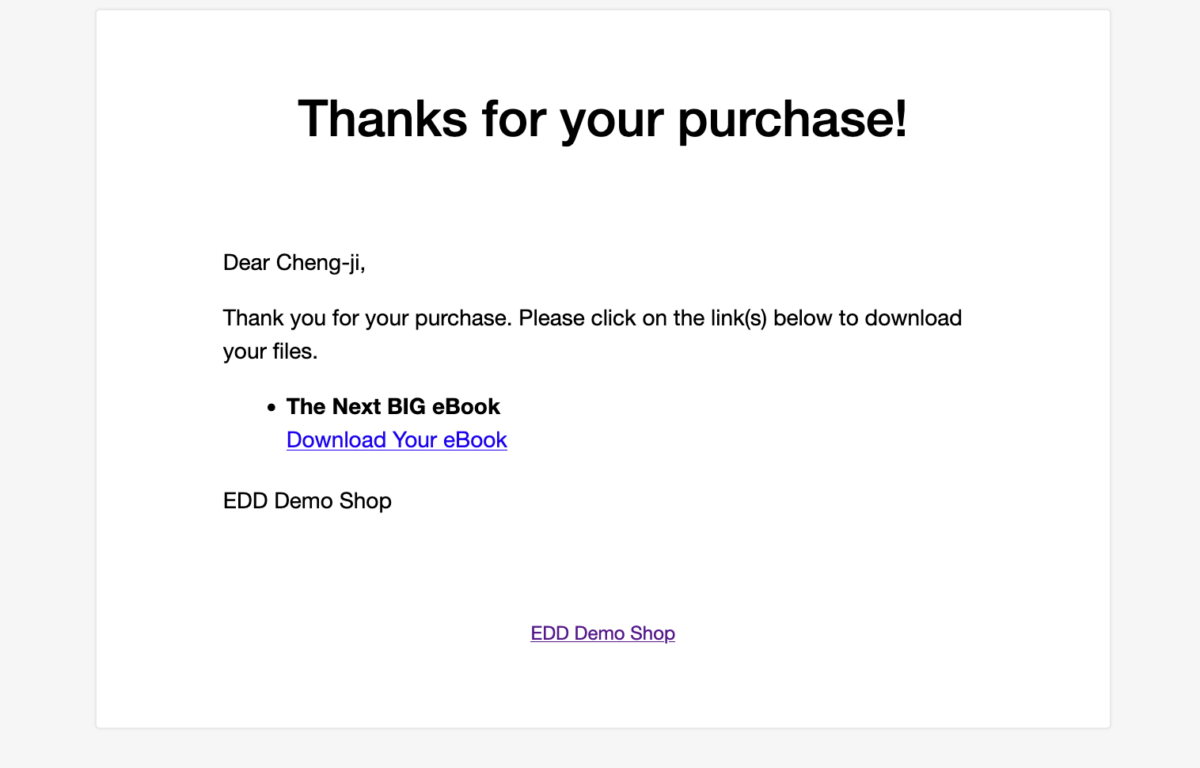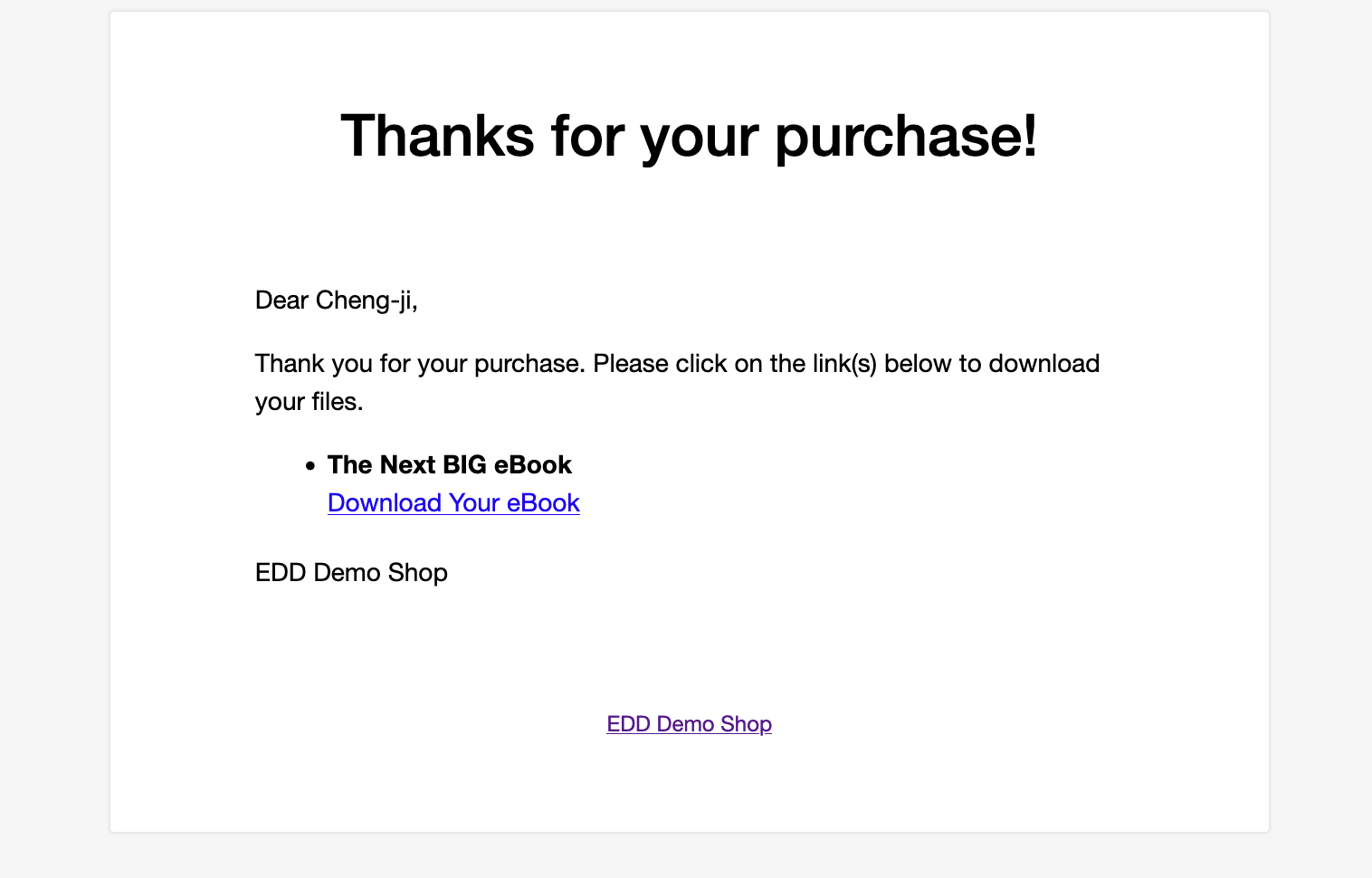 Unlike Gumroad, Easy Digital Downloads also lets you integrate with dozens of third-party services and email marketing tools. This includes:
There are so many different ways you can increase email newsletter signups and grow your email lists. For instance, you can place opt-in/subscribe widgets in your footer and sidebar or add an exit-intent pop-up.
Other EDD Features to Migrate from Gumroad to WordPress
So far, we've covered some basic features and settings for migrating from Gumroad to WordPress. But there are some additional EDD options/feature equivalents to know about.
For instance, Easy Digital Downloads offers stand-alone discount code management (Downloads » Discounts » Add New). Discount codes aren't tied to a single product. You can offer customers discounts on all products, specific products, or exclude products.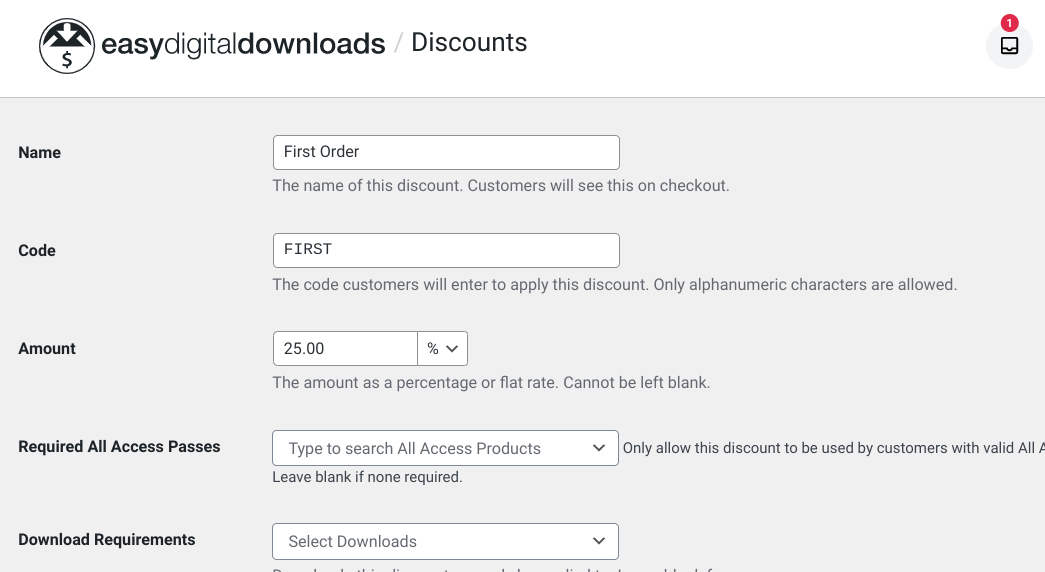 You can also configure more advanced features, like starting/expiration dates, percentage or flat rates, and maximum uses. Read our full documentation on discount codes.
Below, we've outlined some more Easy Digital Downloads equivalents to Gumroad features:
Migrate from Gumroad to WordPress Today
If you're looking for a Gumroad alternative and want to switch to WordPress, Easy Digital Downloads is an ideal solution. Our self-hosted eCommerce platform lets you create and optimize your own WordPress-powered site.
Ready to migrate from Gumroad to WordPress?
Whether you already have a WordPress site or want to create a new one, you can head to our getting started page and start selling today!
📣 P.S. Be sure to subscribe to our newsletter and follow us on Facebook or Twitter for more eCommerce resources!