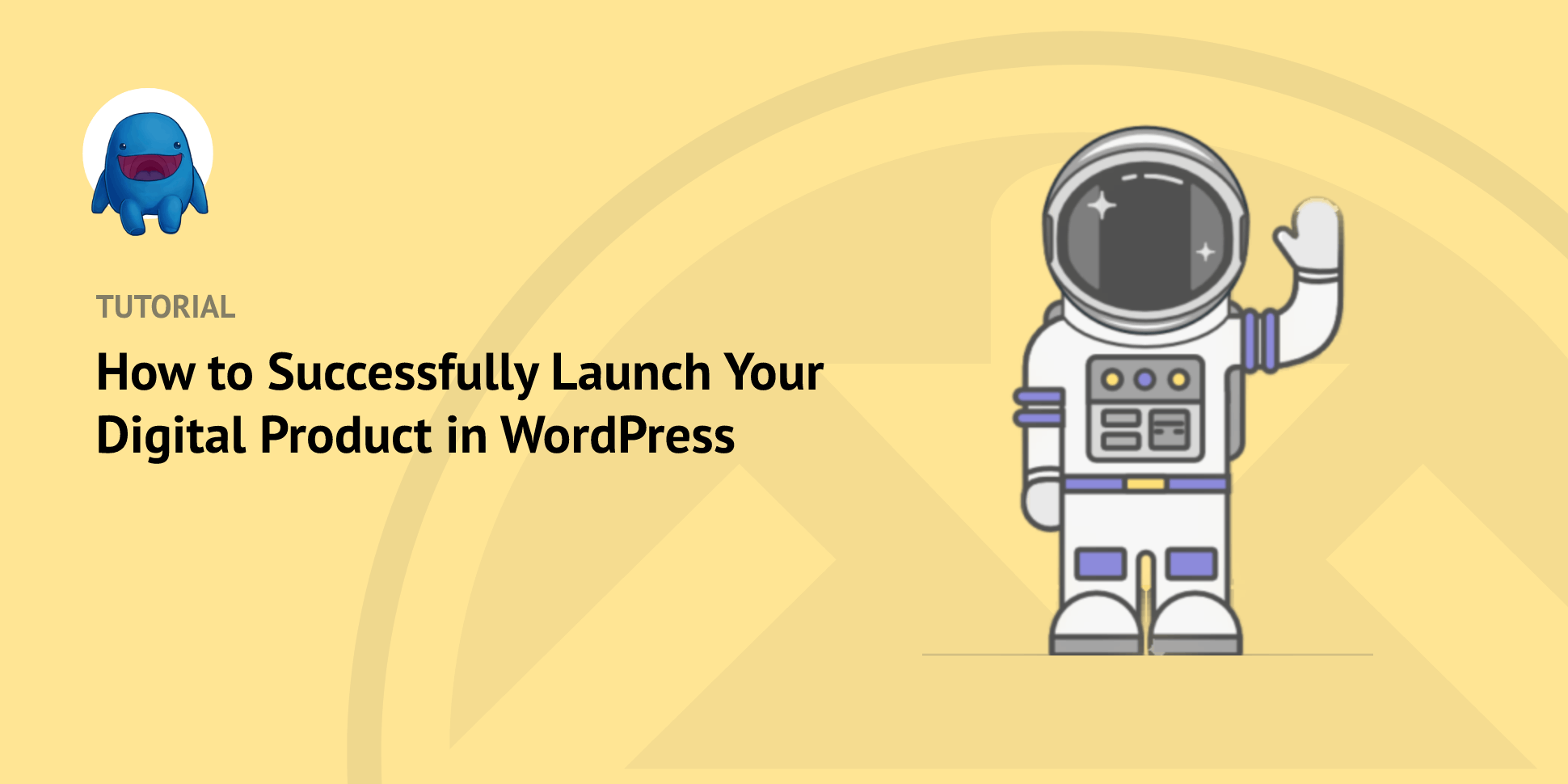 Ready to launch a digital product? You Rock! In this article we'll show you how to successfully launch your digital product.
By now, you have:
✅ Researched your market
✅ Validated your digital product idea
✅ Defined your niche
✅ Created your digital product

✅ Got it to at least in the MVP (minimum viable product) stage
Now what? 🤷🏽‍♀️
👉🏽We have a six step plan for launching your digital product!
---
1: Ensure Your Product Is at the MVP Stage

Let's get to work. We've broken this step down into sub-tasks:
Let's make sure we define what we mean by a digital product. Believe it or not, this can be confusing.
1:1 What Is A Digital Product?
A digital product is not a physical product:

Physical products include clothing, food, and any goods;

Things you can hold in your hand.

Digital products include PDFs, eBooks, software, music, photos, video games, graphic/document templates, or online courses;

Something you use on an electronic/digital device.

There are several synonymous terms for digital products that you may want to keep in mind and use on search engines as you research:

Downloadable products
Downloads
Virtual goods
Digital downloads
❓MVP = Minimum viable product.
An early version of your digital product with the minimum number of features working so early customers can use it. You can learn and improve the product from early user feedback.
If you're considering the launch of your product, you've already done enough market research into a niche to know there is a sizable market of people looking for products like yours.
❓Niche/segment
A market niche or market segment is a smaller group of customers in a larger market that have unique wants or needs.
1:2 Doing Market Research
Hearing the term 'market research' might sound scary. It doesn't have to be a formal process done by expensive consultants or experts (although that can't hurt).
You can do informal market research just using search engines like Google and Bing. It just means understanding your potential customers.
Read the websites and social media profiles of your potential customers. Figure out what their problems are and how to tell them about your solutions to their problems.

Make sure your digital product solves a problem for your market niche or segment. Also be sure you know how to communicate that solution.
1:3 Creating An MVP Digital Product
We're kinda assuming you already have a product built if you're here to learn how to launch one.
But if yours is still in the works, we have plenty of articles to help you develop a successful digital product. Check out our articles about:
1:4 Make A Plan
Launching a digital product that you've spent hours of blood, sweat and tears creating is a nerve-wracking experience. How you proceed from this point will determine if you have a successful product launch.
Your product might not yet be 100% complete. Maybe a digital product never is, because you can keep improving it. But once you have an MVP, you need to make a plan for taking your product to the people.
---
"By failing to prepare, you are preparing to fail."

– Benjamin Franklin (Printer, Inventor, Co-founder of the United States of America)
---
With no planning, you may find yourself scrambling to promote your product when there's already a market ready for it.
😁 Don't worry, you have a plan. You're using this 6-step plan. And you're almost ready for step 2!
It's extremely common for people to commit to a launch date, then panic and rush to fix a website issue at the last minute because they didn't test that everything was working as expected. Plan and prepare as far in advance as you can. But first…
---
2: Build Your Audience

Have you already started building an audience?
😇 YES – Yeahhhh, I knew you had! Awesome! If you're already building an audience, you have a head start. You should always be working on this.
😅 NO – If you haven't started yet, and your MVP is ready for launch, you need to start building an audience sooner rather than later. Like, last week. But that's OK! The important thing is to get started.
As wonderful as it would be, people won't magically come to your website when you launch it. They need to find out about it somehow. Let's look at some ways you can start growing an audience ASAP.
Sub-tasks:
2:1 Define Your Target Audience
Your product won't be useful for everyone in the world. But there is a group of people who your product will be absolutely perfect for. When your first had your business idea, you may have already had an idea of who you were building this product for.

Perhaps you were scratching your own itch, or perhaps you have an incredible talent to share with the world.
Personas
Your audience will eventually be made up of people who are interested in your industry, product niche, or you. But who are those people? Try to imagine them and think like them. Create personas.
❓Personas:
Personas are ideal sample customers you describe to help you develop a marketing strategy. For example, if you're selling a youth fiction eBook, you'd create a persona like this; Jimmy is a 10 year old who loves reading, dragons, and legos. Then think through how to reach him.
Spend some time thinking in detail about who those people might be.
What do they do?
What is important to them?
What motivates them?
How old are they?
What struggles or frustrations do they have?
When defining your audience, also consider the following points:
Do you have existing customers who have purchased another product you created?

Are those customers also likely to be interested in this product?

What need does your product fulfill, or what pain point does your product solve?

This will help you determine where to find your most valuable customers.

If you, yourself, are your "ideal customer", how would you learn about products like the one you have created?
The answers to these questions will help you target your launch to a more refined audience.
These are also the first steps toward helping you create a Customer Persona or Buyer Persona for future digital marketing, which you can start diving deeper into when you have an established customer base.
❓Digital Marketing:
Don't let this term sound overwhelming. It simply means finding and communicating with customers on the internet. It's outreach on websites, blogs, apps, and social media.
2:2 Build An Email List
Create a form on your 'Coming soon' page (more on these below) to capture email addresses (leads). Store subscribers in your chosen email marketing/marketing automation service.
Don't have an email marketing service?
Click here for a great guide on choosing one.
If you're using WordPress there are numerous form builder plugins and standalone plugins that connect your website to your email marketing platform.
Don't have a form builder?
We recommend WP Forms. Few things in life are truly easy-to-use and powerful. WP Forms really is! It's the easiest and best way to build forms with WordPress.
2:3 Guest Posting
Creating guest posts on already-established websites can help stir up new audiences and make them aware about your product. Busy bloggers love the extra help. Reach out to like-minded websites and companies and offer to write a guest post for them.
Being a guest can work for any online platform: blogs, ecommerce sites, podcasts, and webinars.
2:4 Reviews or Testimonials
Provide a demo, sample, or beta version of your product to friends, industry blogs or influencers in return for an honest review.
If they are too busy to try out your product, ask if they will give a testimonial about you or your company's trustworthiness.
Ask them to encourage users to visit your website if they're interested in learning more about your product.
Once you have an audience being built, you're ready to make your launch plan!
---
3: Create A Launch Plan

When is the best time to launch your product? Great question! The answer is, there is no "best time" to launch your product. It all depends. We'll explain…
Let's look at what has to get done. Here are the sub-tasks:
3:1 Have a Way to Sell Your Products
How are you going to sell your digital products? You need a way to accept payments and serve up your product files while protecting them from non-paying customers.
We can totally handle this for you. Oh, and for free! 🤯
The best way to sell your digital products is on your own ecommerce website.
The best way to do that is with WordPress and Easy Digital Downloads.

Why WordPress?
WordPress is the best mix of a powerful and affordable platform. It's futureproof. With the world's largest network of professional services providers, you can always find someone to help you customize it to your needs.
WordPress has the largest collection of free and paid themes, as well as plugins to add functionality. It can do whatever you need it to do, and it will always be that way.
Want proof? It powers 43% of the internet.
Why Easy Digital Downloads (EDD)?
Like WordPress, EDD is that magic mix of powerful and affordable. How affordable? Free! You can use it free forever.
EDD has a proven 10-year track record as one of the most trusted WordPress plugins ever made. More than 50,000 business, large and small, rely on it every day for selling their digital products.
Let's look at some pros and cons of other platforms:
| 👎 Other eCommerce Platforms | 👍🏾 EDD Is Better |
| --- | --- |
| WooCommerce, BigCommerce and Shopify are great platforms. However, they are not built for digital products. Shopify and BigCommerce have no free version, just a free trial. | EDD is purpose-built for selling digital products. The EDD team spends all its time focused on making digital selling better each day. EDD has a free forever version allowing you to get started with no overhead expenses. |
| Marketplaces like Etsy or CreativeMarket are easy to get started with. But they charge high fees. The more you make the more they take. Some marketplaces limit the price you can charge for your own stuff! Marketplaces also don't offer direct communication with customers and potential customers. | With EDD you keep more of your revenue. You have full control over the customer experience, pricing and direct communication. People will take your product more seriously if it has a high-quality website and store. Smart entrepreneurs know that it's not easy to build your own business on someone else's website. |
What are you waiting for? Get EDD for free and get on with your launch checklist.
Using WordPress and want to get Easy Digital Downloads for free?
Enter the URL to your WordPress website to install.
EDD Grows With You
You can use EDD free forever. However, as you grow, your needs may change. When that happens, purchase and EDD Pass to add features like email marketing integration, subscription billing, or software licensing.
3:2 When NOT to launch
There's no perfect time to launch. But eliminating when NOT to launch will help you choose a good time.
Avoid Holidays
We suggest you avoid big seasonal holidays and well-known sale periods. Your potential customers will probably be saving their hard-earned cash for already-established products that go on sale.
Or, at Christmas for example, they will be spending a lot of money on big gifts, travel and events.
Be wary when launching around minor public holidays. Like with Christmas and other such holidays, retail companies are known to discount heavily during these days.

This could mean a dip in consumer spending on digital products. Also, many people head out of town during long weekends, so you might not be reaching as many people as you could if you launched away from a long weekend.
Skip Mondays, Fridays, Weekends
Time of week is another factor.
How do you feel on a Monday? Many people feel busy, tired, and overwhelmed.
How do you feel on Friday? We've all been there, watching the clock, counting down to the weekend.
Most people are too busy to be receptive to new products during the weekend.
Consider a launch date between Tuesday, Wednesday, and Thursday for maximum impact. Catch them mid-week when they are more focused.
Consider Timing in Your Niche
Consider launching at a time that makes sense for your product and marketing niche/segment. Don't forget to think globally, not just locally, if appropriate.

This is best explained with some examples:
Have you created an eBook targeted at health and wellness? January is an excellent time to launch and ride the wave of New Year's resolutions (in 'the west').
Designed a full planner for DIY weddings? Launch in winter to help couples organize and finalize planning their big day (usually in spring/summer).
Are you launching a website with courses that can help students? Launching before the school year starts is an ideal time (and may be different in each country).
Created a set of downloadable knitting templates? Get your customers prepared for winter and launch early in early fall/autumn before it starts getting too chilly outside.
Built a gorgeous new WordPress theme for websites? Encourage businesses to start the year with a fresh new look and launch in October to give people time to refine their design.
From our experience, seasonality can be a big factor. For digital products, there may be a decrease in spending during warmer seasons as people spend more time outside and away from home or the office.

Similarly, when the temperatures drop, people might be more inclined to escape cold weather for warmer climes. Or they may be ready to focus on working on business (where you might come in).
You know your niche, make the call that is the best for your product.
3:3 Early Marketing Strategy
Your product could be a game-changer, but if you don't promote your upcoming product, nobody will know about it. And nobody will buy it.
---
"Don't go from dead silence to "we're live" without creating any kind of buzz."

– Kyle Maurer (Former Operations Manager at Easy Digital Downloads)
---
Communication is 100% the most important element of taking your new product to market. There are lots of marketing channels and strategies you can use to promote your product when you are planning to launch.
Here are a couple of our favorite ways to start generating buzz around your launch.
Add A 'Coming Soon' Page
Mystery is an effective hype tactic. Humans are curious by nature. Tease people by providing them with a little information, and then ask them to sign up to join an exclusive waiting list.
Add a countdown timer to generate anticipation as your launch draws nearer. Add social sharing links on the confirmation page people are shown after they sign up, so they can share your site with friends and followers!
Not sure how?
Use SeedProd. SeedProd is a visual landing page and website builder. It's great for making coming soon pages with countdowns. When you're ready you can even use it to design your entire website theme, all with an easy-to-use drag-n-drop interface. No code ever!
Free (Or Low Cost) Marketing Activities
You've started building that audience, so now you can engage them with emails! Send a pre-launch email to your subscribers to fuel the excitement, and a launch email to notify your audience when your product is available.
Write guest articles for other blogs aligned with your industry. It might take some time to find the right blogs to approach, but when you do, and if they accept, you have an opportunity to communicate with a new, engaged audience about your product.
Creating demos or providing sneak peeks of your digital product will allow you to show potential customers what they're buying before they purchase.
Offer your product for reviews from experts and influencers in your industry who already have captive audiences and social followings.
Craft and schedule posts on your own social media accounts to create more positive noise about your upcoming launch.
If time is limited, you can choose to focus on one primary channel (i.e. a review by an industry expert) and use other channels to support that channel (i.e. emails, social posts, and other articles).
3:4 Promotional Pricing
By now, you've probably already thought about, or done some research into, how to price your digital product/s.
For the actual launch time consider doing some promotional pricing tactics to draw more attention.
Free Trials
Pre-orders
Early-bird discounts
Free Trial Periods
A free trial gives customers the opportunity to fall in love with your product before they spend their money with you.
It gives them an opportunity to use or access your product to ensure it delivers on your promises.
You can also offer a free trial period and require the customer to provide credit card details to take advantage of this offer. This means the customer will be charged when the free trial expires, unless they cancel their account before their trial period ends.
Remember to think about the length of the trial period you intend to offer, and ensure your purchase terms or refund policy also takes the trial period into account.
Free Trials with EDD
EDD Makes it easy to do free trials with the Recurring Payments extension. Set up free trial periods with automatic recurring billing after the trial period ends!
Take pre-orders
With all the hype you'll be generating, opening your doors to preorders allows customers to invest in your product before it's even available.
The number of preorders you get isn't the only or best measure of success. However, it can help you learn which channels of communication have been effective in driving customers to your website who are already eager to purchase.
Early Bird Discounts (or Access)
When you have set your pricing for your digital product, offering it at a discounted amount for a short period of time can help drive significant sales at launch.
This pricing tactic can be used for pre-orders, or after your official product release.
Here are some examples:
For pre-orders: "Pre-order now and save 20% on the full product price. Prices will increase on our official launch date!"
When you launch: "Secure our special launch pricing and save 20% when you purchase this week only!"
---
4: Test Everything Is Working Correctly

Does your product work? Does your ecommerce website work? Excellent!
As long as your product delivers what it says it does, you can start rolling out your launch as soon as you are ready.
Extra features can be added in future versions or included in your offering as your product gains momentum and your customer base grows.
🚨 But first, test everything.
Test, and test, and triple check your product.
Whether you are selling software, eBooks, music, photos, videos, or something else, you need to ensure your digital product MVP works as it's supposed to.
Have you tested the software?
Have you read and re-read your eBook?
Does the video file play correctly?
Is the music file free of skips?
Are your photos high enough resolution to launch with?
If you're selling digital products that are not software, make sure they are as free from errors as they can be. Ask other peers or industry influencers to check out your products before you launch. This is another great way to build awareness!
You can even hire someone on freelance sites like Fiverr for help.
Beta Testing
If you are selling software, start beta testing your MVP. Beta testing before your official launch is hugely beneficial to your business.
❓Beta testing
Testing your software in real-world settings. It's the last step before releasing the software product to the general public (before it's "in the wild").
Beta testing is a test run for your product. Multiple beta testers can help you pressure test your product before you launch to find how it will handle heavy site loads or scaling.
It will allow you to find any major or problematic issues you might have missed when you were building. We are often too close to our own products to see some issues.
It allows others to evaluate the customer experience – how is the product received by other real people?
As mentioned above for non-software digital products, it can help build awareness of your product. People who are willing to beta test products are often industry-savvy. They will be able to provide you with invaluable feedback, as well as potentially engage their connections when you're ready to launch.
---
"Grab some beta testers to help check for any HUGE problems, but then go for it. It's better to launch your product imperfect and fix things later than never launch at all. It's never going to be truly perfect."

– Ashley Gibson (Former lead developer of Easy Digital Downloads)
---
Beta Testing with EDD
EDD is ideal for selling software from WordPress plugins and themes all the way to desktop software. Our Software Licensing extension handles all aspects of license codes, activations, renewals and cancellations. Software Licensing also has an easy-to-use beta releases feature.
Test Your Website
If you are using a marketplace, make sure all your copy and links are correct, and complete a test purchase.
If you are using your own website, check everything. No one will do it for you (unless you ask someone). Check the links throughout your site, your user registration process, and your checkout process.
💸 You absolutely need to be able to take payments on your site when you launch!
---
5: Launch Your Product

We will 'stagger' this step into several phases.
A staggered launch strategy allows you to plan what information you're going to share, and when.

You can roll out well-defined phases of your launch in small, frequent segments to keep your messages focused and to keep driving momentum.

Smaller launch phases ensure the conversation about your product is fresh instead of hammering your audience with the same messages over, and over, and over again.
Here's a quick, very loose example of how you could go about staggering a product launch, using software as an example:
Phase 1: Pre-Pre-Pre-Launch
Give access to beta testers to help fine-tune for MVP and gather feedback
Launch coming soon page specifically for product to collect email addresses
Start creating content on website optimized for SEO based on search terms for industry
Contact industry blog to ask if possible to write an article for new product
Phase 2: Pre-Pre Launch
Write guest article for industry blog to generate excitement for new product
Ask beta testers to write reviews on MVP product in exchange for free copy of software
Use social media posts to generate buzz
Phase 3: Pre-Launch
Open up pre-orders with early access pricing
Send pre-launch email to mailing list audience offering discounted pre-order pricing
Publish more SEO-optimized content to continue building awareness
Final push with social media before launch
Phase 4: Launch
Launch event on website with exciting imagery and content
Industry blog posts guest article
Social media posts for two weeks from launch pushing to article on industry blog, and website
Send launch email to mailing list audience
Keep collecting feedback
Phase 5: Post-Launch
End early access pricing, return to full pricing
Continue to write and publish content consistently which is emailed to the mailing list audience. Prepare cornerstone content to link to from other articles.
Keep collecting feedback
Continue working on improving product based on feedback
Phase 6: Maintenance
Begin paid Google AdWords activity for ongoing awareness
Continue to write and publish content consistently which is emailed to mailing list audience
Keep collecting feedback
Continue working on improving product based on feedback
If you're a small business, a staggered launch will also help you make the most of various marketing channels so you don't burn yourself out.
Staged/Staggered Rollouts with EDD
If you're selling software, our Software Licensing extension has a great tool called Staged Rollouts. Staged Rollouts lets you release new versions of your software to a predefined percentage of all your users. Learn more here.
Monitor Your Business
After launch, keep an eye on key metrics to help you stay focused on promotion methods that work best. Some examples of key metrics are unique visitors, number of sessions (visits to your website), email sign-ups, and of course, sales.
Remember to test all of your website processes, marketing measurables, and lead capture mechanisms to ensure they are working correctly. The last thing you want to happen is to launch your product and not know where your traffic is coming from, or find there is an issue with purchasing!
When you've started putting your launch plan in motion, it's time to jump. Just do it. Hit the button and launch your product!
---
"Just launch it."

– Pippin Williamson (founder of Easy Digital Downloads)
---
Sage words, indeed!
---
6: Gather Feedback and Iterate, Iterate, Iterate

Congratulations on launching! But the work doesn't stop there, my friend! Now is time to iterate.
❓Iterate / iteration
When talking about digital products, iterating or iterations means the ongoing process of making little improvements. You can come up with improvements from both customer feedback and watching how customers use your product/s.
Continue improving your product, and incorporating feedback from customers to improve them.
---
"Create a minimal viable product or website, launch it, and get feedback."

– Neil Patel (NY Times best selling author and tech entrepreneur)
---
Ask For Feedback
You should always be asking your customers for feedback.
Email Automations
If your email marketing service has an automation feature, you can use this to request feedback from new customers with automated emails.
First, ensure that new customers are subscribed to a mailing list in your chosen email service. If automation is an option, set up an email that sends after a customer has purchased your product.
Set this email to send a few weeks, a month, or even a couple of months after they have purchased, and ask them to reply directly to that email with their feedback. This gives your customers a good amount of time to try out your product.
Sending an automated email without any prompting questions will encourage a more organic response from customers who are willing to provide feedback. This means they may not be thinking about any feature of your product in particular, and will be more likely to share a generalized opinion of your product.
Send Surveys
Surveys are easier and faster for customers to quickly provide feedback. You can use surveys to ask customers very specific questions about your product offering, or ask them to rate their level of satisfaction on a scale of 1 to 10.
Surveys allow you to prompt customers to answer questions that you are the most interested in. You don't have to ask open-ended questions that get all sorts of responses.
The 'prompted method' of gathering feedback can help you focus on areas of improvement that are important to you.
Not sure how?
We recommend WP Forms. They have tons of great templates for making surveys and easy-to-use tools for viewing the responses.
Invite Feedback Through Your Website
Create a feedback form on your website. The form might be a simple text input box to collect unprompted feedback, or a multi-step survey for prompted, focused questions.
Have the invitation to fill out a survey pop-up on certain parts of your site.
Not sure how?
We suggest (and use) OptinMonster. They have lots of powerful tools for getting site visitors to take action on your website, including taking surveys.
Shipped is Better Than Perfect
There is never a perfect time or perfect strategy to launch your product.
And your product will never be 100% perfect. But armed with a plan, you can successfully launch your digital product to an audience.
It is more important to launch now than to strive for impossible perfection.
Don't miss a moment in time fussing with details, over an opportunity to ride the momentum you have created, or a chance to capitalize on conversations in your industry.
---
Conclusion
---
"If you are not embarrassed by the first version of your product, you've launched too late."

– Reid Hoffman (founder of LinkedIN
---
Follow these six steps to successfully launch your digital product:
Ensure your product is at the Minimum Viable Product (MVP) stage
Build your audience (and keep building your audience)
Create a launch plan
Test everything is working correctly
Launch your product
Gather feedback and iterate, iterate, iterate.
Ready for liftoff? We are GO for launch! 10, 9, 8, 7…
Good work!
You've built something cool. You've learned how to successfully launch your digital product.
We're here to help you as you build a successful side hustle or online business.
We have a lot more resources for digital creators like you. What do you want to learn about next?
Be sure to subscribe to our newsletter or follow us on Facebook and Twitter to get our latest resources for digital creators.